If your kitchen has gray walls, you have a good chance to design a beautiful and welcoming space. Gray is a neutral color, so it works well in either a warm or cool-color kitchen. You might be curious about the perfect color for kitchen cabinets in a room with gray walls.
Instead of relying on your instinct, we ran a study into color theory ideas for paint colors pairing. Read about the colors that will make you fall in love with your kitchen all over again.
What Color Kitchen Cabinets Go With Gray Walls?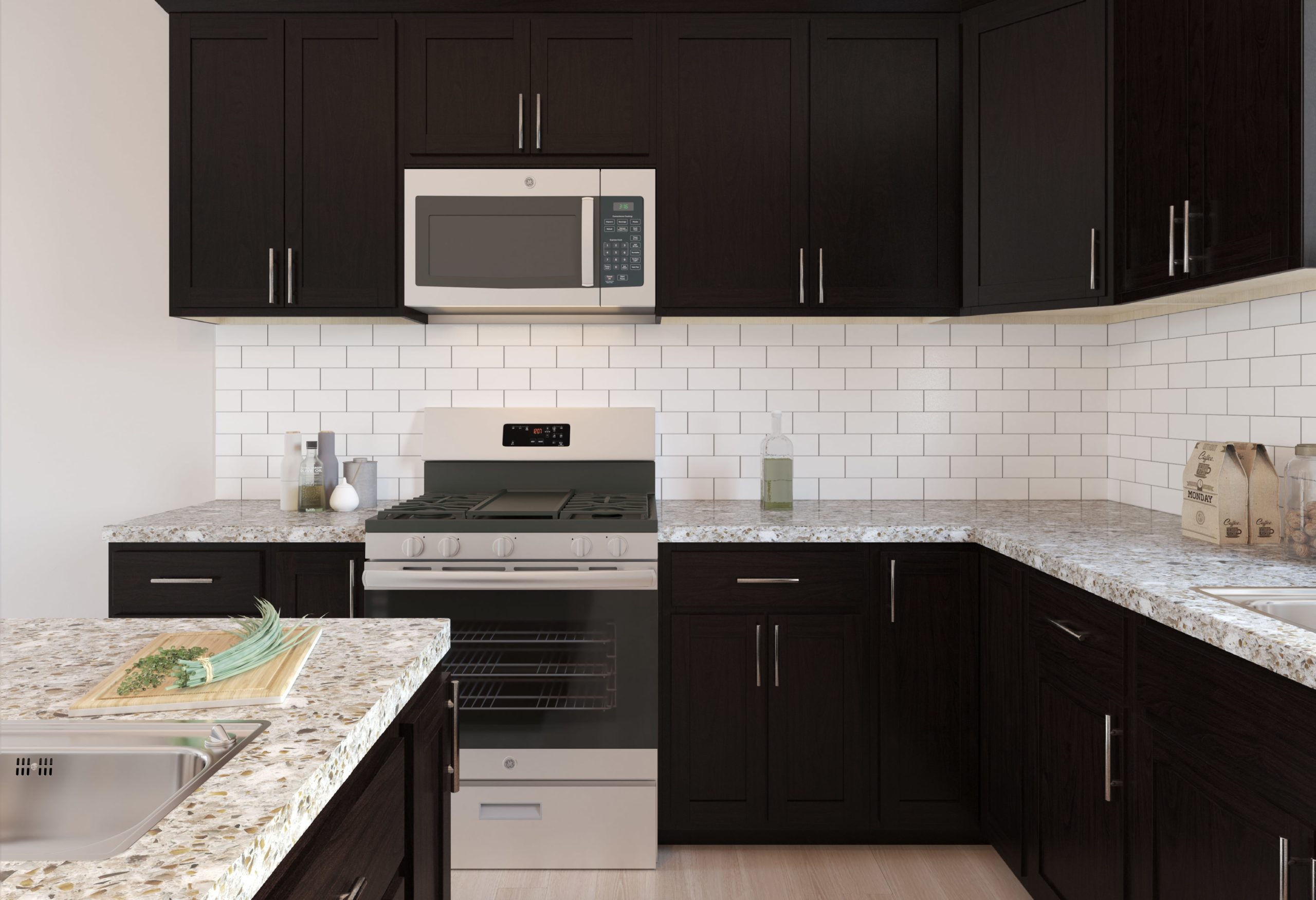 Though certain cabinet colors have an enormous effect over others, gray walls in the kitchen provide a mixed backdrop for various cabinet colors. When choosing what color cabinets match with gray walls, it is essential to think about the undertones in your paint.
When selecting a color for your kitchen cabinets, you have many choices. Gray is appealing because of its flexibility. And there are cabinet colors that match well with gray walls, whether you like a classic or modern look. Gray walls in the kitchen don't have to look dull. They could even be fun, engaging, and unique when you fix the right color of cabinets.
Here are some stunning cabinet colors that are ideal for gray walls.
White kitchen cabinets
Brown cabinets
Expresso/black cabinets
Gray cabinets
You will love this detailed article on the Characteristics Of High-Quality Kitchen Cabinets to help you make an informed choice.
1. White Cabinets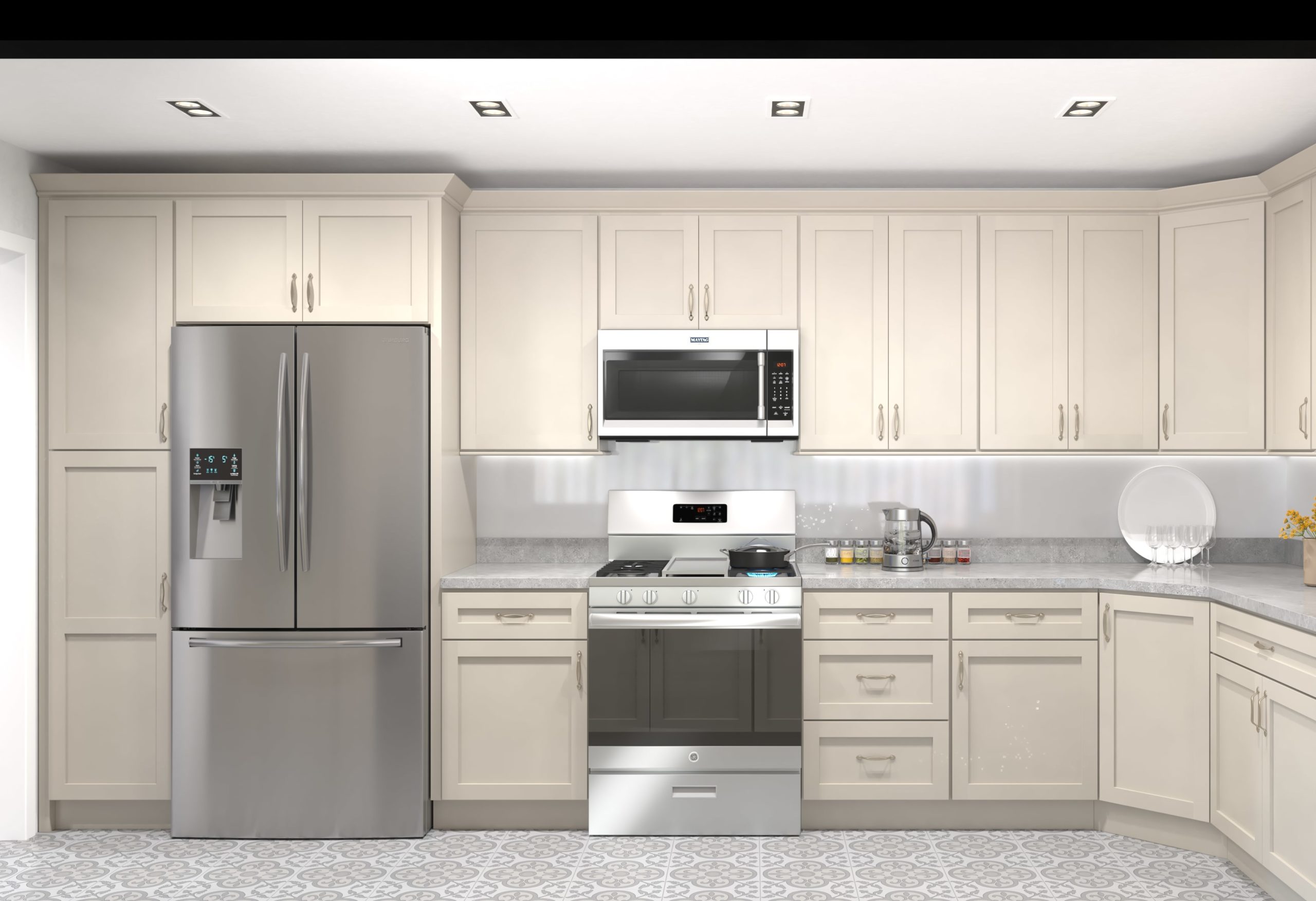 White is one of the neutral colors you can pair with almost anything. If you are unsure of the undertones of your gray walls, white cabinets are the best bet. They contrast with any shade of gray without the risk of competing tones. When faced with dark gray walls, bright white kitchen cabinets can help lighten the space.
So, if you choose a bright color that will contrast with the gray walls, it will look neat. You see, white cabinets can make a kitchen stand out and brighten the space.
Choose a color that is bright and simple to remove. You know the kitchen may become untidy and that you must clean the cabinets. Bright white kitchen cabinets will reveal some of these issues. Then, it will be easier to maintain them if the paint is easy to wash off.
See also: Top 12 Backsplash Ideas for Gray Kitchen Cabinets
2. Brown Cabinets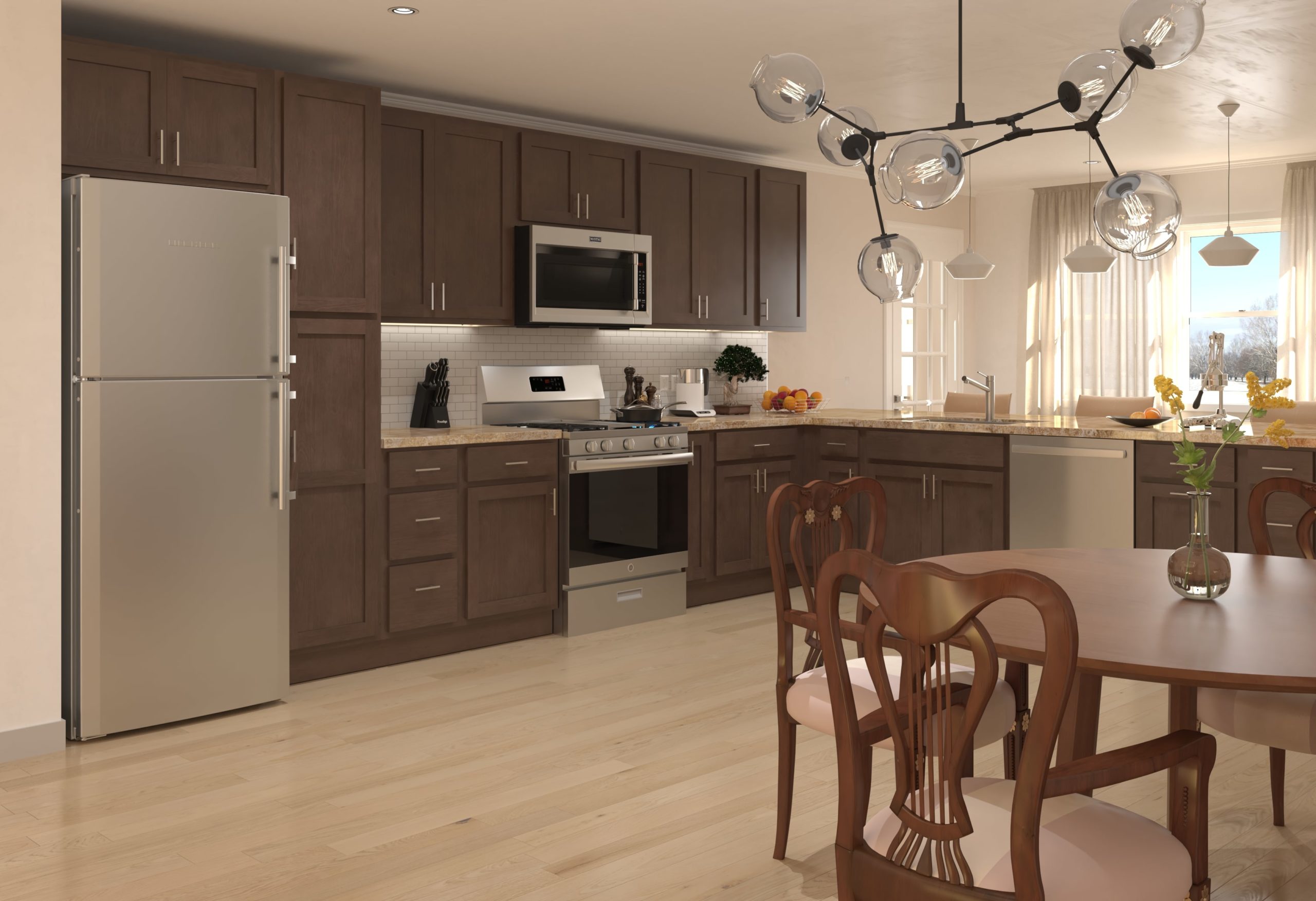 Using brown cabinets works well with gray walls. This is an excellent choice because it might help give your space a cozy and welcoming atmosphere. You may use brown cabinets to make your kitchen's island the center of attraction. Also, if your kitchen is huge, brown cabinets will suit well as an accent color.
You may wish to paint your kitchen mostly gray and add brown as an accent color. Instead, you could use gray as an accent color and make brown the dominant hue in your kitchen. You will design a stunning and welcoming kitchen, anyway.
3. Espresso Cabinets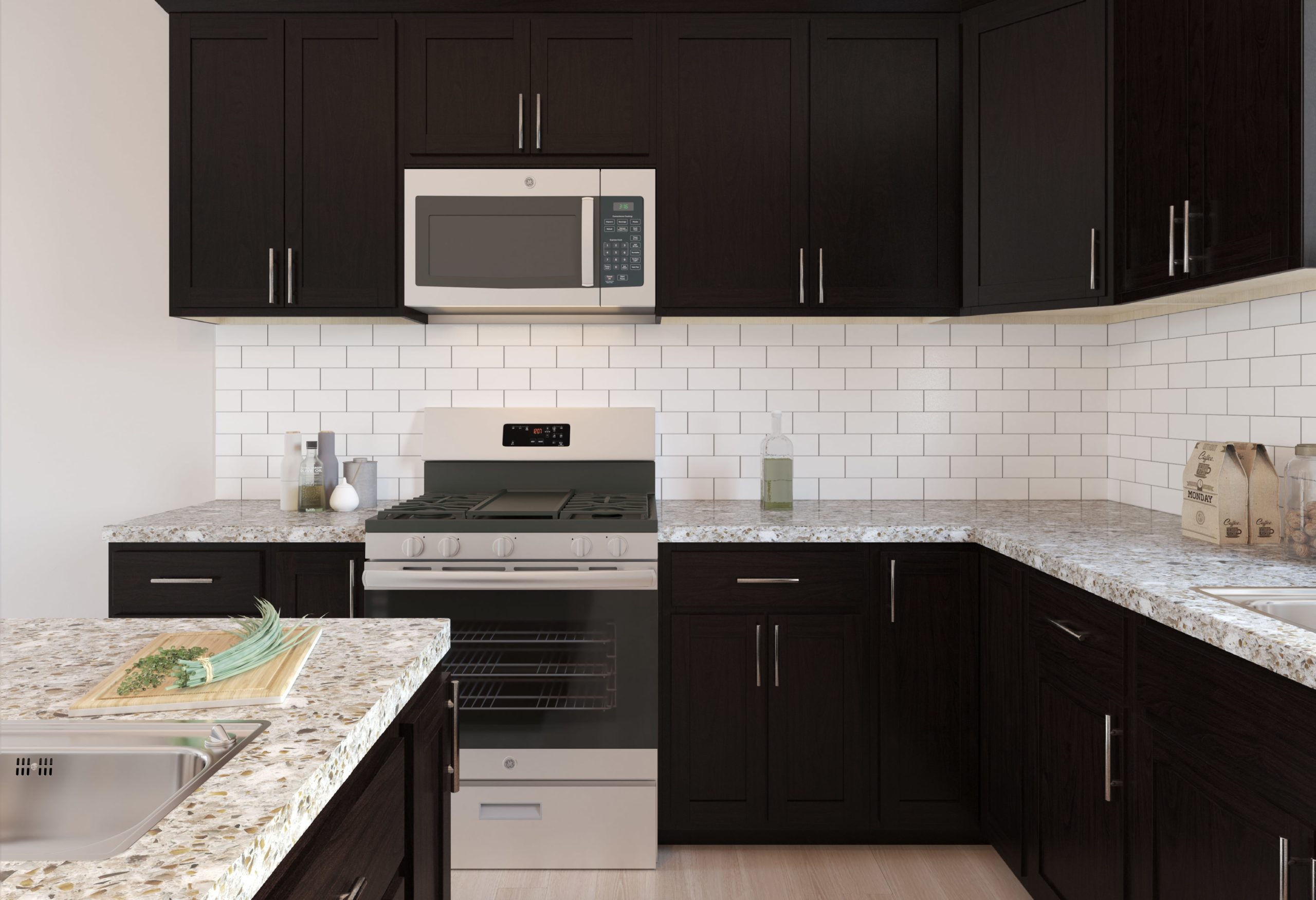 If you are still thinking about what color cabinets go with gray walls, here is the answer. Espresso is a stunning color. And espresso cabinets might be a terrific choice for your kitchen if you add some creativity and match it right.
The Espresso cabinets inspire homeowners to add bold color to their kitchens. The dark brown espresso works well as an accent color for gray kitchen cabinets. And this color may be used as an accent for more classic shades or dark walls. It is suitable as a feature in contemporary and modern designs.
Find out The Difference Between Kitchen and Bathroom Cabinets
In addition, you can pair the expresso cabinets with gray walls to create a warm and inviting space. The bold color is both cozy and fashionable. The dark brown cabinets look stunning with off-white, and a cool blue undertone, avocado green, red, and silver. An espresso cabinet color can even be mixed with black cabinets.
4. Dark Gray Cabinets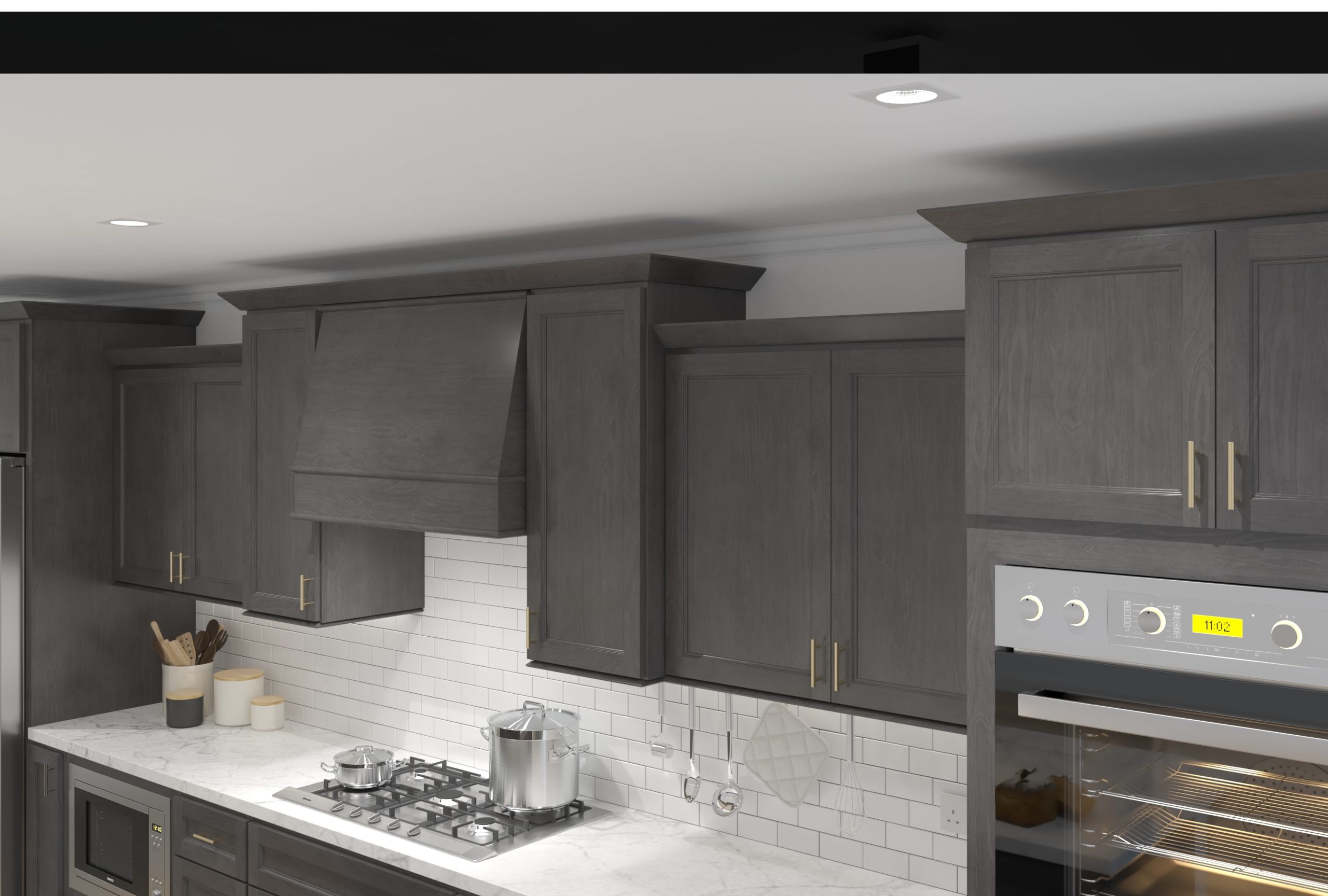 Gray is an excellent cabinet color choice if you want your kitchen to have a modern look. Gray colors go with gray walls since they have cool undertones. Both light gray (like powder gray) and dark gray cabinets contribute to the tranquil, opulent atmosphere of the kitchen. Gray color wall paint pairs beautifully with blue-gray kitchen cabinets for a light and airy look.
This light shade adds a touch of color to liven up your room and give it an elegant look. It does this without completely dominating the modern gray style. However, dark gray cabinets will provide enough contrast when they are themed with light gray walls. And when paired with dark gray decor, the kitchen with gray walls.
You would love to see Shaker Cabinets vs. Raised Panel Cabinets and how to differentiate between these two and select which one works best for your kitchen setting.
A kitchen space with light gray walls looks incredibly dramatic and creates a beautiful contrast when combined with dark gray cabinets. So, if you like a brighter appearance yet prefer the reduced upkeep of gray undertones, brighten gray cabinets with natural light.
How To Choose Kitchen Cabinets For Gray Walls
Whether your property is decorated in a modern minimalist style, it doesn't matter. There is so much flexibility when selecting cabinet colors for a kitchen with gray walls. But start by observing the undertones of your gray walls. Are they warm or cold?
Since it is a neutral color, gray looks good when combined with warm undertones. Selecting cabinets should match the undertones of your walls. So go for cool cabinets if your gray walls have cool undertones. White, cream or brown tones are some nice options.
Why have created an article that compares RTA Cabinets Vs. Pre-Assembled Cabinets. Check it out to see the best option for you.
At the same time, if your gray walls have warm undertones, go for cabinets that will warm up the room. Medium or dark wood tones, or even a flash of color, are good options. Now that you've chosen the basic shade of your cabinets, consider your kitchen's design. And stick with traditional cabinet shapes and colors if your kitchen is more classic.
If your space is more contemporary, you may experiment with different colors and designs. But ensure your cabinets' shade blends in with the rest of your kitchen. Map out your combination if you want your wall color to match the kitchen cabinet color. When you plan right, you can design a kitchen you'll adore for years.
Here are the cabinet styles and colors we offer. Send us a message to pick anyone that works for your kitchen:
Should The Wall Color Shade Be Lighter Or Darker Than That Of The Cabinets?
This depends on the shades you are using. Light walls with light cabinets might dazzle and look unappealing. At the same time, darker colors with darker cabinets can lose their visual interest. So, it is crucial to strike a balance where the various colors may match without looking too similar or conflicting.
Must The Cabinets And Wall Have The Same Color?
While your cabinets should complement the color of the walls, a space might seem dull if the colors match. Though, the trick is to create a gentle contrast between the cabinets and walls. Selecting a color a few shades darker or lighter than your gray kitchen walls will make it look more appealing.
Can I Mix And Match Cabinet Colors?
Yes, you can match and mix things up. Gray and white countertops are a popular choice, and this is because of the gentle contrast they offer. You can choose gray lower cabinets with an all-white countertop shade or white upper wall cabinets and gray lower cabinets. Second, you may select gray-painted cabinets to go with a gray floor.
Just be sure to pick different earthy tones of gray paint for the two surfaces. For instance, dark gray cabinetry and a light gray wood-tile floor may go nicely together.
Final Thoughts
Consider a kitchen with white, light gray, or espresso cabinetry. The countertop might have a matching gray tone with white, dark gray, or even a blue undertone to complement the colors. In addition, the cabinet colors will stand out more if you add a few touches. The wall paint colors in the space will shine even more if the countertops are kept neutral and free of the primary color.
If you are looking for the best cabinets with enough storage space and unique designs for your kitchen and other places in your home, contact Choice Cabinets today. Feel free to work with us and let us help you set up your dream home.