Cabinet doors are the focal point of any kitchen design. The right cabinet doors will function as storage and will also establish the tone in the kitchen. Cabinet doors take up most of the wall space, thus they should be as elegant as possible.
As regards cabinet door styles, two designs predominate on the market. The most popular kitchen cabinet styles are shaker cabinets and raised panel cabinets. These cabinet door types complement both traditional and modern kitchen styles.
Because these cabinet types are ideal for your kitchen, it is challenging to decide on one over the other. But it will be easy when you know the difference between shaker style and raised panel cabinet doors.
What Are Shaker Style Cabinets?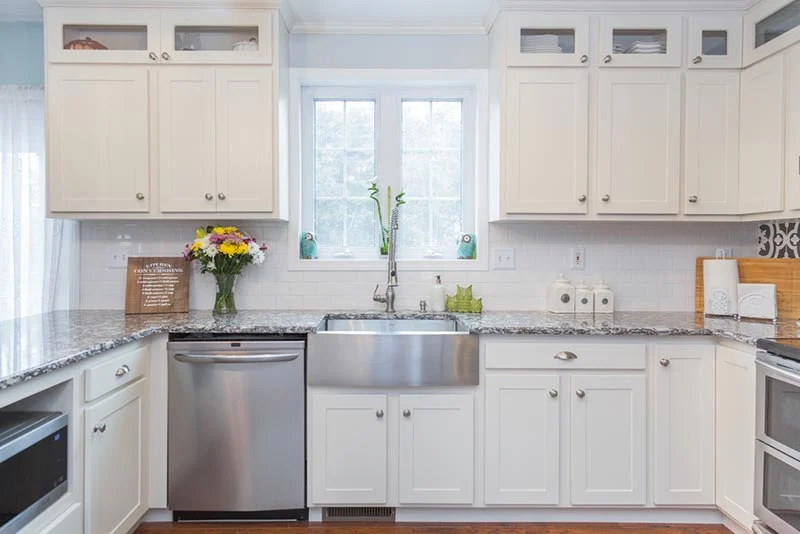 Shaker style cabinets are a type of recessed panel cabinet doors. Shaker cabinets feature a basic, yet appealing design and a recessed center panel. And it enhances the aesthetic of any kitchen space. Some shaker cabinet makers now add a few aesthetics to the drawer fronts of their products.
In contrast to raised panel doors, Shaker style lacks intricate ornamental details. However, this does not mean that its designs are not enough. The frame covering a shaker cabinet face's edge raises, but the central panel stays level.
Likewise, a shaker cabinet door is perfect for transitional kitchens. Here, we mean those with a diverse yet comfortable blend of modern and traditional style. This makes it a dynamic cabinet door style. Shaker-style cabinetry is a good choice if you want a unique and simple addition to your kitchen.
Like other kitchen cabinet doors, shaker kitchen cabinets have their pros and drawbacks.
Shaker Cabinets Pros
Shaker style kitchen cabinets serve as the basis for designing your kitchen. Shaker cabinets will make any project easier, be it new or upgrading. Furthermore, you don't need to stain or paint to restore your cabinet doors' appeal.
1. Timelessness
Certain pieces are timeless. Consider the timeless design of a gorgeous, fitted clothing of the 1950s. Some styles retain the timeless quality that lend them endless value. The same is true with Shaker-style kitchen cabinetry. Regardless of how our tastes evolve, the basic, and timeless design drives demand for shaker style kitchen cabinets.
Shaker kitchen cabinets remain versatile because of their timelessness.
2. Opportunity To Express Yourself
People believe that shaker-style cabinets have a more set design, but this is not the case. With these cabinets, you may customize your kitchen many ways. While the form stays simple, you may add ornamental hardware to make them more functional. Furthermore, shaker-style cabinets work with various flooring materials to get the desired effect.
3. Low Maintenance
The square corners and flat front panels of the shaker-style cabinets make it easy to clean. Besides, unlike raised cabinets, they do not discolor or grease easily. Cleaning laminated shaker cabinet doors are as simple as wiping them down. You also don't have to paint or polish them.
Cons Of Shaker Style Cabinets
1. Cleaning Might Be Difficult
Cleaning shaker cabinets is a little challenging than flat door cabinets. Like other kitchen cabinet styles, it absorbs dust than other slab-door kitchen cabinets. Its recessed panel gaps, corners, and services could absorb food particles. This makes shaker cabinets a bit difficult to clean.
What Are Raised Panel Cabinets?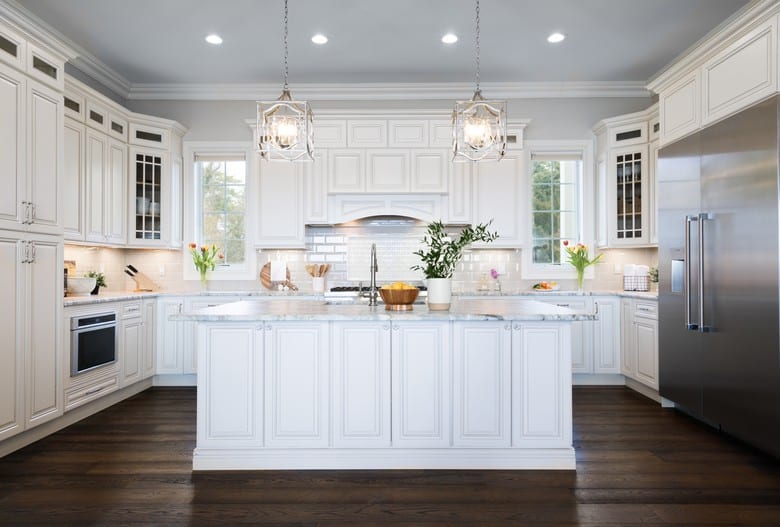 Raised panel cabinets are more complicated of the two kitchen cabinet design. Their ornate, grooved borders and raised center panels provide an appealing dimension to the design. The raised panel and rich appearance are created by weaving delicate carvings into the wood.
Raised panel cabinets offer an excellent choice for homeowners looking to create a formal feel in their kitchen.
Now, let's compare the pros and cons of raised panel cabinets to shaker style doors!
Raised Panel Cabinets Pros
Raised panel cabinets have grooved edges and decorations surrounding the raised center panel. This allows you to choose between dramatic and rich accents.
It is hard to notice dirt on raised panel cabinets. This is because they are darker and more ornamental.
Raised panel doors are available in various woods and colors.
They provide you with more options for kitchen design.
These doors will make your kitchen appear formal and beautiful.
Raised Panel Cabinets Cons
Raised panel cabinets are more pricey than other cabinet door styles. This is because of their artistic decorations.
Most cabinet makers make traditional style cabinets in a framed method. So, it becomes hard to find raised panels in frameless construction.
When compared to shaker doors, raised panel cabinet doors tend to look outdated.
Raised center panel doors are less popular than shaker style cabinet doors.
Differences Between Shaker Style Cabinets vs Raised Panel Cabinets
Both cabinet door styles tend to have high-quality materials. Also, they are appropriate for both modern and classic kitchens. Though, they have features that differentiate each of them. Here are several characteristics that distinguish shaker cabinets vs raised panel cabinet doors.
1. Aesthetics And Design
The first difference between raised panels and shaker cabinets is their look. Shaker cabinet doors have a flat recessed center. Whereas raised panel cabinet doors have a raised center panel that slopes to the corners. Also, shaker designs are simple with no embellishments or ornamentals.
On the other hand, raised panel cabinets are more difficult to work with. This is because of their curves, edges, raised frames, and panels. Shaker cabinet doors are more simple in appearance yet still aesthetically pleasing. For this reason, they are the popular modern kitchen types with transitional layouts. But raised panel cabinet doors look for formal for classic kitchens.
2. Installation
Installation is another difference between shaker cabinets vs raised panel cabinet doors. They have the same structure because they come in framed or frameless construction. But framed cabinets have doors fastened to a frame in front of the cabinet. Frameless cabinet construction does not have a holding frame. Thus, its door hangs on the cabinet's side.
Both cabinets can have framed or frameless construction. But shaker cabinets have more of frameless construction. Often, raised cabinets come with framed construction to maintain a classic appearance.
3. Cost
Another difference between shaker cabinets vs raised panel cabinet door is the price. Though this depends on the materials, finishes, and seller. You must consider cost when deciding between shaker cabinets vs raised panel cabinetry.
If you are to choose between a shaker door and raised panels with similar designs, go for "shaker". Raised panel doors tend to be more expensive because shaker cabinet is simple. For this reason, shaker doors attract lower labor costs. However, this depends on the wood species, finish, cabinet box structure, and style.
4. Maintenance
When it comes to cabinet maintenance, the style does not matter. They both need the same level of care to last as long as possible. The only factors that may influence both are the material and finishes you use.
Both cabinet doors collect dust and dirt on the edges, so always keep them clean. If dust and other dirt remain on cabinet doors with big overlays, they become more noticeable
5. Resale Value
Your cabinet choice will have less impact on the value of your home than the quality of the renovations. This means that the materials and finishes used can add to your home's value. Some of these materials are; fine hardwood, high-quality white kitchen cabinets, etc.
So, if you want to boost your home's market value, install shaker-style or raised panel cabinets. But choose quality materials and finishes.
Which Is More Expensive: Shaker Cabinets or Raised Panel?
Shaker cabinets are cheaper than raised panels. A typical cost of shaker style cabinets is $2,706 for a 10 × 10 kitchen. Whereas, raised panel cabinets cost $3,392 on average.
Both are really attractive!
However, if you prefer frameless cabinets, cabinet manufacturers have shaker cabinets in stock for you. So, homeowners buy the recessed panel form of Shaker cabinets. This is owing to the fact that it is fit for both classic and modern cabinet designs. Also, shaker cabinets have a simple design since both the center panel and outer frame are plain.
Shaker cabinets are the most cost-effective type in the long term.
Do Shaker Cabinets Go Out Of Style?
No! There's a reason that shaker style, like many classic designs, never goes out of style. It is simple and elegant, and it ignores anything extra while being relevant for everyday use. These characteristics are timeless. Also, most frameless cabinet makers construct them with real wood. It means that these modern cabinets are durable.
Does Shaker Cabinet Appear Cheap?
Shaker-style cabinets will appear cheap if you paint them with a poor color. Also, it will look same if you use a finish that does not complement the wood or the overall decor of the area. However, if done right, Shaker cabinets are typically the greatest choice for a room.
White is an excellent color for the recessed panel design of shaker style cabinetry.