While it might appear as if there's no actual difference between bathroom and kitchen cabinets, a few key factors make them not so identical. If you're doing a remodel and are hoping to shake things up a bit but still retain the look and feel of your home, custom cabinets are the way to go, as they can fit seamlessly with the structure of any home design. However, they're not known for their affordability.
To assist you in your home remodeling endeavors, we've prepared an outline of the differences between bathroom cabinetry and kitchen cabinets, including answers to a few frequently asked questions and tips that might interest you.
The Major Differences Between Kitchen Cabinets And Bathroom Cabinets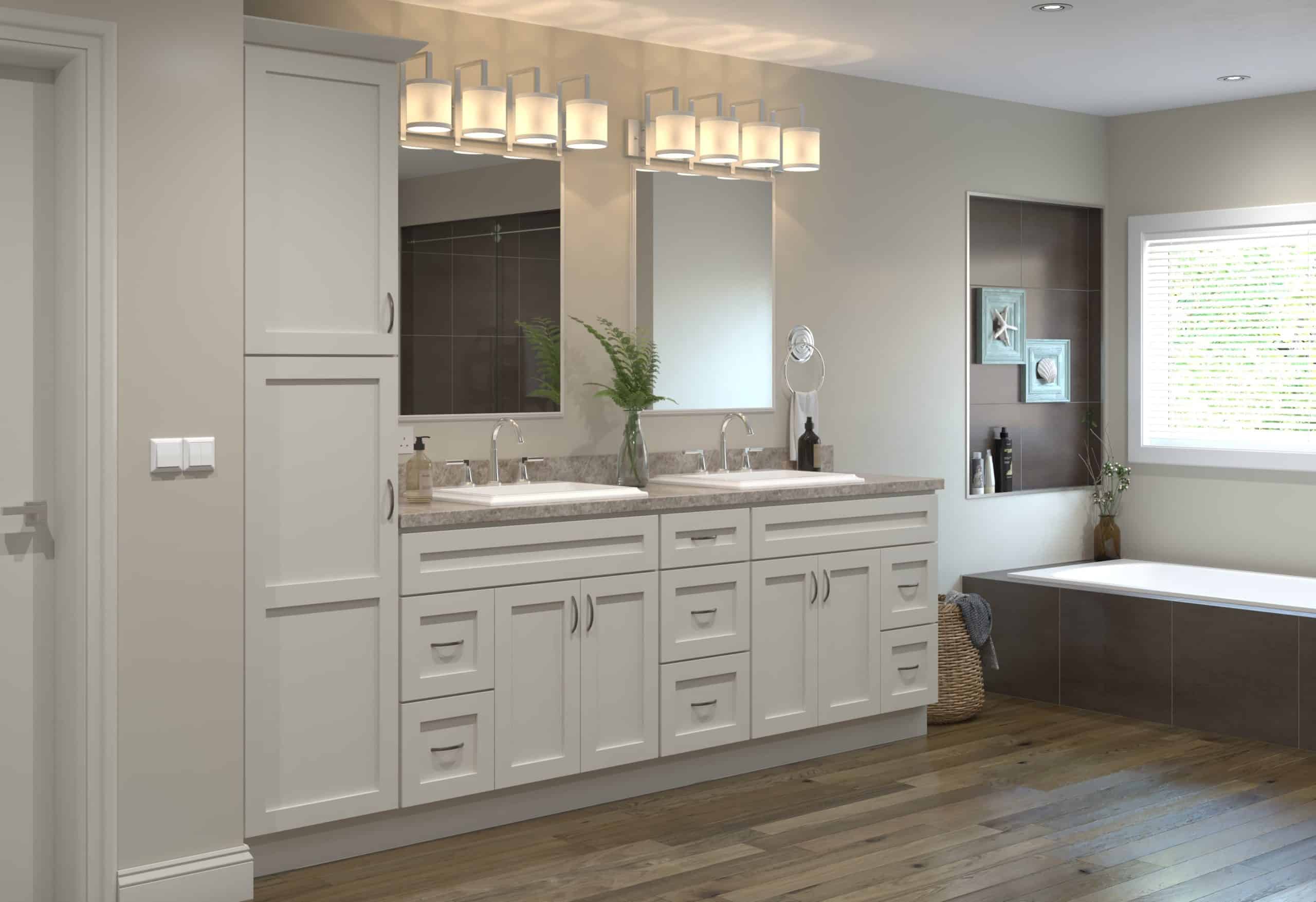 At first sight, kitchen and bathroom cabinetry can be pretty tricky to tell apart. However, there are a few notable parameters to help you know the difference between them. One such parameter is that vanity or bathroom cabinets are slightly shorter and not as deep or spacious as standard kitchen cabinets.
This is logical because kitchen cabinets are designed to host various sizes of kitchen utensils, such as plates, pots, glasses, pans, etc. While a few other factors differentiate kitchen cabinets from bathroom cabinets, their appearance and style can be pretty similar in some cases.
You will love to read: Characteristics Of High-Quality Kitchen Cabinets
1. Dimensions
The most significant and notable distinction between bathroom and kitchen cabinets is their dimension and size. To maintain an even proportion of space, most homeowners prefer to use cabinets that are rather sizable for their kitchens, usually 24 inches deep or more. On the other hand, bathroom vanities tend to be a bit more compact and have a storage room around 21 inches deep.
2. Height And Depth
A regular kitchen cabinet should typically be larger than a bathroom cabinet, even if it's just a few inches since they're designed to store separate things due to the difference in room sizes and fixtures. The standard height of traditional base kitchen cabinets tends to be around 34 inches.
Many homeowners find their height convenient because they don't have to bend over to reach items, and there's a little extra storage space. As for bathroom cabinets, they usually serve as storage for preparation or getting ready activities, hence why their height and depth are a few inches less.
You might want to take a look at our inspiration gallery for some of the most exotic kitchen and bathroom cabinets you will fall in love with.
3. Different Building Materials
The kind of wood and the finishing plays a vital role in how long the cabinet will last in the room where it's installed—for instance, in a kitchen with moderate temperatures and low humidity.
Certainly, washing dishes and preparing meals will increase the temperature and humidity of the kitchen to some extent. However, because kitchens tend to have more air circulation, the heat and humidity levels will always be minimal.
Bathrooms, on the other hand, are almost entirely the opposite. This is because the constant changes in temperature are bound to harm the cabinets, more so if they aren't finished with moisture-resistant materials. While it might not have crossed your mind, this is one of the ways to differentiate between kitchen and bathroom cabinets.
See also: The best material for kitchen cabinets in the USA.
Is It Possible To Use A Kitchen Cabinet In The Bathroom?

Absolutely! Countless homeowners have tried substituting their kitchen cabinets for their bathrooms and simply loved the results.
This is because the bathroom and kitchen cabinets are not exclusive to the rooms they are designed for and can be used interchangeably when done correctly. All you have to do is find a kitchen cabinet that you feel would look great in your bathroom, and make sure to use some vanity tops to remodel it into the perfect vanity bathroom cabinet.
The Best Materials For Kitchen Cabinets
When choosing quality kitchen cabinets, there are three materials you should look out for. These materials include Plywood, Medium density fiberboard, and metal, all of which look stunning in any kitchen style and are also quite durable.
1. Plywood
Plywood is an excellent material for creating kitchen cabinets. It is affordable and comes in different sheet sizes and wood species, making it a fantastic choice for any kitchen setting. Plywood is relatively easy to manipulate into any form, and when it gets damaged, it can easily be repaired, unlike many other wood alternatives.
Check out Important points to note when choosing the best plywood for cabinets
2. Medium Density Fiberboard (MDF)
Medium Density Fiberboard also referred to as MDF, is undoubtedly one of the most popularly used materials for constructing kitchen cabinets. This is due to its durability and the fact that it's super easy to clean and maintain, not to mention its many styles and finishes like the cottage style, which creates a homely feeling.
3. Stainless Kitchen Cabinets
Some homeowners seem to believe that stainless steel cabinets are exclusively designed for building cafeterias and commercial kitchens, which couldn't be farther away from the truth as they are becoming more popular in modern kitchens daily.
Like regular steel, stainless cabinets can just as easily be painted over. They are also immensely durable and water resistant, making it possible to install them near the sink area.
You would also love to see: Best cabinet for your kitchen: Plywood Kitchen Cabinets Or Stainless Steel Cabinets.
The Best Materials For Bathroom Cabinets
Below are some highly recommended materials for bathroom vanities you can install in your house during your next remodeling project. Feel free to decide on whichever option matches your ideal bathroom design.
1. Solid Wood
Solid wood is a splendid material for a bathroom vanity due to its sturdiness and durability. Cabinets made of solid wood are usually found in baths of luxury establishments as they help create an atmosphere of elegance and traditional style.
You should see this insightful article: 8 Pros And Cons of Solid Wood Cabinets
2. PVC
PVC is an inexpensive cabinet-producing material that is almost entirely impervious to liquid, making it the ideal solution if you plan to store towels, cleaning products, and extra linen in your cabinet
The surface of this material is notably smooth and easy to paint. PVC is also heat resistant and requires minimal maintenance, which are some things you should consider when next you plan to renovate
Conclusion
Nowadays, most cabinet-making companies design their bathroom cabinets almost the same height and width as kitchen cabinets. However, this allows users easy access to their cabinets' contents. You can always find bathroom cabinets that would look amazing in your kitchen and vice versa. Either way, you're not compromising on quality, storage space, or style.
Do you want to improve the sophistication level of your bathroom and kitchen with some of the most durable and gorgeous cabinet pieces on the market? You are just one call away.