Cabinets are a core aspect of any kitchen design. This is largely due to the level of impact they have on the aesthetics of all other components in the kitchen as well as the kitchen's architectural design. Nowadays, many homeowners are deviating from the extremely popular and so often used traditional white kitchen cabinets towards more natural solid wood cabinetry with a lot more depth.
The term 'solid wood cabinetry' simply refers to cabinets manufactured from cut natural wood, in other words – not man-made or engineered. Cabinets produced with natural wood are extremely popular and a little more expensive than engineered wood cabinets and other different wood species such as wood veneer, plywood, and particleboard cabinets.
Pros of Solid Wood Cabinets
Wooden cabinets are a great value for money, besides this, here are a few other reasons why they're an excellent choice of cabinetry.
1. Guaranteed Durability and Strength
Solid wood cabinets are known for their immense durability and stability. These cabinets are capable of lasting for decades and their high tear and wear resistance is unrivaled by all other wooden cabinets.
Unlike other materials, solid wood is easier to repair. In case their surfaces get scratched, they can easily be patched up and concealed by using wood filler wax. There are also tons of styles, finishes, and colors to choose from for any kitchen design. Solid wood cabinets can be customized or personalized to meet your requirements, whatever they may be.
2. Easy Maintenance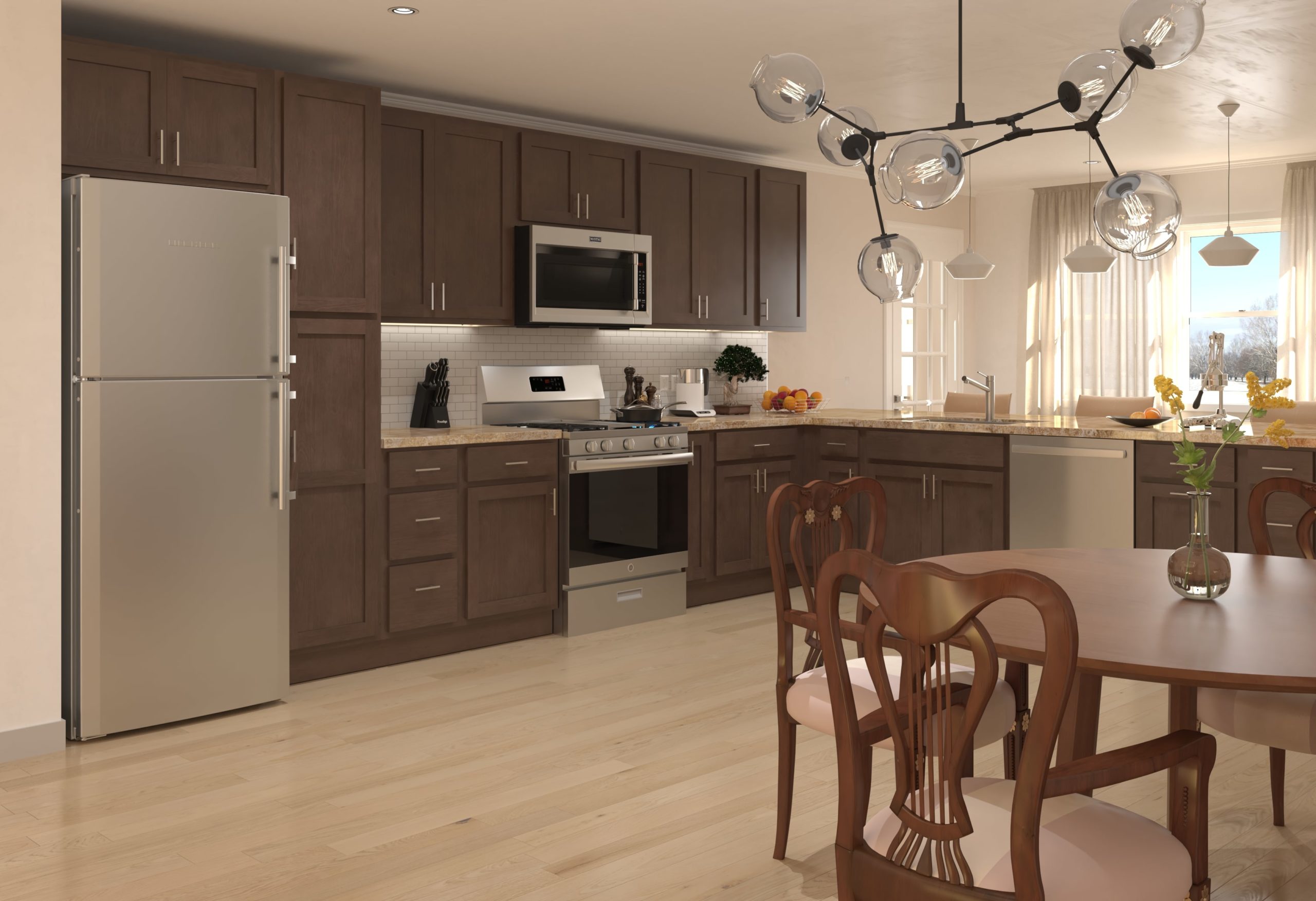 Solid wood kitchen cabinets are especially easy to clean and maintain, unlike other kitchen cabinet materials. Depending on the owner's taste, they can be re-painted, re-stained, or re-finished, which isn't very common among other cabinet materials. Scratches on their doors can be repaired by sanding, it's also possible to apply another finish if necessary.
3. Eco-Friendly and Sustainable
Wood is a naturally renewable resource that has very little impact on the environment unlike cabinets composed of petroleum products. Solid wood cabinets are a great choice for homeowners who want their kitchens to only feature safe and eco-friendly products.
Examples of environmentally friendly solid wood cabinetry are reclaimed wood and lyptus cabinets.
4. Increased Home Value
Solid wood cabinets have a great resale value which they retain when they are properly maintained. This, of course, cannot be said for many other trendy and inexpensive materials out there which lose value as time passes.
If you feel you might have to sell your home in the future, this is something you should consider when deciding on a particular type of cabinet.
5. Easy to Paint
The hard and smooth surfaces of solid wood cabinets make them super easy to stain and paint over. This is why they're able to blend in seamlessly with any kitchen aesthetic. Painting kitchen cabinets goes beyond just getting paint and slapping it across the face of the wood. We have created a guide to help you paint compressed wooden cabinets with ease.
6. Luxurious and Beautiful
If you're looking to amp up the sophistication level of your kitchen, a good way to do so is with rich dark-toned solid wood cabinetry. There's no denying how warm and welcoming it feels to enter a kitchen with hardwood cabinets.
It almost feels like you're being enveloped by quality. Oak cabinets are gorgeous and provide a natural, timeless, and classic feel to any kitchen space.
8. Refacing is Inexpensive
If there's ever a need to spruce up your cabinets, it's practically as cheap and easy as applying a coat of varnish or sanding the panel. There's no need to swap out the entire kitchen section when they get scratched or stained like in the case of fiberboard cabinets.
For instance, unlike wood, when fiberboard cabinets begin to warp, scratch or expand and contract, there's simply no way to fix them. As for solid wood cabinetry, there are different and affordable ways to reface and repair scratches so that you don't have to replace the entire fascia. One of the ways to do so is by applying wood filler wax sticks.
You might also want to read: 8 Unavoidable Signs It's Time To Replace Your Cabinets.
Cons of Solid Wood Cabinets
All cabinet-making materials have advantages and disadvantages. As for solid wood cabinets, the following are the potential drawbacks associated with using them, however, these cons are easily avoidable.
1. Solid Wood Cabinets are Relatively Expensive
Solid wood kitchen cabinets cost a little more than many of the other types of cabinet-making materials such as particleboard, plywood, laminate, and several similar products.
The reason why solid wood cabinets cost more than these products is because of their durability, customizability, and high quality, which makes them the perfect fit for luxurious homes.
2. High Maintenance
The only way to ensure that wooden kitchen cabinets stand the test of time is by caring for them properly. Their counters and drawers demand special kinds of cleaning solutions and proper sealing to keep them in tip-top shape.
Cleaning chemicals such as these tend to come at a high price, and it can be quite tasking and time-consuming to have to maintain cabinets, although, it's worth it considering the number of years it will add to their lifespan.
3. Prone to Water Damage
Its a commonly known fact that wood is highly sensitive to moisture. Also, the moisture content present in solid wood tends to expand and contract following climate change, which leads to the cabinets being warped over time.
However, there's no need to worry about this since it can be prevented easily by using a high-quality veneer coating or laminate on all sides of the cabinets.
4. Susceptibility to Termite Infestation
Termites are naturally attracted to wooden surfaces, which puts solid wood cabinets at a high risk of infestation. The good news is that you can use a termite bond to treat your kitchen and prevent this from being a problem.
Call your local pest control company the instant you notice termites around your house and they'll help handle the situation.
You have to read: How to find gorgeous yet affordable kitchen cabinets in Ohio
Types of Solid Wood Cabinets
As stated previously, there are different types of solid wood cabinets, which begs the question – which wood material is the best? The following are some of the most popular and durable types of solid wood cabinets to use for your kitchen remodel:
1. Ebony
Ebony solid wood cabinets are the perfect choice for people who want something unique and delightfully attractive. These wooden kitchen cabinets are naturally dark black and their appearance provides a level of sophistication and timeless beauty which works wonders in modern architectural room designs.
In addition to their stunning look, ebony cabinets are also great at concealing stains and scratches.
2. Cherrywood Cabinets
This type of natural wood cabinetry is extremely tough, even up to its cabinet doors. Cherry wood cabinets have uniform grain patterns which offer a timeless and elegant appeal, their reddish-brown color is also a thing of exquisite beauty.
3. Hickory Cabinet
The strength of hickory cabinets rivals that of oak cabinets. Hickory cabinets have a pale yellow appearance and natural grain patterns which look divine when coated with a natural finish in a rustic contemporary kitchen design.
4. Mahogany
Mahogany solid wood cabinets set the standard for fine cabinetry due to their beautiful swirling patterns and deep reddish-brown color. The durability and strength of this wood species are off the charts, which is why they are considered the epitome of luxury cabinets.
5. Maple
Maple solid wood cabinets are super easy to paint and stain. They're characterized by their pale color and like the aforementioned solid wood cabinets, their surfaces are sturdy and durable.
These cabinets aren't as heavy as cheery wood cabinets and their surfaces are slightly smoother which is why they're a favorite among cabinet makers.
FAQs
Are solid wood cabinets better than MDF cabinets?
Both MDF and solid wood are equally spectacular materials as far as kitchen cabinets are concerned. Solid wood is special in its own right as it produces strong and long-lasting cabinets, while MDF on the other hand offers a clean and smooth finish capable of withstanding moisture, high humidity, and heat.
What is the most expensive solid wood cabinet?
Mahogany is undoubtedly one of the most expensive kinds of solid wood. Next on the list are Maple, Oak, and walnut products which are available at mid-range prices. To make an informed decision when buying cabinets, always consider the strength and resale value of each wood kitchen cabinet and not just their price alone.
How long do solid wood cabinets last?
The lifespan of kitchen cabinets is entirely dependent on the quality of materials used in their production. Since solid hardwood is practically the strongest and most durable kind of wood, cabinets produced with this material tend to last for up to 50 years or more.
However, you should note that your cabinets will only last that long if you're able to channel enough of your spare time and effort into maintenance.
What is the most durable solid wood cabinet?
Maple wood is renowned for its longevity and strength. Aside from this, it's also warp-resistant, unsusceptible to moisture damage, and produces the best custom cabinets, making it the highest quality and most durable cabinet material.
Are MDF cabinets more expensive than solid wood?
Medium-density fibreboard cabinets are used in producing some of the best quality cabinets found in many modern-day kitchens. However, they aren't quite as expensive as solid wood cabinets due to the difference in the composition of both materials.
Find out All you need to know about MDF and learn what differences there are between MDF and any other kind of cabinet material.
Final words
Solid wood cabinets are not only beautiful, but they also exude a warm and organic feel capable of transforming any kitchen into an opulent and luxurious space.
Solid wood cabinets are versatile and extremely durable, making them the ideal choice for your next home improvement or kitchen remodel project. Become a Choice Cabinet dealer today and make massive profits by selling the best and most affordable kitchen cabinets.