6 Timeless Kitchen Design Ideas that Will Look Amazing Forever
The undisputed heart of the home is always exciting to finesse. Redoing this well-loved part of the house is the perfect opportunity to bring your dream kitchen to life. However, be careful about following trendy choices during your renovation. Following too many fads can result in a kitchen that looks outdated in a few years. Instead, go with timeless kitchen design ideas that stay on-point for decades— even generations. 
What Timeless Design Really Means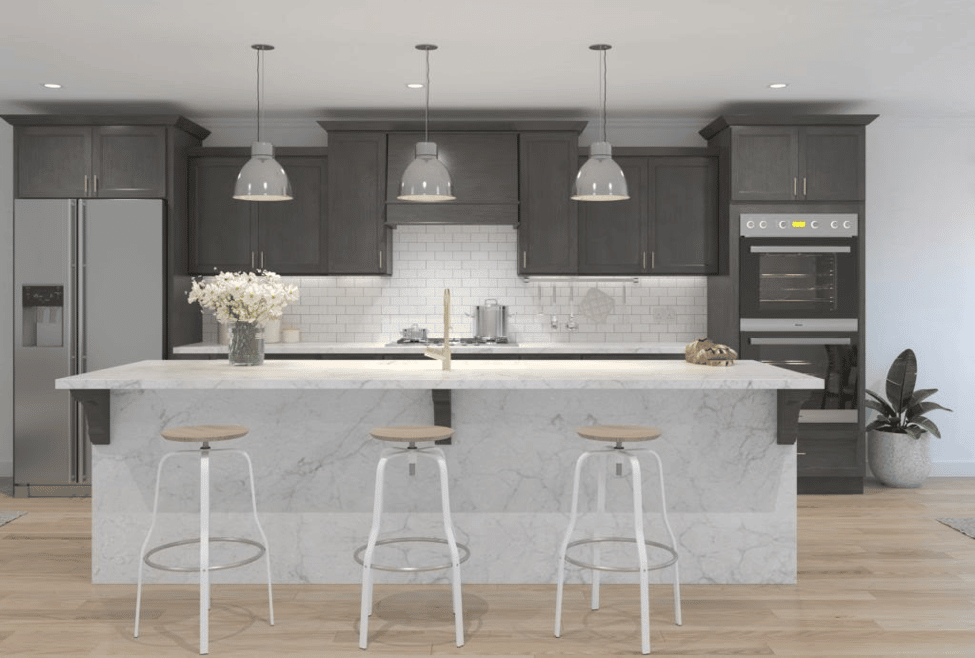 We've heard the word "timeless" so often, it's become a meaningless buzzword for many of us. So, what does this word really mean when we're talking about kitchen design?
In essence, a timeless kitchen should have core elements— such colors, countertops, and cabinets— that are so well-crafted, you don't have to change them in just five to ten years. They should be able to resist wear and tear for a long time. In addition, the aesthetics should honor your basic style, while incorporating tenets that kitchen designers have used throughout the ages.
Timeless style can also save you a fortune in the long run. Once you've fallen out of love with a design fad, it can cost thousands of dollars to fix, such as having cabinets repainted and resurfaced. Gotten tired of your kitchen colors too quickly? That's another chunk out of your budget.
Not only is timeless kitchen design beautiful, but it also makes sense from a practical perspective.
Design a Kitchen that Stands the Test of Time
Timeless quality is our guiding principle here at Choice Cabinet. We build our kitchen cabinets to last, because we know that every kitchen is an investment. 
While you don't need to apply all of the kitchen decorating ideas we're sharing below, even one or two goes a long way to infuse your kitchen with appeal that never fades:
1. Neutral Color Palettes for Elegance that Lasts
Neutral color palettes have been a cornerstone of kitchen design forever. They're elegant without trying too hard and fit most architectural themes.
One color palette that has real staying power is white on white kitchens. You'll see this in both high-end homes and small galley kitchens alike. White blends well into any style, and there's now so many shades and variations of white, from creamy tones to sleek, pearly hues.
A great way to pull off the white-on-white aesthetic is to complement it with stainless steel appliances that maintain that sleek look. Don't be afraid to add bright, bold colors here and there or some dramatic, dark furniture to incorporate your style!
2. Shaker-Style Cabinets for More than a Century of Quality
Shaker cabinets have been the pinnacle of kitchen cabinet excellence for more than 100 years. They're famous for their simple design, exceptional quality, and ability to blend into any home décor style.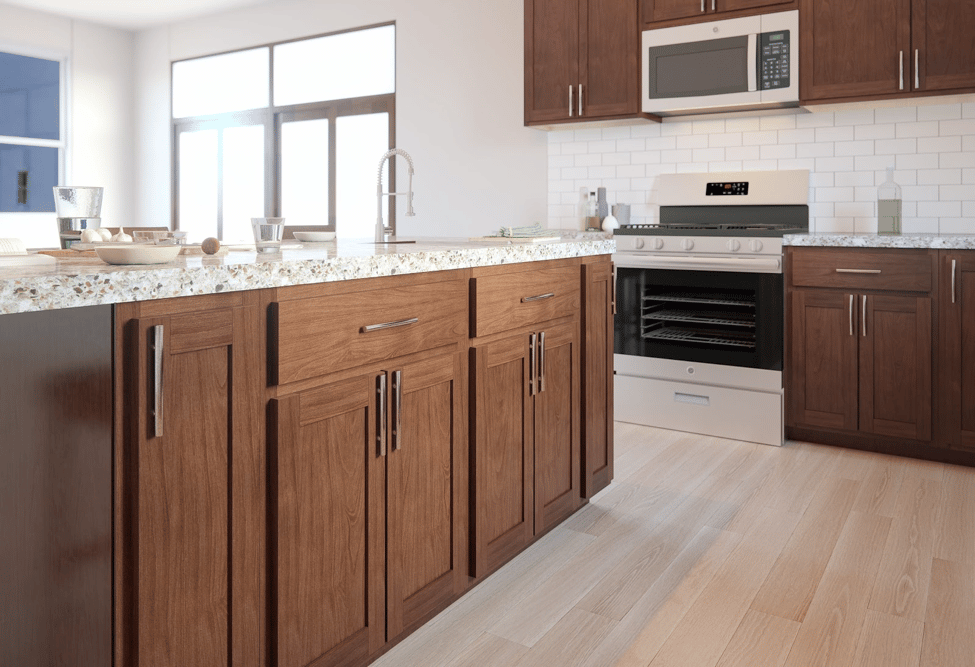 Keep in mind that timelessness is more than just aesthetics— every element of your kitchen should resist wear and tear and serve you for many years. This is only possible with high-quality materials and outstanding craftsmanship, which is what you get with beautiful, all-wood construction Shaker cabinets.
3. Quartz Countertops for Long-Lasting Durability
Kitchen countertops should be tough and able to resist chips, burns, and scratches. Quartz countertops fit the bill perfectly.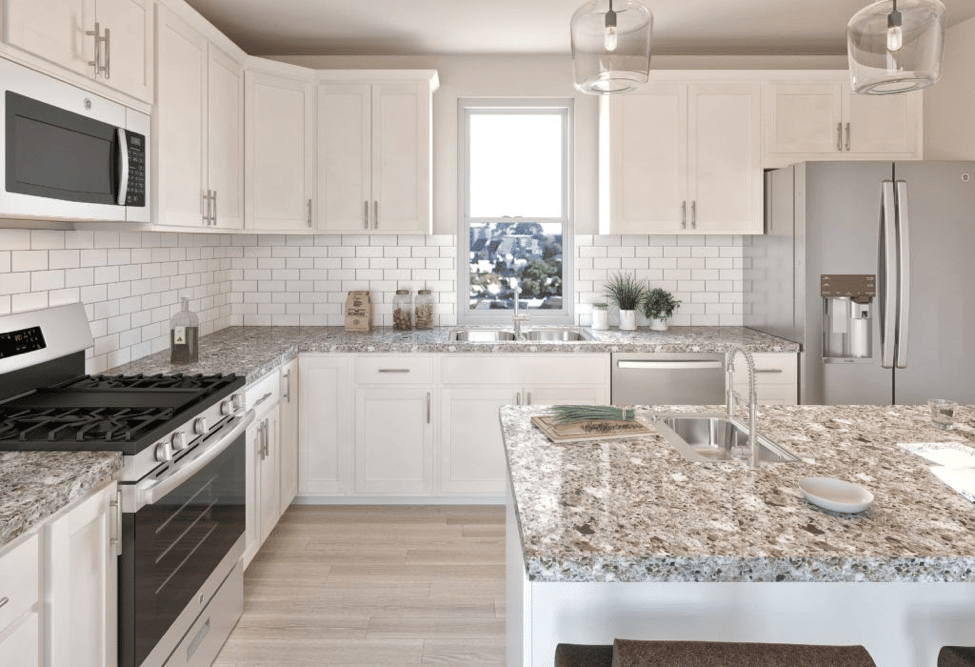 To make this material, manufacturers mix resin with quartz crushed stone, resulting in a material that's much stronger than natural stone. It's also easy to maintain quartz countertops, and you don't have to seal it every year to prevent stains. 
4. Pendant Lighting for an Ambiance That's Always Warm
Lighting is one of the most crucial, yet most overlooked, elements of a kitchen remodel. It will define the mood of the space. Ideally, you should have a variety of light sources – direct, bright light for function, and warm lighting to set a warm ambiance for dinners or just relaxing in the evenings.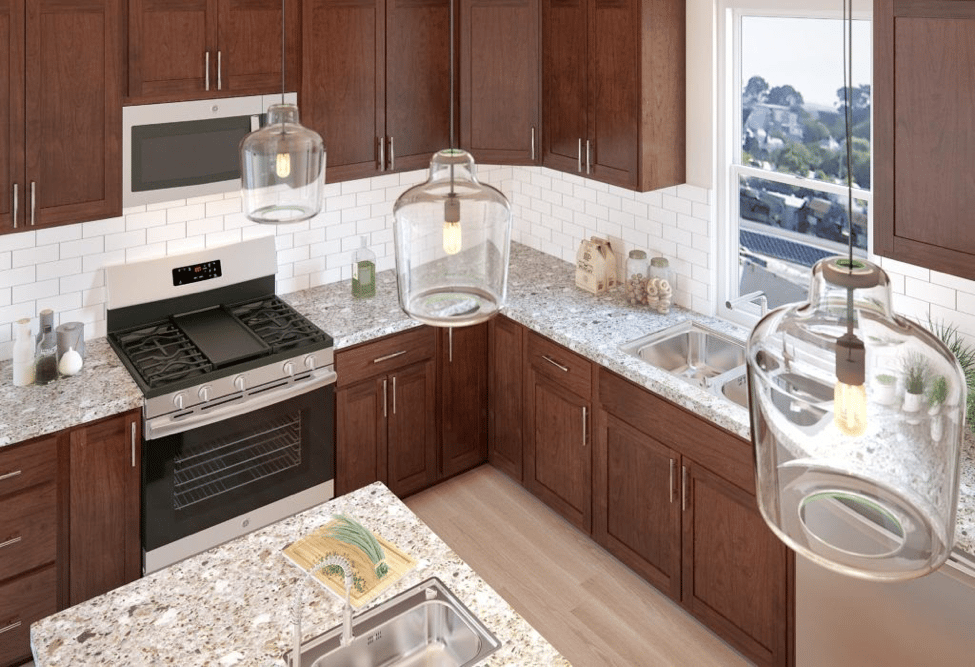 Pendant lights are a surefire way to achieve this effect. They're functional, elegant, and subtle enough to blend into any theme. They're also available in countless colors and styles, plus they take very little space since they're hanging from the ceiling instead of taking up precious counter and floor space.
5. Tile Backsplash for a Classic Background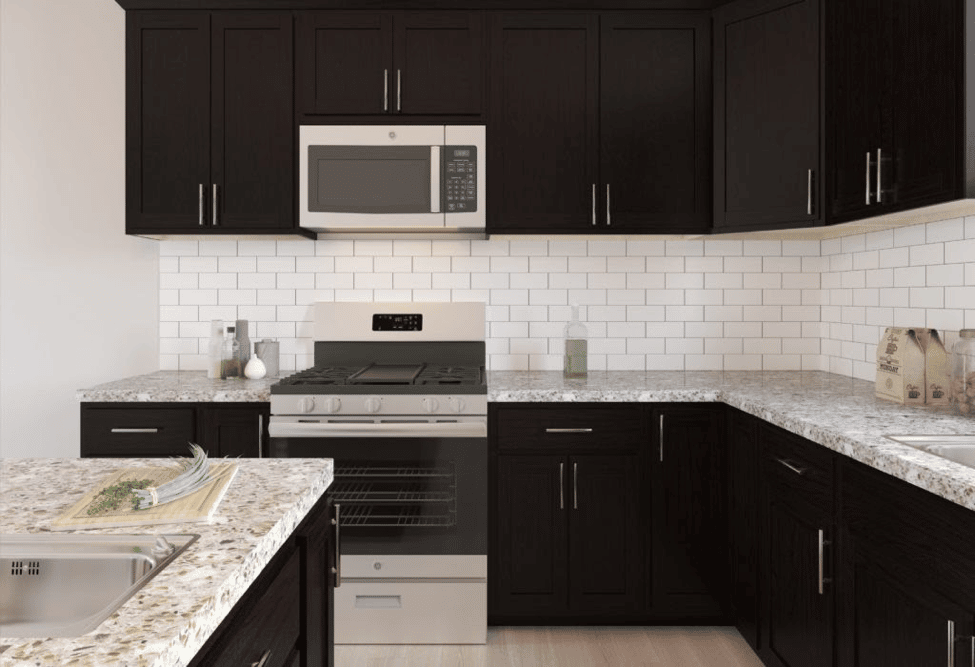 Subway tile backsplash may be classic, but it's not boring and safe. With a bit of creativity, tile can turn any cooking space from ho-hum to a major design win.
It's incredibly versatile too— use white tile for that traditional, elegant look. Go for dark gray to add some drama. Form visual patterns from tiles of different colors. Not only is a tile backsplash attractive, but it's easy to clean too, which is an essential quality of any kitchen design material.
6. Cabinet Organizers for Enduring Efficiency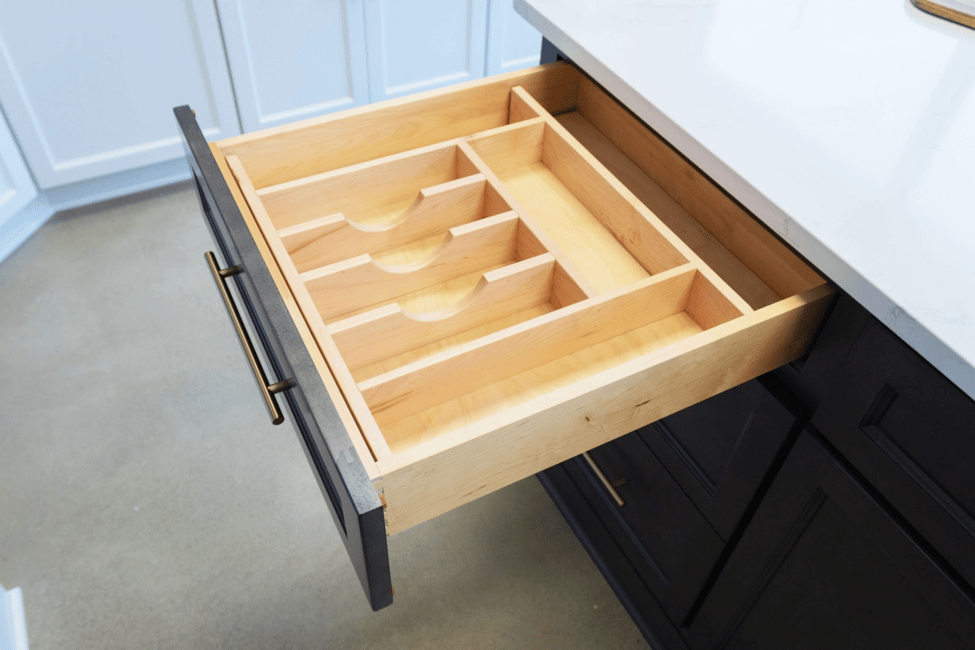 Think back to those gorgeous kitchen designs you see in magazines and on TV.
 What do they have in common? Aside from fabulous aesthetics, notice how they never have any clutter. Everything has a place, or arranged properly out of view.
Organization is one design element that will never go out of style. It boosts your efficiency, and clutter that can make your kitchen look like a dirty, jumbled mess.
According to interior designers, cabinet organizers are the key to a perfectly organized kitchen. Instead of going with the usual drawers, upgrade your painted cabinets with wooden dividers, trash pull-outs, roll-out trays, open shelving, and other organizers to introduce a flawless system to your kitchen layout.
Your Timeless, Dream-Worthy Kitchen Starts Today
When you're ready to start designing your kitchen with a fresh and timeless look, Choice Cabinet is here to help with our expertise and advice. Aside from providing you with beautiful and durable kitchen cabinets, our master designers are ready to offer their insights to help you bring your ideas to life. 
Begin your remodel by browsing through our Inspiration Gallery and Products for ideas, then Contact Us and let's discuss the kitchen you've always wanted!