When it comes to bathroom storage and organization, nothing can beat having a specific cabinet (or many) in which to keep the essentials. Under the sink, above the toilet, next to the shower – anywhere you have open space can be used as a prime location for a useful cabinet.
If you are a homeowner who is considering a bathroom remodeling project or new home construction, you must remember to consider the type of cabinet you would prefer in your bathroom to ensure you have enough storage space for all of the important items you use every day, such as extra soap and shampoo, towels, washcloths, toothpaste, medicine, and many other products you can find in almost every bathroom. At Choice Cabinet, we have assembled a practical buying guide for you as you make your way through the process of cabinet and bathroom storage research.
The Homeowner's Practical Shopping Guide to Bathroom Cabinets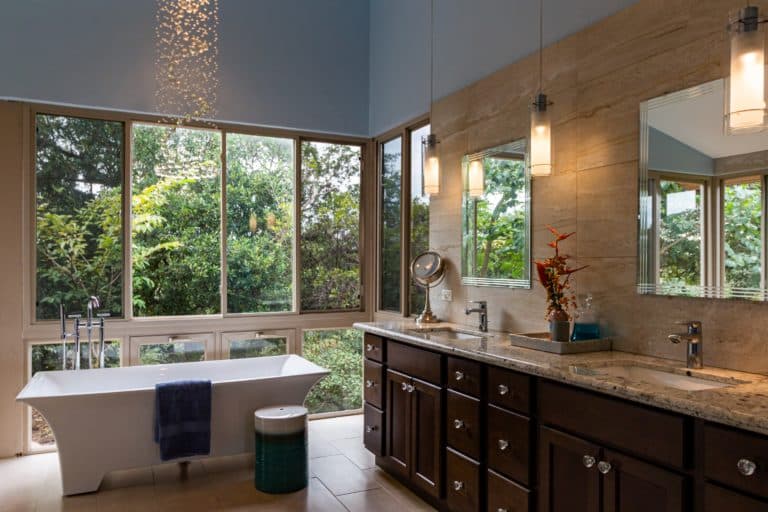 The bathroom and elements like cabinets deserve as much attention as the kitchen and living room, especially during a remodeling project or new home construction. It may not be the main living space, but it is still a major hub for activity. It is where the morning rush happens as everyone prepares for school and work. It is a place to relax, too— what could be better than a hot shower or a leisurely soak in the tub after a long day? 
If you're thinking of redoing your bathroom, you may be excited about choosing a new color palette, fresh décor, and beautiful toiletries to match. During all that frenzy, many homeowners forget about one of the most important aspects of bathroom design: bathroom storage.
Cabinets are the key to a well-organized bathroom and ensure that all of your bathroom products and items are out of sight. Storage eliminates the need for everything to be on the counter or other visible areas for everyone (including visitors) to see. It eliminates clutter, which in turn frees up visual space to showcase all the beautiful designs you've incorporated during the renovation. Aside from aesthetics, cabinets make the bathroom a more functional, convenient space where all of your essential items are in the right places.
With so much depending on your bathroom cabinets plus the sheer number of choices in the market, how do you find the perfect ones for your home? Don't worry— we at Choice Cabinet have simplified the selection process for a no-fail buying guide to bathroom cabinets! Whatever your bathroom renovation vision may be, our friendly and knowledgeable staff can help you figure out the right choice for your bathroom.
Know Your Cabinet Types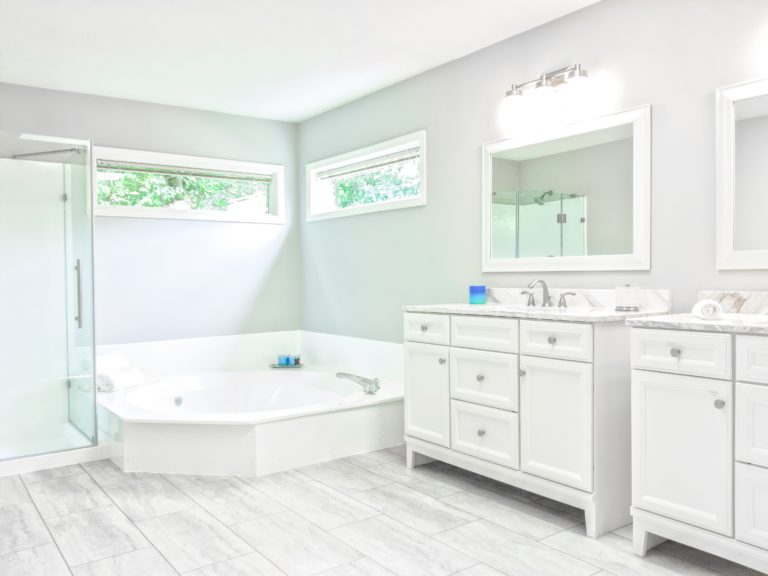 When tackling a bathroom renovation project, it is quick and easy to start at a large, all-encompassing store to find everything you need. A lot of homeowners assume that big box stores are their only option when buying bathroom cabinets. That's not true at all. While these stores may have a selection of choices and a decent price, they cannot guarantee the craftsmanship, installation, and integrity you will find with a specialized shop such as Choice Cabinet. Plus, you don't even have to leave your home with online ordering and shipping to get the cabinets you need.
We highly recommend researching cabinet types before beginning your remodel, especially if you're doing it DIY. This information will help you decide which is the right choice for your project:
Stock Cabinets
These are mass-produced cabinets. What you see is what you get – no customizations. If ordering outside your area, shipping will be ready as soon as possible. This makes them convenient if you need a quick turn-around time for your project. They will provide you the basic necessities you need for your bathroom, storage included, but not much more.
It is important to remember that if you are interested in any type of customization, the stock cabinets are not the option for you. These are built for speed and quick shipping, not for a specialized, unique, or customized renovation. For your own bathroom, keep in mind that you and your family will likely spend quite a bit of time in the room, so you want to have the ideal elements for the bathroom that will make you happy and relaxed.
Semi-Custom Cabinets
Semi-custom cabinets are basically stock cabinets, but you can customize some elements like door fronts, cabinet depth, or cabinet drawers. If you are looking to be able to spend a bit more money on your bathroom renovation but don't want to go overboard, the semi-custom option may be for you. You will get the basics covered, plenty of bathroom storage, and a bit of flair to bring out your unique personality in your bathroom.
Custom Cabinets
These are made-to-order cabinets that are fully customized to your specifications. While they give you a lot of freedom in terms of details like finishes, material, style, and decorative elements, they are often extremely expensive. If you have dedicated a good portion of your budget to the cabinets, these may be the right option. When you want a truly unique bathroom, including the storage elements, custom cabinets are certainly a guarantee that you will get exactly what you want.
Ready-to-Assemble Cabinets (RTA)
These cabinets come boxed, and you'll need to assemble them yourself. The beauty of RTA cabinets is that they are much more affordable than other cabinet types. Some people assume that cheaper always means lower quality, but that is not true at all. High-quality RTA cabinets can rival higher-end types. It all depends on the company you buy it from. Ready-to-assemble cabinets are a great option for DIY-ers who have some skill in putting cabinetry together but do not want to do the cutting or other more advanced woodworking activities.
Easy Tips for Buying Bathroom Cabinets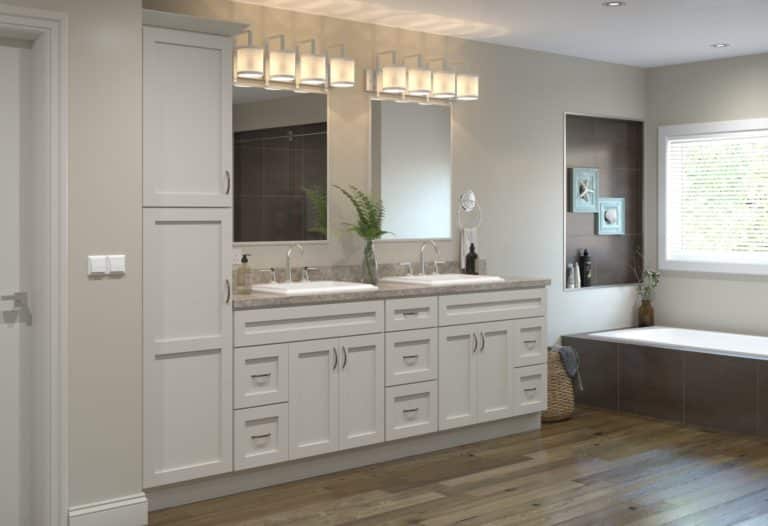 Now that you have a better idea of your choices, it is time to shop for your new bathroom cabinets! It can be overwhelming at first because you will be presented with so many options, customizations, and price ranges. However, if you have the right knowledge about which elements to consider, the task of making the right decision becomes much easier:
Know your bathroom layout.
Where do you want your new bathroom cabinets? This is a pretty natural first question, especially when you need to decide on the type of cabinet you want to install. Common options include U-shaped, L-shaped, and one-wall layouts. There is also the galley design, which means placing bathroom cabinets on two opposite, parallel walls.
The layout of your bathroom cabinets will depend a lot on how much space you have. You may want to keep your cabinets on one wall for smaller bathrooms and take advantage of the vertical space with both base and wall mount cabinets. Maximizing bathroom storage space without taking over too much of the room itself is a tricky task. Still, the right designer can help you make sure you will be happy with the bathroom's overall functionality.
The L-shape is excellent if you have some additional space. There is no need to stack your bathroom storage only if you do not need to, and the L-shape is a perfect option to avoid overcrowding. Remember, bathrooms are generally not huge rooms, so it is important to maximize your space to keep the bathroom functional and peaceful. Note that the layout will also affect how many cabinets you need, which, in turn, will affect your overall budget.
Choose your cabinet door style.
The cabinet door style has a tremendous influence on the overall bathroom design. It is the primary part of this bathroom storage space that everyone will see, so you need to be satisfied with your choice. Our Shaker-style cabinets are a favorite among homeowners who prefer a contemporary aesthetic. If you're leaning towards traditional visuals, raised-panel door styles are perfect for this. We encourage you to look through our Inspiration Gallery for more inspiration!
Decide how many sinks you need.
How many sinks do you want for your bathroom? This is an important decision because it will affect how big your bathroom vanity should be. It may be a pretty easy question to answer, especially if your bathroom is not overly large, but installing a "his and her" sink setup can still be done. Keep in mind that the bigger and more sinks you want, the more counter space you need, so factor that in during your remodel. You can learn more about bathroom sink specifications at our Choice Library.
Choose your decorative hardware and accessories.
Bathroom cabinet décor and other accessories can round up your entire bathroom design. You have got many choices just for the hardware alone, such as pulls, knobs, and hinges. This element goes beyond looks as well. They also go a long way towards ease of use. If you have seniors in your home, for instance, they might find it easier to grip a pull than a knob, so keep this in mind. The bathroom is a combination of functionality (think bathroom storage) and personality. The decorative hardware works on both fronts, but it will certainly affect the aesthetic of the bathroom before anyone considers the functionality.
Select the right storage solutions.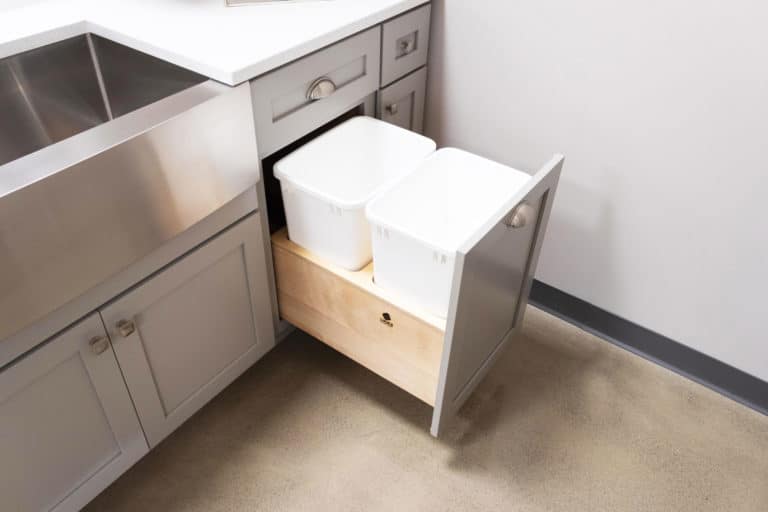 Ultimately, the bathroom cabinets' main purpose is to keep the entire space organized for all of your essentials like towels and other items. Everything should be within easy reach, especially for busy mornings.
Proper bathroom storage will help you stay on top of supplies. They make it easy to check if you're running low on toiletries, such as rolls of tissue or linen.
When it comes to each storage cabinet, think pull-out drawers, trash pull-outs, dividers, and other smart organizers for your bathroom wall cabinet, medicine cabinet, linen cabinet, and more. You have a great many options, and our staff is here to help you figure out the pros and cons of each as well as what will work best in your space.
Choice Cabinet: Affordable, Beautiful Bathroom Cabinets for Your Home
At Choice Cabinet, you'll find some of the finest RTA bathroom cabinets available today. Our rigorous quality standards offer the perfect blend of quality and affordability. Here's what you get when you choose Choice Cabinet:
Extra-thick shelves made of sturdy 3/4″ plywood

All-wood construction using constructed of solid hardwoods and furniture grade plywood

No particle boards

Sturdy pocket screw joinery method

Natural finish hardware interior; no melamine

Best-in-class 10 step finishing process

Dovetailed drawer boxes; no stapling

CARB2 Certified

KCMA Certified
All of our cabinets are easy to assemble, long-lasting, and provide outstanding value for your money. Ready for your bathroom remodel? We can ship your bathroom cabinets straight to your door for a hassle-free experience. We offer to ship all over the country— find Choice Cabinet dealers near you today and kickstart your bathroom redesign!
Our team is here and waiting to help you create the bathroom you have always wanted by assisting you with your cabinet decision. With fast shipping, years of experience, a price you can't beat, and friendly customer service, Choice Cabinet is the best industry.