Backsplashes are generally known to help prevent water from touching the kitchen walls and messing up the paint. However, they also add to the aesthetics of your kitchen and can complement the beauty of your kitchen cabinets.
If like many others, you can't seem to figure out which backsplash would be right for your particular shade of gray cabinets, one of the following backsplash inspirations could be just what you need.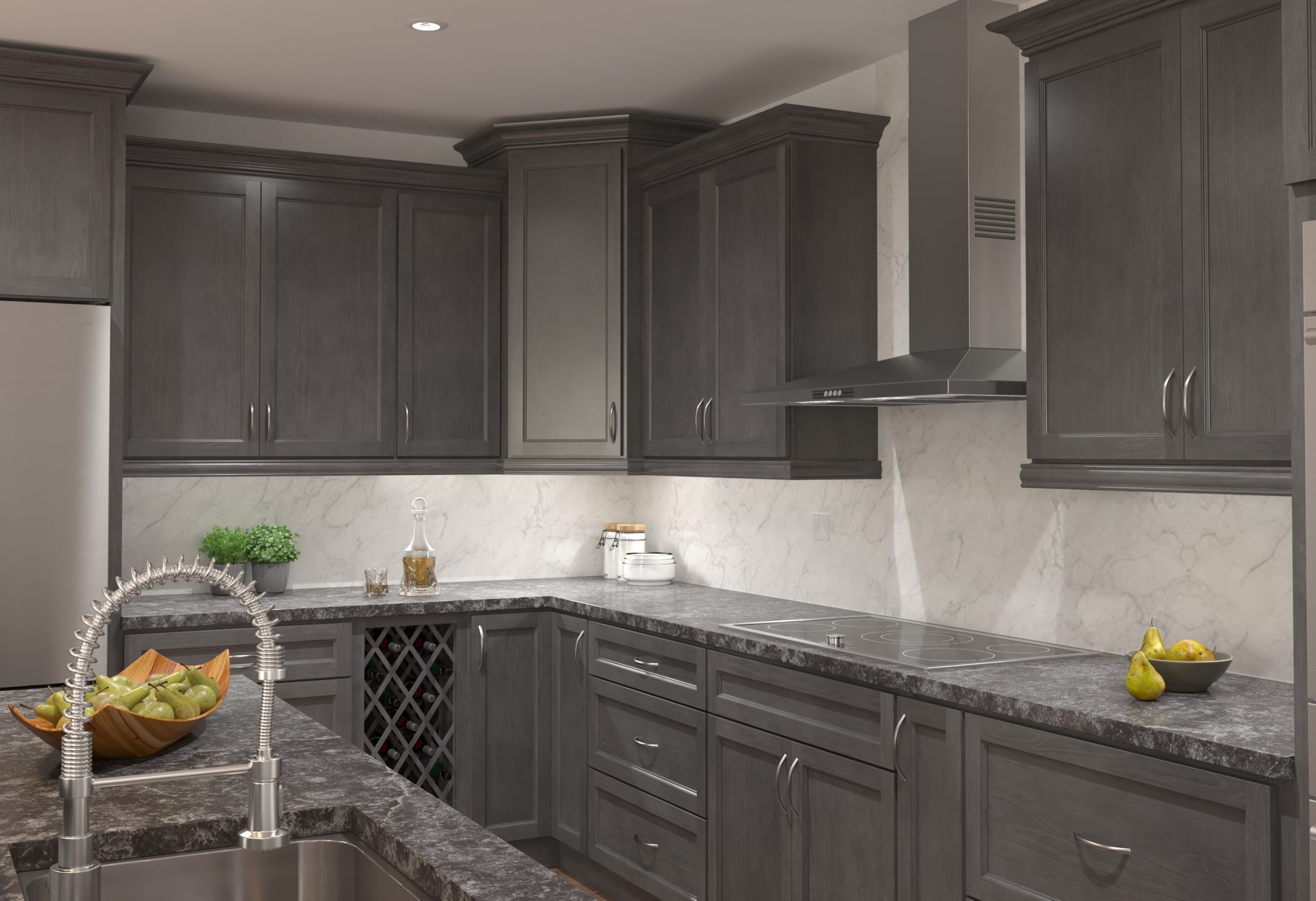 Timeless  Gray Kitchen Cabinets Backsplash Inspiration
Gray kitchens and cabinets are an awesome compromise between bright, vigorous white cabinets and dark, mystifying black cabinets. However, the fact remains that choosing the perfect backsplash designs to complement your gray kitchen cabinets can be rather difficult. Would you prefer a neutral look, something bold perhaps? Or maybe dark shades are more to your style.
There are countless backsplash styles and designs that can be paired with dark or light gray kitchen cabinets, which can be quite worrying when you're looking to strike a balance between these two components of your kitchen.
You might also like: Best Kitchen Cabinet Colors
1. Dark Gray Kitchen Cabinets and a Metallic Backsplash
While this might not be one of those looks that come to mind right away, it makes perfect sense once you picture it. Any gray cabinet shade looks stunning when set together with metallic elements. However, when paired with a dazzling metallic backsplash the result is downright gorgeous.
It's downright warm metals like copper aren't capable of producing the same striking effect that chrome and stainless steel do, so it's important to keep this in mind when picking out a metallic backsplash.
The reason why this look works so well is that gray cabinets are naturally enhanced by metallic elements and they create a visual yet subtle appeal that accentuates an otherwise neutral design. To further improve on this look while adding a little sparkle, opt for a mosaic backsplash designed with small metal tiles.
2. A dark gray backsplash
This design features a backsplash with the same shade of gray and white as other elements around the kitchen. As simple and straight to the point as this design might seem, it's anything but, as the chevron, backsplash design gives the entire kitchen space a vibrant and interesting glow.
Choosing a gray backsplash with interesting shapes and patterns is a splendid way to take the visuals of your space up a notch. Come to think of it, what better way is there to add a touch of interest to a neutral gray kitchen?
3. Brown Tile Backsplash
Although many homeowners prefer to match their gray-colored cabinets with the same color or equally neutral shades like white and black or even eye-catching primary colors like blue and red, there are simpler and more effective ways to complement your gray cabinets.
While the thought of a brown tile backsplash doesn't pop up on everybody's mind, it does however make a lovely combo with gray cabinets. If you're going for this look, note that lighter gray cabinets are the more viable options since dark shaded gray cabinets are bound to clash with browns.
4. A Marble Backsplash
Marble is one of the most adaptable backsplash choices, which makes it a spectacular option for pairing with gray cabinets, especially if you have marble countertops. One of the reasons why marble backsplashes pair so well with gray cabinets is because their design naturally features some shades of gray.
Regardless of how light or dark the shade of your gray cabinets is, a marble backsplash will surely make a beautiful match. Although some might believe a marble backsplash is only suitable for traditional or classic kitchen designs, as they were once reserved for, they do however look absolutely stunning in contemporary kitchen designs.
5. Light Gray Cabinets and White Backsplash Tiles
If your cabinets are a light shade of gray, it might seem almost impossible to find a backsplash capable of complimenting it. For instance, you might be looking forward to pairing your light gray cabinets with an elegant white and clear backsplash, but you might be worried that it might come off as ordinary.
The best way around this dilemma is to go with a white tile backsplash with an eye-catching and unique design. It can be difficult to find different shades that match with gray cabinetry, therefore a neutral-colored backsplash is an interesting way to display your sleek gray cabinets without setting off other design elements.
See also: Backsplash Design Ideas That Work for Any Kitchen
6. A Bold Red Colorful Backsplash
If you're in search of a trendy and contemporary way to style your dark gray cabinetry, one of the best ways to do so is with a solid bold-colored backsplash. The brightness of the color you choose for your backsplash will have a direct impact on every other element of your kitchen design.
Choosing a bold color accent is a great way to liven up your space. A blue backsplash will give your kitchen a cool but slightly darker appearance. Wood accents and lighter colors like yellow, orange, or red create a warm and poppy appearance, which is perfect if you prefer a bright and lively-looking kitchen.
Although a flashy backsplash runs the risk of being too 'out there or brash when paired with equally bright cabinets and counters, they do however make a magnificent combination with gray cabinetry due to the color contrast.
Homeowners who want to make a statement should consider using a red backsplash covered with glass as its reflective appearance blends well with wood cabinets and steel appliances in the kitchen.
7. Glass Subway Tile Backsplash
Place the square-shaped glass in a herringbone fashion to create a dainty and vibrant backsplash. This show stopper of a backsplash design not only contrasts with darker gray kitchen cabinets but also matches with white cabinets as well as wooden shelves and countertops.
8. Delicate White Chevron
Chevron backsplashes are generally more aesthetically pleasing and have a more muted appeal compared to glass. When glass tiles are arranged in a herringbone pattern they tend to feel a bit earthy and fun, however, when natural stone is laid out in the same pattern it appears more elegant and intricate, more so with good cabinet lighting.
9. Tall and Narrow Tiles
If you're hoping to give the impression of height in your kitchen, tall and narrow tiles are the way to go when choosing a backsplash for your dark or light gray cabinetry. Not only do they pair exceedingly well with gray cabinets, but you'll also love how they blend with your wood shelves, island cabinets, and every other aspect of your kitchen.
10. Patterned Kitchen Backsplash
Using a patterned backsplash can say a lot about your kitchen space. Aside from adding some spunk to your kitchen, it also does an amazing job of leveling up other warm accents around your space.
11. Caramel and Gray
Pairing a caramel backsplash with your gray kitchen cabinets is a great way to add some flair to your color scheme while giving it a modern and luxurious look.
12. Rounded White Tiles
Rounded tiles add a level of elegance and softness to a backsplash. They also make a lovely contrast to the typical straight edges found in the majority of kitchens. They aren't merely a deviation from the traditional kitchen design, they're great for adding character and interest to a light gray kitchen design.
FAQs
Should cabinets be lighter than the backsplash?
When choosing colors for your backsplash and cabinets, it's essential that your color scheme for one particular element balances out the other. A great example of this is that if you have light gray kitchen cabinets then you should consider using a dark gray backsplash color to add some depth to the design.
Inversely, if you have darker gray kitchen cabinets, then ensure to use a backsplash of a lighter shade to even things out.
What backsplash color goes with light gray kitchen cabinets?
The go-to option for light gray cabinetry is a white backsplash. Although several other color options are just as flattering, the effortless contrast is the reason why white is the more frequently used option.
If you'd rather not use white but don't want your kitchen to appear too dark, then go for a beige or greige backsplash to brighten up your kitchen.
Which backsplash color is best for white countertops and gray cabinetry?
The best way to add some balance to the gray-on-gray cabinet and countertop design is by choosing a white subway tile backsplash. This intricate color combination is fun and classy at the same time and pairs excellently with black window frames.
What wall color matches grey cabinets?
White or gray paint are two of the most versatile kitchen wall colors, which makes them the perfect choice for gray cabinets.
The best part about using white or gray wall paint is that they both pair excellently with dark and light gray cabinets regardless of whether the same shade is used for both upper cabinets and lower cabinets.
Can you pair a gray marble backsplash with grey kitchen cabinets?
Certainly, light and dark shaded gray cabinets pair excellently with a gray marble kitchen backsplash due to the color contrast. If you would rather pair your granite backsplash with dark gray cabinets, ensure to set off the color scheme with a brown floor or any other cool shade, just remember to avoid any darker shade.
Conclusion
Choosing a backsplash to pair with gray cabinets is nothing out of the ordinary, and it's certainly not something to fuss about. With our colorful selection of backsplash options you're sure to find something to work with no matter the shade of your gray cabinets.
Want to sell Choice Caabinett and become one of our highly profitable and trusted dealers? Quickly fill out this form and let us get you started.