6 Extraordinary Ways to Design a Standout Kitchen Backsplash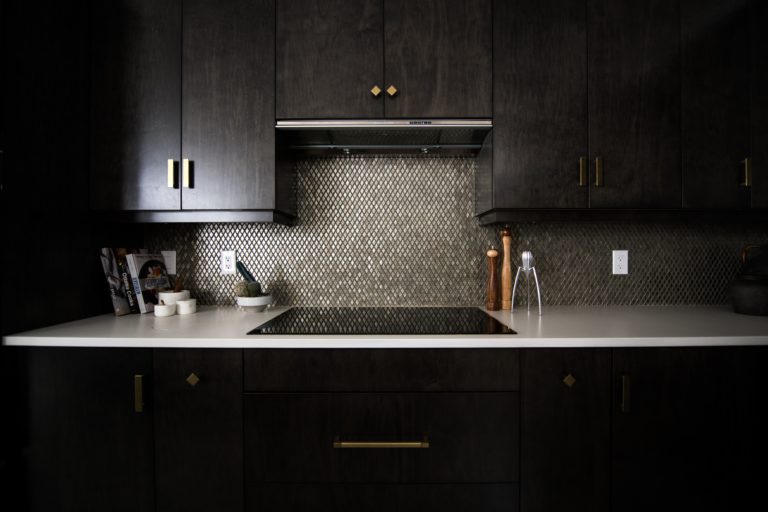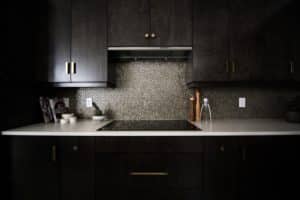 Want to refresh the way your kitchen looks, but don't want to do a full renovation? Explore a world of textures, patterns, and colors with a new kitchen backsplash. Even the most elaborate backsplash typically won't cost as much as a remodel, but it packs a powerful punch that can update the entire space.
Here at Choice Cabinet, we've always marveled about how the smallest details like the backsplash can make the most dramatic design impact. Discover how to make the most of this humble design element!
Kitchen Backsplash: From Utilitarian to Design Essential
The very first backsplashes were purely utilitarian. Positioned behind the cooking range, sink, or both, they were made to protect the wall from grease splatters, food spatter, and water splashes. They also make the wall easy to clean since they only needed quick wipe downs.
Because they were mostly functional, early backsplashes tended to be simple. Most stood only four inches tall and made of cheap ceramic tile.
By the mid-20th century, designers started to recognize the design potential of backsplashes. They began to cover more space, such as subway tiles spanning the length of the counter or stone mosaics reaching up to the ceiling. Backsplash designs began to feature more elaborate combinations of materials, sizes, shapes, patterns, and colors.
Today, the backsplash has become a visual focal point of the kitchen. It exudes personal style, adds visual flair, and sets the mood for the entire kitchen.
Do you really need a backsplash?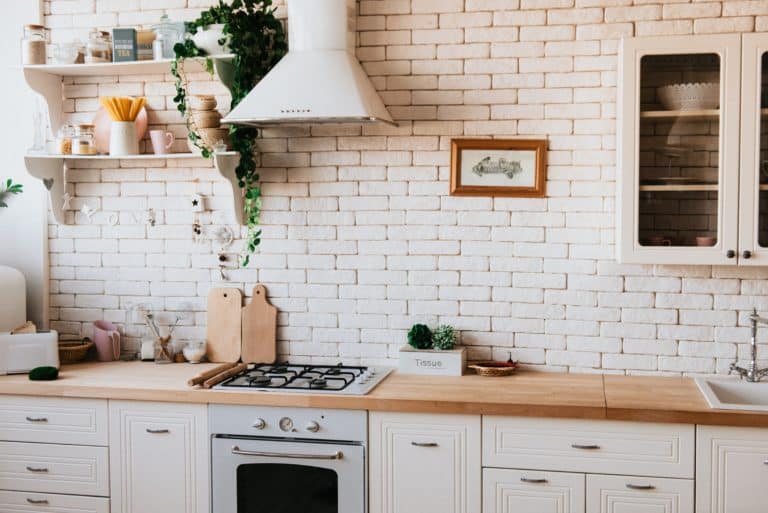 Technically, you don't. But without one, it can be hard to completely eliminate water spots and grease stains. You also risk water damage when moisture gets into the drywall. The chances of developing mold and mildew in the kitchen is also higher without a backsplash.
Any section of the wall with a backsplash becomes so much easier to clean and keep grime-free. You don't have to worry about scrubbing and damaging your paint and wallpaper. Since most backsplash materials – such as stone, ceramic, glass, and metal – need minimal maintenance, it makes working in the kitchen so much more sanitary and efficient.
On top of that, the right backsplash design can really take your kitchen from attractive to absolutely stunning. But first, you need to be familiar with how to choose a backsplash design.
How to Choose a Design for Your Backsplash
Some people go straight to exploring colors and patterns for their backsplash, but you need to make the choice more carefully. The backsplash should be a perfect blend of form and function. To achieve this, consider the following elements:
Consider how it will complement or contrast with your floor and countertop.
Matching or artfully mismatching the colors and materials for your backsplash can really bring everything together depending on your taste. Contrasting designs create intrigue, while complimentary ones create a harmonious effect.
Think about strategic placement.
How and where you place the backsplash produces different effects, too. Wrapping it around the entire kitchen infuses the area with continuity and creates an illusion of space. On the other hand, keeping the backsplash in certain spots such as behind the stove makes a striking statement by highlighting those areas.
Choose your material.
There are a lot of backsplash materials available today. Selections range from brick and wood to metal, mirror, tiles, glass, and natural stone.
Your final choice will largely come down to your personal taste and budget. Materials like subways tile and glass are much cheaper than marble or stone. If you don't have the budget for expensive options, you can mimic the same textures and aesthetics with ceramic and other cost-effective options. Make sure to shop around and compare your choices before making a decision.
Backsplash Design Ideas
Once you've chosen the look, placement, and material for your backsplash, it's time to focus on the design! It's a great way to infuse more personality into the heart of the home without the mess and expense of a full-scale remodel. Make a big splash with your backsplash using these ideas:
Take it to the Ceiling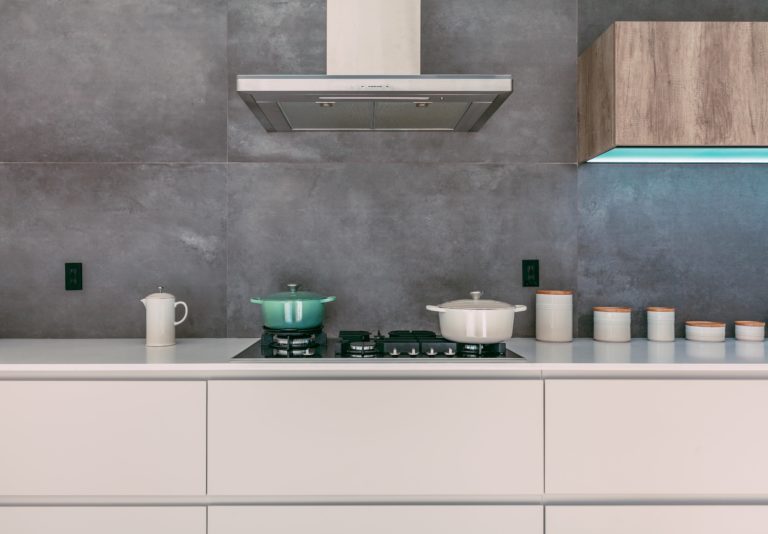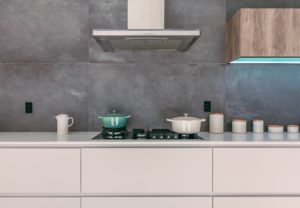 Break the mold and bring that backsplash all the way to the ceiling! Higher backsplashes unite every aspect of the kitchen. Need to brighten up the space? Consider using white subway tiles up to ceiling-height. For an even more luxurious look, play around with a combination of patterns, textures, and colors.
Go Glam with Mirrored and Metallic Finishes
Harness the dramatic beauty of sunlight by choosing mirrored and metallic finishes for your backsplash. In the morning, the reflected light really opens up the kitchen with a bright and airy ambiance. The glossy surface makes a huge impact at night as well, especially when you have soft kitchen lighting. Don't want to go all out with metal and mirror? You can also use metal-finished tiles as accents.
Go Crazy with Patterns
Love over-the-top designs? Make a statement with your backsplash! Turn heads by experimenting with tile patterns like Moroccan fish scale, chevron, laser-cut tile, and herringbone.
Since most of these patterns are visually "busy," complement them with neutral colors you're your countertops and cabinetry. However, don't be afraid to go all in— take it all the way to the ceiling and across an entire wall if you'd like, to create a backsplash work of art.
Take Style Risks with Interesting Finishes
You have an endless option of  finishes to choose from, and they're also an excellent way to create an unforgettable aesthetic. Think weathered finishes, acid wash finishes, antique looks, natural stone effect, matte or honed finish, country, rustic, and more.
Break Boundaries with Color
White, grey, beige, and other neutral colors will always be a beautiful choice for any kitchen. But if you want to add a splash of color to your minimalist design, the backsplash is the way to do it. From vibrant yellow to moody charcoal concrete, backsplashes offer an easy way to incorporate color into a kitchen.
Explore Alternative Materials
For a totally fresh approach to backsplash design, try working with alternative materials. A lot of designers are playing around with unconventional materials like metal sheet goods made of copper, stainless steel, zinc, or aluminum for a beautiful industrial effect.
Try mixing glass with steel for some unforgettable sophistication. You can also experiment with wood cladding, wainscoting, or even fabric behind glass for a truly unique look.
Choice Cabinet: Beautiful Cabinetry for the Kitchen of Your Dreams
Finally, complement your backsplash with timeless cabinetry that will complement any traditional, contemporary, or transitional kitchen design. Our kitchen cabinet designs go perfectly with backsplash materials such as subway tiles and marble.
Explore our Inspiration Gallery to see them in action, or get Kitchen Backsplash Ideas for your renovation. Ready shop? Contact Choice Cabinet and let our expert designers help you realize your dream kitchen!