Top 9 Kitchen Backsplash Ideas to Inspire Your Next Kitchen Redesign
Beyond selecting the right color palette, appliances, and furniture for your kitchen, choosing the backsplash is just as important to the overall design. It offers an opportunity to showcase your personal style while enhancing the efficiency of the area. At Choice Cabinet, we love how little details like the backsplash can tie an entire kitchen together. Learn more about this design element and get inspiration from our list of kitchen backsplash ideas!
What is a kitchen backsplash?
The kitchen backsplash is material typically used to cover the wall space between the countertop and the upper cabinets. However, it's not limited to that area. You can use it to fill any gap in the kitchen wall, and it can even span the entire length of the countertop.
Early versions of the backsplash were small patches located just above farmhouse sinks. Today, it has become a major kitchen design element in one of the most used parts of the home. Done right, it rounds out the space with interesting materials, textures, patterns, and colors.
Ideally, designers recommend installing them at the same time as the countertop, which makes them a perfect addition to your kitchen renovation. But it also makes for a great project on its own if you feel like updating the looks of your kitchen.
Practical Benefits of a Kitchen Backsplash
Unlike many design features, the kitchen backsplash should be an equal mix of form and function. It has several purposes:
It protects the wall behind your counters and sinks.
The kitchen backsplash acts as a barrier against splashes from the sink, countertops, and cooking stoves. It protects the wall against liquids and food that can cause stubborn stains. It's also an important defense against water damage that can eventually cause structural issues and mildew problems in the kitchen. Finally, the backsplash shields your wall against all the tools and equipment you have in the area which can cause accidental scrapes and scratches.
It cuts down on cleaning and maintenance.
Easy-to-clean backsplash materials like tile, metal, stone, and glass tiles can dramatically reduce the time you spend cleaning the kitchen. Instead of scrubbing stains endlessly, you can simply wipe them off with a sponge or damp cloth.
It prevents pests from infesting the kitchen.
Water damage can eventually cause the walls in your kitchen to crack, which makes them more susceptible to pests. Food stains also attract insects and vermin into your house. A properly-sealed backsplash goes a long way in preventing pests in the kitchen.
Compared to other design elements in the kitchen, the backsplash takes up a small space. However, it can really bring together the entire kitchen theme. The key is to choose materials and designs that complement your overall color scheme. If you're redesigning with dark brown Shaker cabinets, for instance, it's a great idea to use backsplash with earthy shades to go with the cabinetry. Feel to experiment with colors, textures, and materials before making a final choice.
Popular Materials for Kitchen Backsplashes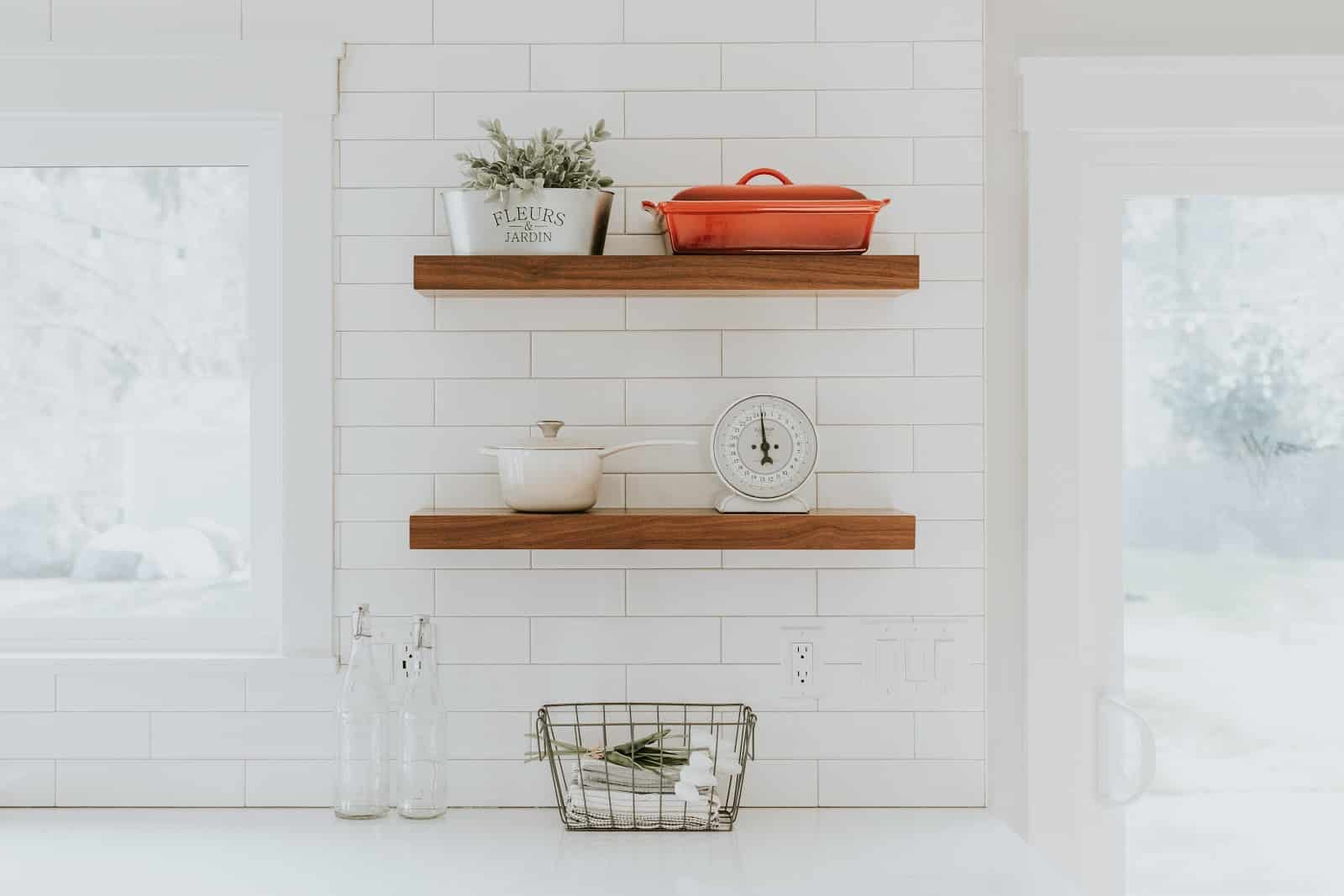 Tile has always been the most common material for kitchen backsplash. It offers countless colors and textures, is durable, and super easy to clean. These qualities make kitchen backsplash tiles such an excellent material. However, interior designers have started experimenting with different backsplash materials including:
Granite

Stone

Marble

Stainless steel

Sheet glass

Thermoplastics or PVC Backsplashes
When choosing material for your backsplash, make sure they are resistant to scratches and scrapes, which happen all the time in busy areas like the kitchen. Select one that is heat-resistant because it will come into contact with intense temperatures especially the section located right behind the stove. Backsplash material should also be resistant to rust and properly sealed.
If you're planning to add a backsplash during the redesign, make sure to confirm it with your contractor because backsplashes are considered optional design elements. 
9 Beautiful Kitchen Backsplash Ideas You Should Try  
Here comes the fun part— exploring brilliant kitchen backsplash ideas for your renovation! We've come up with a list of beautiful, creative backsplash designs below:
Kitchen backsplashes work best when they blend perfectly with the countertops and cabinets. Express your eco-friendly mindset by using recycled glass tile backsplash. You can use a mix of colors for this one, such as warm creams, grays, and browns to complement dark-colored kitchen cabinets.
Satisfy your vintage aesthetic with round penny tile for your kitchen backsplash. We recommend combing white penny tiles with creamy white kitchen cabinets to create an elegant country kitchen ambiance. Consider using contrasting grout color to really make the penny shape pop.
Chevron design, aka herringbone pattern, is composed of zigzags in a stripe layout. This eye catching patterned tile works really well for a kitchen backsplash. To avoid overwhelming your color scheme, stick with a subtle palette and similar hues for the zigzag such as white and grey to go with a neutral kitchen.
Make a Statement with Marble
Love marble but don't have the budget to outfit your entire kitchen with it? Use it on a smaller scale by installing a marble slab as the backsplash. It looks spectacular in a neutral-colored kitchen, and marble backsplash goes particularly well with graphite countertops and dark cabinetry.
For a minimalist, modern kitchen, it's hard to beat a single sheet of glass. Add color by painting it on the back. The shine is a great way to visually open up your kitchen.
Mimic the look of natural stone by using chocolate-brown porcelain tiles edged with dark-gray grout. This type of backsplash goes particularly well with wood-toned cabinetry and a sleek range hood.
Not in the mood to install individual pieces of tile? Try a stainless-steel kitchen backsplash instead. It exudes a cool, contemporary vibe that's perfect with elegant transitional Shaker cabinets to play up the symmetry of the room.
If you're into the industrial look, consider using brick for your kitchen backsplash. Infuse your kitchen with some old-house patina by dressing it in extra mortar. Don't have the real thing? Feel free to use brick veneer to achieve a similar effect.
Keep it Classic with Subway Tile
The timeless appeal of white subway tile will never fade when it comes to the kitchen backsplash. It's a beautiful complement to white cabinets without taking the attention away from the rest of the design. Add a practical element by using dark grout to add texture and reduce the appearance of stains on your subway tile backsplash.
How to Choose the Right Kitchen Backsplash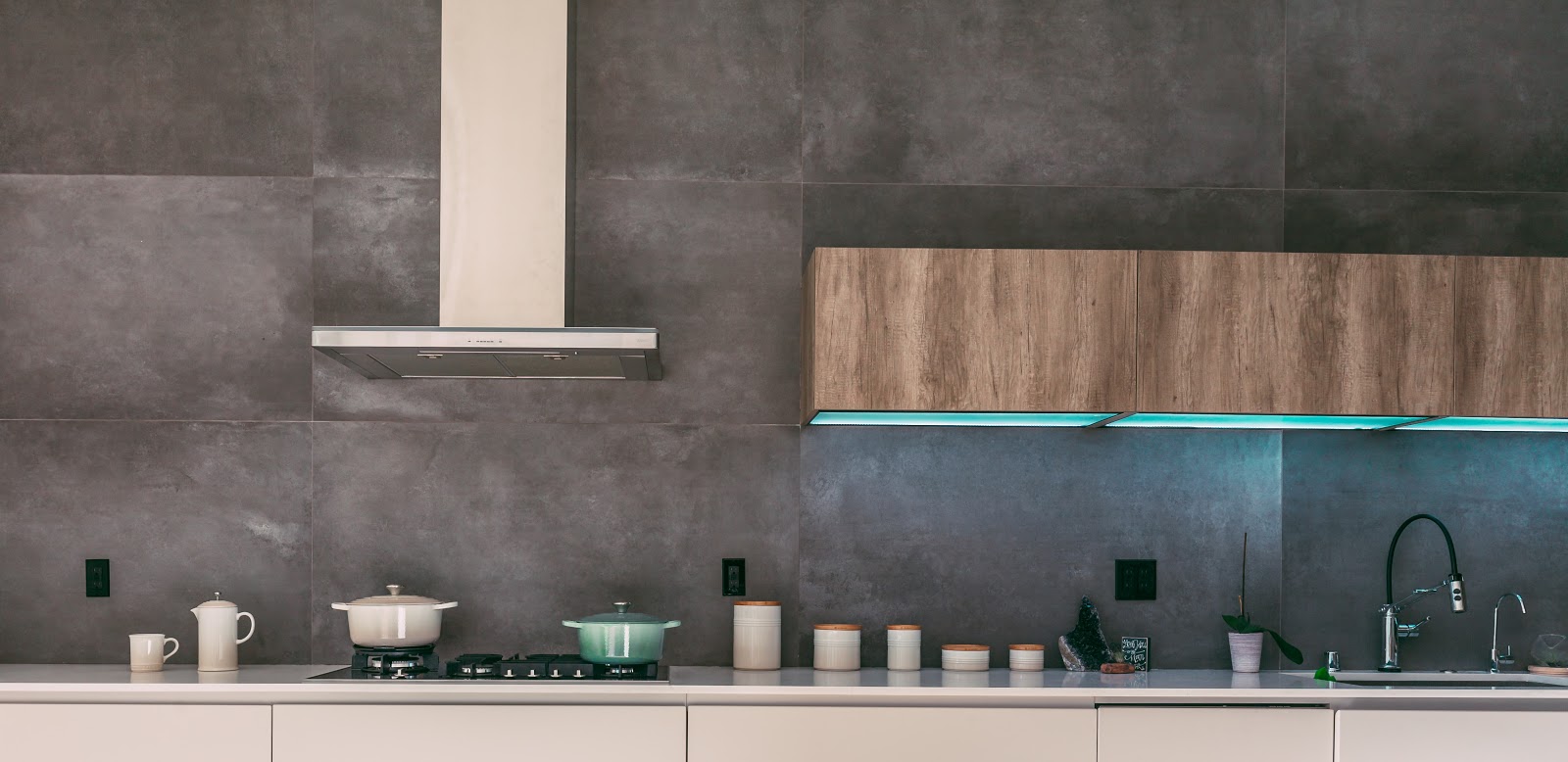 Finding it hard to decide which backsplash you want for your kitchen? We get it: with so many awesome kitchen backsplash ideas out there, it's almost impossible to choose a favorite! Use this guide to help you narrow it down:
This also includes factors like labor costs.
Research backsplash designs that resonate with your personal style.
Don't give in to trends which you may end up not liking in the near future.
Make sure they go with your kitchen cabinets.
Kitchen cabinetry is one of the most critical elements that will affect your choice of the backsplash. Kitchen cabinets are often located right above the countertops, sinks, and stove— all of which are essential locations for the backsplash. When exploring potentials backsplash designs, color palettes, and textures, always check if it goes with your kitchen cabinets.
Take the rest of the kitchen décor into account.
The kitchen backsplash should match the entire design theme of your kitchen. Consider elements like the color of your walls and cabinetry, your countertops, and appliances. Factor in the general aesthetic of your kitchen as well, whether it's traditional, contemporary, or transitional.
Bring Your Kitchen to Life with Choice Cabinet
Kitchen backsplashes may occupy a small surface area, but it makes a massive design impact. You can make a strong style statement through the backsplash: show off your personality with pops of color, express your minimalist side with understated designs, or highlight your retro aesthetic with vintage textures. No matter what style you choose, make sure it makes your kitchen feel more like home.
Choice Cabinet can help you find the perfect pairing between your kitchen cabinets and backsplash. Explore our Inspiration Gallery for more ideas, or browse the Choice Library for renovation resources and tips. Ready to get started? Contact Choice Cabinet today!