Smart Laundry Room Ideas for a Beautiful and Hardworking Space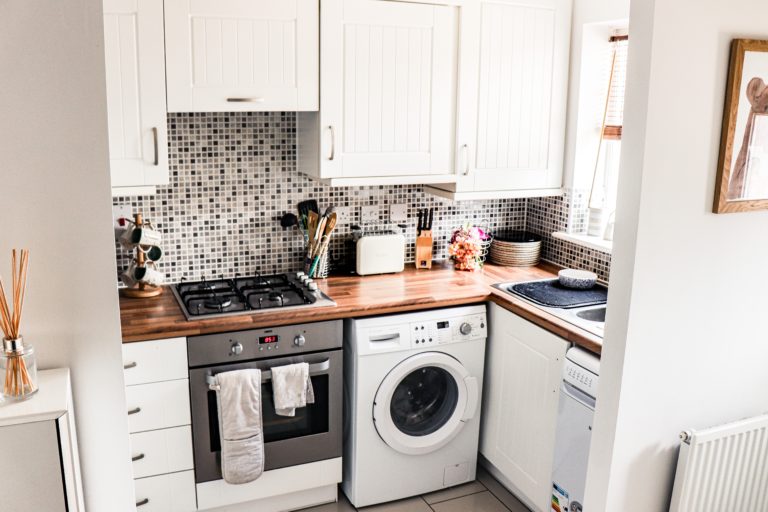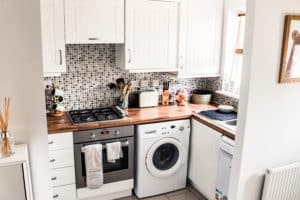 The kitchen may be the heart of the home. If we continue that analogy, then the laundry room is the kidneys: critical to keeping things clean. Too bad it's often reduced to a dark space full of dirty clothes when there are so many laundry room ideas you can try.
With just a bit of TLC, however, you can turn your laundry room from drab to stylish – a relaxing, attractive to do all that washing, drying, and folding.
You're proud of the rest of your home – why not include your laundry room? We've prepared some practical laundry room ideas to help you maximize the space. You'll also find decorating tips to design a laundry room that flaunts your taste and style!
The Key Elements of Laundry Room Design
Before you can make the most of your laundry room, you need to get to know it first. When you know its essential part and the roles they play, you're better able to create a space that works for you. Below are the key elements of the laundry room:
Countertop
Optimize laundry day by adding a work surface. There, you can sort out, fold, and organize garments to make them easy to put away. If you have limited space, we suggest going for a waterfall countertop. It's a U-shaped, three-part, bridge that wraps over a front-loading machine. For those with more square footage, consider a table or an island.
Utility Sink
Every laundry room can use a sink. You can pre-treat or pre-soak garments here. Got some muddy clothes? Wash them off in the sink before running them in the washer. It's relatively easy to install a sink in your laundry room because the area already has drainage lines and water supply.
Lighting
Ever noticed how doing chores in a dimly lit room makes it more tedious? If you currently have a single ceiling light in your laundry room, consider replacing it with a series of recessed lights. If you have fluorescent lighting, swap it out for a flush-mount ceiling light or track lighting. We recommend adding some under-cabinet lights too. Not only do they create a warm ambiance, but they're also great for when you need to do something on your table or countertop.
Flooring
Laundry room flooring should be non-slip, moisture-resistant, and can withstand pooled water. Some good choices are vinyl plank and ceramic tile flooring.
Storage
Add organizers and storage inside your laundry room, so you don't have to keep going out for supplies. Install floating shelves for lightweight items. Add more cabinets for the rest of your supplies. If you have enough space, consider both base cabinets and wall cabinets.
Laundry Room Design Tips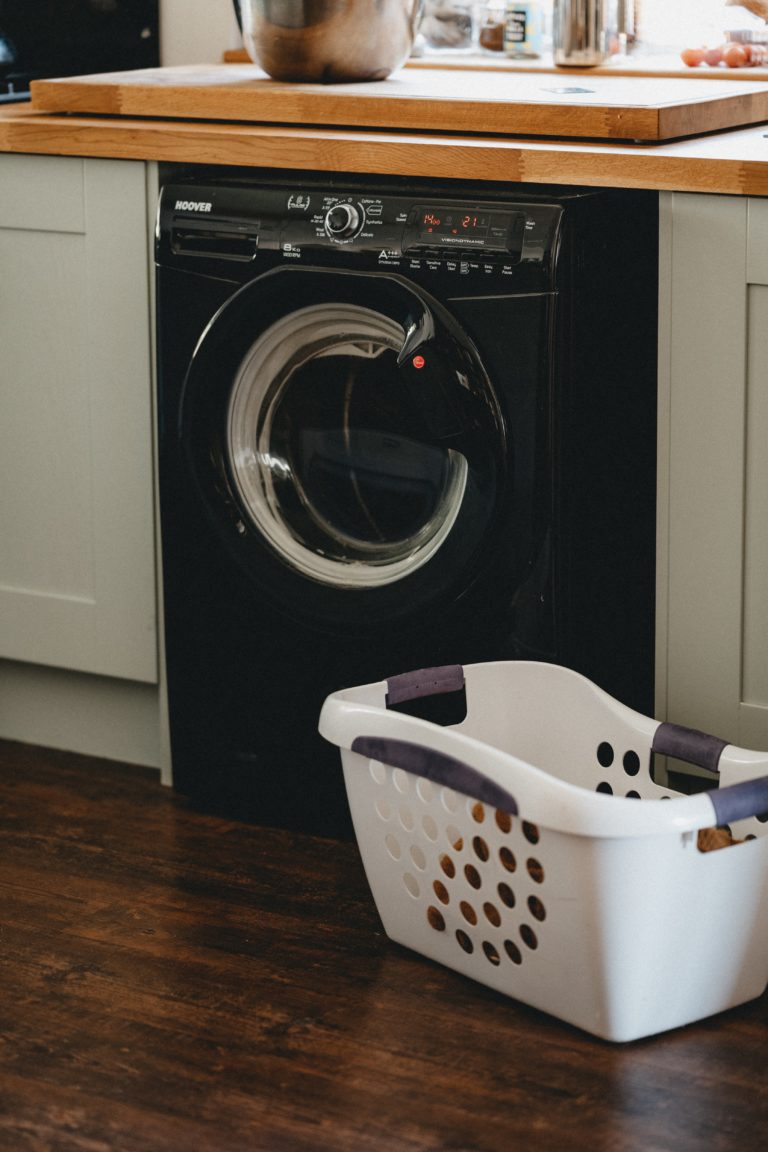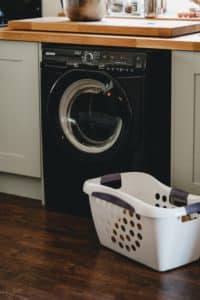 Now that you understand the parts of your laundry room better, it's time to explore how to make the most of the space. These design tips are perfect for your next redesign:
Use Alternate Cabinetry Types
Instead of having one row of the same types of cabinets, alternate them for maximum effect. For instance, you can alternate between closed and exposed cabinetry to make the room look more spacious. One way to do this is to add an open shelf above the counter to keep the area visually interesting while feeling open at the same time.
Rethink the Laundry Room Layout
For a quick refresh, rearrange the layout of your laundry room. Got limited counter space? Consider stacking your washer and dryer on top of each other if you have the front-loading version. You can also separate the two with a sink.
Use all Available Walls in the Area
Save precious floor space by designing vertically! For instance, attach a rod to the wall to create a makeshift drying rack. Install floating shelves and wall cabinets for storage. The more you can use your walls, the less cramped your workspace will be.
Go Multipurpose
Not all of us are blessed with big laundry rooms, but it doesn't mean you can't have a comfortable space. The key is to make all elements of the laundry room work hard.
Get shelving with wheels so you can adjust as necessary. Put cabinets near the ceiling, and hang up a folding ladder to make the items easy to reach. Install a shelf right on top of your washers and dryers to create a workspace. Don't be afraid to think out of the box!
Laundry Room Decorating Ideas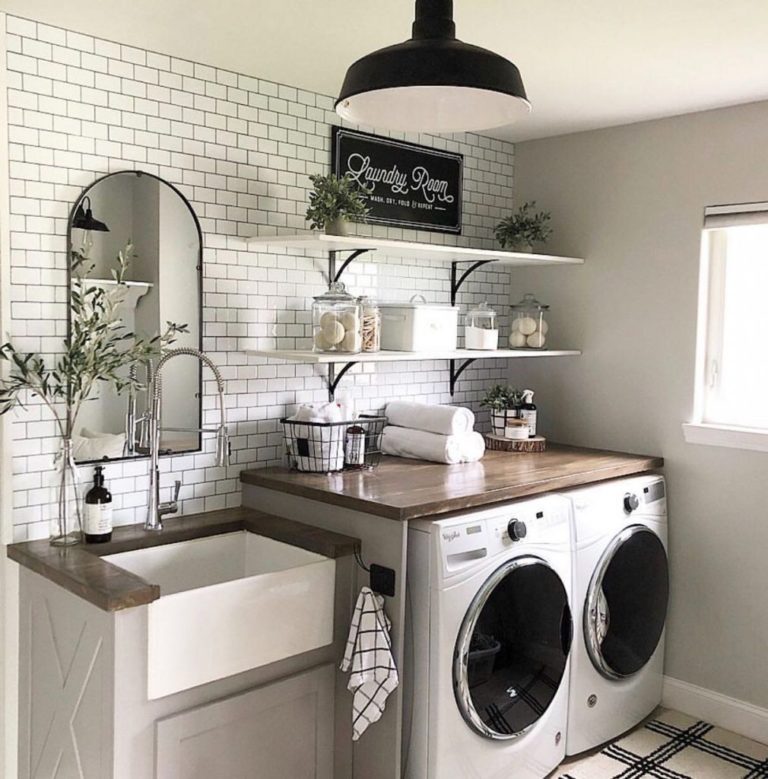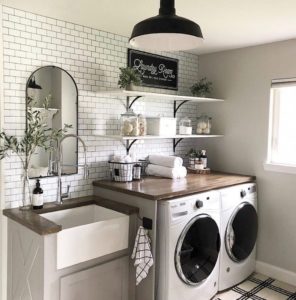 Finally, think carefully about each decorative and functional element before bringing them into your laundry room. Remember: this area is first and foremost a workspace. The design should make chores safer and more efficient.
When you're confident about the layout, organization, and all the practical elements of your laundry room, it's time to infuse your sense of style into it. Our designers have gathered some of the best laundry room design ideas for you:
Use Wallpaper
Wallpaper is especially ideal for tiny laundry rooms, such as a converted closet. We suggest using light colors to brighten up the space, then light it up with an elegant pendant light. It's a cheap yet attractive way to spruce up the room!
Combine Slate and Mahogany
For something a bit more dramatic, try blending mahogany and slate. Paint your cupboards, shelves, and cabinet the same color as the walls to create a seamless visual.
Go Sleek
Is your style on the minimalist side? Flaunt it in your laundry room! Use classic minimalist elements such as neutral colors like black, grey, and white for both the décor and furniture.
Select a Fun Paint Color
If you lean towards the bubbly aesthetic, a bright and fun paint color can make your compact laundry room feel like a cheerful place! To make the room feel much bigger than it is, paint all the surfaces the same color, except the counter which you can use to add some visual pop.
Unleash Your Creativity
The laundry room is the perfect place to experiment style-wise because it tends to be out of the way and hidden from view. Feel free to go all out! Combine unique wallpaper with framed artwork and penny tile floors, for instance. This is a great way to create a work area that you enjoy spending time in.
Incorporate Art into the Design
Just because the laundry room is functional doesn't mean it can't be tasteful. Hanging some framed art on the wall is an excellent way to make it more sophisticated and eye-catching. Make sure to keep your wall colors simple to highlight the art.
Choice Cabinet: Design a Home that Speaks To You
Just like the laundry room, you should design the rest of your home with intention. This includes choosing the right kitchen cabinets for every room of the house. Not only does it add storage and organization, but beautiful cabinets will also raise the aesthetic of any space.
Begin your redesign by checking out our diverse Cabinet Products! Ready to buy, or do you have questions? Contact Us through that link today.