Design the Bathroom of Your Dreams With Elegant, Affordable Bathroom Vanities
Bathroom vanities are the single, most important design element of any master bathroom, guest bath, or powder room. Prior to renovation, most people treat the vanity as an afterthought. It's considered nothing more than a storage space, or a place for the sink and mirror.
However, a beautiful vanity cabinet can pull together the entire look of your bathroom. Just like kitchen cabinets, it draws the eye the moment people walk into the area. What kind of first impression would you like to make?
Show off your impeccable taste with a ready-to-assemble, customized bathroom vanity cabinet! Come visit our showroom in Cleveland, Ohio, or browse our online catalog in the comfort of your home. Once you've made your perfect choice, Choice Cabinet and our dealers will deliver your bathroom vanity almost anywhere in the US, straight to your door.
The Choice Cabinet formula is simple— outstanding quality, gorgeous designs, and a stress-free ordering process— all for a lower price point than any big box store out there.
Ready to turn your bathroom into a peaceful, attractive sanctuary? We've prepared a comprehensive guide to help you select the bathroom vanity that fits your needs and style.
Bathroom Vanities Crafted from the Finest Materials Available
Bathrooms are notoriously hard on furniture. Low-quality materials will eventually warp, crack, and develop mold and mildew thanks to constant exposure to excessive humidity and moisture.
At Choice Cabinet, we pride ourselves on crafting bathroom vanities with the potential to last for a lifetime. To achieve this goal, we use only the finest materials that can resist the most challenging bathroom conditions.
●       Solid Hardwood for Face Frames
Choice Cabinet only uses solid hardwood for the face frames of all our vanities. The cabinet industry considers solid hardwood as a fantastic material for the following reasons:
It reverts to its original shape after expanding and bending with humidity fluctuations
Consistently-fine granulation prevents swelling from moisture
It's incredibly strong and durable
It can support the heavy weight of granite and other common bathroom vanity materials
●       Furniture-Grade, High-Density Plywood for Boxes
We use the highest-quality plywood to build the boxes of our cabinets and vanities. Premium, furniture-grade plywood rarely degrades.
It will not contract or expand despite the bathroom's high level of humidity, moisture, and temperature changes. Thanks to our excellent finish, expect your new vanity to not chip and peel for many years.
●       Hardwood Stiles and Rails plus an MDF Center Panel for Doors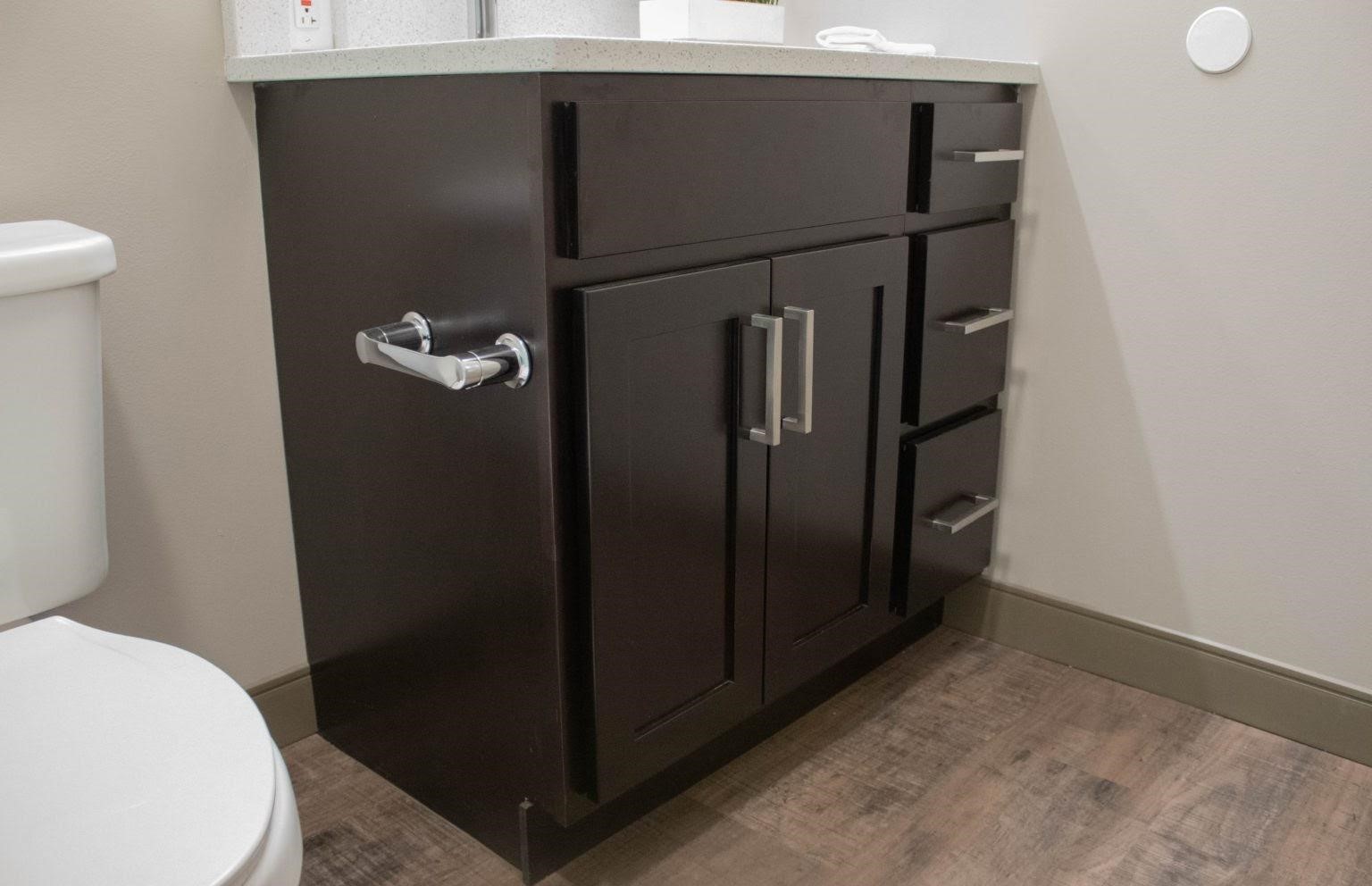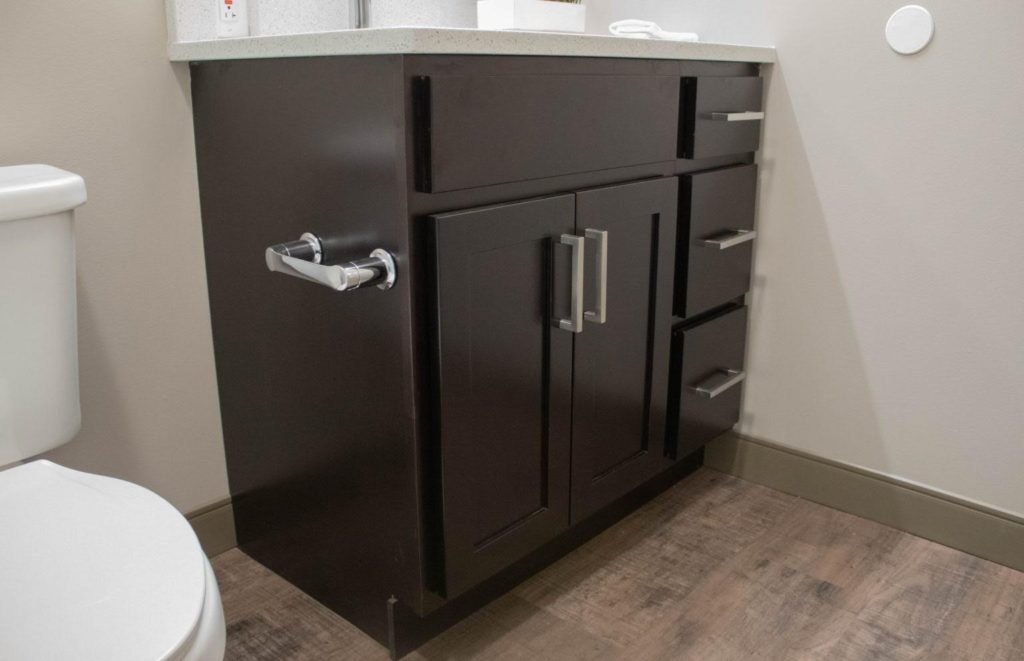 Our commitment to excellence continues to the doors of our bathroom vanities. Our craftsmen use hardwood stiles and rails for this part, with a wood-veneered MDF center panel to further avoid warping, cracking, expanding, and absorbing water molecules.
Unlike big box stores, Choice Cabinet never uses glue, staples, or particle boards for any of our products. Aside from using the best materials, we also apply exceptional construction quality to our bathroom vanities.
Here's what to expect:
Best-in-class 10-step finishing process
Extra thick shelves with metal shelf clips
Dovetailed drawer boxes, not stapled
CARB2 Certified to be environmentally friendly and safe
Natural finish hardware interior, no melamine
KMCA Certified for outstanding quality
Pocket screw joinery
Extraordinary, Amish-level construction that doesn't cost a fortune— that's what you get with every bathroom vanity from Choice Cabinet.
Showcase Your Style Through Beautiful Bathroom Vanities
Now comes the critical – and most fun – aspect of bathroom remodeling: picking out the designs! Choice Cabinet offers thousands of elegant bathroom vanities in a wide range of colors, finishes, and styles. We know it can be hard to choose a favorite!
Take your time browsing through our extensive selection of bathroom vanities. If you need help, don't hesitate to message or call us, and we'll be happy to walk you through each aspect of our Choice Cabinet Select and Essentials line.
Choice Select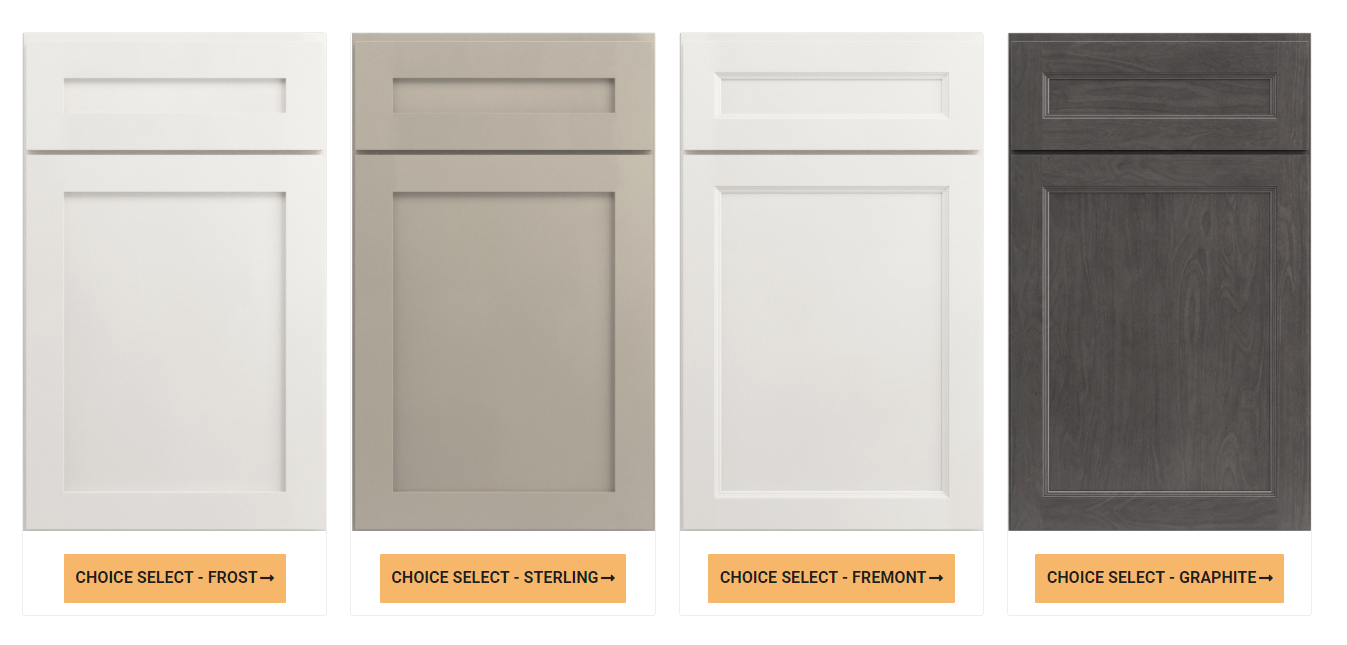 Our Choice Select line blends the classic with a contemporary twist. Each bathroom vanity is still constructed according to our highest standards, but with a focus on sleek, modern lines that will complement any design theme.
Our Choice Select line blends the classic with a contemporary twist. We construct each bathroom vanity according to our highest standards, but with a focus on sleek, modern lines that will complement any design theme.
For our Choice Select vanities, we've switched up our popular Shaker door style by incorporating a soft inner profile. We use mortise and tenon construction for soft close hinges and glides.
Choice Select combines today's aesthetics with our trademark dependability and quality. Perfect for high-end homes and apartments.
Choice Essentials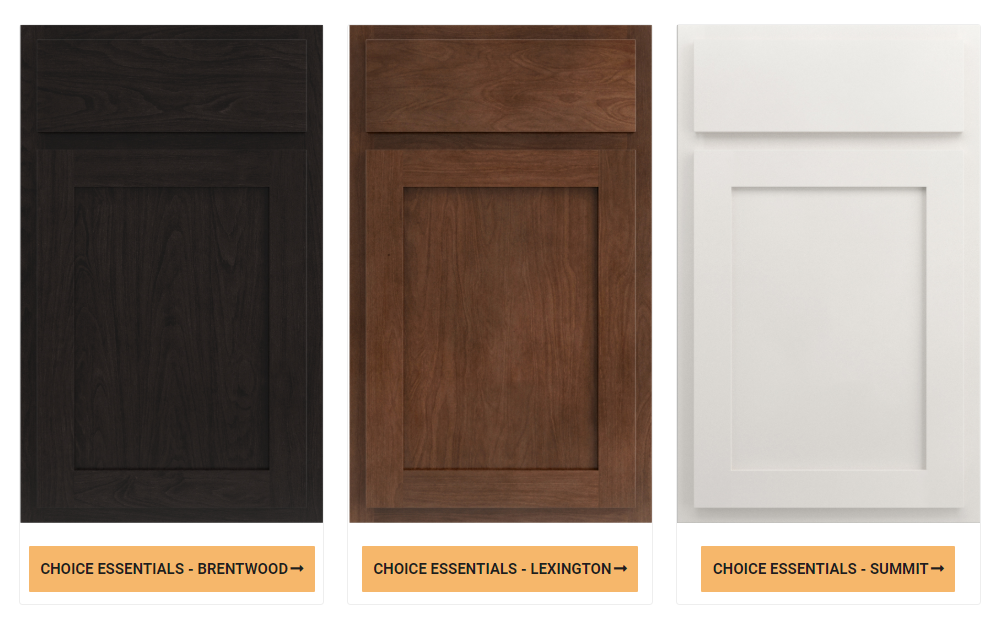 Our Choice Essentials line is elegant, simple, and incredibly versatile. Each bathroom vanity features the most beautiful hardwoods, furniture-grade plywood, and a standard overlay door.
Go bright and minimalist with Summit, stay classic with Lexington, or design to stun with dramatic Brentwood. You can even combine the three for a showstopper bathroom vanity!
Choice Essentials combines the supreme quality of our cabinets with a friendly price point. Excellent for first-time homebuyers, commercial developers, investment property owners, and more.
Not sure which style fits your bathroom design theme? Our design specialists will be happy to walk you through your options and explore many possible combinations. Feel free to drop by our showroom, or call us at your own time!
Achieve Your Ideal Bathroom Flow and Functionality with the Right Sink Configuration
Once you have a particular style in mind, it's time to figure out your desired door cabinet and vanity combo. Your selection will affect the flow of traffic, ambiance, and other design elements of your bathroom.
We have a diverse selection of sink configurations for every need. For instance, choose among a vessel sink, basin sink, double sink vanities, or a single sink bathroom vanity. Some of our modern bathroom vanities have a mirror included, while some boast Carrara marble for the vanity top. We also offer a wall mounted bathroom vanity
For small spaces, consider going with the Vanity 1 Drawer / 1 Door Base, or our Vanity 3 Drawer Base.
Our Vanity Combo 2 Drawer / 2 Door and Vanity Combo 2 Drawer / 3 Door are perfect for bigger bathrooms that need more space and storage.
Aside from the sink configurations above, we also offer vanities that are as wide as 60″ and other vanity drawer-door combinations. Just tell us what you're looking for, we'll help you find the best sink, vanity top, bathroom vanity sets, that fits your needs.
Embellish Your Bathroom Vanity with Decorative and Functional Hardware
Finish your lovely, new bathroom vanity with our premium bathroom fixture. Considered the "jewelry" of cabinets, explore our diverse selection of contemporary, traditional, novelty, minimalist cabinet hardware, and more.
Streamline Modern
Bar Pulls
Bin Pulls or Cup Pulls
Window Sash Pulls
Novelty Knobs and Pulls
Knob and Pulls with Backplates
Drop Handle Knobs
Glass Knobs
Recessed Pulls
Cremone Pulls
Oversized Knobs
Complete Your Bathroom Remodel with Additional Configurations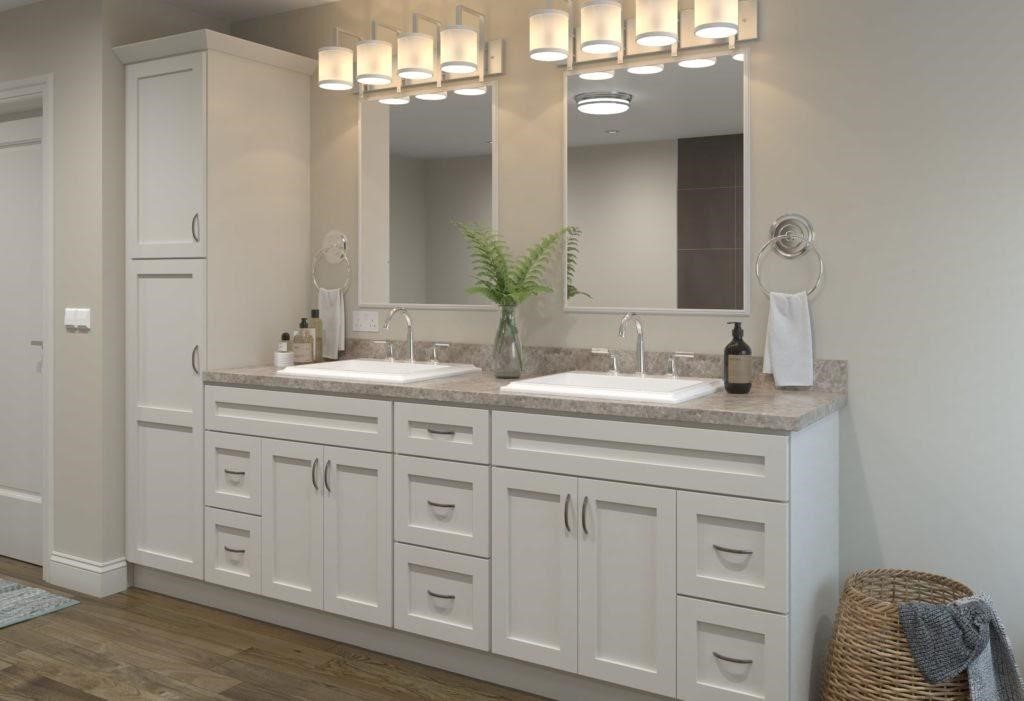 Selecting a bathroom vanity is just one part of your dream bathroom remodel. Get creative and personalize your space with additional configurations from Choice Cabinet!
Steal these ideas:
Use a tall wall cabinet as a sleek linen closet
Organize your hair accessories and make-up using a nifty knee drawer
Install a wall mount medicine cabinet to place everything within reach
Make a design statement with rounded or squared bun feet
Explore creative wall mount options for your bathroom vanity
We'd love to exchange design ideas with you, so contact us at Choice Cabinet today! In the meantime, go over to our Inspiration Gallery and other great sites like Wyndham Collection for more.
Choice Cabinet: Premium Bathroom Vanities for Every Space
For more than 25 years, Choice Cabinet has built an unshakable reputation as a top maker of Grade A wooden cabinets and vanities with custom features– without the astronomic prices of big box stores.
We are extremely proud to be a part of countless home improvement projects across the USA. Designed to last for life, we're confident about the quality and aesthetics of every custom cabinet we've ever shipped.
Whether you need a cabinet, vanity, or decorative furnishings and upgrade, you'll find it here at Choice Cabinet. We invite you to visit our Cleveland, Ohio showroom if you're in the area, or locate an Authorized Choice Cabinet Dealer near you.
For questions and inquiries about our bathroom vanities, cabinet line, free shipping policies, and more Contact Choice Cabinet through a call, visit, or e-mail today. Let's get started at turning your dream bathroom to reality!