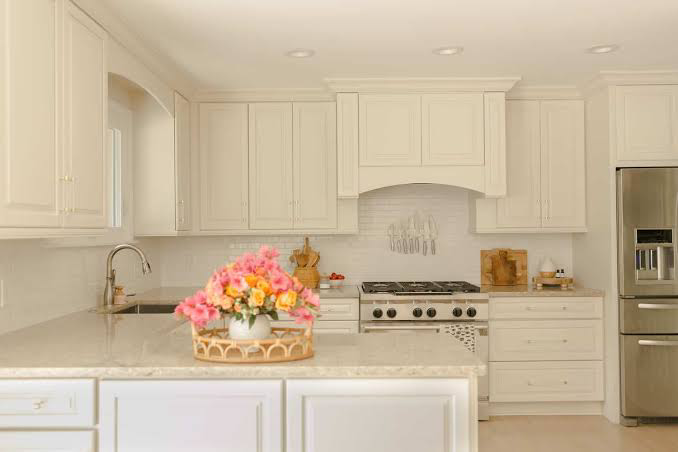 Everyone admires finished kitchen cabinets because the aesthetics of the cabinets are breathtaking. But, you may not find satisfaction if your cabinets are old particle board. Fortunately, it is possible to paint kitchen cabinets of this type. Applying a fresh coat of paint to your kitchen cabinets will make them look more appealing.
It is also one of the most cost-effective methods of updating your kitchen cabinets without buying new ones. Several folks have inquired about how to paint pressed wood kitchen cabinets. It's quite simple for the skilled, and it's also a DIY project you would love. This article will reveal to you so many tricks in our bag that teach you how to paint compressed wood cabinets.
What Is Pressed Wood?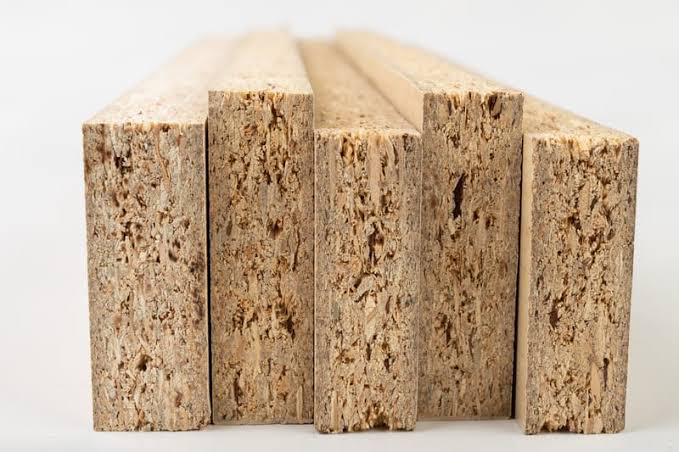 Pressed wood, also known as laminate, fake wood, or compressed wood, is an engineered wood pressed together under pressure and heat to form a cohesive structure. It describes any piece that furniture makers construct from wood veneer, wood shavings, sawdust, or fibers and bond with an adhesive.
Pressed wood require sanding to scuff the smooth veneer or smooth the bumpy surface. Despite its affordability and versatility, pressed wood is, on the whole, not that strong, and it can break down with ease.
A typical example of pressed wood is a particle board. Particle board pressed wood material is often used for low-cost home furnishings such as cabinets and wardrobes. Pressed wood is covered with a thin sheet of veneer or laminate. Thus, it is light and, to some extent, resilient.
Particle board is a less expensive sort of wood, and it makes sanding and painting easier. There aren't too many distinctions in how you finish particle board and solid wood cabinets, except that particle board is simpler to handle. Also, its veneer looks like the grain and tone of solid wood.; particle boards are very attractive.
If your kitchen cabinets are made of particle board, you won't refinish it to seem like real wood. However, painting old particleboard cabinets is one way to change their appearance. It is because painting pressed wood cabinets will change the color of both wood veneer and laminate cabinets.
If you're stuck between choosing plywood or particleboard cabinets for your kitchen, read this detailed article that shows you the pros and cons of each one.
Equipment and Materials You'll Need To Paint Pressed Wood Cabinets
Get a sanding block
A large paint brush
Roller
Oil-based primer
Oil-based or chalk paint
Painter's tape
Chalky finish paint
A piece of cloth
You would also love to read about the best material for kitchen cabinets in the USA
Steps On How To Paint Pressed Wood Kitchen Cabinets
Having listed the items you'll need to paint pressed wood cabinets, let's talk about the steps to take. Here are just a few easy steps to follow when painting pressed wood cabinets.
1. Prepare yourself
Before you think of painting particle board cabinets, you must be properly prepared. Begin by clearing your wardrobe or anything that will hinder your painting process. Ensure the items in/around the particle board kitchen cabinet are well arranged.
Move the kitchen utensils and other condiments elsewhere, or you can as well tie them up together. Any components that come in contact with your particle board cabinets, such as vent hoods or wall edges, may require the use of blue painter's tape to mask them off. Do this so the items won't get stained and messed up with paint drips.
2. Wear thick gloves, a respirator, and an eye shield
As you work, there will be plenty of sawdust and paint fumes circulating in the air. Hence, wear a respirator to prevent damage to your lungs. Put on gloves and long-sleeved clothing to protect your hands from the paint. It would be best to wear protective eyewear to keep sawdust from your eyes.
It's not compulsory to wear a respirator at all times. But if you plan to sand or prime, you must wear your respirator while doing so to avoid irritating your lungs. With latex paint, a respirator is unnecessary, but oil-based paint is always harmful, so you'll need to wear one.
3. Arrange your painting materials
Before you think of painting, get the tools and materials ready. We know you will not use heavy-duty materials, such as ladders, but you still have painting tools to arrange. In this step, bring out your painting brush, sandpaper, oil-based paint, and other materials listed above.
4. Detach each component
Detach the cabinet doors and handles with a screwdriver. Then push each drawer up as you remove them out of the cabinet. After pulling out the drawers, pick up your screwdriver.
Remove all the brackets and screws that are attached to your cabinet doors. Unscrew each drawer handle and knob, and set them aside next to its corresponding drawer or door after unscrewing them.
5. Fill up the holes
Now, you can prepare the cabinet surface for painting by checking if there are cracks or chips. Also, inspect the cabinet for damages before commencing the project. Fix cracked or chipped wood with wood putty and allow it to dry. Have yourself a putty knife with a can of wood putty, and use the knife's blade to scoop a little out of the wood putty's can.
Apply the putty to fill the damaged area. After filling the holes, wipe its surface to clear out any excess putty. Continue this procedure for each component of your cabinet, doors, and drawers that are damaged. Patiently wait for them to dry while preparing to sand and paint pressed wood material.
6. Scrape with a sanding block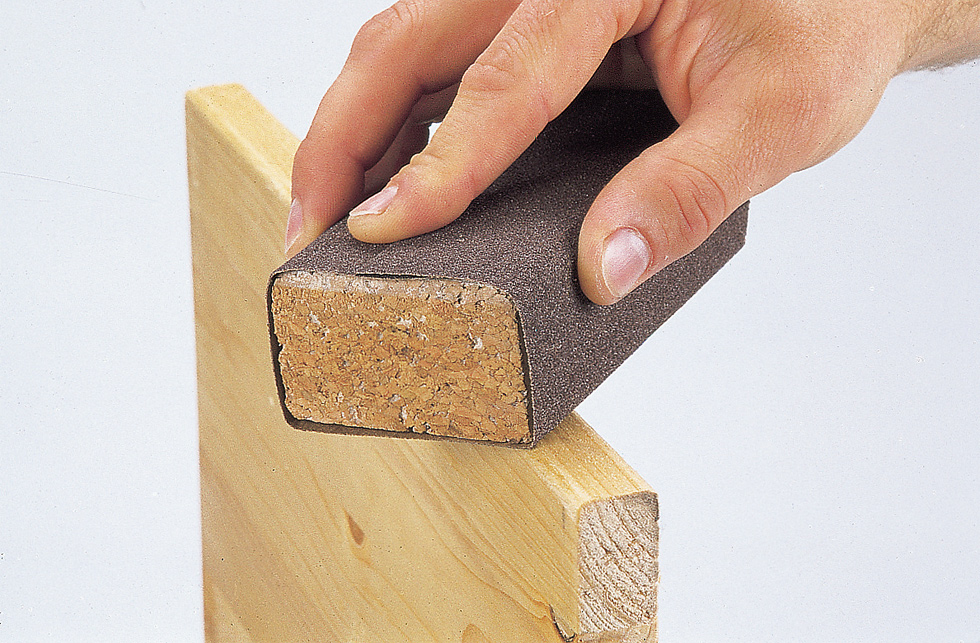 Get sandpaper to scrape your cabinets' current finish or paint, including its doors. Use a firm, circular stroke when scrubbing your cabinets, doors, and drawers. Don't sand its bumpy surface if you will not paint the particleboard cabinets. Although, if the wood beneath your upper cabinets has a thin layer, you may find it difficult to sand and paint them without cracking the wood.
So if you detect veneer stickers on your cabinets to make them appear like a solid wood piece, do not discard them. Make a texture in the veneer and lightly sand with sandpaper to avoid breaking or peeling the veneer. Always sand between layers to make your sanding job easier and stuff the smooth veneer. The goal is to eliminate the glossy surfaces that cause paint to pop or drip.
7. Clean and apply an oil-based primer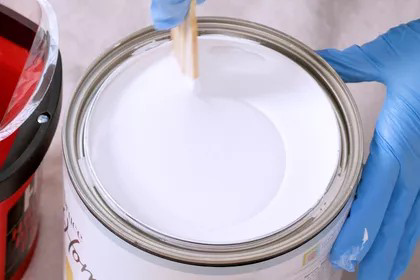 Clean surface dirt and kitchen grease on your cabinet hardware using a clean rag or cotton towel. You can also use the towel or sponge in a bowl of water and use the damp material, but ensure that the oil paint dries before you continue.
Once it dries, pull out a brush and load it with an oil-based primer. Use the primer as a first coat on the old particle board kitchen cabinets and paint in a back-and-forth motion towards the direction of the wood grain around the edges of cabinets and drawers.
Cover the bigger surfaces and smoother areas with a foam roller. It will help seal the cabinet with a new layer for proper paint adherence. Repeat the priming process of your kitchen cabinets, doors, and drawers until all surfaces are well covered. Do well to follow the manufacturer's instructions stated on the bonding primer, and let it cure completely for about 24 hours.
8. Sand the layer
Once you notice the primer is dried, get another sheet of sandpaper to sand the primed surfaces. It ensures proper paint adherence, and without sanding, your paint job may appear uneven and awkward. After sanding, use a lint-free cloth to wipe away any dust.
9. Start painting the pressed wood kitchen cabinet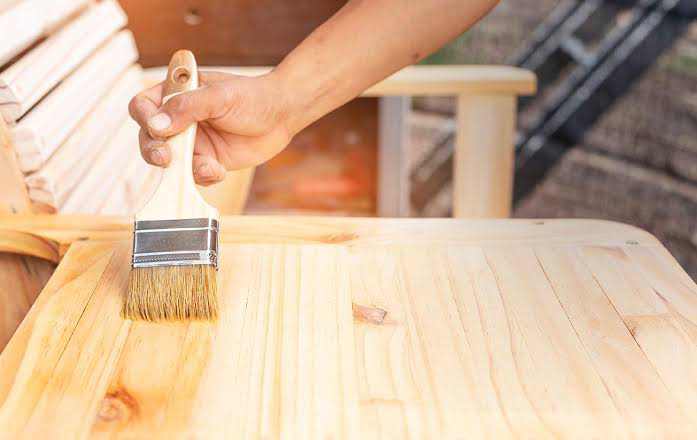 Now that you're set to paint your kitchen cabinet, pick the fresh coat of paint you got from your local hardware store. We'll recommend a few paint options; acrylic or latex paints, oil-based paints with a glossy or semigloss finish, or matte finish.
Unlike oil-based paint, acrylic or latex paints are very easy to use and give a smoother finish. Oil-based paints are a better option because they are thicker than acrylic paint and shine brighter. The brush strokes will leave a subtle texture on the surface. If you prefer this texture, use a paint brush on the surfaces of your cabinet.
The brush strokes will leave a subtle texture on the surface when you use a brush. If you prefer this texture, apply paint with the brush on all the surfaces of your cabinet. Also, use a paintbrush for areas that are hard to reach with a roller. Keep an eye out for paint splatters.
Ensure to clean my surface with paint drips before it dries up. In addition, after painting the cabinet, give it enough time to dry between layers before spraying or adding decorative designs on the base coat. If you want the outcome to look like a DIY project, you may have to apply for several coats.
If you notice an unusual bubble, it means you didn't sand, prime, and paint laminate cabinets well. To look more professional, you may need to redo those spots and add multiple coats of paint to the whole painted piece.
10. Apply a protective finish
Spray a protective finish as soon as the paint becomes dry. This step isn't essential, but it's ideal for furniture to have intricate faux-finishing. Reinstall any hardware removed before the painting and reassemble any cabinet dismantled for refinishing.
Conclusion
To sum it up, sanding and priming all surfaces are the most crucial steps in painting pressed wood cabinets. If you omit those two procedures, your paint won't have anything to stick on and will flake off!
Do you want to become one of Choice Cabinet's trusted dealers? Fill out this simple form and let's help set you up for massive success. Homeowners love and trust Choice Cabinet and we want to keep transferring that value to our loyal customers through you.