A Checklist to Make Your First Meeting a Success
By Ryan Horvath
Meeting with a kitchen designer can be a fun, but stressful time. If you don't have an idea what you're looking for, you'll find yourself (and your designer) frustrated. This week's blog is looking to ease that frustration. I'm covering the five things you should have before meeting with a kitchen designer.
Before we start, Claudine DiSanto, a Choice Cabinet designer, suggests creating a "wants" and "needs" list. Your "wants" are items that are essential for your new kitchen such as soft close cabinets. Your "needs" are items that you would like but could live without. These items can include an under-the-counter wine cooler. It's also helpful to create a "no way" list. This list is things that you're not a fan of. They can be materials, finishes, or styles. You can also create a "likes" and "dislikes" list of your current kitchen. Remember, the more information you provide, the easier it is on your designer.
Follow These 10 Tips for a Successful Kitchen Renovation

1. KNOW YOUR APPLIANCES
Before the meeting, discuss with your spouse about your appliance wants/needs. Does a double oven fit your lifestyle? Do you prefer a ventilation hood over the stove? Do they prefer a microwave instead? Keep in mind that your cabinet design can't start until you have your appliances picked out. Ideally, you should have a list of your appliances' measurements. If you have the actual model numbers, that's even better. If you have several options, try and narrow them down before the meeting.
2. COLLECTION OF INSPIRATION
The internet is a great place to start to find your inspiration. Pinterest or Instagram are good places to start, but kitchen designers love Houzz. Houzz is a website where designers and contractors post photos of past projects. You'll be able to find some of the latest trends there as well. You can create "ideabooks" to give your designer a better idea of what you're looking for. Create a folder or binder with magazine clippings and/or photos. Here's a list of websites for kitchen ideas:
3. BRING IN YOUR FLOOR PLAN
A kitchen renovation is a perfect time to reinvent your floor plan. Here are some questions to ask yourself:
Does the current kitchen have enough traffic flow? If you're constantly bumping into someone, open the kitchen up.
Is there enough counter space? If not, see where you can add some extra space. Is your kitchen big enough for an island?
Is there enough storage? If not, your kitchen designer should have a couple of ideas for you. This is where your binder of ideas can come in handy.
You'll want to provide a rough drawing of the room outline, floor plan, and measurements. According to another Choice Cabinet designer, Tina Figueroa, measure:
The walls
Doors and windows as well as their location on the wall
Ceiling height
The sink and stove location (if they're staying in the current location)
Below is an idea of what your drawing should look like. You can also download our "Plan Your Kitchen" eBook. It's full of helpful layout ideas such as designing around the "Work Triangle". Download your copy by clicking here.
Click on the image to enlarge.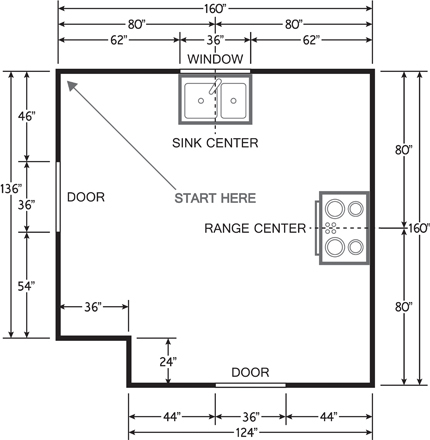 4. HOW MUCH ARE YOU WILLING TO SPEND?
The typical budget for a kitchen renovation is about 10 to 15% of your home's value. For example, if your home's value is $200,000, your renovation budget would be between $20,000 and $30,000. Keep in mind that the more custom items you want, the more that it eats at the budget. This is where the "wants" and "needs" lists are going to help with decisions. Most importantly, be honest with your kitchen designer. They can work with just about any budget…within reason.
Help your designer out by downloading our "Renovation Budget Workbook". It's the all-in-one book to help budget and plan for your kitchen renovation. Get your copy by clicking here.
5. HAVE SOME QUESTIONS FOR THE DESIGNER
Look at this first meeting as an interview and you're the interviewer. You're trusting this person to design your kitchen to last the next 20+ years. It makes sense to have some questions for them. Below is a list of questions to start:
What is your design process? How many revisions do you typically do?
How long will it take to finish the drawings?
What does your warranty cover? For how long?
Asking your designer questions will give you get a better sense about them. It's important to find the right fit, so take some time to research your designer. If a friend or a family member worked with the designer, ask them how they liked dealing with them.
THE WRAP-UP
Meeting with a kitchen designer is the first step towards your kitchen remodel. Be sure to have your appliances picked out before the meeting. Don't forget to bring your binder of photos and ideas. Measure out your floor plan so your kitchen designer can plan off that. Be sure to have a budget in mind. Add another 15% to cover any surprises that come up. And lastly, write down some questions for the designer. Write down their answers so you can review later. If you do all these things, your first meeting will be a success!
If you would like to sign-up for the weekly Choice Cabinet blog, please click on the button below!