Whether to buy or build bedroom and bathroom vanities is a common question that every homeowner may have to ask at some point. You have to decide if you prefer installing a vanity that is custom-built or pre-made.
To make the best choice of vanity to buy, there are several factors you should consider. In this article, we will discuss these factors and help you decide which option is more cost-effective for your bedroom or bathroom remodeling.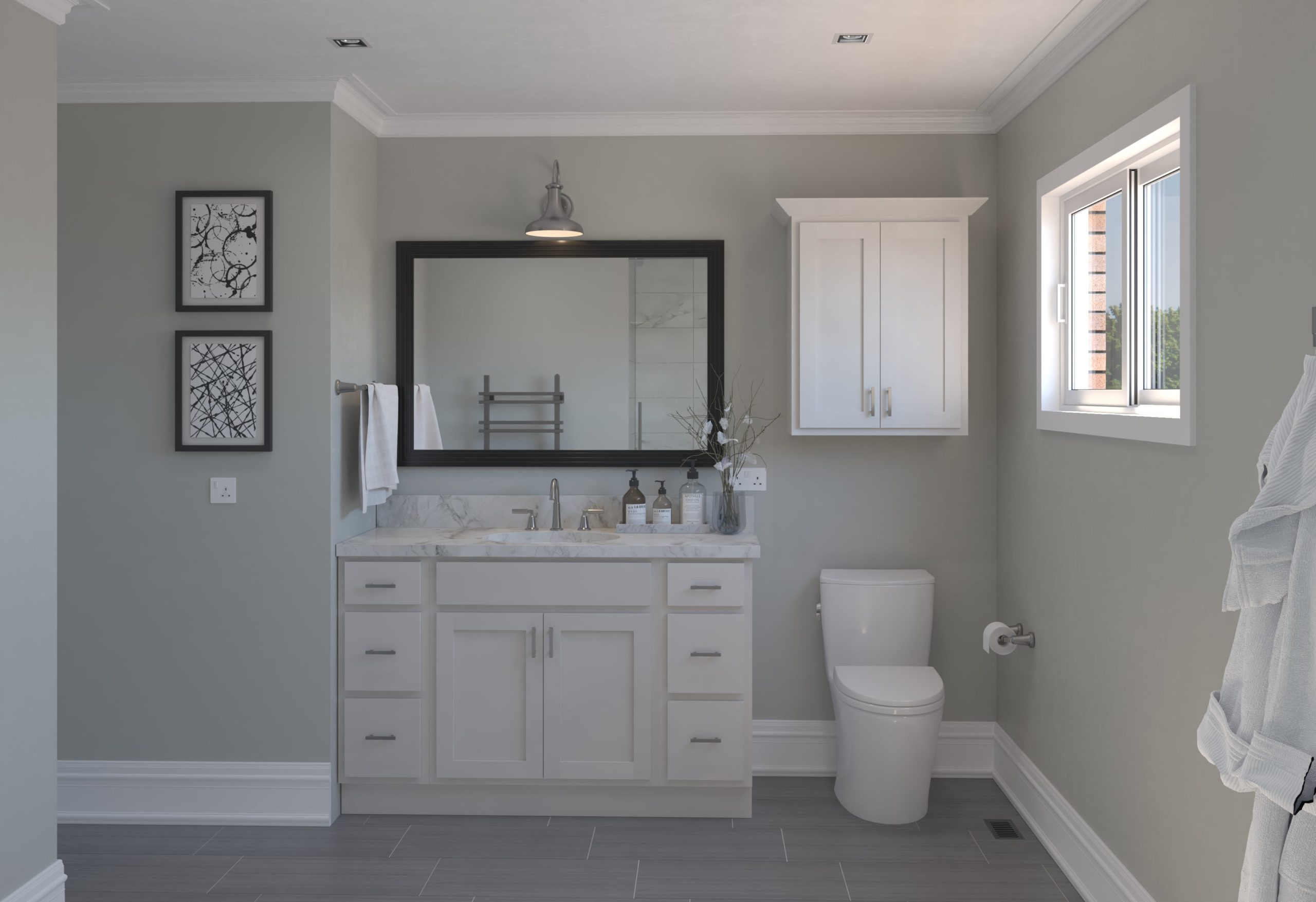 An Overview Of Building A Vanity
Building a vanity involves hiring a professional to construct a customized vanity that meets your specific needs and preferences instead of buying a pre-made one. Simply put, the vanity is made according to your order.
An important part of building a custom bathroom or bedroom vanity is choosing the cabinet and countertop material. You need to consider the quality of materials chosen as they affect the average cost and durability of your new vanity.
Learn how to choose HOW TO CHOOSE THE RIGHT BATHROOM VANITY IN 8 STEPS
Materials like quartz and granite, for example, cost more money compared to porcelain tiles, marble, etc. Some materials you may need for building a custom-made vanity include;
Wood, glass, natural stone, laminate, etc., for the shelves, countertops, cabinet doors, drawers, and backsplashes.
Silica for the vanity mirror.
Electrical materials (e.g., wires, bulbs, etc.) for lighting.
Materials such as steel, iron, aluminum, etc., for hardware parts like the sink and faucets, handle, knobs, and pulls for drawers and cabinet doors.
Potential costs of building a vanity include;
Cost of materials. This depends on the quality of the materials and the type of vanity you need.
Cost of labor to build and install the vanity.
Cost of buying or renting tools if you intend to make your vanity from scratch by yourself.
Pros And Cons Of Building A Vanity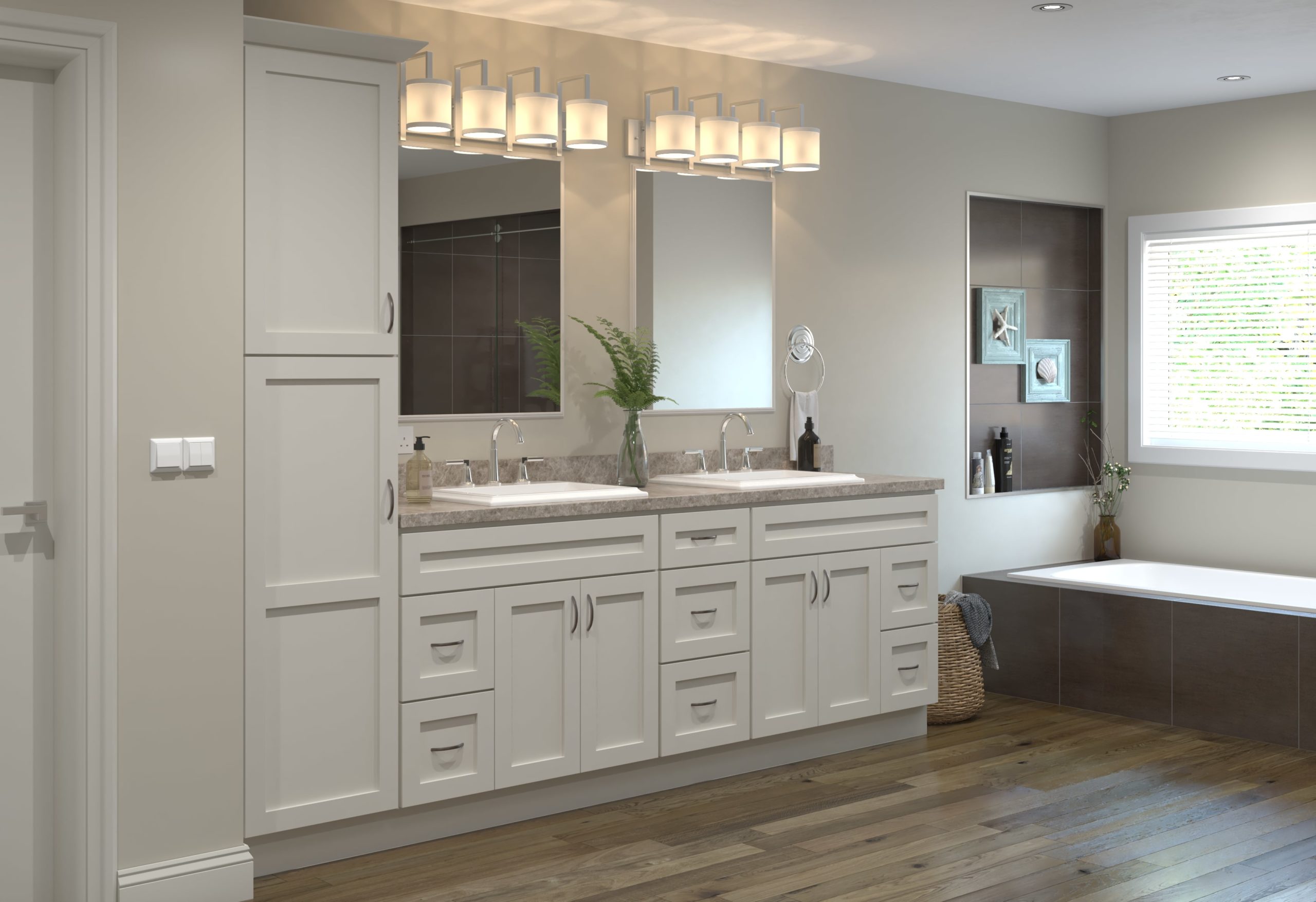 Building custom vanities instead of buying pre-made vanities has its pros and cons. It is okay if you prefer that vanities are designed uniquely to suit your taste and specific needs. However, you must understand the pros and cons of this option.
See also: HOW TO CHOOSE THE BEST PLYWOOD FOR CABINETS
Advantages Of Building A Vanity:
Potential for saving money on labor costs
Uniquely customized vanities
The durability and stability of the vanity is more assured as you get to choose quality materials
Sense of achievement and fulfillment
Learning experience
Flexibility
Drawbacks Of Building A Vanity:
Time-consuming and requires DIY skills
May involve unexpected expenses if mistakes are made
Limited warranty as opposed to premade vanities
May be stressful and overwhelming
Challenges of translating design ideas into functional pieces
An Overview Of Buying A Vanity
To buy a pre-made vanity, you can either choose a custom or semi-custom vanity. Custom and semi-custom vanities are both pre-made. The difference is that custom vanities are fully ready-made without any input from the buyer, while semi-custom is pre-made but with the buyer's specific needs and preferences.
Potential costs associated with purchasing a pre-made vanity include:
Vanity base costs
Cost of materials
Installation costs
Higher costs for vanities which may require additional accessories
Shipping and delivery costs
Costs of assembling
You can speak with a cabinet manufacturer or dealer near you to discover these costs to help you see if you'll be saving some money or spending more.
Pros And Cons Of Buying A Vanity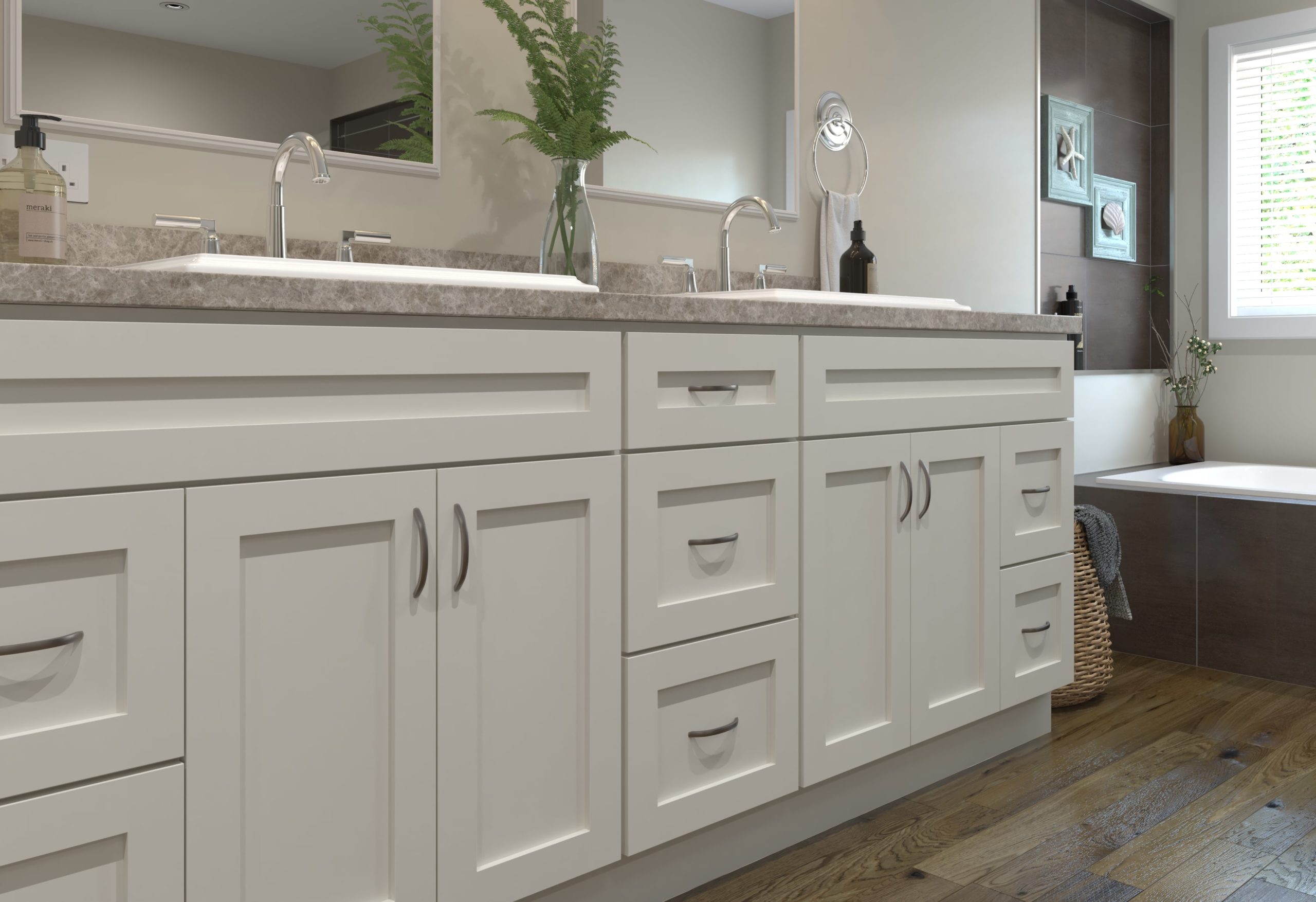 Buying a vanity seems easier, but it also has its pros and cons. It is easy to be swayed by the easy price of lowest cost vanities, so keep in mind that quality is more important.
See also: ALL ABOUT WATERPROOF FLOORING FOR YOUR HOME
Advantages Of Buying A Vanity:
Convenient and time-saving, as no construction is required
Wide range of styles and plenty of options available to choose from
Immediate availability after purchase
Easy replacement
Support and warranty
Access to professional installation services
Drawbacks Of Buying A Vanity:
Less personalisation
Limited and standardized customization compared to building one from scratch
Tax, shipping, and delivery costs
Fit and size constraints
Cost Comparison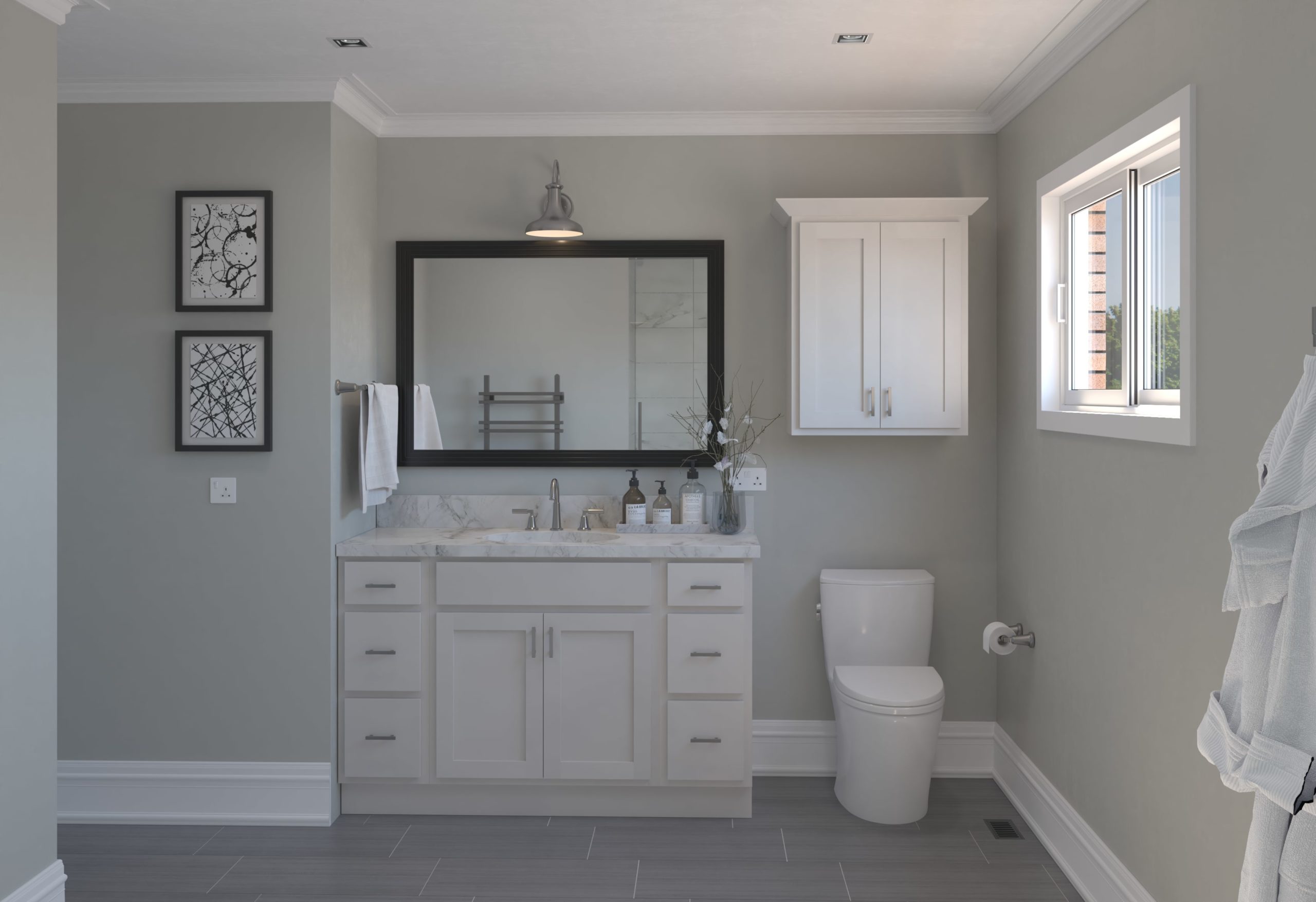 The cost of designing a custom bathroom or kitchen cabinet varies depending on your peculiar needs, such as the choice of materials, your location, and the complexity and size of the project. Here is a rough breakdown of the estimated costs:
Cost of materials: This includes wood for the vanity top, cabinet frame, drawers, hardware, mirror, and other finishing materials such as stain, paint, and so on.
Cost of basic tools (100-300$): You can also opt for a cheaper option; renting tools to reduce total cost.
Cost of labor: This does not count if you want to make a DIY vanity. The cost of hired labor would vary depending on hourly rates, the complexity of your vanity design, and your level of proficiency. Hired labor could cost up to a few hundred dollars.
Miscellaneous costs and additional components (50-$200): This includes extra components like drawer slides, screws, brackets, and other hardware, and small items like sandpaper, brushes, rags, etc.
In general,
A simple DIY vanity costs between $400 – $700
A mid-range vanity with a little customization would cost between $700 – $1,000
A high-end vanity costs between $1,000 – $2,800
The total cost breakdown of buying a vanity would vary depending on the size, style, quality, and features of the vanity. Here are a few things that influence the cost.
Cost of the base vanity: Prices of base vanities can be as low as $100
Size: Larger vanities would cost more compared to smaller ones
Additional features such as built-in lighting, mirrors, etc.
Purchase of hardware accessories such as faucets, sinks, etc.
Installation of vanity, new plumbing lines, and assembling of the vanity, if you're hiring labor
Taxes
Warranty: Companies often charge an additional fee for product warranty
Shipping and delivery fees
Buying a vanity can cost as low as $150 and as much as $2,800. This excludes the cost of installation.
Now to the question of whether building a vanity is less expensive than buying one made prefab. It is neither black nor white. It largely depends on your budget, the kind of vanity you want to get, personal circumstances, skills, time, availability, and preferences.
There are ready-made vanities that are cheaper than custom ones and vice versa. It is up to you to know what you want, do the necessary research, ask questions from professionals, and make the best choice for your needs.
Other Factors To Consider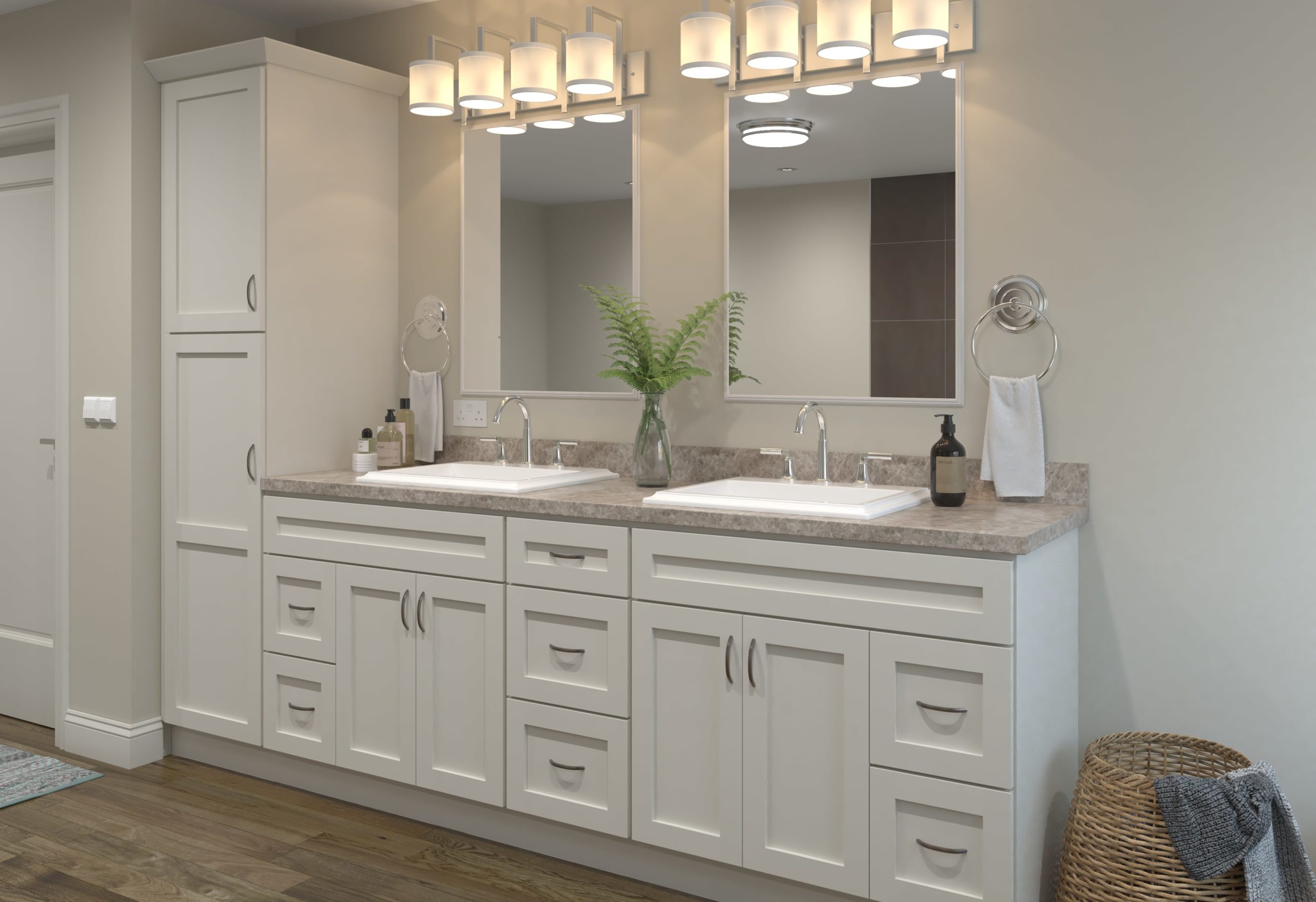 To construct a basic vanity in your bathroom, you need beginner-level woodworking skills. However, for larger and more intricate designs, you should have design and planning skills, joinery, problem-solving, customization, finishing, etc.
Common potential mistakes to watch out for are;
Inaccuracies when taking measurements of your bathroom
Uneven cuts
Improper assembly
Poor alignment
Shabby finishing
A custom-built vanity would significantly increase your home value if it is made from high-quality materials and craftsmanship and is well-maintained.
Conclusion
In this article, we have discussed the factors to consider when deciding whether to build or buy a vanity, the advantages and disadvantages of each option, and estimated costs for each option.
In conclusion, building a vanity could be more cost-effective if you purchase the materials separately from various vendors and have the necessary skills, time, and tools. However, if you want to create a unique and elaborate vanity that requires subcontractors to make and assemble pieces, buying one is a cheaper alternative.
In all, remember to do your research, ask the right questions from the right people, create a reasonable budget, stick to it, and just do your thing.
Looking for high-quality bathroom vanities that improve the aesthetics and value of your home? Send us a message today.