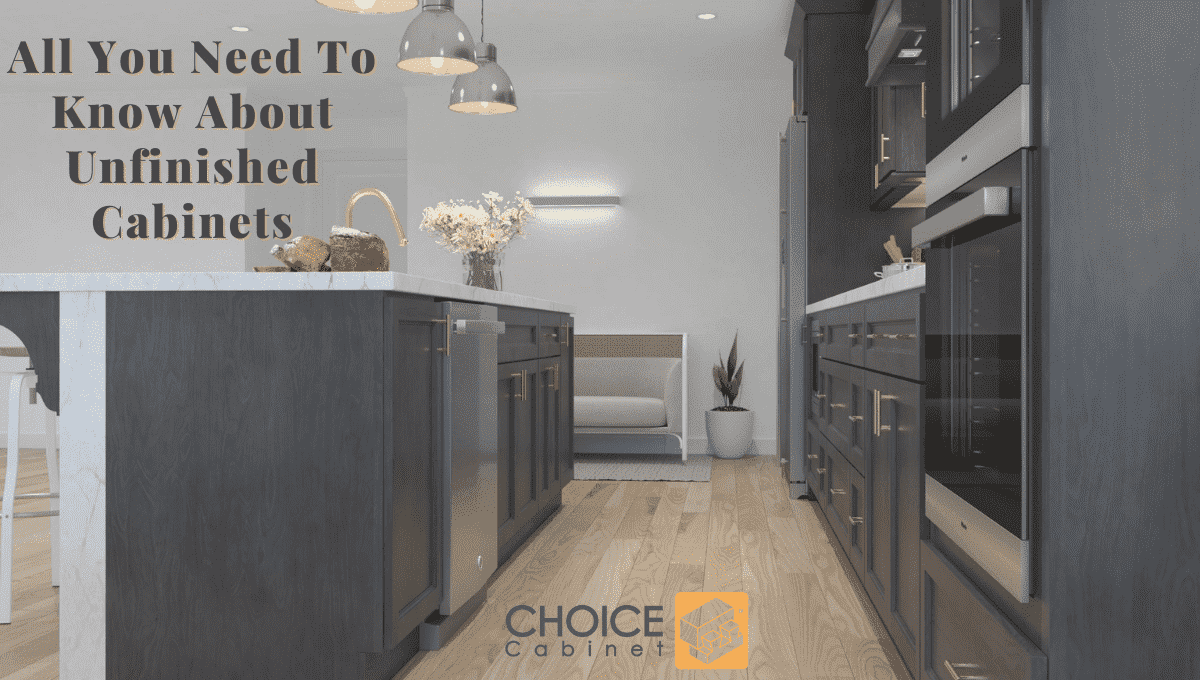 Preparing for your next kitchen or bathroom remodel? You should consider buying unfinished cabinets. You can use the unfinished wood for various cabinet functions in your home. Picture a remodeling process where you have complete creative control over the look of your kitchen.
Will you leave the cabinets painted or stained? These and more are options the unfinished kitchen cabinets offer. While there is a great deal of insufficient information, here's a detailed article on unfinished cabinets. Are you interested to learn more? Continue reading!
What Does Unfinished Cabinets Actually Mean?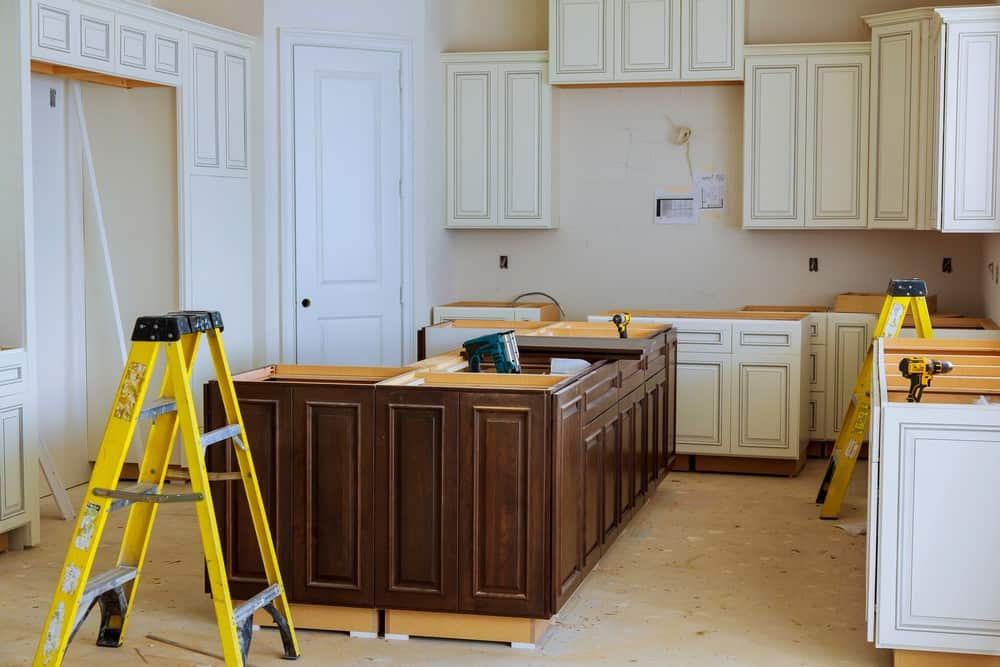 If you're unfamiliar with cabinetry, you might not understand exactly what we mean by "unfinished cabinet." Some people consider unfinished cabinets to be dull. However, that is absolutely false! Unfinished kitchen cabinets are often constructed of wood in their natural form with no coloring, varnishing, or painting treatments.
This implies that there will be no coat of any kind on them. Unfinished cabinets are less expensive than ready-made wood cabinets, and even at low prices, everyone can afford them. While the typical cost of a kitchen remodeling job is roughly $25,000, unfinished wood offers better value.
You should also see: Characteristics Of High Quality Kitchen Cabinets
Benefits Of Unfinished Cabinets
Buying an unfinished kitchen cabinet offers many benefits, leaving you with a choice. However, we'll look at the top three benefits.
1. Customized Cabinet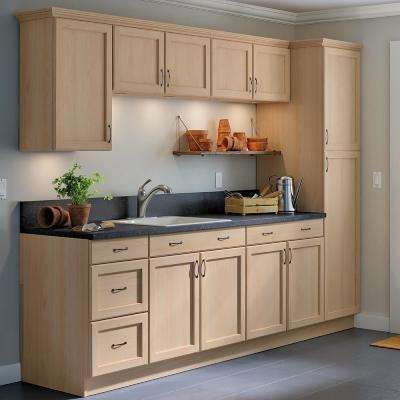 Purchasing unfinished cabinets create room for customization. This implies that many homeowners can be more creative and flexible with unfinished cabinetry. So you can stain, seal, or paint unfinished cabinets to want to tweak the look and feel.
Suppose you want to maintain the cabinets exactly how they are now (the unfinished wood natural look). You could later decide to give your entire kitchen a completely new style. They are simple to paint or refinish in any color that appeals to you. These wood cabinets come in two forms;
Unfinished Veneer Wood Cabinets
The most noticeable parts of unfinished veneer wood cabinets have more expensive wood. However, the main body of the cabinets is constructed of cheaper wood. For instance, you could have plywood cabinets with solid wood cabinet doors and drawer faces.
Unfinished Solid Wood Cabinets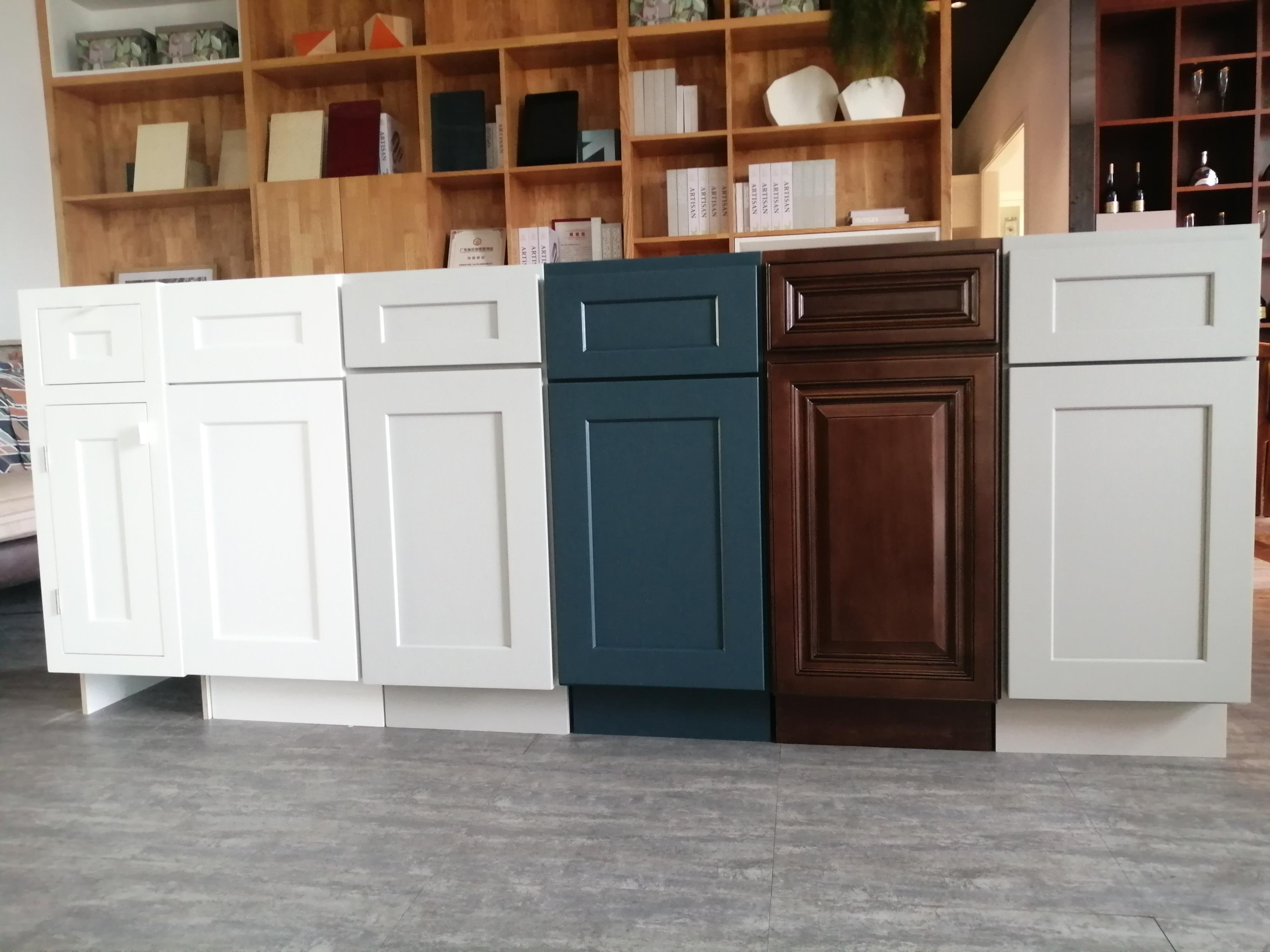 A single piece of solid wood is used to construct the cabinet. It is less frequent in bespoke cabinets since high-grade plywood is often tougher than solid wood and is more warp-resistant. Conversely, solid wood is more durable than its furniture board (particle board) counterpart.
Find out the 8 Pros And Cons of Solid Wood Cabinets.
2. Add To Existing Cabinets
Do you wish to add more of a bespoke cabinet that is no longer being produced? The best choice is to buy unfinished cabinets. You may supplement your current setup by purchasing the paint and hardware to complement your unfinished kitchen cabinet.
3. Saves Cost
The most significant advantage of unfinished cabinetry is this. Unfinished cabinets can help you save money when remodeling cabinets, which is a substantial investment. Also, you may save a large amount of money by installing them yourself if you are confident in your ability to do so.
What To Consider Before Buying Unfinished Cabinets
Having known the benefits of unfinished wood cabinets, don't hurry in buying them. Rather, consider the factors below when purchasing new unfinished wood cabinets;
1. Budget
Unfinished wood cabinets come at different prices. For instance, particle board wood veneer cabinets are cheaper than laminate cabinets. Also, once they become finished cabinets, they'll last longer than laminate cabinets. On the flip side, custom cabinets and semi-custom cabinets are costlier than the RTA (Ready-To-Assemble) cabinets. A solid wood cabinet costs about $5000, and solid wood unfinished cabinets range from $15,000 to above.
See also: 8 Unavoidable Signs It's Time To Replace Your Cabinets.
2. Grain Pattern And Color
Gently examine the color and grain pattern since wood varies. Dark cherry wall cabinets will look crowded in a small kitchen, while pine looks soft for the sturdiness needed in heavily used base cabinets. Also, ensure that the color of the hardware on your kitchen cabinet doors and drawers matches other fixtures.
3. Design And Construction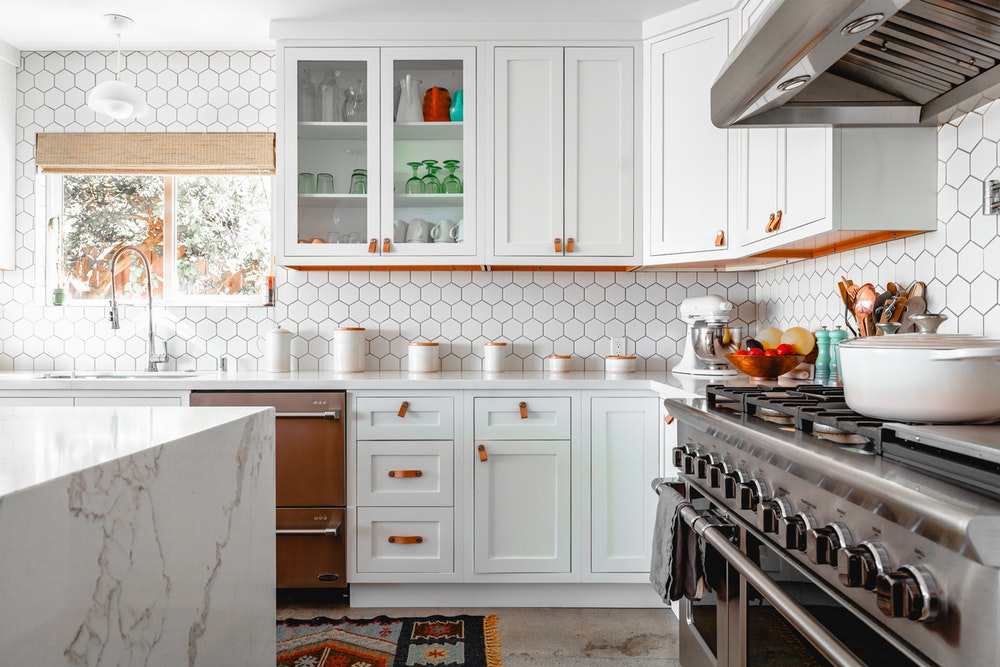 Before buying unfinished cabinets, come well-versed with the many types of kitchen cabinets. Which cabinet box and door types will suit your residence? There are several options available, ranging from shaker to artisan. Do you prefer framed cabinets or unframed cabinets? Other options are glass panels on cabinet doors, open shelves, and a soffit.
In addition, the structure of cabinet drawers, such as rabbets, dowels, and dovetails that allow the drawers to glide, affects both cost and lifespan. Although dovetails are the most durable, they are also the most costly because they use more wood.
See also: How To Choose The Best Kitchen Cabinet – Top 7 Considerations For Dealers And Homeowners.
How To Paint Unfinished Kitchen Cabinets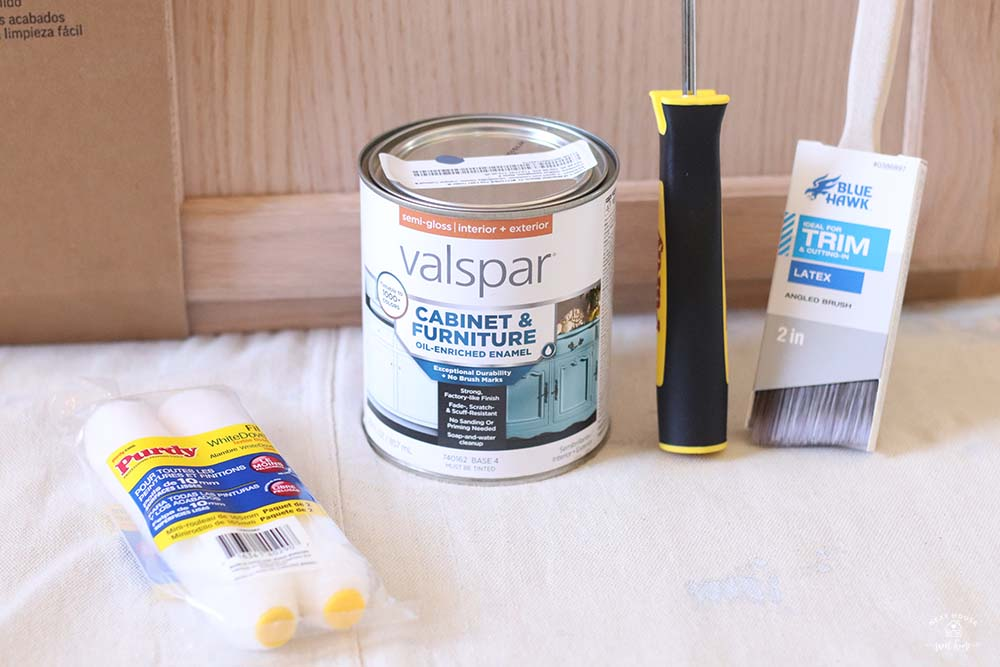 Painting cabinets takes time and a little skill. Here are some pointers to make the procedure go more smoothly and produce better outcomes.
First, you need to ensure that you have the tools needed to paint unfinished cabinets. You can get this equipment from home improvement stores around you.
Tack cloth
Wood conditioner
Polyurethane stain
150 grit of fine sandpaper
Clear polyurethane or varnish
Stain grade paint brush
Paint thinner
After acquiring all the tools, go to a room with more air so you can sand and stain. Also, take out the cabinet doors and drawers. This is to ensure easy treatment on all sides of the doors and cabinet face. Then, lightly remove the roughness on the drawer fronts, frames, and doors.
Gently apply conditioner to the kitchen cabinets using your foam brush. The wood conditioner will help bring out the wood's pattern. Also, it will smoothen the coat around the piece and reduces the possibility of blotching. Allow the conditioner to sit for 15 minutes.
After this, the smooth wood will now look rough. Sand it until it becomes smooth. And use a cloth to remove dust. Next, apply an even coat of stain over the entire kitchen cabinets. There should be no dripping and allow it to dry for 6 hours. The texture will be visible at this stage, although the wood may not appear stained.
That may be all you need to do. However, apply a second coat if you want a deeper stain. And ensure that the stain blends with polyurethane. Wait for the second coat to dry according to the stain's directions. Lastly, you can add two coats of urethane to your new cabinets if you want to seal the piece.
You can give your kitchen cabinets an exciting new look with this detailed article on How to paint compressed wood kitchen cabinets.
Priming And Painting The Unfinished Kitchen Cabinets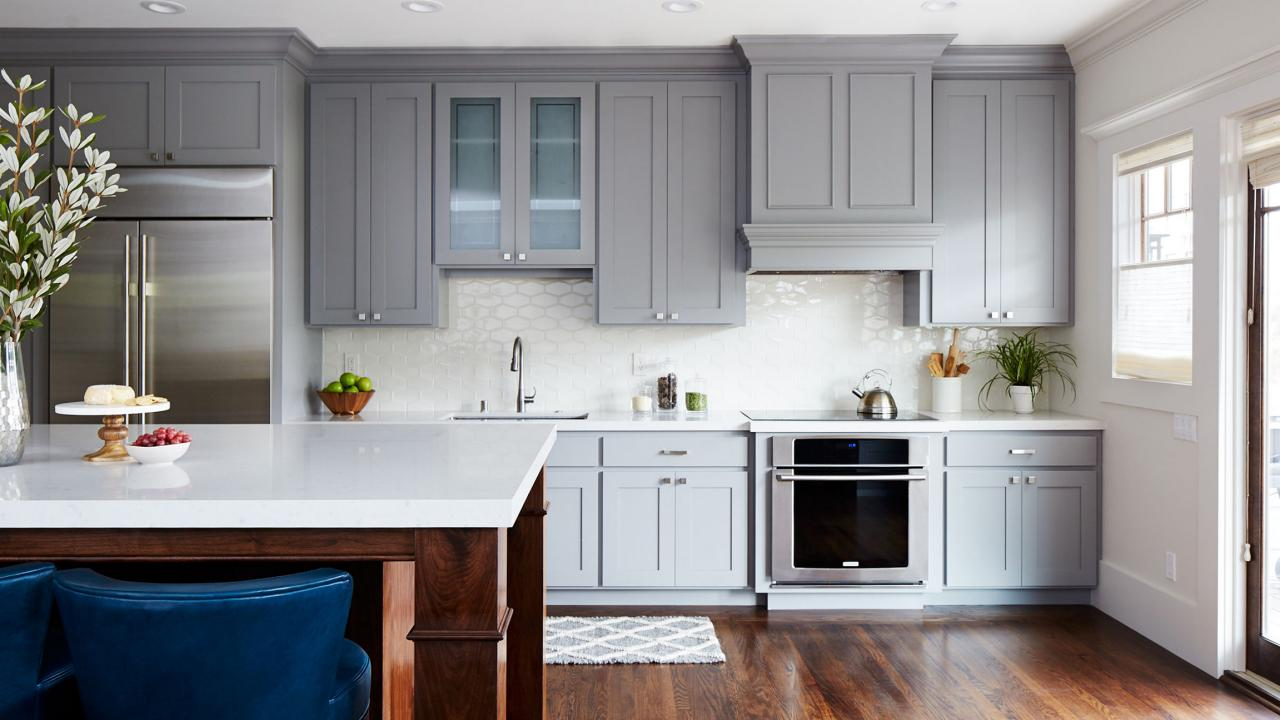 The preparation process for painting kitchen cabinets is quite similar. Certainly, you ought to sand the raised grain until it turns into a smooth texture. Then apply a sanding sealer after sanding and cleaning with a tack cloth. Consider the sort of paint you intend to use before proceeding. Note that some paints won't work well with certain sealers.
Hence, check the directions written on the paint before applying the first coat. Confirm the number of coats of sealer you need to use. Then, leave the sealer to dry and lightly sand once more. Furthermore, prime the unfinished wood cabinets. Remember that primer comes in two types–oil-based primer and water-based primers. Having known this, endeavor to select the one that will complement your paint.
Next, use a 2 to 3-inch sash brush to apply primer to tiny sections, the trim, and the cut-in. Use a 6-inch paint roller and roller cover to add priming to more extensive surfaces. The manufacturer's recommendations will determine the number of coatings and drying time.
Afterward, use the topcoat paint to coat your cabinet frames. Begin by using a sash brush to clean the cut-in trim and minor sections. Then, paint the more significant sections using a paint roller and a new roller cover. Allow the first layer to dry completely before applying a second coat.
Paint sprayers are another option for painting your kitchen cabinets. Not only will it dry faster, but you will apply a second coat using a brush or roller. But it leaves no visible brush strokes.
To be sure that your cabinets are made of higher-end wood types than the regular ones, you'll need to see certificates from cabinetry regulatory bodies.
Frequently Asked Questions
1. Do Unfinished Cabinets Need To Be Primed Before Painting?
Yes, it is essential to prime unfinished cabinets before painting. This applies to painting work both indoors and outside. Wood is porous and has a grainy surface. Therefore, you cannot avoid priming raw wood. Because the primer has a high solid content, it aids in filling the fresh wood's grains.
2. What's The Best Paint To Use On Unfinished Cabinets?
To get a flawless finish, we would advise using either a semi-gloss or satin finish when painting cabinets. This is because a flat finish would reveal dirt and is not very appealing. At the same time, a high gloss will easily show wear and tear.
3. How Can I Protect My Unfinished Cabinets?
If you prefer the look of your cabinets' natural wood color, you might apply a finish instead of painting or staining them. Protect your wood cabinets from moisture and stains damage using a colorless polyurethane coating.