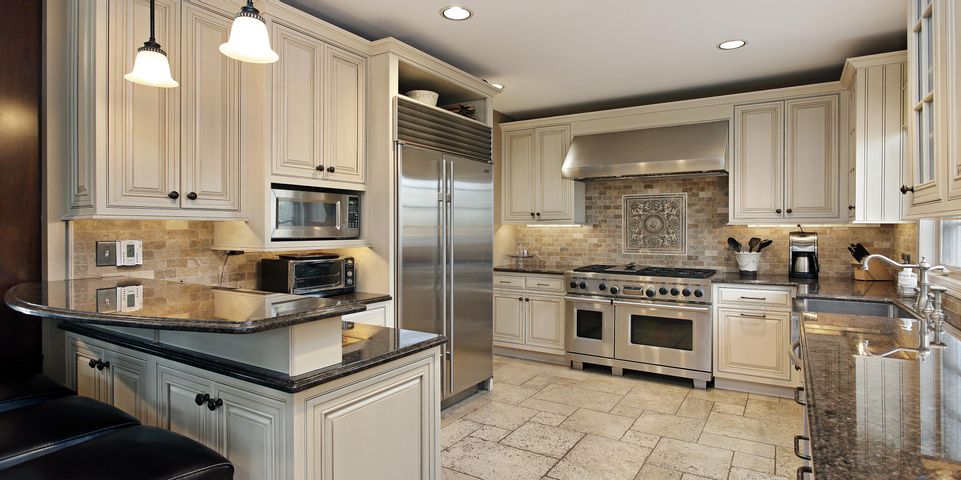 Do you ever just walk into your kitchen and think, "Wow, these cabinets are too old and out of style to be in my home"? Well, you may be right or wrong or right and wrong, depending on what the situation really looks like. It is strongly believed that your kitchen cabinets are the major contributors to the entire aesthetics of your kitchen. As such, old, damaged, and ugly cabinets can mean lead to an ugly kitchen.
Are you still confused about the ideal time to replace your kitchen cabinets? Well then, you're welcome to read up this article. As professionals, we have put together some common signs that will tell if your kitchen cabinets are ready for replacement.
Before choosing the material for your next kitchen cabinets, you would love to read about Particleboard Or Plywood Cabinets, Which Is Better For The Kitchen?
Leading Indications For You to Replace Kitchen Cabinets
Kitchen cabinets are subjected to more moisture, heat, and other damaging elements than cabinetry in other sections of the house. Despite this, some kitchen cabinets last longer than many others. However, certain factors show there's a need for kitchen cabinet replacement. If you face the signs listed below, stop trying to repair your kitchen cabinets.
Rather, bear in mind that it's time to replace your kitchen cabinets.
1. You Don't Have Enough Storage Space
Examine your kitchen cabinet surfaces. If your cabinets house sauce bottles, cookie jars, and rolls of towels, they're not performing their job. The structure of your kitchen cabinets has a significant impact on how your kitchen works. Your counters should be tidy, with more room for food preparation and the most essential little gadgets, such as a toaster or blender.
If you have to pile up boxes and packets on top of your cabinets, then you desperately need additional storage room. Even if you're not the world's greatest cook, you will need adequate room to keep your groceries and prepare your meals. Perhaps the style of your cabinets lacks enough storage space for new appliances, cooking utensils, and crockery. It's incredible what kitchen cabinet replacement can do.
Though you may not have enough space for more cabinets, Choice Cabinet can help you make the most of what you have. You can replace lower cabinets with deep drawers or raise the height of your higher cabinets. You can also tilt the interior shelves to keep your bottles, jars, and paper towels away from the counters. In brief, kitchen cabinet replacement allows you to make the most of the space.
Want to find out some of the best ways to properly optimize kitchen storage space? Read up on this detailed article that shows you exactly how to do it.
2. They Don't Perform As Well As They Should
Do you have to rearrange stuff to get to the back of your cabinets because they're inaccessible? Do your cabinet doors and drawers slam against each other when you open them? For example, you may have a door that cannot open at the same time or that collides with one another. Normally, a cabinet door should close properly without colliding with adjacent doors or other appliances.
Nothing is more aggravating than a door that won't open or close properly. However, replacing the doors alone makes little sense. So instead of buying new doors, you will need to change the entire cabinet box. Even though they're new cabinets or are aesthetically pleasing, if this happens repeatedly, it is time to replace the kitchen cabinets.
3. There's An Unpleasant Smell
There is a place beneath and behind your kitchen cabinets. Sometimes, there's a gap between your cabinets and the countertop. Insects, mold, and even food particles can sometimes find their way into such areas. Since you don't clean those areas, the first will remain there.
Thus, it'll cause a severe odor that'll become worse. The only solution to stop unpleasant odors is to tear out the cabinets and get rid of the cause. Yet, you'll need to replace the old ones by fixing new cabinets in your kitchen.
4. Water Damage
Water damage is a typical issue that prompts many homeowners to think about replacing their kitchen cabinets. If you find wet or dark spots on your wood, there are chances water damage influences your wood. Causes of water damage are leaking or busted sink pipes, spills, and even stagnant water. It can cause your kitchen cabinets to bulge. Once water affects an area of your cabinets, it will spread to others. Most times, it can weaken the wood and jeopardize the stability of your cabinet box.
Not only does it cause deformation, but it can also induce mold. Mold grows on kitchen cabinets for many reasons, but the most common cause is a water leak or an excess of steam. When caught early, it can be taken care of and your cabinets will look new again. When left unidentified, mold can continue to develop until it affects the integrity of your cabinet box and endangers your family's health.
Once it gets to this point, it becomes badly damaged. Thus, the best option to get rid of mold is to replace the entire kitchen cabinets. If you are unsure whether your cabinets have water damage, hiring a professional to inspect them is a good choice. Professionals won't only  help determine where the leak is coming from (if you have one). Rather, they will also advise you if a repair is doable and worth the money, or if replacement is the better option.
5. Excessive Wear and Tear
Regular usage and minor mishaps wear down the cabinet space in your kitchen. Pushing on the sides of the cabinet walls is one way to identify if the walls are damaged beyond repair. If they feel soft, this is a significant red flag that they won't last long before falling apart. If the cabinet carcasses are in bad shape, you won't be able to re-drill new holes or mount new hinges.
Also, you can't conceal significant damage or structural flaws by repairing them. Replacing cabinet doors or countertops will be challenging, as the framework isn't strong enough to sustain it. So, it's either you buy a new kitchen cabinet or waste time, money, and effort on unsuccessful repairs.
6. Your Cabinets Look Awful
Cracks, palm stains, peeling paint, damaged corners, and a worn-out appearance. This same problem happens over time and after a lot of functionality. You don't want to continue fixing new doors or cover the damaged wood with a horrible finish; giving it a grandma's quilt look. Likewise, many trends come and go. If your kitchen screams "80s cabinetry style," it's time to say goodbye to it.
Awful-looking kitchen cabinets make meal preparation a chore. Replacing your old cabinets could be what you need to give your new kitchen design a fresh start. This is a perfect time to yank the awful-looking cabinet and replace it with something classy. After all, because you'll be the one working in the kitchen, you need to be happy with the kitchen cabinet design.
That is why you should adopt some of the most recent kitchen cabinet trends that'll add beauty and value to your house. All these are options for improving the overall appearance of your kitchen.
7. New Kitchen Appliances
In recent times, the standard for new appliances has developed significantly. If you sense that your existing gadgets are old, replacing them may cause a few changes. The sizes of older equipment are not always similar. Besides, you don't want to store brand-new appliances in your aged-old cabinets.
As a result, you may need to remodel your kitchen cupboards to store new equipment. For instance, you could wish to replace your awkward top-freezer refrigerator with a bigger and wider bottom-freezer model. You could even decide to replace it with a double-door refrigerator; reducing the new kitchen cabinets space.
Similarly, you may desire an electric stove for easy cleanup. You might wish to buy a dishwasher to minimize children's arguments over who does the dishes. Even though your kitchen has enough space for your new equipment, it's always important to replace kitchen cabinets next to them. Do this to ensure a quality fit and a more simplified appearance.
8. New kitchen layout
Many homeowners opt to remodel their cabinets as part of a kitchen design. While others do so because they desire additional space or to increase the use of the space, such as adding more surface area for food preparation or extra storage space for kitchen equipment. Your kitchen layout sometimes needs to be changed for the replacement of the original cabinets and other objects in the kitchen. So, when planning to make any type of kitchen renovation, you need to replace your kitchen cabinets too.
See also: The 10 Most Common Types of Kitchen Cabinets to Consider During a Kitchen Remodel
Conclusion
From the article, there are many signs why you need to consider changing your kitchen cabinets. From awful-looking cabinets to wear and tear to water damage, and so on. In certain situations like these, it is worthwhile to do so. Kitchen cabinet replacement will offer your kitchen a nicer look and save cost by minimizing the number of repairs your cabinets will undergo. [should the below be italicized? If so, then it's ok]
Is it time to replace your kitchen cabinets? Turn to the experts at Choice Cabinet. We offer over 30 years of experience in designing and installing high-quality cabinets for your dream kitchen. We also provide a wide selection of hardware and finishes to help you get the style you desire for your kitchen. 
Whether you want bespoke new cabinets or just a few basic manufactured pieces to freshen up the area, you can rely on us to deliver. Contact us today to set up a consultation and discover more about the magnificent cabinets available for kitchen renovations.