Choosing suitable kitchen cabinets is vital as they influence the outlook of the home. In today's world of home improvements, custom cabinets style have to suit the taste and lifestyle of the homeowner. They offer different styles and unique decor in terms of cabinet doors and modern designs that leave your mind blown.
Thankfully, there are many types of cabinets in the market, but it can be overwhelming to select one. However, we'll explore some of the common types of kitchen cabinets to consider during a kitchen remodel and what to look out for when selecting them.
So, keep reading to make a splendid choice amongst them.
10 Types of Kitchen Cabinets For a Home Remodel
In this section, we'll take you through the ten basic types of kitchen cabinets. These types of kitchen cabinets are excellent choices for a home remodel. To make the process seamless and more cost-effective, you should talk to the best kitchen cabinet manufacturer in Cleveland today. Let's see them below!
1. Beaded Kitchen Cabinets
The beaded inset cabinetry is a cottage style of kitchen cabinets known as face-framed cabinets. They come with inset doors, drawer fronts, classic paneling, and a 1/4 inches bead modern design around each door and drawer opening. The design consists of a bead and rounded edges inside the wood. Beads act as "frames within frames," thus defining the outline of your doors and drawers. You could either have the bead attached to the face frame or you could have it drilled out of the face frame with a router.
The extra beads require finesse in either case, and it's a hallmark of genuine personalized cabinetry. In addition, beads give the beadboard cabinet fronts a unique look. Its vertical grooves make the style worthwhile and give the paneling an attractive homely feel. Choosing beaded inset cabinet drawers and doors will help create a unified appearance in your cabinetry.
2. Shaker Kitchen Cabinets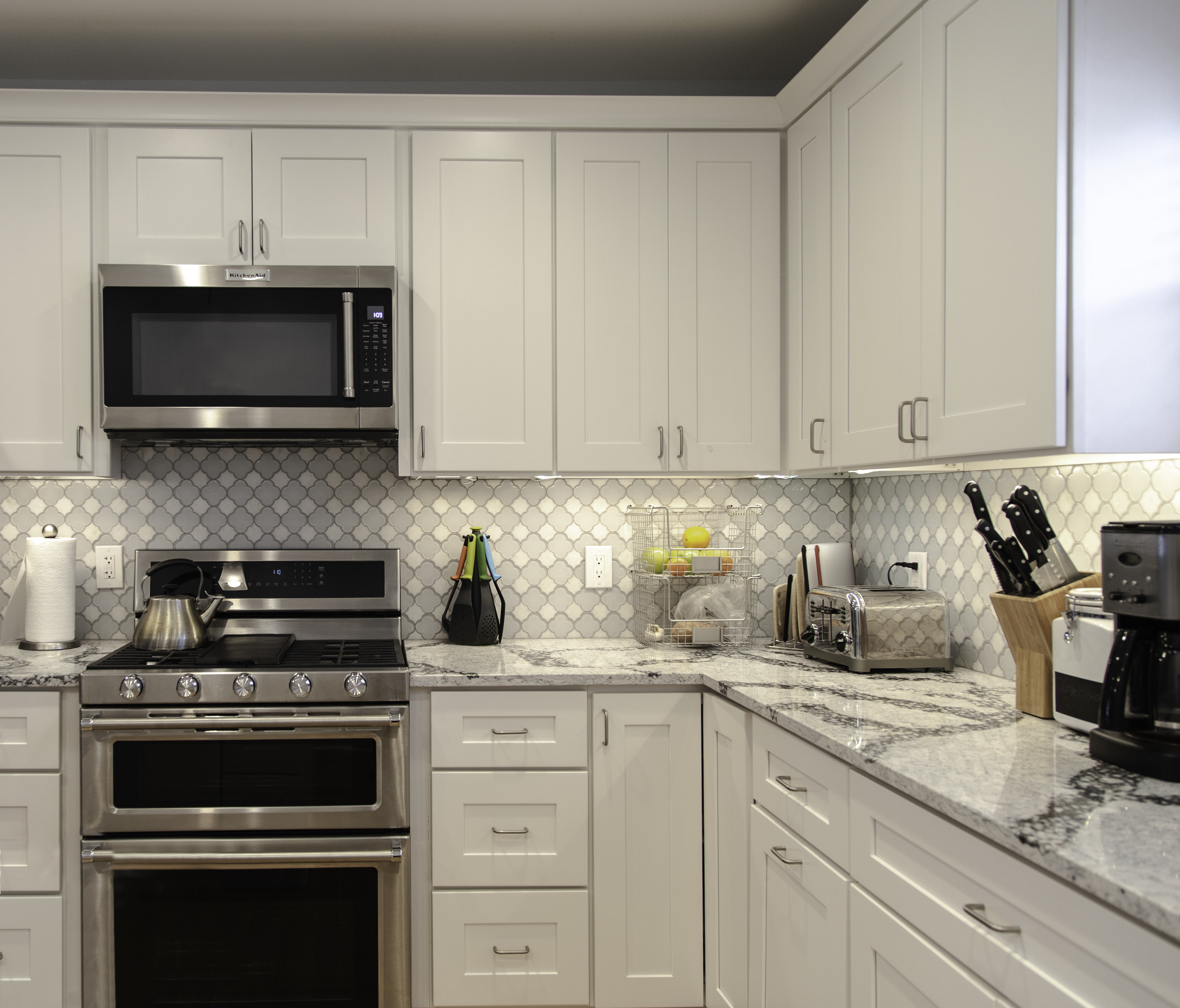 Shaker cabinets have become increasingly popular in both traditional and contemporary kitchens. They introduce a wide range of opportunities due to their simple design and clean lines. With shaker cabinets, the style of doors is composed of five segments and a flat panel. Shaker-style kitchen cabinets are a simple but pleasing unit in the cabinetry world. Cabinet doors from Shaker style are cope-and-stick. They are constructed with flat panels, smooth and straightforward outside and inside edges.
Shaker doors have five segments; the horizontal pieces at the top and bottom called rails, the recessed panel, the vertical pieces on the sides known as stiles, and the center panel. The horizontal pieces join the vertical pieces at 90 degrees to create the cabinet frame. It is often finished with light colors and features basic hardware. The minimalism of these contemporary cabinets makes them an amazing option for kitchen cabinetry.
3. Flat Panel Kitchen Cabinets
Flat-panel door style is also called slab cabinet doors without any ornaments or bevels. Kitchen cabinet doors typically use dimensional designs. The cabinet frame and center panel constructions create dimensional faces rather than a flat panel door style. The dimensional designs give these cabinets a traditional look. However, the kitchen cabinet style and flat panel doors are excellent choices for a modern appearance.
Like glass doors and louvered doors, kitchens with flat-panel cabinets can make a great place to showcase unique and eye-catching hardware. Though this kitchen cabinet style has solid slabs and cabinet doors.
4. Base Kitchen Cabinets
Base cabinets are kitchen cabinet types designed for countertops, sink arrangements, and cooktops. These base cabinets are installed on the floor to provide storage and define how the floor plan of the kitchen looks. They are regarded as permanent fixtures as they are attached to the wall. Usually, base cabinets have exposed legs, or the legs are covered with long strips of wood known as toe kicks.
Base cabinets have four kitchen cabinet doors, two functional drawers, and two false cabinet drawers or. Its design is perfect for modern kitchens, laundry, or bedrooms. The cabinetry in a kitchen usually consists of wall cabinets and base cabinets. They create a look that best suits your traditional or contemporary kitchens.
5. Wall Kitchen Cabinets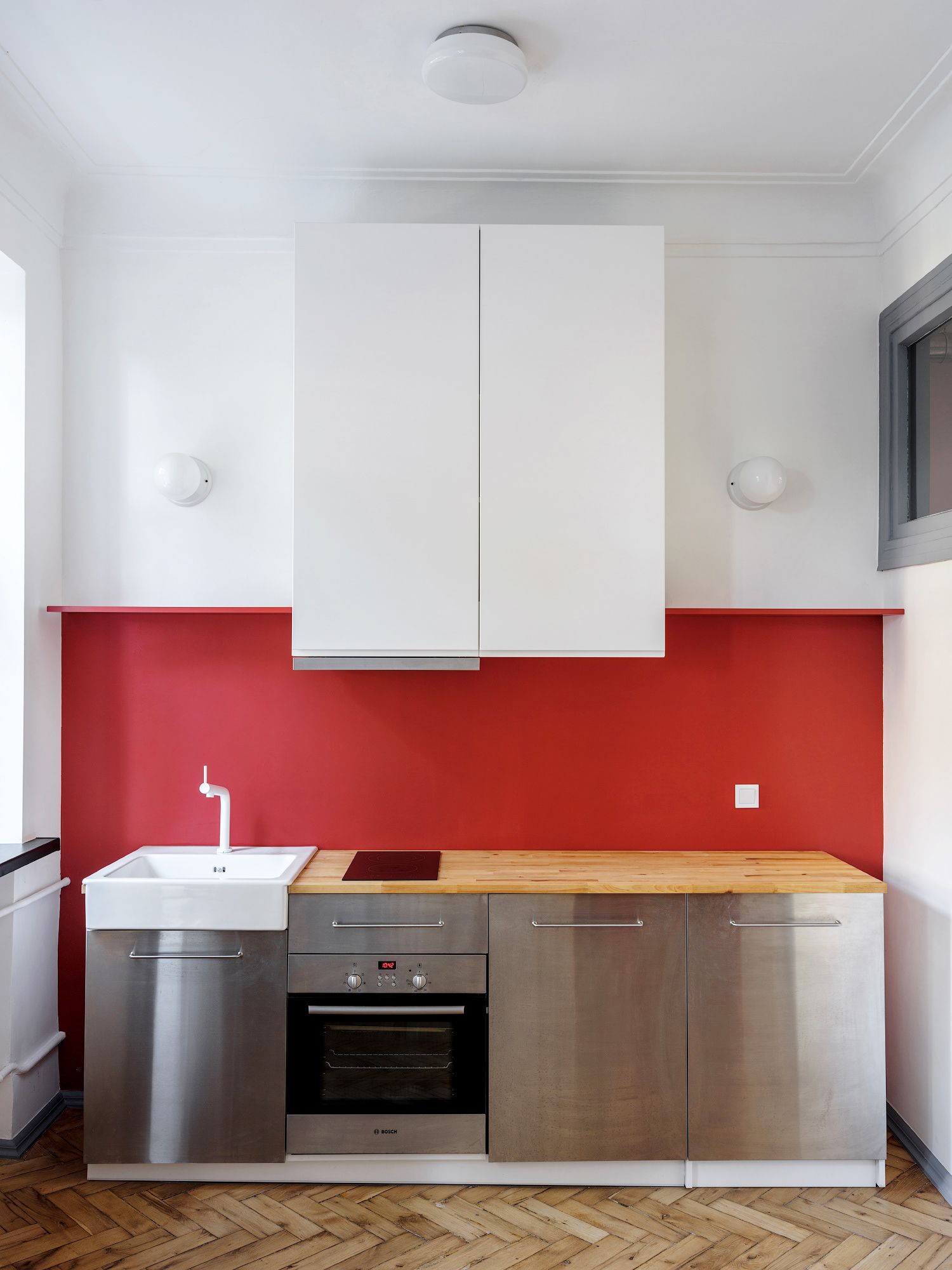 In contrast to base cabinets constructed to sit on the floor, wall cabinets refer to kitchen cabinetry that stays above the counter space. Kitchen cabinetry for wall spaces is as distinctive as the kitchens they are incorporated. Still, they are typically made to complement base cabinets to create a coordinated look in your transitional kitchen. In as much as wall cabinets and base cabinets are similarly constructed, the first and most distinctive difference is that wall cabinets will never have drawers.
There is usually a paneled cabinet door, sides called stiles, a box frame, and hanging rail frames on wall cabinets. Generally, wall cabinets must have a cabinet door to be considered part of kitchen cabinet types.
6. Tall-Standing Kitchen Cabinets
Almost every kitchen these days is equipped with tall cabinets. They surely make your kitchen stand out at first glance. Tall cabinets fall into a standard size category but may need to be custom-made depending on the available space. Tall cabinets have a full height that starts from the floor and extends to the ceiling. Its tallness guarantees you the most storage space. The cabinets create a dramatic vertical look and can also serve as broom storage due to their size.
7. Corner Kitchen Cabinets
As the name implies, it is typically the most isolated custom kitchen cabinets.  It is made specifically to maximize the available space in kitchen corners. This kitchen cabinet box uses a non-standard configuration. This is as a result of the natural block created by straight cabinet doors and the difficulty in reaching cabinets that are deeper than 24 inches. The most common corner cabinet design is constructed as the base cabinet but can also include upper cabinets.
The kitchen cabinet designs aim to optimize space on the inside while creating an appealing exterior. There are many styles of shelving available for this kitchen cabinet. They vary from drawers to custom cabinets. The most significant challenge of this cabinetry is to select the proper method of attaching cabinet doors without disrupting the flow of inset cabinetry.
8. Stock cabinets, custom Kitchen Cabinets, and Semi-Custom Cabinets
There are many options available for custom cabinets, such as wood type and the ability to tailor the cabinets to fit your needs. They are constructed explicitly according to the homeowner's specifications. The flexibility of custom kitchen cabinets allows you to design cabinets that fit perfectly into oddly shaped corners and run along the wall.
Semi-custom cabinets are cabinets made with a couple of customizable options, like the depth of the cabinets, drawer style, door style, and more. The main difference between semi-custom cabinets and custom cabinets is your ability to customize them to your preference.
9. Pantry Kitchen Cabinets
Pantry cabinets are easy to access – so you won't have to stretch, lean, or struggle to reach items when preparing a meal. You can have a built-in butler's pantry, walk-in pantry, freestanding pantry, or the combination of all. Because they are narrow, these cabinets are ideal for smaller kitchens, as they give you more storage space than you'd otherwise have.
With these types of cabinets, spices and other groceries are stored on top of custom-fit upper cabinets. No matter what kitchen cabinet style you choose, it should optimize the full overlay of your kitchen by storing everything in one convenient location.
Learn how to properly organize your pantry cabinets to maximize space in just 8 minutes.
10. Distressed Kitchen Cabinets
You can create distressed cabinets very easily if you apply a faux finish. You can transform your unique, eye-catching new cabinetry into distressed cabinets depending on how "distressed" you want them to look. If you want your cabinets to lose all their newness, consider painting with odd paint colors. The sand is strategically in places where it naturally gets rubbed and worn. You can also finish them with a protective sealant.
If you want more extreme distressed cabinets to look at, try denting the cabinets or hitting them with hammers and chains. In addition, you may want to sand to reveal the different color spots of wood, making them look as if they are old and worn out.
Choosing The Suitable Cabinets During a Kitchen Remodel
Having examined the ten different basic types of kitchen cabinets, it may seem challenging to effectively select the suitable types of kitchen cabinets. So we'll showcase what you should look out for before choosing the perfect types of cabinets.
Your kitchen size
The layout of the cabinets
Storage style
The cabinet door styles: Cabinet door styles have a lot to add to the beauty and sophistication of your kitchen. They are the first things people see when they walk into your kitchen.
Your choice of wood cabinets: Although some cabinet styles like the glass front cabinets are made with medium density fiberboard and glass fronts, some of the most sophisticated types of cabinets are made with solid wood.
Know your unique color: choosing the perfect cabinet color can be tricky. Check out this guide that shows you how to choose the best color for your kitchen.
Conclusion
Before making your final decision on the types of cabinets to purchase, you might want to consider talking to a cabinet expert to see the options that are open to you. You want to avoid wasting money on kitchen cabinets that will not properly enhance the backdrop of your home or a new kitchen. 
With almost 30 years of experience in crafting beautifully assembled kitchen cabinets, Choice Cabinet is the pro to call for all kitchen protocols. Send us a message right now and let us help you redesign your kitchen just how you would be proud to see it.