Kitchen Remodeling Mistakes To Avoid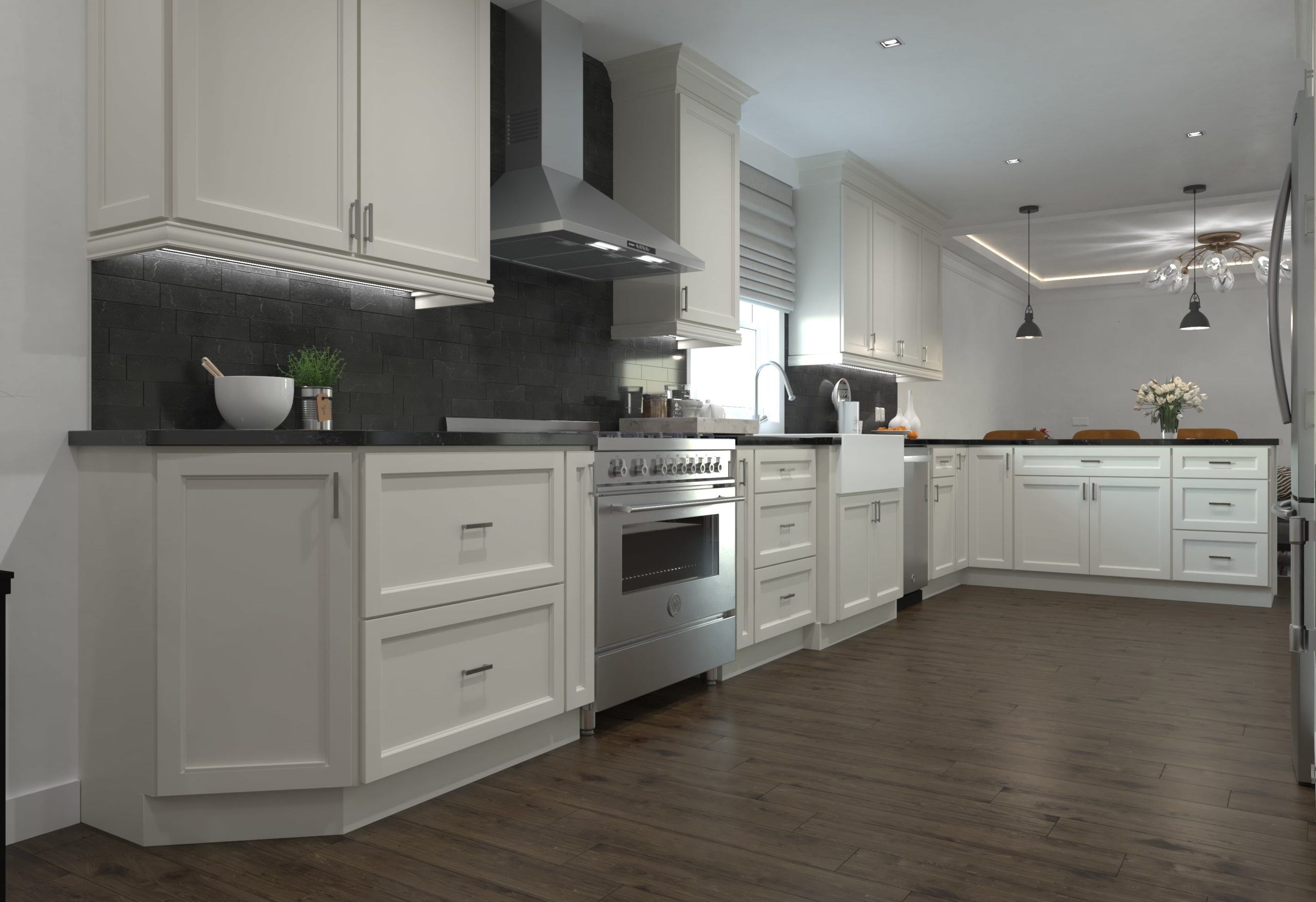 The kitchen is usually the focal point of the home, and it's one of the places where the family gathers at the end of the day to bond. Remodeling your kitchen is one of the most thrilling undertakings you can do. But if you are not careful, you may make mistakes. Correcting these mistakes is more complex than painting over a line and brushing it away. You may need to rework the region from the start.
Of course, if you're set to update your kitchen, you need to avoid making some remodeling mistakes. This article will highlight them so you can avoid these common remodeling pitfalls.
Why Should You Avoid These Common Kitchen Remodel Mistakes?
Guests may inspect everything in your kitchen. They could look into the color palette and arrangement of your kitchen or the shelves and flooring material. Thus, your selections influence the durability and usefulness of your kitchen.
Kitchen renovation mistakes will make your kitchen less functional. Not just that, impulsive design decisions may cause major financial losses. So, to help you avoid design mistakes, we've developed a list of the most common remodeling blunders. These pointers given by our specialists will help you pay attention to even the smallest details of your kitchen.
As a result, a good kitchen design will make your space functional and visually appealing. Besides, it will serve you and your loved ones to socialize for a long time.
See this detailed article on RTA Cabinets Vs. Pre-Assembled Cabinets
Common Kitchen Remodeling Mistakes To Avoid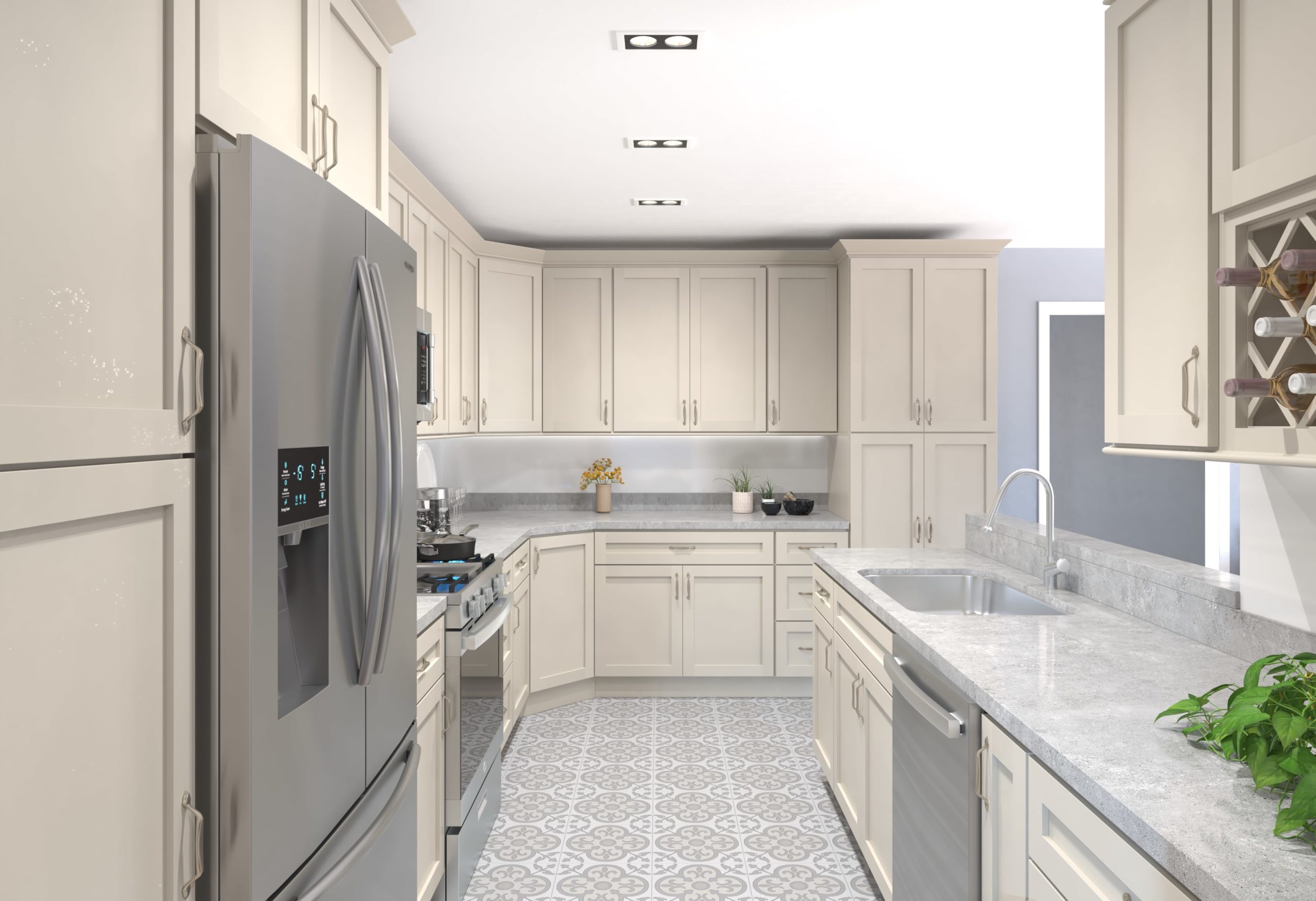 Ready to renovate your dream kitchen? Avoid these kitchen mistakes to have a seamless remodel.
Bad Planning
When planning your kitchen remodel, consider your kitchen needs and family lifestyle. Are you a family that likes to cook? Do your children sit on the wooden stool while writing on the kitchen island? Is the existing arrangement functional? Are the door style and finish old-fashioned? Do you need to refinish or replace the cabinets? Once you answer these questions, you can plan your kitchen reno!
A remodel is a great time to reevaluate your countertops and measure your entire kitchen. To help you, read a detailed blog about storage and organization solutions. Once you have developed a general floor plan, choose your appliances. But note that the more features you go with, the more cost you will incur.
After choosing, you can now plan around the "Work Triangle." It means the path from your kitchen's busiest areas – the refrigerator, sink, and stove. Each approach should be between 4 to 9 feet long. Tight aisles are another part of the mistakes made when designing a kitchen, and you should be able to navigate your kitchen easily.
Consider offsetting the placement of your sink(s) and stove. It will help you avoid bumping into someone else. Our kitchen designers recommend between 42″ and 48″ of clearance. So you can open your appliances, cabinet doors, and drawers.
Not Consulting A Designer
It's okay to be an over-eager DIY homeowner. But to neglect a professional? That's not okay. A kitchen designer can help you fine-tune your design plan. Plus, they offer good design options and ideas.
Materials can look very different in a showroom than in your kitchen. Don't make any big design decisions, such as flooring or countertop materials, until you've taken the samples home to see them in the area you're redesigning. Better still, consult your designers. So, they will steer you towards efficient design decisions, products, and materials. This will help you save a lot of effort and money.
See also: Are Custom Kitchen Cabinets Worth It?
Inadequate Counter Space

Counter space is one of the biggest kitchen renovation mistakes. Be sure you have enough room to fit your work triangle, including small kitchen appliances and washing machines. Also, there should be space to dine in your new kitchen.
Installing The Cabinet Before Floor
When it comes to your cabinetry and flooring, the sequence of installation is also crucial. There are at least two concerns if you build kitchen cabinets on top of a hardwood floor. The floor loses its capacity to expand and contract. Thus, it may increase the likelihood of cupping or peaking. And it becomes tough to remove the floor without destroying cabinets if you need to replace or repair them.
Therefore, placing the flooring after the cabinets reduces the possibility of the floors being harmed during the cabinet installation.
See also: Characteristics Of High Quality Kitchen Cabinets
No Plan For Enough Storage Solutions
No way about it; kitchens include a lot of things. Dishes, mixers, dishwasher, trays, utensils, cups, glasses, Sunday china, and small appliances. One of the most common mistakes homeowners make is failing to devote time to storage space. You must plan properly and allocate enough room for everything.
In addition, ensure you stick to your kitchen storage plan to prevent ruining your new space. The best way to maximize your kitchen's storage capacity is to create new ways to incorporate trendy storage solutions. You may use magnetic panels and the vacant area between the base and upper cabinets.
Also, pull-out corner storage that fits comfortably into your kitchen cabinets might be used for heavy goods. One of the most valuable aspects of this storage is that it provides quick access to its content. As a result, you may use it to store anything you need within a split second. Remember to make the most of your kitchen layout space by using a rack to create extra room when cooking meals.
Go Over Budget
This is one of the top mistakes a homeowner can make during a kitchen remodeling project. Sometimes your eyes get bigger than your wallet. That 7-burner gas stove that you want could be a budget breaker. Part of setting the budget is being realistic about your wants and needs. Determine which features are important to you and if they fit the budget.
The best way to ensure your project stays on track is to choose supplies within your spending limit. So, once you set the budget, stick to it.
See also: 26 Brilliant Ideas For Organizing Kitchen Cabinets
Forgetting Ventilation
One of the most crucial components of a kitchen is proper ventilation. The cooking process produces odorous compounds, smoke, and steam emission. If your kitchen is not aired, these gaseous chemicals and aerosols will circulate throughout your home. Smelling similar aromas in other parts of the house might be an uncomfortable experience.
As a result, when you remodel your kitchen, invest in a quality air conditioning system that filters and cleanses the air in your home. This will help keep the house and kitchen clean. Also, avoid choosing low-cost items that recycle the airflow in your kitchen and use a lot of power. Instead, go for a product that makes little noise and consumes less energy.
Forgetting Your Backsplash
A kitchen backsplash is a vital element that you should consider. In fact, all designers recommend you to have one. This is because the backsplash covers the countertop wall at the back. Furthermore, the backsplash prevents meals and fluids from spilling up and ruining the wall. So if there is no splashback, spilled liquids can flow through the back of the countertop in the little gap between the counter and the wall.
Why not pay extra attention and end up making a splash in the heart of your home? Play with color by using different shades of the same tone, which may give your kitchen a really classy and put-together appearance.
You should read this article on Top 12 Backsplash Ideas for Gray Kitchen Cabinets
What Adds The Most Value Aspect Of A Kitchen Remodel?
Upgraded kitchen countertops
A new kitchen sink and faucet.
Refaced and refinished cabinets
Stylish tile backsplash
Lighting
Investing in new kitchen appliances
What Colors Shouldn't Be Used In A Kitchen?
Darker hues and shades of green, blue, red, and purple should be avoided at all costs. This is because they will throw a shadow on food and darken the room. Also, avoid using green and orange in kitchens.
You must see this: What Color Cabinets Go With Gray Walls
What Should You Keep In Mind When Remodeling Your Kitchen?
When remodeling a kitchen, keep the following in mind;
Workflow
The Backsplash
Installing light fixtures
The Floor
Electrical outlets
Storage requirement
Surrounding spaces
Budget.
What Kitchen Color Has The Highest Resale Value?
Light neutral colors are often the greatest resale colors, and this is because they appeal to a vast majority of people.
Should You Update The Countertops Or The Cabinets First?
Anyone works. If you're worried about the tile or counter installation causing damage to the cabinet, consider having the cabinets painted afterward. However, specialists in the industry say it doesn't matter.
The Wrap-Up
In conclusion, do not make changes to the layout once the remodeling starts. Changing the structure can extend your deadline and may even increase your budget.
Furthermore, to prevent making some of the common mistakes, conduct adequate research, get models from contractors, and limit what fits within your budget. As you plan your kitchen makeover, keep in mind that your design options are limitless. If you take the proper measures, you can design a functional kitchen to fit your specific tastes.
Choosing a good contractor might be the difference between a well-done project and a complete nightmare. An update or makeover project will be easier and be more successful if specify everything in the remodeling contract. Do you want a professional design? Choice Cabinet in Ohio will bring out your inner creativity and help you customize your kitchen space with high-quality cabinets. Our skilled staff is devoted to bringing your kitchen cabinet ideas to life with various bespoke designs. Contact us today!