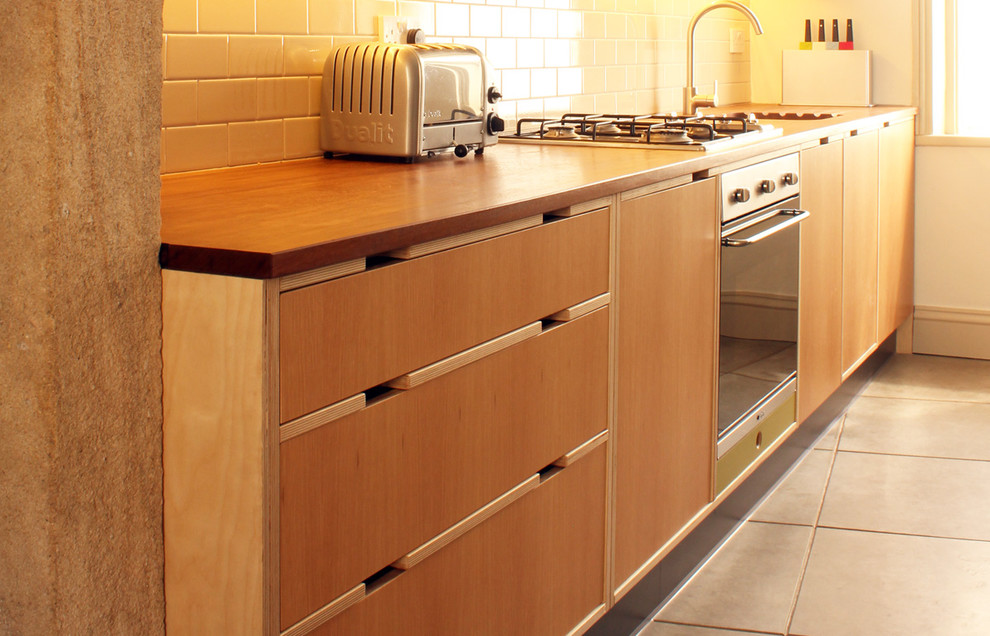 The kitchen is one room most people have a soft spot for. That's why they can go out of their way to remodel their kitchen with the best possible kitchen cabinet materials.
However, arriving at the best kitchen cabinet is not always easy, especially when it comes to choosing the right quality. Depending on your style, different cabinet materials could be suitable. Some people prefer wooden kitchen cabinets (solid wood); others go as low as opting for particleboard materials. But as long as a modern kitchen is concerned, most interior designers recommend either plywood cabinets or stainless steel cabinetry.
Again, out of these two really good cabinet materials, you can only have one final choice to give your kitchen not only the best quality setup but also outstanding aesthetic qualities. Hence the key question now is, which is the best material for your kitchen setting: plywood or stainless steel?
Let's find out!
Plywood Vs. Stainless Steel Kitchen Cabinet Materials: What Difference?
The key difference between plywood and stainless steel cabinets lies in the fact that the former is made of wood while the latter is made of steel.
Although both steel and wood materials (including plywood and hardwood) are typically more expensive than particleboard, MDF, and all the options available, the good news is that you can go for either of them depending on certain factors which we'll be discussing going forward.
Plywood Kitchen Cabinets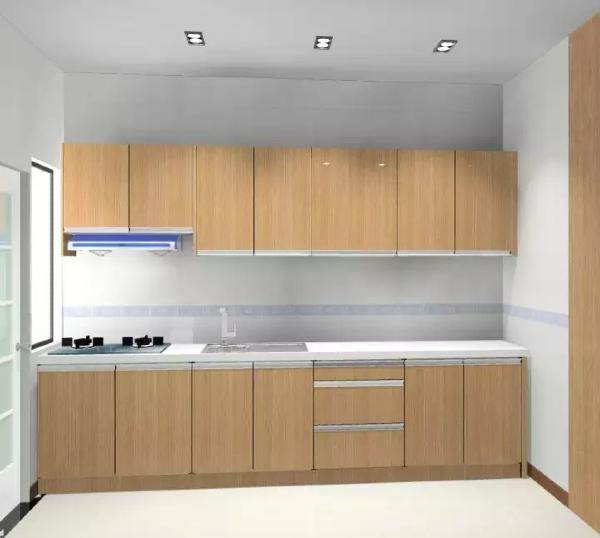 If you are looking for a bridge between classic designs and modern kitchen cabinetry, then plywood is the material for you. That's because plywood cabinetry is known for its versatility and flexibility to offer lots of styles and shapes to your design.
On the flip side, however, plywood cabinets tend to look old-fashioned in a kitchen designed with tile backsplashes and concrete countertops. Moreover, Compared to other types of solid wood, especially hardwood, plywood is less enduring. This is because while hardwood is directly made from solid wood like an angiosperm tree, plywood is a sort of manufactured wood panel derived from gluing planes and layers of wood veneer.
See also: Particleboard or plywood cabinets, which is better for the kitchen
Advantages of wooden kitchen cabinets
1. Offers Flexibility
The flexibility of plywood cabinets makes them suitable for multiple styles. This makes them available in whatever custom design you might want for your kitchen.
In other words, with plywood, you can provide your kitchen with cabinet box designs and finishings that would truly satisfy your unique taste. Moreover, you can switch from laminates to acrylic and veneer finishing from time to time.
These multiple styles and finishing is not obtainable in steel cabinets.
2. Cost-Effectiveness
Another great thing about plywood cabinets is that it's relatively less expensive than steel cabinets, yet offer your kitchen the quality and value you need when it comes to upgrading and remodeling.
Most home builders believe that the most cost-effective way to bring the best out of your kitchen without breaking the bank is by gracing your kitchen with cabinets that are made either of cabinet-grade plywood, MDF, or particleboard. But even if you choose to go all-plywood, it's still not as expensive as steel or hardwood cabinetry, yet it gives your kitchen that exquisite look any contemporary kitchen should have.
3. Quality Construction
Although stainless steel is generally your best bet as long as "durability" is concerned, compared to particleboard, plywood has superior construction and longevity since it accommodates screws and other mechanical fasteners more efficiently.
Moreover, with certain kinds of water and pest-resistant plywood, you can obtain very high durability — perhaps, as durable as stainless steel. Besides, most cleaning supplies are friendly with plywood and do not damage them.
Want to find some of the most beautiful, yet affordable kitchen cabinets in Cleveland, Ohio? Check out our page that shows you exactly where to find it.
Stainless Steel Cabinets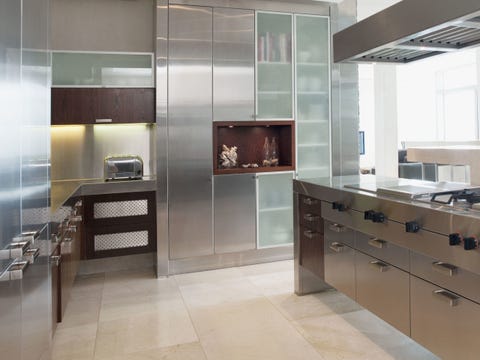 Metals, as we all know are stronger than any wooden cabinet. And stainless steel is one of the most corrosion and rust-resistant metals that can be used for kitchen cabinetry. Hence, you have nothing to worry about water damage if you are living in a wet environment.
With steel kitchen cabinets, you won't also have issues with termites as steel materials are not organic and so can't be eaten by any pest. Just like the best high-quality cabinets, the solidity of steel helps it to withstand high pressure and to endure enormous weights.
Stainless steel kitchen cabinets are also very easy to install; they hold screws adequately and require only a few nuts to fasten the boxes, drawers, and doors together.
Sadly, all these advantages do not go for a cheap price as stainless steel cabinets are almost twice as expensive as wooden types. Besides, while wooden cabinets are versatile enough to go with any style, color of paint, or finishing, steel cabinets are of a typical finish, design, and style.
Advantages Of Stainless Steel Cabinet
1. Durability
The top-quality nature of stainless steel cabinetry adds value to the interior decor of your house. Steel cabinets are built so toughly that on average, they can serve up to 25 or 30 years in the best conditions.
Moreover, they require no refacing since the structural makeup is resistant to wear and corrosion. Consequently, you have no reason to worry about high maintenance costs. This is unlike the wooden material that needs constant maintenance, polishing and refacing. Also, vanity steel cabinets reduce the incidence of chipping and peeling as seen in wooden types.
2. Easy To Clean
Cleaning stainless steel cabinet doors or house appliances, for instance, will not be a problem to homeowners as the steel material is resistant to oxidation and moisture and does not warp over time.
Besides, just as the name suggests, "stainless" steel is immune to stain, and even when the surfaces are eventually stained, you can always wipe them off with water and soap without risking any damage from chemicals or moisture.
2. Ease Of Installation
Apart from the durable nature of stainless steel, in the first place, another advantage it has over the wooden model is the ease of installing the material.
Plywood Vs Stainless Steel: Which Is The Best?
From the points highlighted above, it's obvious that stainless steel can be the best in terms of longevity. But if you need more versatility in stylings, finishing, and aesthetics, then plywood cabinets would be the best option— especially if they're designed to resist pests and moisture.
Choice Cabinet offers the best deals on kitchen cabinets and we are open to discussing your preferences with you. Send us a message today and let us help you design the kitchen of your dreams with every kind of cabinet you want.