Every kitchen has areas that aren't big enough for furniture but appear weird if left unfilled. A great illustration of this is the space above the kitchen cabinets. Decorating this space is an excellent way to use it creatively rather than leaving it empty.
In terms of décor, less is more. But you may fill the space above the kitchen cabinets by decorating it in various ways. It could be something attractive that complements the style of the rest of the room or a proper storage solution that frees up drawer space. However, if the empty space bothers you, there are a ton of options you can explore.
Let's get to it!
10 Ways On How To Decorate Above Kitchen Cabinets
Follow the methods below to decorate above kitchen cabinetry:
1. An Art Gallery Over Cabinets
Having an art gallery above your cupboards is trendy and quite creative for kitchens with high ceilings! Decorate and exhibit your art collection in the area above your backsplash or place it on a shelf far from the stove or sink.
Treat the space as a gallery wall and add items of all heights and textures to make it appealing. The space will become enhanced when you add some features, such as brass frames, for some added pop.
Everyone may use this method, but it works well for lower cabinets with high ceilings. With wall art, you may express your creativity. If you find it challenging to locate the perfect pieces, try printing abstractions or creating your masterpiece!
You will love this article on the Top 12 Backsplash Ideas for Gray Kitchen Cabinets.
2. Create Space For Relevant Items
Despite the size of the kitchen and its extra storage, we often run out of space. The additional rolls of paper towels might not have a place to stay. Also, the vintage kitchen scale might not fit in a cupboard or on the countertop. The area above the cabinets might be useful in this situation.
Display an extra cake stand, platter, and kitchenware while mixing a few decorative items to provide visual interest.
Check out this fantastic article on the 26 Brilliant Ideas For Organizing Kitchen Cabinets.
3. Decor With Style And Display A Sign  
Perhaps you visited a local design accessory store or flea market and bought a classy sign, but you can't find the right position for it in your house. The bare, cool area above the kitchen cabinets is ideal for hanging a wide sign with a personalized message. Then, use the styled sign as a focal point between your cabinet and ceiling. When combined with bouquets of adorable imitation flowers, it will seem cozier over the cabinets.
In addition, choose a few small items of décor that pop out on your wall color. It will help to create visual interest in the empty space above your kitchen cabinets. But if you don't want a permanent fixture, fix a removable wallpaper.
See also: Must-have kitchen cabinet accessories to improve your home style and decor without doing any extra work.
4. Display An Indoor Garden
Fixing the space above your cabinets to grow an indoor garden is excellent. Do this if you have a green thumb and don't mind going up to water the plants once a week. Just ensure to get plants that do not need a lot of sunshine. Low-light plants above the countertops give the kitchen a natural, colorful touch.
A uniform design and color scheme will maintain its sleek and contemporary appearance. Find out How to organize kitchen pantry cabinets for better storage.
5. Set Up Built-In Kitchen Cabinets
Adding built-in shelving above your cabinets is one innovative approach to using the space. This storage option is excellent for blending the cabinets with the ceiling. Whether you choose open shelving or smaller cabinets with glass doors does not matter. Brackets with open shelving are a less expensive alternative to cabinets built by professionals.
However, both may increase the useable space in your kitchen and keep it in order.
Read this insightful blog post on The comprehensive guide to kitchen organization.
6. Show Off A Collection
The space is ideal for displaying a collection if you love sculptures, fans, Fiestaware, or everything in between. Build a collection of new cookbooks, bowls, pots, vases, and faux plants.
To add an extra pop without competing with your other decor, assemble creamware platters and dishes. Then, arrange them above your cabinets. Show off your colorful plates and tableware if you want to be bolder.
This choice is one that we adore because it gives it a cohesive look. Also, it is a practical and great way to make your dinnerware accessible. You can always showcase pitchers, vases, and even your pots and pans if communal platters and plates aren't your things. There are countless alternatives!
We know that you have a collection of goods occupying space in your kitchen. So, this is the ideal approach to give them the attention they merit.
7. Decorate With Items That Complement The Background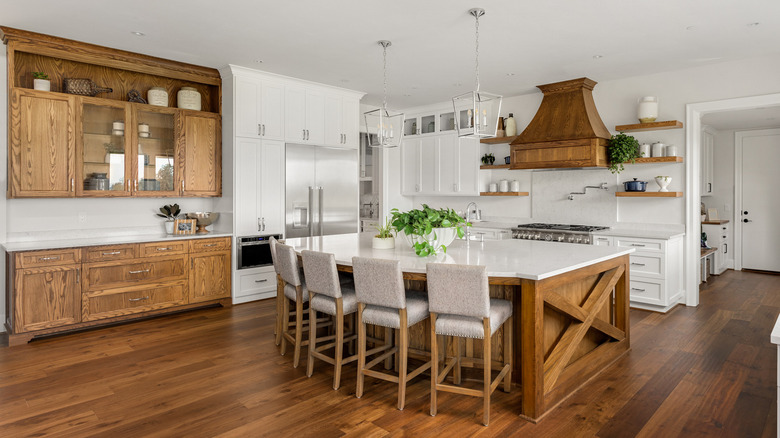 Even if you don't have too much of a gap, you still want to put a decorative element up there. There are ways to decorate and add personality without making it seem too crowded.
You can get the storage and display space you need when you place decor pieces on top of cabinetry that blends in with the wall. And they won't overpower the room or make it look top-heavy. Plus, you could place white jars and vases and let them blend nicely with your adjacent white walls, and this will add some character and serve as a useful storage container.
See also: What is the average kitchen remodel cost? – How to save and where to spend.
8. Lightening 
Kitchen lighting is all too often overlooked while decorating above kitchen cabinets. However, a few LED strips may go a long way in the kitchen. It will illuminate shelving, add character and style to the entire kitchen, and set a calmer tone.
When the lights go off, the most complex solutions become hidden. Hence, consult your interior designers on time. It is crucial to ensure that the LED strips fit well into recesses within the shelves or cabinetry." One can create the best lighting effect if you tilt them at 45 degrees, backward toward the wall, to avoid bright reflections or visible fixtures.
9. Cookbook 
Fill the gap above your kitchen cabinets with your favorite recipes. It is such a perfect spot to keep your cookbooks. For they not to fall off, buy bookends from an artwork store, and use them. That's it! It is a one-of-a-kind home decor idea!
In fact, it is a favorite since you can never have enough cookbooks. Also, you can be creative by arranging your books to highlight different colors to make your room look more cheerful. Right! Fun and great functionality?
10. Or Leave Them Empty
The ideal use of open space could often be to leave it empty. Save the extra storage space above your cabinets if you do not need the storage. Doing this will make the room feel lighter than stuffing it with items, especially in a mini kitchen.
What Is The Space Above The Kitchen Cabinets Called?
An enclosed space above the cabinets is called a kitchen soffit. Homes often had soffits throughout the middle to the end of the 20th century.
Are Decorations Over Kitchen Cabinets Old-Fashioned?
The short answer is NO. Many methods of decorating above kitchen cabinets will give your kitchen a contemporary, textured, and exquisite flair.
There are various eye-catching kitchen decorating options available. However, you must focus on the colors, patterns, or textures you find most appealing. Next, consider how the texture may combine to produce a unified decor rich with the artwork.
How Do You Paint High Wall Above The Kitchen Cabinet?
Get an extension rod for a paint roller. This enables you to extend the mixture far as you can. Thus, it allows you to cover most or all the above cabinet areas while on a ladder.
What Should I Place On Kitchen Cabinets?
The perfect items to place in between the ceiling and cabinets are vases, baskets, and even books. Another great idea for filling the spot is a row of pitchers stuffed with faux plants.