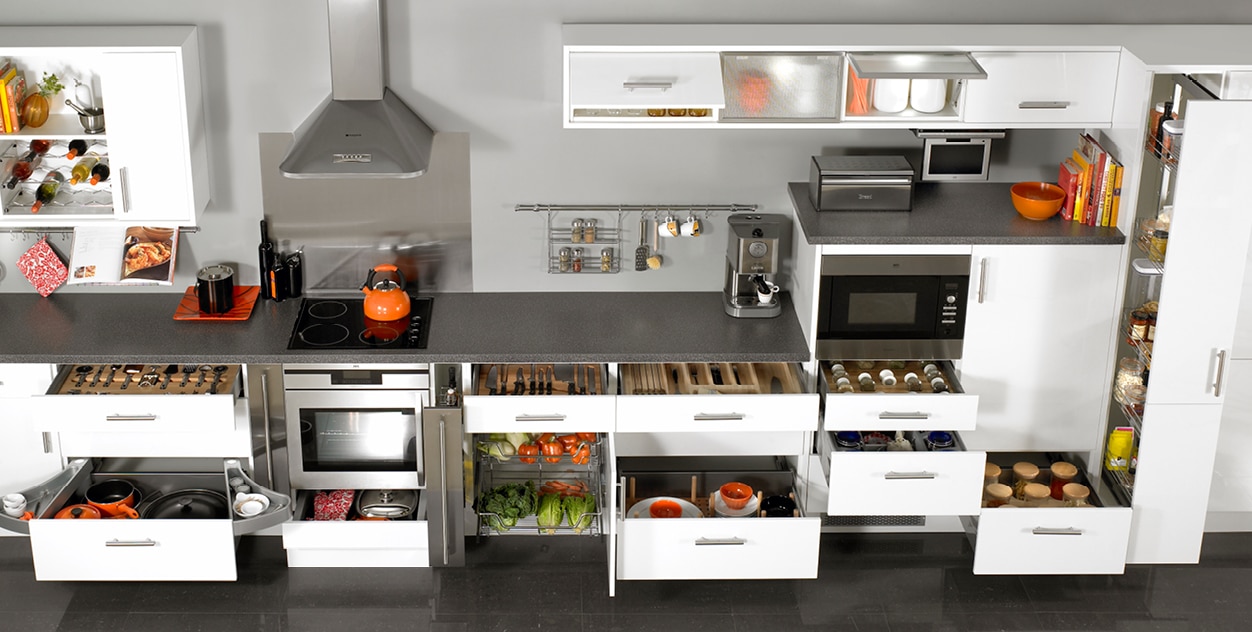 It is essential to make your kitchen look more functional and well-organized. Clutter can make it difficult to focus and complete duties, such as cooking or cleaning. In a kitchen, clutter on the countertop may accumulate dust and food particles. But, the right kitchen cabinet accessories can reduce weariness, and give a happier frame of mind.
Not only that, the right kitchen cabinet accessories bring out the beauty in a kitchen. It also makes it look more tidy and functional. Since the kitchen room is one of the most used cabinet spaces in a home, careful placement of kitchen cabinet accessories is essential for enhancing its sophistication.
In addition, cooking will become a lot easier when regularly used objects, such as knives and cutting boards, are placed close together and easily accessible. It requires the use of storage space to maintain all of your utensils, ingredients, and cutlery in perfect condition. So, if you want to create a clutter-free kitchen, continue reading to discover the list of our must-have cabinet accessories.
Check out our huge collection of kitchen cabinet accessories to make life a lot easier and more efficient for you.
Spice Rack Pull Out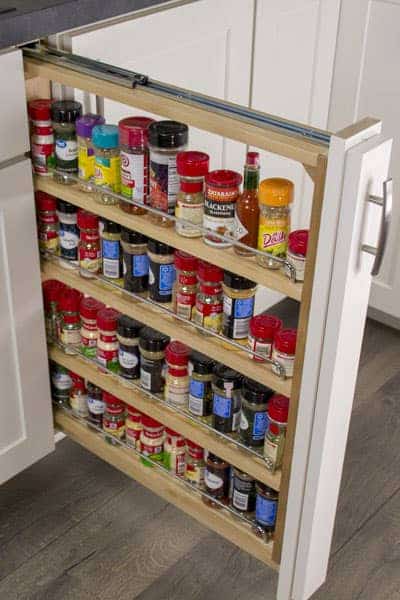 Spice storage is essential for most cooks. It enhances easy storage of your spice bottles such as; vinegar, oil, spice bottle jars, and other flavors in a narrow pull-out cabinet. This is a smart space-saving technique that also improves the cabinet boxes. Having two, one on each side of the burner, is a common modern kitchen option.
Spice rack pull-out is designed in 3″ and 6″ widths. You can use it in upper or lower cabinets beneath the counter. A pull-out spice drawer will make things easier and your meals more effortless. These slim drawers will keep your favorite spices within easy reach.
Tray dividers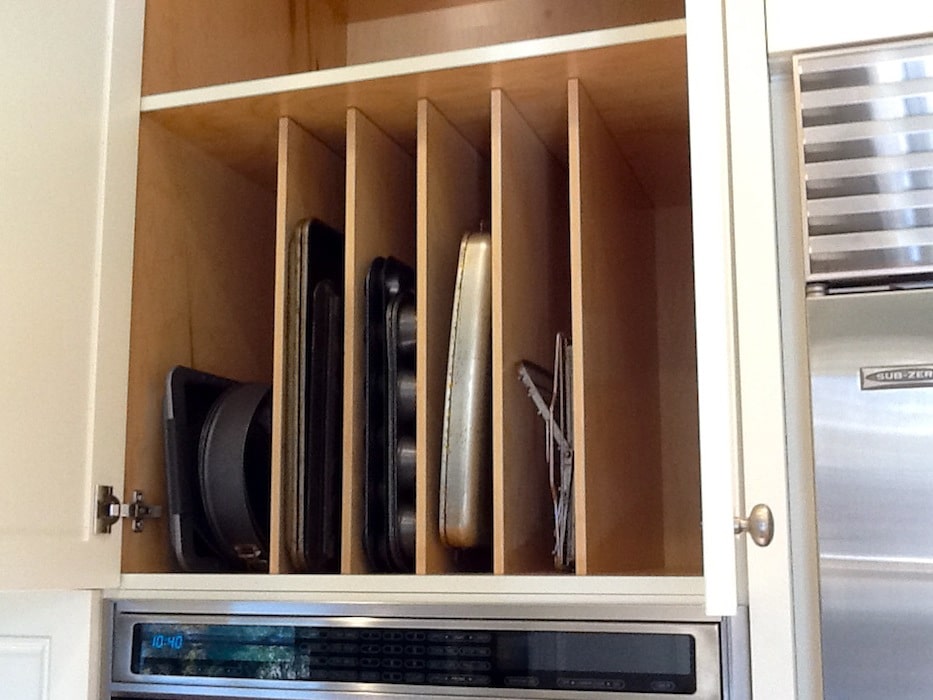 Tray dividers are possibly the most adaptable item on our must-have cabinets list. They are useful in keeping all those cookie trays and broil pans upright. Tray divider stores baking sheets, cutting boards, cookie trays, and baking dishes. Tray dividers may also organize cookbooks in cupboards above the stove, which is a less traditional but equally practical purpose.
They fit into narrow refrigerator wall cabinets, 9″ to 12″ base cabinets, vertically above burners, or horizontally in huge, deep oven drawers cabinets. Tray dividers are cost-effective and make a lovely touch to any kitchen. Why not place them near the ovens for cooking and in the main cooking area for serving pieces?
 Pullout base cabinet storage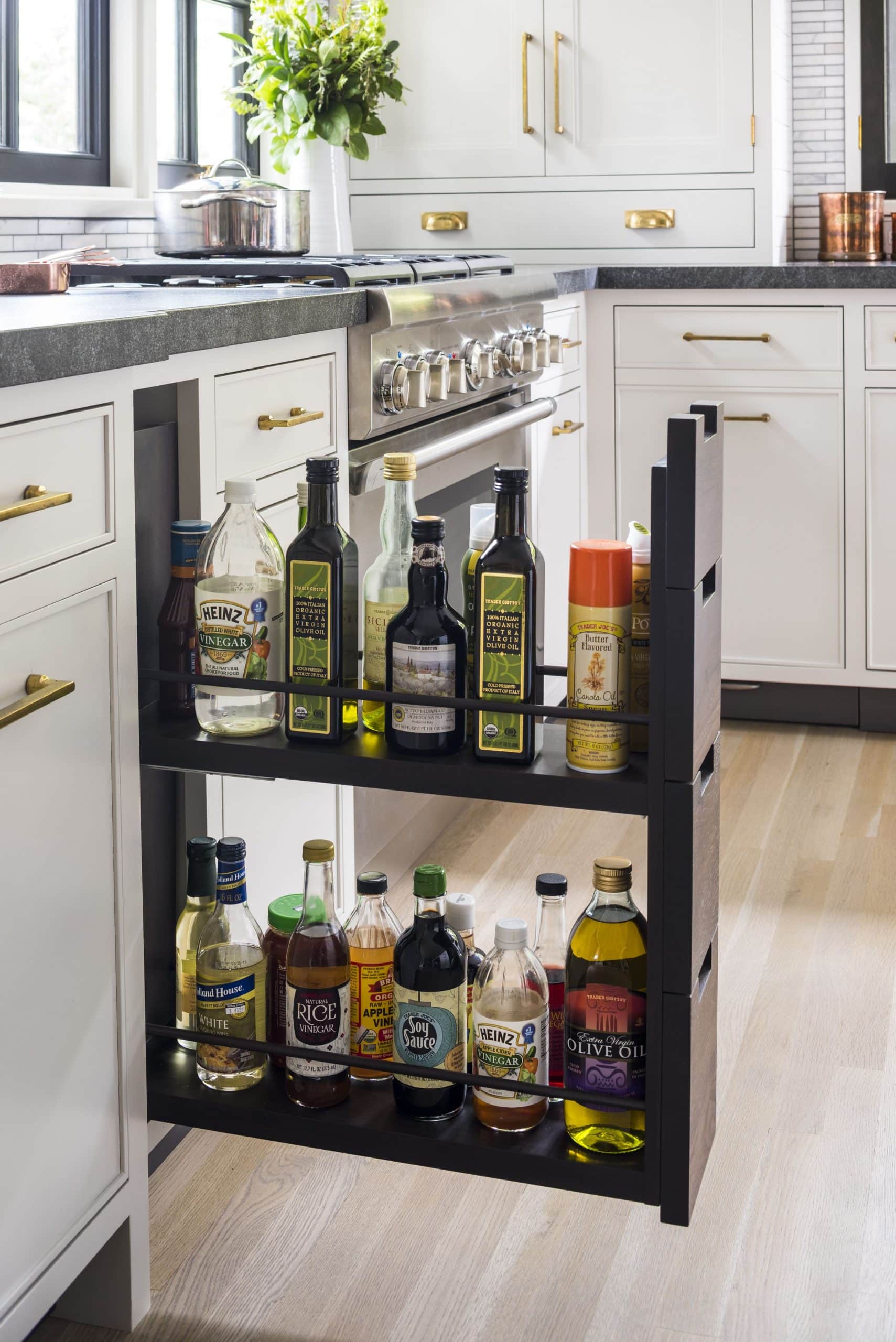 A pullout cabinet allows you to reach food and kitchen supplies that could hide behind a cabinet. It functions as a pullout pantry. This pull base cabinet serves the same function as a traditional roll-out cabinet and frees up a lot of cabinet space. They're the same height as a typical pantry but a third or even a quarter the width, and they're packed with basic, railing shelves.
These cabinets are always open all the way through and pull out from the wall. The pullout base cabinet makes it simple to view everything on them, even when they're full. Meaning that one can access content in them with ease. And don't have to go into kitchen cabinetry and switch things around to grab items.
They're perfect for pots and pans, as well as canned or packaged food. Pull-out pantries may be as narrow or as broad as you desire. Though, two-wide pantries may be inconvenient. You should place them separately, in groups, or even with other types of storage accessories. If you're having a kitchen remodel, and want to store appliances in pullout cabinets or deep drawers, ensure you evaluate the lengths of your equipment so you buy cabinets that will fit.
 Mixer storage cabinet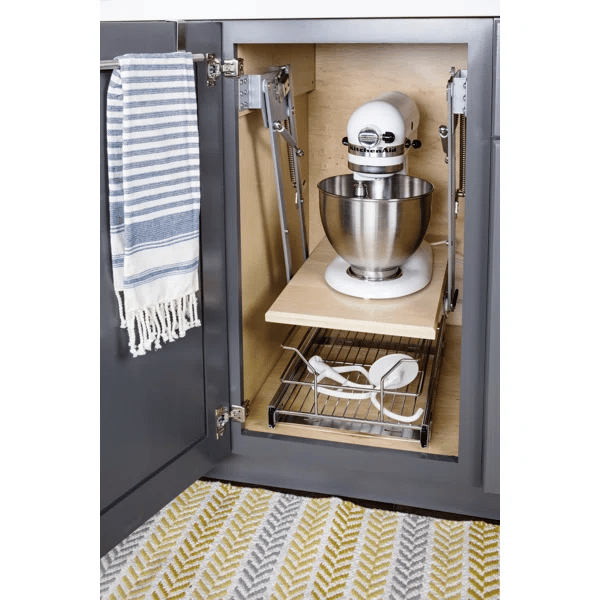 A stand mixer is a must-have in many kitchens, including yours. Because of their lengthy size, their rapid rise has resulted in a demand for large countertop space. You may need to remove yours from a closet or pantry if you don't have enough kitchen room. But they're not the lightest items to carry about.
Specially constructed storage base kitchen cabinets for mixers provide a solution to the problem. It also comes with a lifting hinge and a storage drawer, which makes it easy for mixing. The lift pulls out of the cabinet and locks. It allows you to operate the appliance without taking up any counter space.
A compact roll-out tray is also available at the bottom of the kitchen cabinet to house accessories and other food processors. We have created an article that shows you how to properly optimize your kitchen space for effective and efficient workflow.
Under Sink Cleaning Storage
One of our preferred kitchen cabinet storage accessories is the under-sink cleaning storage. All of your cleaning supplies are kept in one place with this cabinet. It has a slide-out feature but it is also detachable, allowing you to move the cart to another area of the home for cleanup. It features a paper towel holder and wire baskets to accommodate many bottles.
Pots and pan Peg System

[lowercase peg system]
If you desire all drawer bases over the more conventional door/drawer combinations for your kitchen cabinets, the pots and pan peg board is a must-have for you. The pots and pan peg board takes the concept of the drawer peg system accessories to pots and pans. It has adjustable pegs that you can set anywhere you want them to hold all your plates and bowls in a position without rolling off. This drawer peg system is perfect for homeowners who seek order without compromising quality.
They feature a variety of accessories to help you store pots and pans arranged and accessible when you need them.
 Roll out drawers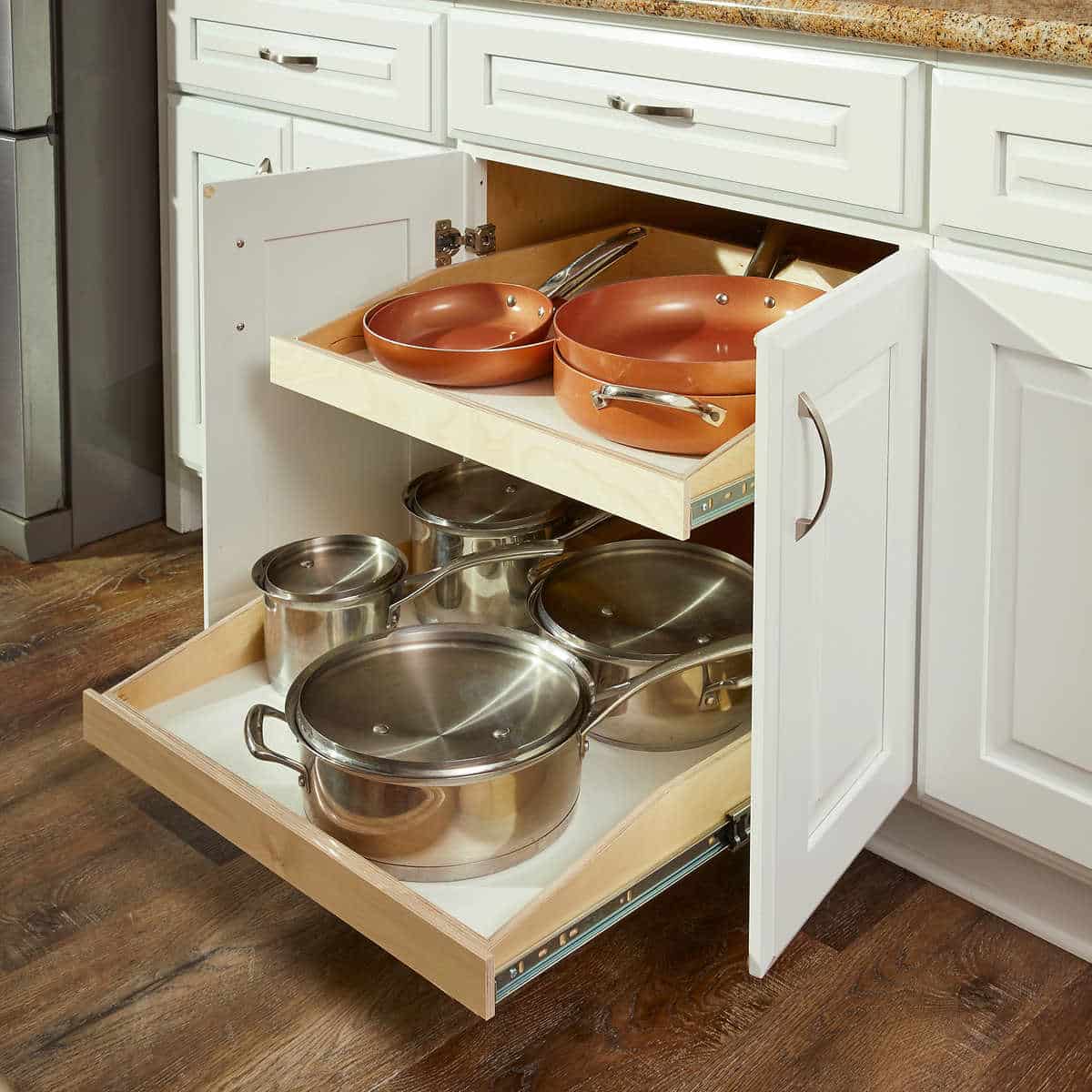 Roll-out bottom drawers are important for our must-have kitchen cabinet storage accessories. With this roll-out drawer, you won't have to search through the back of the cupboards to find all your pots and pans. They're less expensive than a three-drawer kitchen cabinet. Easy accessories and efficient pull-out bottom drawers are popular in their contemporary design trends.
We like this style since it helps you maximize storage. However, if you prefer a more traditional design, just hide the pull-out shelves within the bottom cabinet doors.
You will also love to read: How to organize kitchen pantry cabinets for better storage
Pull out cabinet step stool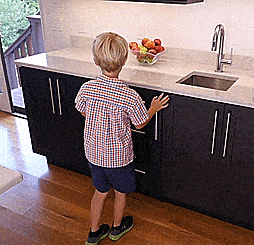 When you have a family full of children, you may need a step-stool in your kitchen to help them reach objects in upper cabinets. Rather than having to drag small chairs back and forth every time they need a plate or other thing, try one of these built-in cabinet step stools. This step stool gives additional height whenever you step on it.
The pull-out cabinet step-stool has a child-lock mechanism to prevent children from detaching it. It also has a spring to make it very easy to release and retract the steps. It features 3-5 various depth-stop steps to suit your demands.
Charging drawer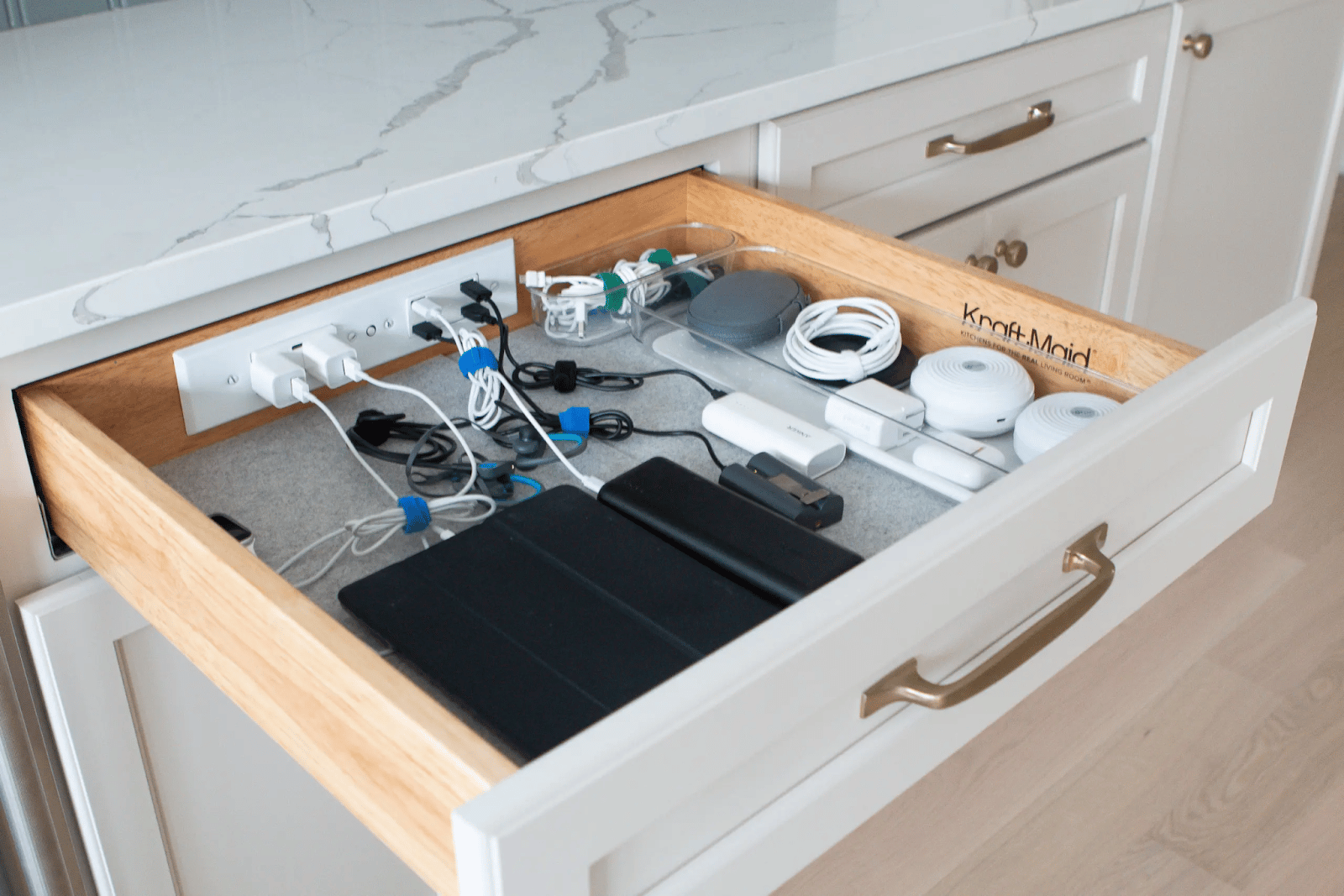 Nothing looks more unkempt than a cluster of power cords all over the kitchen. Instead of plugging in your devices on the kitchen island or a socket in a far corner of the kitchen, convert that drawer into a tech drawer. Turn it into a one-stop tech drawer. A docking drawer stores all electrical devices safe and away from unexpected spills.
You can hide electrical accessories such as wires, headphones, or earphones in the same charging drawer. By doing so, you'll never have to untangle to find items again.
Waste basket pullout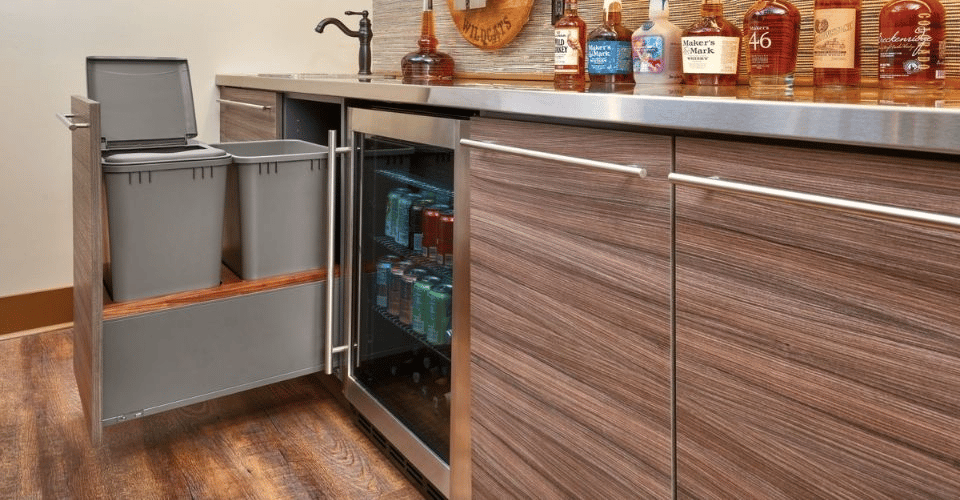 There isn't a chef in every kitchen, but there is waste in every kitchen. Thus, choose a position for a pullout garbage cabinet.ry [cabinetry. ] You may always want to see the trash cans, but it takes up important space in the kitchen. It may slow down your workflow.
A garbage pull-out cabinet is a tiny cabinet that houses two waste receptacles; one for trash and the other for recycled items. It provides a handy place for trashing kitchen waste. This cabinet covers unpleasant trash. It also makes it easy to remove the bin for cleaning. A 15″, 18″, or 21″ kitchen cabinet will fit in most garbage pullouts.
Note that if you're planning to add trash cans to existing cabinets, 50-quart cans require a full-height door. A double trash pullout simply sorts garbage and recyclables.
Lazy susan
Most kitchens include a lazy Susan, which comprises a rack or shelf on a spinning base. It has rotatable shelves to help you stay organized. Its bearings provide access to everything inside the cabinet. You can install it in a corner cabinet, base cabinetry, or top cabinets.
You can also set up a blind corner pull-out if you feel the traditional Lazy Susan isn't effective. A lazy Susan or a blind corner pull-out is for kitchens with space constraints. Blind corner cabinetry is popular because of its large storage capacity.
We adore lazy Susan because of its simple setup and excellent operation.
Cutlery and knife block drawer
Besides the wire cutlery tray dividers which many people gain for ‌at least one drawer, the cutlery/knife block drawer system replaces the entire drawer and provides you with a whole built-in cutlery/knife block drawer. This accessory choice is available in a variety of sizes and layouts.
Conclusion
Kitchen cabinet accessories are crucial in every kitchen. Whether you have a lot of things to arrange, or you're looking to buy these wonderful kitchen cabinet accessories, remember that contacting Choice Cabinet now may help you love your home.
Want to become a cabinet dealer for Choice Cabinet? Fill out this simple form and we will get back to you in a matter of minutes. [I suggest replacing matter of minutes with "promptly" because it might be longer than just a matter of minutes] Let us set you up for success and effortless sales.