Do you want to give your home a remodel? Do you require new bathroom vanities that are a perfect fit for your space? Bathroom cabinets are a vital component of any well-functioning bathroom. They are a haven where you unwind after a long day with a hot shower or a heated bath.
As a result, when preparing to add furniture, it's essential to find a balance between the ability to fit into the size and style of your bathroom. However, it may appear challenging to find the correct bath vanity. But it does not have to be difficult if you have the right information.
So, let's explore how to pick the best bathroom vanity for your space without further hesitation.
Bathroom Vanity buying guide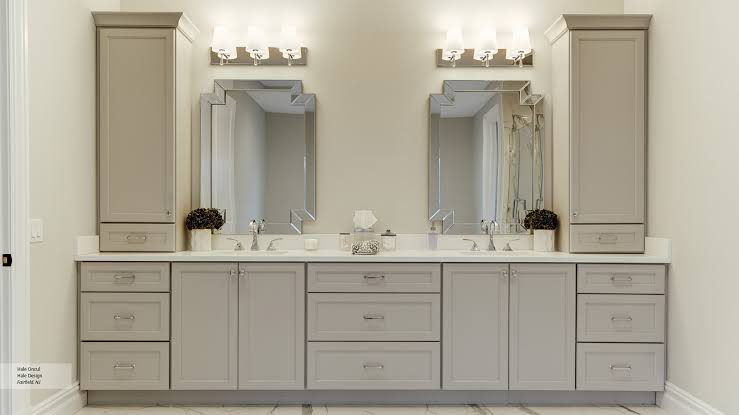 If you're building a new bathroom or remodeling an old one, this bathroom vanity buying guide will give you many pointers on what to look out for.
Want to reface your bathroom vanity into a more modern style?
Analyze the Bathroom Layout
Identifying the right size for your new bathroom vanity demands a careful examination of your current bathroom layout. Ask yourself if your new vanity units will leave space for door openings as your old vanity. If you are deliberating on a more oversized bathroom vanity, will they fit into your current bathroom floor plan?
It's also important to know the location of the various components of the bathroom, such as the existing plumbing fixtures, windows, entrances, electrical panels, and outlets.
For instance, a bathroom vanity joins the basin and taps to the house water lines. Thus, any new vanity should have more countertop space to accommodate the existing plumbing and electrical cables without creating difficulties. Note that when you find a vanity that suits your present area and layout, it minimizes the cost of your bathroom renovation.
Measure the size of your bathroom and select the suitable vanity size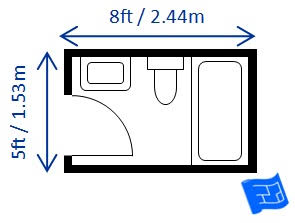 Here is the moment to think about your floor space and determine whether you want a single or double vanity. Make a layout design and measure how much space you have to ensure that the furniture style  fit.
These vanities come in a variety of widths such as 24″, 30″, 36″, 42″, 48″, 60″, and 72″. Width 24″ is ideal for a guest bath. The 30′′ model is significantly more extensive and stores extra toiletries in smaller bathrooms. On the contrary,  36″ vanity is equipped with shelves and cupboards for keeping basic toiletries. It fits nicely in most guest bathrooms.
In a master bathroom, 42″, 48″, 60″, and 72″ vanities give ample space for two people to use. You could even make it possible for your 48″ vanity to have two sinks. But, owing to plumbing constraints, this size has insufficient storage space. If you don't have another space to keep your toiletries, you can opt for a single vanity of this size.
However, the 60″ unit has adequate counter space for two basins with drawers and cupboards. The  72″ wide unit is a splendid choice for combining double sinks. It's also an excellent alternative for the kids' bathroom since it comes in various design possibilities.
However, if your bathroom is large, you can select both large [vanities] vanity and small vanities and place them close to each other. Always remember to take measurements of the existing vanity before you decide.
After determining which size of vanity is suitable for your bathroom space, you can move on to more detailed considerations such as vanity material, color, and the trendy designs available.
Are your vanities made with compressed wood? We have created a detailed guide on the best way to paint compressed wood cabinets.
The altitude of Vanity cabinets
The height of a bathroom vanity is yet another crucial factor to consider before buying. The kids' bathroom vanity is about 30 inches high, the guest bathroom vanity ranges from 32 to 34 inches high, and the master bath vanity is 36 inches high. Even though most vanity height is between 33 and 36 inches tall, some vanities do not have legs. So, while installing them, they'll be mounted on the wall.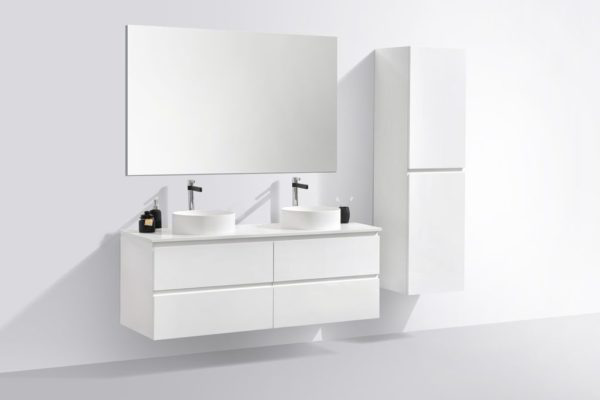 These wall-mounted vanities ‌allow you to customize the height of the vanity units according to your needs. Wall-mounted vanities are an excellent alternative for bathrooms of all sizes when there is a wall with adequate stud stability.
Choose the suitable bathroom vanity material.
Consider the following aspects when deciding on the type of material for your bathroom vanity: Does the natural stone material withstand high humidity and moisture levels? Is the vanity material affordable and durable? In the end, the decision will be yours.
Here's a list of options to choose from:
Solid wood
This is the most sturdy material for a bathroom vanity top. It gives a work of art and ageless touch to your bathroom. Wooden material is very old. Yet, it's what most manufacturers prefer. A drawback of solid wood is it shrinks when there's a change in moisture level.
Plywood
Plywood is one more stable material used for bathroom vanities. It is ideal for those who seek to strike a balance between price and quality. Plywood comprises many wood facades that are glued together to form stacked sheets. It differs in quality, thickness, and boasts impressive strength.
In contrast to solid wood, plywood does not expand as a result of moisture or temperature level.
Medium-density fiberboard (MDF)
MDF is a cost-effective option for people who want to stick to a budget. Composite fibers and small pieces of wood are bonded together with glue or wax in this wood. MDF is commonly used in the factory since it is stronger than plywood. Medium-density fiberboard does not expand like wood.
Nevertheless, when water passes through the surface, it can damage, if it's not well sealed.
Poly Vinyl Chloride (PVC)
PVC is a low-cost cabinet material that is now leading the market in Australia. Its unique feature is its complete resistance to water and high temperature. For this reason, PVC cabinets can last a long time. Poly Vinyl Chloride is also easier to maintain than wooden surfaces.
Bathroom Vanity styles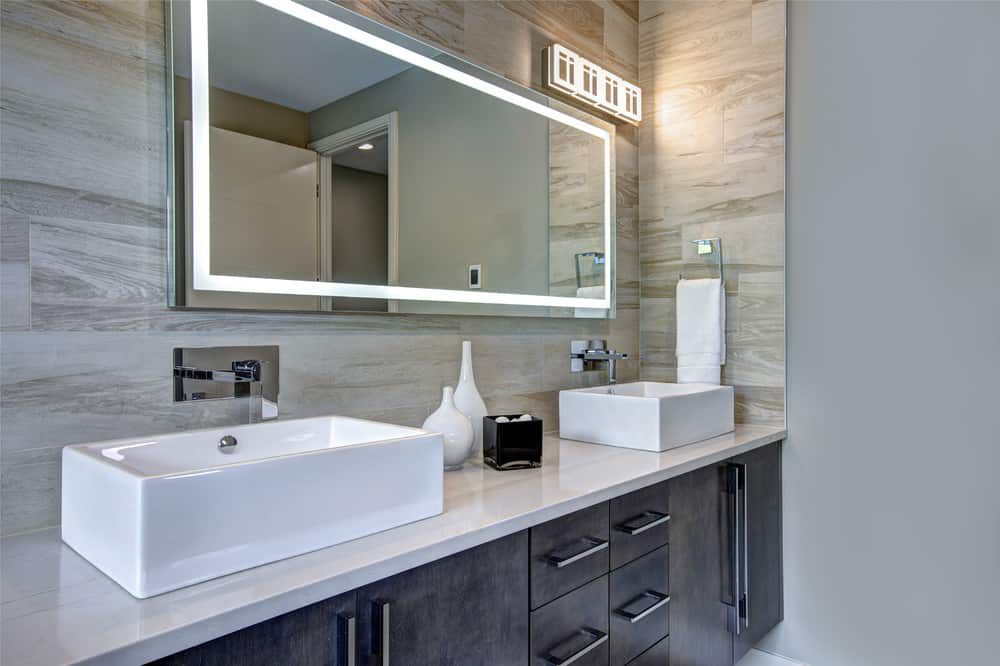 Now it's time to choose which vanity style and bathroom furnishings will compliment your unit. Modern vanities and contemporary vanities are the two primary styles prevailing in bathroom vanity design.
The polished surface and pristine finishes are standard features of modern vanities. Modern bathroom vanities, like the Dani, may have one-of-a-kind, minimalist designs that are tailored to fit into small, contemporary spaces.
Many modern bathroom cabinets have solid counters. It enables you to bore a hole for a standard sink top. An example is the Brighton Ceramic Sinktop or a modern vessel sink like the Benton White Marble vessel sink.
A modern vanity cabinet is attractive and can have a single or double-sink vanity design. You may also choose between a vanity that requires a customized top.
However, contemporary style is an option if the elegant appearance of vanity tops or vanity cabinets needs a bit of retouching. Examples of contemporary bathroom vanities with tops are the Abigail Vanity Set or the Aiden.
This vanity features big drawers and bathroom cabinets for storing sheets, toiletries, and other bathroom supplies. Contemporary vanities with pre-installed tops are for under-mount sinks. But you can include a primary vessel sink, such as the Payson Lava Granite vessel sink, without compromising the vanity's overall appearance.
You will also love to read effective Ways to Personalize your Cabinet Door Styles at home.
Trendy designs and color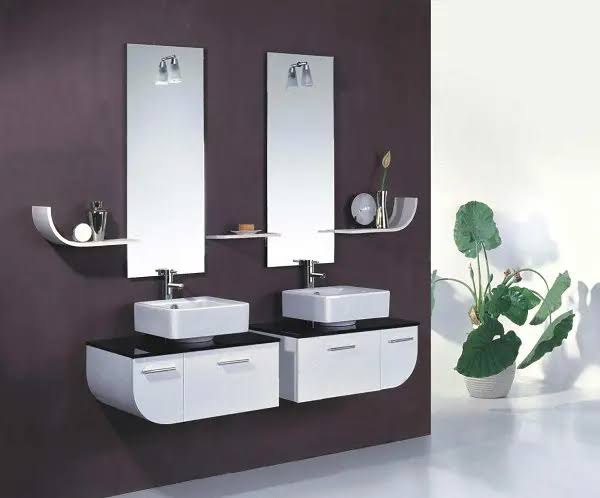 Modern countertop decor is becoming sleek and minimalistic. For many, the bathroom is where they begin or end the day. As a result, an exquisite, attractive, and innovative look is what they most seek. When upgrading or changing your vanity set, each piece of furniture enveloped in the design must perform its distinct function.
Most modern bathroom vanities feature LED reflectors and wireless speakers to help you make the most out of your space. Bathroom vanity mirrors can also serve as a replacement for a mirrored bathroom cabinet in a traditional vanity. Bathroom vanity components, such as wall cabinets and vanity mirrors, are available in sets.
White, gray, tan, light blue, espresso and peachy pink are good color choices for bathroom vanity. Nonetheless, bespoke vanity tops come in a wide range of colors.
Sink types
Regardless of the installation method, there are different sinks for [add "your" here] bathroom vanity. It is crucial to understand what kind of sink you want since most vanities function with particular sink types. The single, double sink, vessel, and corner vanities are the different sinks available.
Single sink vanities are standard in tiny bathrooms with small capacities. Apartments, condominiums, powder rooms, and guest bathrooms are great places to fix them. You may get additional storage space by getting a long vanity with a single sink.
Double sink vanities are ideal for master bathrooms. Its ample space allows partners to get [replace "dressed" with "ready" here] dressed together. In addition, double vanities enable more counter space for all of your toiletries and essential hygiene items.
The vessel sink bathroom vanity adds a distinctive look to your bathrooms. The beauty of vessel sinks is they are not too popular. When it comes to vessel sinks, you may discover some designs that no one else has seen. You can also customize vessel sinks to your unique taste. Vessel sinks sit on the vanity top.
Corner sink bathroom vanities are ideal when you need to save enough space. Some corner vanities are affixed to the wall, thereby making small bathrooms spacious. They are also called integrated sinks.
Undermount Sinks come in different sink shapes, such as rectangle or oval. This type is mounted underneath the countertop.
Budget
Assess your financial status. How much do you plan to spend on the vanity that [add "will" here] best suit your bathroom? Aside from your overall budget, keep in mind that some vanity materials come with warranties and maintenance plans. However, it depends on where you buy them.
Conclusion
Whether you prefer the modern or contemporary vanities in your finished room, Choice [capitalized Cabinets and change "got" to "has"] cabinets got you covered. We offer a wide range of beautiful vanity tops and colors to compliment your current layout.
Do you want to buy or sell Choice Cabinet? Send us a message and become a member of our huge clientele of dealers who trust the quality we produce.