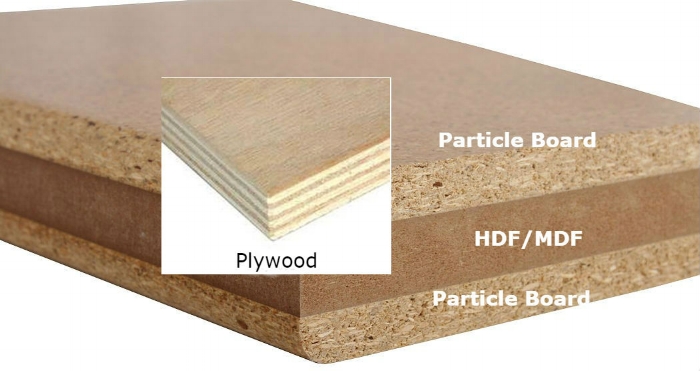 Choosing the right home and office furniture or cabinet has never been more complicated, given the numerous look-alike materials available on the market.
Nowadays, the trend is gradually shifting from using solid wood for kitchen cabinets or home furniture. More and more cabinet-makers are relying on either plywood or other non-wood variety like MDF (Medium Density Fiberboard) and Melamine cabinets.
The only challenge, however, is that most homeowners can't really tell the difference between these materials, and consequently can't identify which cabinet construction material is ideal for their specific interior designs. Fortunately, whether you are looking to understand the differences between plywood, MDF, and Melamine cabinets or you want to know each of their special features, quality, durability, and all, this article will be unraveling everything you need to know in that regard.
Check out our comparison between particleboard and plywood cabinets to know which one works best for your kitchen
Plywood Cabinets
Plywood is one of the most reliable materials for making furniture and modern kitchen cabinets. This is especially if you consider how expensive it is to build solid wood furniture.
The difference between plywood cabinet construction and solid wood is that while plywood is made up of thin sheets of wood glued together artificially, solid wood is made of homogeneous natural wood materials. In other words, with a low level of glue shear strength in plywood, the planes of wood will separate easily. That's why solid wood is generally considered stronger than plywood.
How Is Plywood Made?
Plywood cabinets are manufactured from multiple layers of softwood veneer glued together in such a way that the grain direction of each of the veneer layers is perpendicular to that of the adjacent layers.
What this means is that the grain directions are arranged in an alternating pattern to give the plywood maximum uniform strength.
These cross-laminated layers of wood veneers are wrapped together with moisture-resistant products like phenol-formaldehyde resin adhesive and forged under heat and pressure.
Although plywood is commonly made from softwood species, some can be derived from hardwood. Among the many variations of dimensions and thickness of plywood on the market today, the prevalent dimension is 4×4 feet and the most common measurement of thickness is ½-inch.
There are lots of alternatives to choose from when it comes to plywood. You can either go for the smooth, natural surfaces ideal for finishing works or the more inexpensive unsanded grades that can be used for sheathing. Of course, you can get them in multiple common thickness measurements and over twenty different grades.
Uses Of Plywood
One benefit of plywood is that since it's made of thin planes of wood veneers, it still has the looks of natural wood grain. So you can rely more on plywood if you are seeking natural wood looks but can't afford solid wood. This is unlike both melamine and MDF which although can substitute plywood in building cabinets might not be the right building materials depending on the strength and quality you are expecting.
Plywood can be used for a lot of purposes, ranging from furniture, bathroom, and kitchen cabinet boxes to single-layer flooring, subflooring, roof, wall, and floor sheathing, webs of wood I-joists, structural insulated panels, and so on.
The lightness of plywood compared to MDF and melamine makes it's more ideal for upper cabinets than the other two materials.
Do not paint your plywood kitchen cabinets without first reading this guide on how to properly paint your kitchen cabinets
Advantages Of Plywood Cabinet Construction
Some unique advantages of opting for plywood:
Hardwood plywood is typically a highly durable material because of its great quality in strength. Plywood is fabricated with an alternating pattern of grains which makes it last longer than fiberboards (including MDF, HDF, and Particle board).
The versatility of plywood allows the layers to be altered to afford both strength and beauty.
It's available in a wide range of sizes, including extra-large sizes
Plywood is a very close substitute to real or solid wood but doesn't promote as much deforestation as solid wood products, thereby leading to more tree conservation.
Plywood is cheaper than solid wood products.
Disadvantages Of Plywood Cabinet
Some downsides to plywood include,
Some plywood constructions are made of a superior wood product on the outside but of inferior wood materials on the inside; hence, you can only get the right plywood grade from a trusted dealer. Contact Choice Cabinet right now
The average plywood could be prone to water-related damage if exposed to a wet environment. That's why it's important to go for a water-resistant version so the layers don't detach.
They can delaminate when subjected to prolonged hot weather conditions because of the layered sheets.
Using nails on a plywood cabinet can break the material. Screws are strictly recommended.
Medium Density Fiberboard (MDF) Cabinets

Fiberboards (especially MDF) are another option for those who want to spend a little less on a modern kitchen and bathroom cabinetry and interior furniture.
The material is made up of multiple wood fibers blended with wax and resin in the presence of high pressure and temperature.
In the market, fiberboards are categorized in densities. Different fiberboards are manufactured in different degrees of temperature and pressure which result in different densities of the material. That's why an HDF (High-density Fiberboard) requires more pressure and temperature than the MDF.
In short, the MDF material is somewhere between HDF and particleboard in terms of density, while the particleboard has the lowest density with a much bigger wood grain.
How Is MDF Made?
Medium-density fibreboard (MDF) is an engineered wood product made by breaking down softwood or hardwood particles into wood fibers using a defibrillator, then blending it with wax and a resin binder, and applying high pressure and temperature to forge it into panels.
MDF is generally denser than plywood and is made up of separated fibers as opposed to the plane sheets of plywood. But then MDF can be used as a building material similar in application to plywood such as cabinets. It is also typically stronger and denser than particle board which is made of chips and not fibers.
However, although MDF is a relatively heavy material in terms of making cabinets, a few lighter pieces of furniture can be derived from it.
See also: How to design a modern kitchen effortlessly and cost-effectively.
Uses Of MDF
MDF is primarily used for indoor applications since its prone to moisture-related damage. The material is available in raw form, or with a decorative coating, or a finely sanded surface. Hence, it's more like an ideal surface layer for furniture and the most available alternative to wood veneer. It can also serve as a good filler material.
MDF is also widely applied in furniture such as cabinets because the strong surface it provides is ideal for cabinet storage spaces, shelves, and speaker boxes. You can use the material for flooring as well because it feels comfortable to walk on.
Since it's available in different thicknesses and sizes, MDF also serves as a perfect material for temporary structures like booths.
Advantages Of MDF
Here are some key advantages
MDF is more cost-effective than plywood or real wood.
It has a consistent smooth feel (without knot holes) all over the surface area with consistent strength as well.
Unlike real wood, MDF promotes tree conservation since the production process mainly requires wood residuals.
The smooth surface makes it easier for painting, screwing, and gluing
The smooth consistency of the material also makes it easier to cut through with tools such as a jigsaw or band saw
It can be used for multiple designs
The consistency and stability of MDF make it an ideal substrate for veneer work.
Disadvantages Of MDF
Some downsides to MDF are as follows:
It's a very heavy material compared to plywood and would pose both logistical and installation issues
The poor resistance of MDF to water can make it soak up a high amount of water within a short time. That's why it's always recommended to apply an oil-based sealing product (primer).
MDF is more prone to chipping and splitting, especially when working Working on the edge of the wood with screws. Moreover, repairing the chipped part is more difficult compared to real wood.
In the process of cutting and sanding, it is advisable to use an industrial-grade mask. The reason is that MDF is known to contain a substantial amount of formaldehyde which can cause irritation, allergy, or even increase the chances of malignancies like cancer. The US and UK authorities have legislated that the minimal content of formaldehyde in home furniture shouldn't exceed 0.11ppm and 0.07ppm respectively. For safety reasons, experts suggest that new furniture made of MDF should be isolated until the formaldehyde smell ends. The room should also be well ventilated to reduce exposure.
Melamine Board Cabinets
Melamine Vs solid wood, Melamine Vs plywood, or Melamine Vs fiberboards is a bit complicated to be compared head-to-head.
Melamine is a popular plastic material for every modern cabinet builder which can either be used to laminate a design onto substrates like plywood or particleboard or can be used in building kitchen cabinets more specifically when integrated with MDF or Particle Board, which are made from wood chips to form HPL or TFL. That's why comparing melamine Vs MDF or particleboard directly is a bit tricky.
One thing users love about Melamine is that the material is not only durable but also highly resistant to scratch and has numerous possibilities of hues and patterns. That's why Melamine fused with plywood is arguably the most sustainable option for cabinetry.
How Are Melamine Board Cabinets Made?
Melamine resin, although Initially an organic compound is developed via polymerization as a tough and durable plastic material. In other words, Melamine is a chemical compound from an organic base and also a trimer of cyanamide.
Melamine Laminate is typically resistant to stain, heat, and fire. It's moisture and scratch-resistant and can be found in many colors, patterns, sizes, and thicknesses making it ideal for particleboard, plywood, or MDF applications. Melamine is more like small pieces of wood (particleboard) glued and pressed together and covered with a plasticized coating.
Uses Of Melamine
The word "Melamine" is arguably the most widely used, not only in cabinet construction but also in other industrial unrelated to construction.
For instance, Melamine (as a material) is not only used in building woodworks like shelves and cabinets but is the same resin that is applied in Formica and other laminated countertops found in the kitchen.
Melamine is also widely used in the construction of floor tiles. Melamine tile floors are, in fact, more glossy, resistant to scratch, less prone to staining, and easier to clean. Most importantly, they're relatively more cost-effective than porcelain or stone.
Due to the glossy nature of melamine encased boards and its ability to resist surface scratches, melamine makes an excellent material for producing whiteboards.
Advantages Of Melamine Wood
Engineered products from Melamine are typically less expensive and have proven to be as reliable as possible.
Melamine boards feature a uniform surface that is quite durable and resistant to scratch, stain, heat, and fire.
 The typical Melamine surface is waterproof and hence can be cleaned up with soap and water.
The lack of wood grain in a Melamine board is one thing most people prefer, especially those who want solid colored cabinets, and melamine is always available pre-finished in a variety of colors.
It offers a smooth finish that is ready to use without much construction waste.
Cutting melamine is pretty easy as long as you have the right equipment. You can use a saw with a scoring unit and CNC routers as it helps to prevent chipping. It's also important to support the material while cutting to reduce the incidences of breaking.
Disadvantages Of Melamine Board
Melamine board tends to bend and warp more easily when it comes under pressure from heavier loads.
Melamine material is typically heavy due to its composite nature.
Melamine boards are constructed with glues that can emit Volatile Organic Compounds "which may have short- and long-term adverse health effects", according to the United States Environmental Protection Agency.
Conclusion
Achieving the best cabinet design for your home starts with understanding the differences in qualities, features, and costs, including the pros and cons of each of the three common cabinet materials (Plywood, MDF, and Melamine) discussed in this article.
And hopefully, at this point, the disparities are crystal clear, making it easier for you to make the most of your budget to achieve your custom cabinetry need.