Understanding Your Renovation Budget
By Ryan Horvath
Taking on a renovation project is no easy task. It can be time-consuming, labor intensive (for you DIY people out there), and stressful…especially when it comes to figuring out a budget and sticking to it. To help ease the stress of figuring out the budget, we have a Renovation Budget Workbook available for download.
GETTING STARTED
According to Josh Garskof of TIME, one of the easiest ways to budget is utilize your home's current value. For a kitchen renovation, you can budget for 10 to 15% of the house's value while a bathroom renovation can be budgeted at 5% of the house's value.
For example, if your home has a value of $300,000, you can budget around $30,000 to $45,000 for your kitchen remodel and around $15,000 for your bathroom renovation. You should also take in to consideration how long you are planning on staying in the house. If you are looking to move out within a few years, a small budget for simple renovations may be a smarter move. If you plan on staying in your home for more than five years, remodel with your family's comfort level in mind.
COST BREAKDOWN
The following are graphs of average breakdowns for renovations by room. Click on the graph to enlarge it for easier viewing: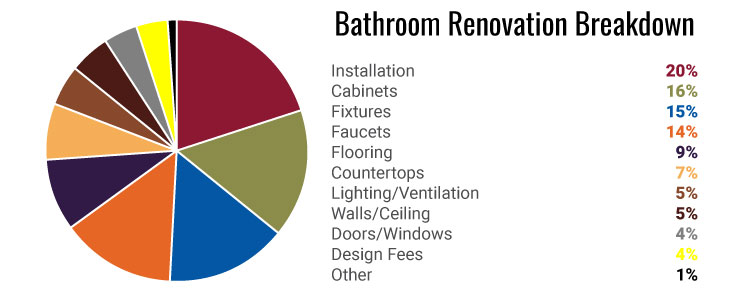 As you can see, there are some costs that can be eliminated if you are willing to get your hands dirty. Also, we suggest keeping part of the budget, at least 20%, aside for the unexpected (out of date wiring, a rotten floor, etc.). Another rule of thumb: the older the home, the more likely to have the unexpected.
NEEDS VS. WANTS
When going through your budget, decisions will have to be made when it comes to what you truly need versus what you want. Prioritizing what you can afford now compared to later can save a great deal of headaches. Also, writing down your priorities is a good idea in case an unexpected cost does arise. By having your "must haves" budgeted, the unexpected problem will not break the budget.
DETERMINING THE FUNDS
Now that you have figured out your priorities and budget, the next step is figuring out how you are going to pay for it. There are many options on how to fund a renovation, and one of the most popular ways is a home equity loan. A home equity loan has the added appeal of being tax deductible. The other options include refinancing your mortgage, taking out a personal loan, or taking a loan out against a retirement plan.
When you get a loan, be aware of additional costs such as interest and loan origination fees. Also, know when you will receive your funds. This will be important part when scheduling deposits you're your contractors and paying upfront for materials.
To download the "Renovation Budget Workbook", please click on the button below. Thank you!


GET YOUR HANDS DIRTY
Do not be afraid to get your hands dirty. By doing some of the work yourself, such as demolition, you can save some additional money. Demolition is one of the easiest and most fun jobs that you can do during a renovation. Stressed out about the budget? Taking a twenty-pound sledgehammer to your old cabinets is a great stress release.
STAY THE COURSE
Budgets can get out of control when you start making additional changes in the middle of the renovation. Stay the course and do not be tempted by add-ons. You have spent a great deal of time and effort formulating your budget, so see it through.
SOURCES
Josh Garskof's article
HGTV Kitchen Remodel
HGTV Bathroom Remodel
To subscribe to the Choice Cabinet blog, please click on the button below. Thank you!