How to Design an Elegant and Inspiring Modern Kitchen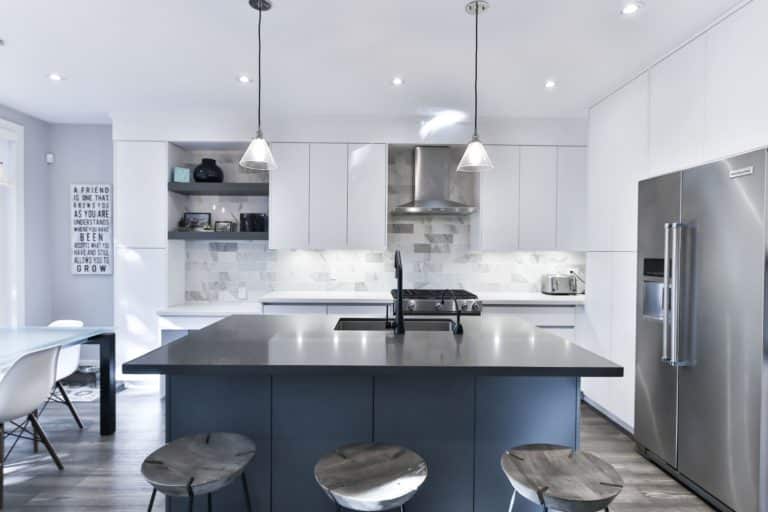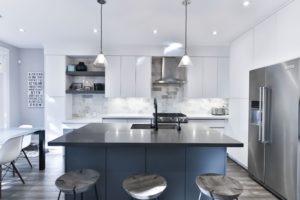 With their neutral color palettes, minimalist cabinetry, and understated accents, a modern kitchen has a subtle sophistication that will never go out of style.
Part of this timeless appeal is that modern kitchens take cues from other styles – think metallic industrial accents and natural materials like marble – for a look that's sleek, versatile, and contemporary, but not bland.
If you've decided to go with modern kitchen design for your renovation, you're already a step closer to a timeless, beautiful kitchen. But what exactly does a modern kitchen look like? How do you design one? Learn the basics of this style to guide your kitchen remodel.
What is a modern kitchen?
Modern kitchen design started out featuring geometric forms, flat surfaces, and almost no adornments or ornamentation. The cabinets, for instance, typically had flush doors, simple designs, and little to no hardware. This Spartan direction may have something to do with the times, as what we know as modern design started around World War I.
Today, modern kitchen design has embraced mid-century modern aesthetics which introduced bold curves and angles to the world of design. Mid Century modern, which originated in the Nordic countries during the mid-20th century—is now a hallmark of modern kitchen designs.
While traditional kitchen styles focused heavily on natural materials for countertops, flooring, cabinetry, and furniture, the modern kitchen style takes the opposite direction. It often features man-made materials like molded plastics, ceramics, and laminate.
That doesn't mean that modern kitchens can't feature natural materials—they usually do, and often with fantastic results. Many modern kitchens boast sleek hardwood floors, granite countertops, and earthy wooden furniture that integrate the trademark curves and angles of modern kitchens.
Elements of a Modern Kitchen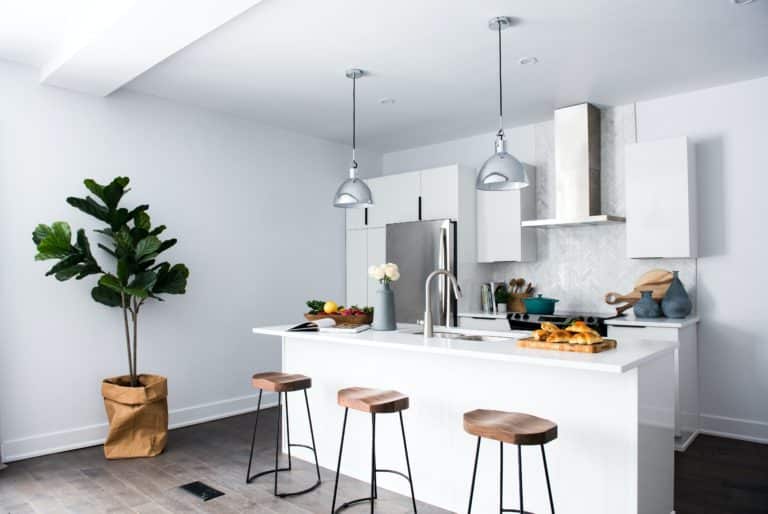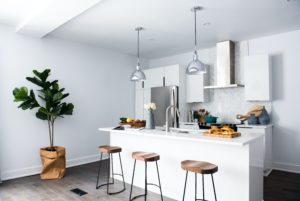 There are so many ways to execute the look of a modern kitchen. It's a versatile design that allows you to infuse your personality and taste into every inch of the space. If you want to stay faithful to this aesthetic, however, keep these signature characteristics in mind:
Layout
To achieve the modern kitchen style, consider going with an open floor plan during your renovation. This layout tends to have clear zone divisions that visually come together through a single monochromatic color. Stick with streamlined, minimalist features for that elegant look.
Space and Lighting
Modern kitchens are known for their open, airy, and light ambiance. Maximize space and light by using reflective materials and kitchen storage solutions that minimize clutter.
Accessories
Build on the modern kitchen theme through the right accessories and other decorative flourishes. For instance, you may replace opaque cabinet doors with glass. Go with unique designs and bold colors for your kitchen equipment like coffee makers, cookware, blenders, and mixers.
Flooring
Adhere to the simplicity and clean lines of the modern aesthetic by making tile and flooring work together. For instance, use classic subway tile for the kitchen backsplash. Use granite or slate in geometric patterns for your flooring.
Furniture Choices
Finally, the modern kitchen design depends a lot on your choice of furniture. Look for benches, stools, tables, and chairs that feature flowing and angular designs. If you're into materials like metal, wood, and plastic, consider choosing furniture that follow the industrial style. These design choices personify the efficiency and understated sophistication of modern kitchens.
Modern Kitchen Design Ideas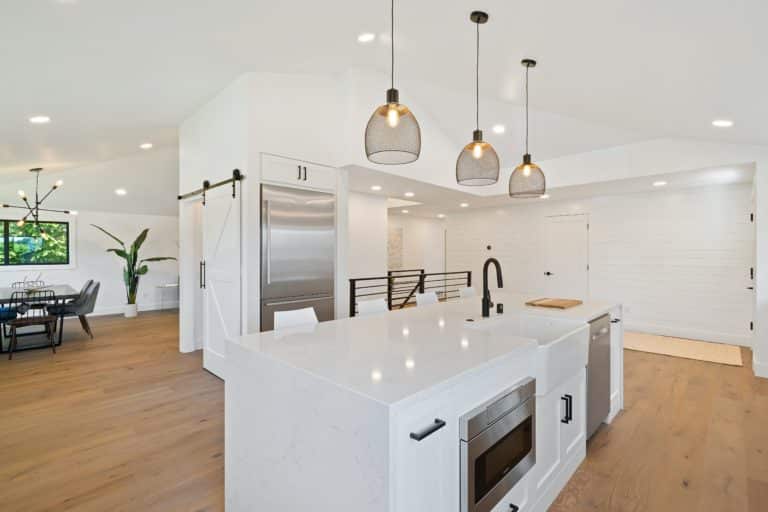 Though often misinterpreted as cold and stark, modern kitchen design is all about creating a functional, open, clean, and calming space with lots of roof for your personal style. Those characteristics are the perfect recipe for any kitchen.
Whether you want something elegant and monochromatic, or bright and whimsical, the following modern kitchen design ideas are sure to inspire your upcoming remodel:
Infuse a Touch of Warmth
Stay with the white theme, but introduce warm and earthy elements like wood surfaces, flooring, and shades of green.
Warm It Up
Warm up the minimalist aesthetic of modern kitchens with earthy colors like chocolate. This is a great set-up for kitchens that receive very little natural light, since it creates an intimate and cozy effect like those in speak-easies.
Go for Gold
Stainless steel is a staple for modern kitchens, and it pairs perfectly with the high-shine, edgy look of mirrored islands. Take it one step further by going with a gold-mirrored surface for a splash of glamour. Stay with the theme using decorative elements like swirls of marble and metallic pendant lights.
Make It Invisible
If you have an open floor plan, then chances are your kitchen is exposed to the living room and dining area. Create a seamless transition by choosing hard-ware free, white cabinetry that "disappears" into the background.
Go Edgy with Concrete
Concrete flooring gives modern kitchens a serious but subtle edge. Polished concrete has a sleek grittiness that grounds the rest of the kitchen. It's also very versatile— it complements other natural materials like granite and marble, and welcomes pops of bright and vibrant colors.
Create Zones with Interior Glass
Can't decide between a closed and open floor plan? Compromise using interior glass. It creates partial walls that delineates the kitchen from the rest of the room, while helping spread light through the entire space.
Add a Single Pop of Color
You read that right: add just one pop of color. Pull off the modern kitchen aesthetic by keeping everything white. Break it up with pops of color, and keep it visually interesting by using different hues and textures, but make sure to stick with one color.
Mix Styles
Modern kitchen design is incredibly versatile and complements other styles well. Add industrial features in the form of light fixtures and steel appliances. Upholster your furniture with some fabric for a bit of a retro vibe. Add a traditional touch with natural materials and tones. The possible combinations are absolutely endless.
How to Choose Cabinets for Modern Kitchens
Cabinets are a critical element of any kitchen no matter the style.
It keeps the space organized and clutter-free,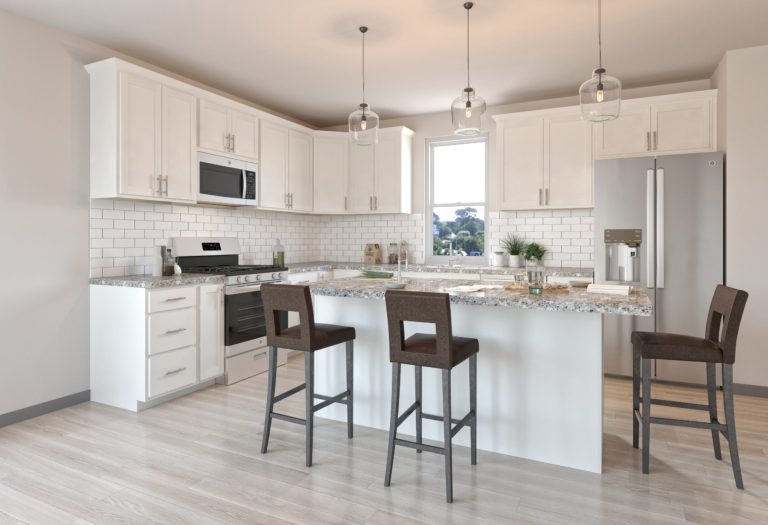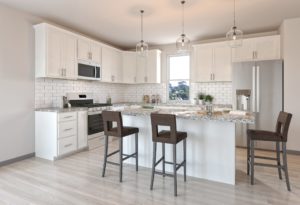 optimizes workflow, and simplifies clean-up. Aside from being functional, they're also a great way to showcase the aesthetic you're going for. Here's how to maximize cabinetry in a modern kitchen:
Choose flat panel styles for your kitchen doors for an uncluttered look and greater appearance of space

Add minimalist hardware

Select neutral colors like white
Explore the Beauty of Modern Kitchen Design
Modern kitchen design is one of our favorite styles here at Choice Cabinet. This look stands the test of time, and represents what a kitchen should be – elegant, clean, and a relaxing space to spend time in. Contact us and let us help you find the perfect cabinetry that will fit your vision of a modern kitchen. In the meantime, view our Inspiration Gallery for more great ideas!