Small Space, Big Potential: How to Design a Galley Kitchen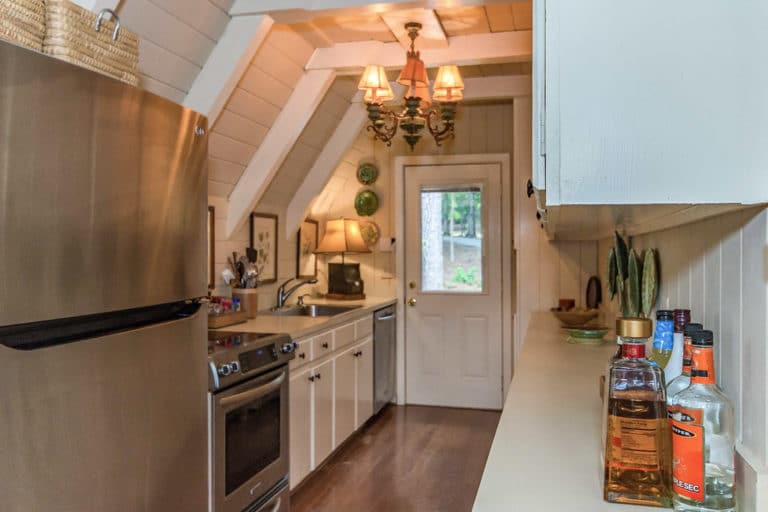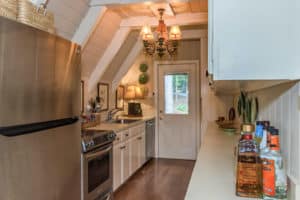 A galley kitchen is one of the most misunderstood kitchen layouts. Just hearing the word "galley" evokes cramped compartments, something no one wants in a busy kitchen. However, this classic layout actually holds incredible potential. In fact, so many professional chefs prefer a galley layout in their kitchens!
It's ergonomically sound, simple, versatile, and durable— everything you need for an efficient kitchen workflow.
On top of this, galley kitchens are simply a fact of life for many people. Whether you're renting a small apartment or moving into a starter home, you may not have the huge kitchen of your dreams just yet. However, a galley kitchen can be as beautiful and functional as any other layout when you know how to make it work for you.
What is a galley kitchen?
A traditional galley kitchen involves two parallel runs of units that create a central corridor or walkway. It's typically a long and narrow kitchen layout. Kitchen elements like counters, wall cabinets, and base cabinets are usually located on one side of the kitchen or both sides of the corridor. To make the most of the space, some people intersperse the countertops with sinks, fridges, cabinetry, and other kitchen appliances.
Just like its namesake, ship galleys, galley kitchens are designed to maximize space by strategically loading up with workstations and storage areas. This makes them ideal for small spaces. However, you can also install a galley kitchen section within a larger kitchen if you'd like.
Advantages of a Galley Kitchen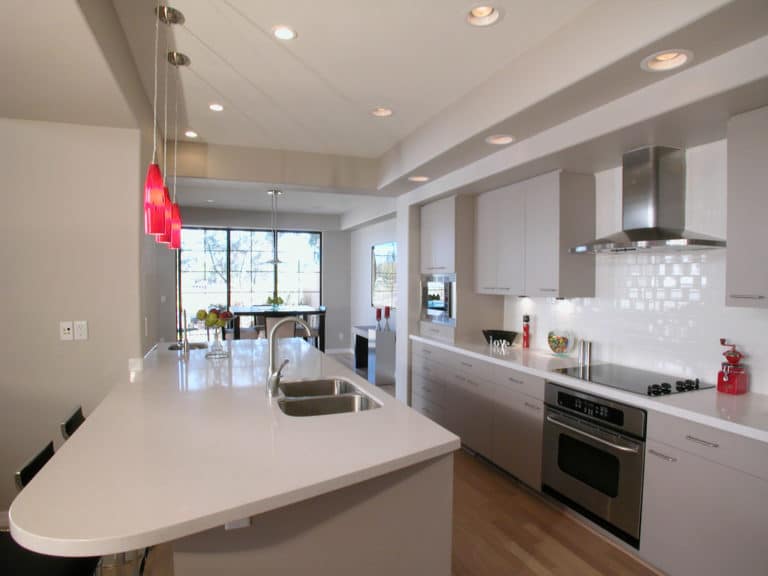 Galley kitchens may be small, but they offer benefits you may not find in other kitchen layouts. Below are the advantages of a galley-style kitchen remodel:
Saves space for more rooms in your home

Reduces your renovation budget since galley kitchens only need small cabinets and countertops, two of the most expensive parts of a remodel

Encourages a safe and efficient kitchen workflow since major kitchen hubs like gas, electrical, and water are clustered in the same spot

Ideal for DIY kitchen remodeling

Spend less on flooring, paint, and other renovation expenses
Practical Design Tips for Your Galley Kitchen
Galley kitchens prove you don't need too much space to create a kitchen where everything works wonderfully together. But the key is to execute each element perfectly— when you don't have a lot of square footage, you have to make everything count. Keep your design practical with these galley kitchen ideas:
Stick to the Basics
When remodeling your galley kitchen, keep only the most basic elements like the dishwasher, fridge, upper and lower cabinets, sink, counters, and stove/oven. Extras such as breakfast bars and kitchen islands only swallow up precious. It's impossible to fit in a full-size island when you have a galley kitchen, but we recommend going with a mobile island as a compromise if you really want this feature.
Reconsider Your Upper Cabinets
Avoid tall cabinets, upper cabinets, and other tall storage solutions in your galley kitchen, or limit them to only one side of the area. Too many upper cabinets can make the space feel more cramped and spacious. Instead, consider putting all the upper cabinetry in one area along with the pantry and refrigerator so they don't take up too much of the visual space. 
Tip: The sleek and subtle lines of light-colored Shaker-style cabinets offer vertical storage without the visual bulk. 
Be Mindful of Sink Size
Stay away from huge farmhouse sinks, drop-in sinks, and sinks angled at 45 degrees which consume a lot of countertop space. Instead, opt for scaled-down sinks which you can use comfortably without taking up too much room.
Think About the Width of Your Walkway or Aisle
The backbone of any galley kitchen is the walkway or corridor running through the middle. Cramped kitchens can be dangerous, especially when there are multiple people rushing around with hot plates and sharp objects. One way to keep the area accessible is to cluster all the work stations in just one side to keep the other free.
Blend Light and Dark Materials
Break up the materials to make the room feel bigger. If you have upper cabinets, for instance, connect them more towards the ceiling by using lighter colors. Use heavier, darker material for your base cabinets to balance it out.
Light It Up
Task lighting can completely lighten up the ambiance of a small galley kitchen. Turn your space into a beautiful jewel box by using different light sources like sleek pendant lights and other types of lighting mounted on the ceiling.
Brighten Up the Space with Glossy and Neutral Colors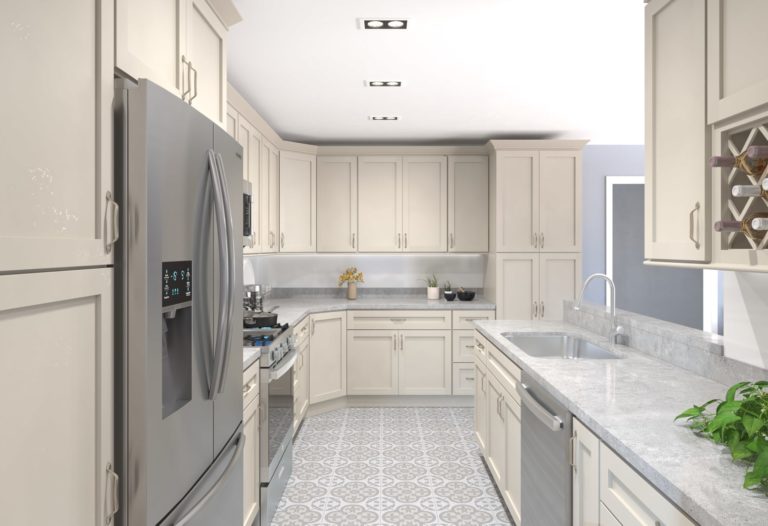 One of the keys to an attractive galley kitchen is getting tons of natural light in there. Don't have big windows that let in light? Using glossy tile and other reflective surfaces is a nifty interior design trick that can brighten up the space. You can also make the galley kitchen feel like a larger space by incorporating light, neutral tones into everything from the flooring and cabinets to the counters, appliances, and wall paint.
Maximize Storage
Clutter is the enemy of galley kitchens, so keep it minimal by using a variety of storage solutions. Instead of hanging tools and equipment on the countertop, keep them in the base cabinets and organize them using dividers, lazy Susans, and pull-outs. Opt for a built-in microwave drawer instead of displaying it on the counter. Go for one or two tall storage to keep rarely used or bulky items out of sight.
Choice Cabinet: Find the Right Kitchen Cabinet Solutions
Make the most of your kitchen layout with Choice Cabinet! Our beautiful RTA kitchen cabinets and clever storage solutions will help you bring out the best in any space. Take a virtual tour of our Kitchen Cabinets to see the possible door style and color combinations, then check out available Storage Solutions for your needs. Our kitchen design specialists would love to help you explore your options, so Contact Us to discuss your kitchen remodeling project!