Do you want to get that warm, cozy ambiance a classic farmhouse style is known for?
A well-designed farmhouse kitchen design offers you timeless benefits such as effective space optimization, high functionality, and a charming farmhouse kitchen aesthetic. It allows you to use your kitchen space to its full potential.
You also get enough room in your kitchen for your daily activities. A professional design increases the effectiveness of your kitchen space and also revamps it to give you the farmhouse kitchen of your dreams.
In this article, we take you through the typical process an interior designer uses to develop the layout and style of a farmhouse kitchen.
Planning and Layout
The planning and layout stage is usually the first stage of the design process. It involves considering the specific desires and needs of the owner.  Next is understanding the intended use of the kitchen and drawing out a clear and practical plan for execution.
1. Assessing available space and dimensions
Accurately measure the length and width of the space with a measuring tape
Create a floor plan to scale
Identify traffic flow
Identify distinct zones in the kitchen
Take into account the storage requirements
Select fixtures and appliances that suit the available space
2. Identifying key elements and focal points
Identify your farmhouse style and decide if you want similar kitchen features
Identify your farmhouse kitchen design style before selecting key elements
Assess your kitchen layout to determine its limitations and potential
Take note of key elements such as kitchen islands, farmhouse sinks, cabinet doors, kitchen cabinetry, and so on. An authentic farmhouse look is typically simple, with shaker-style cabinets with a distressed or weathered finish.
You may consider a backsplash, wood floor, lighting fixtures e.g., pendant lighting, and decorative accents. Check out this blog on THE BASICS OF KITCHEN LIGHTING.
Create a focal point for your kitchen by using significant elements such as range hoods and statement island countertops. You can also add a personal touch to your personalized kitchen decor, for example, woven rugs.
3. Determining desired kitchen workflow
Understand your style and specific needs i.e. how you intend to use your kitchen.
Identify distinct work zones e.g., preparation zone, cutting zone, washing zone, etc.
Consider the work triangle.
Evaluate the traffic flow.
Consider the placement of appliances and equipment.
Prioritize safety.
See also: WHAT IS THE AVERAGE KITCHEN REMODEL COST? – HOW TO SAVE AND WHERE TO SPEND.
Color Scheme and Materials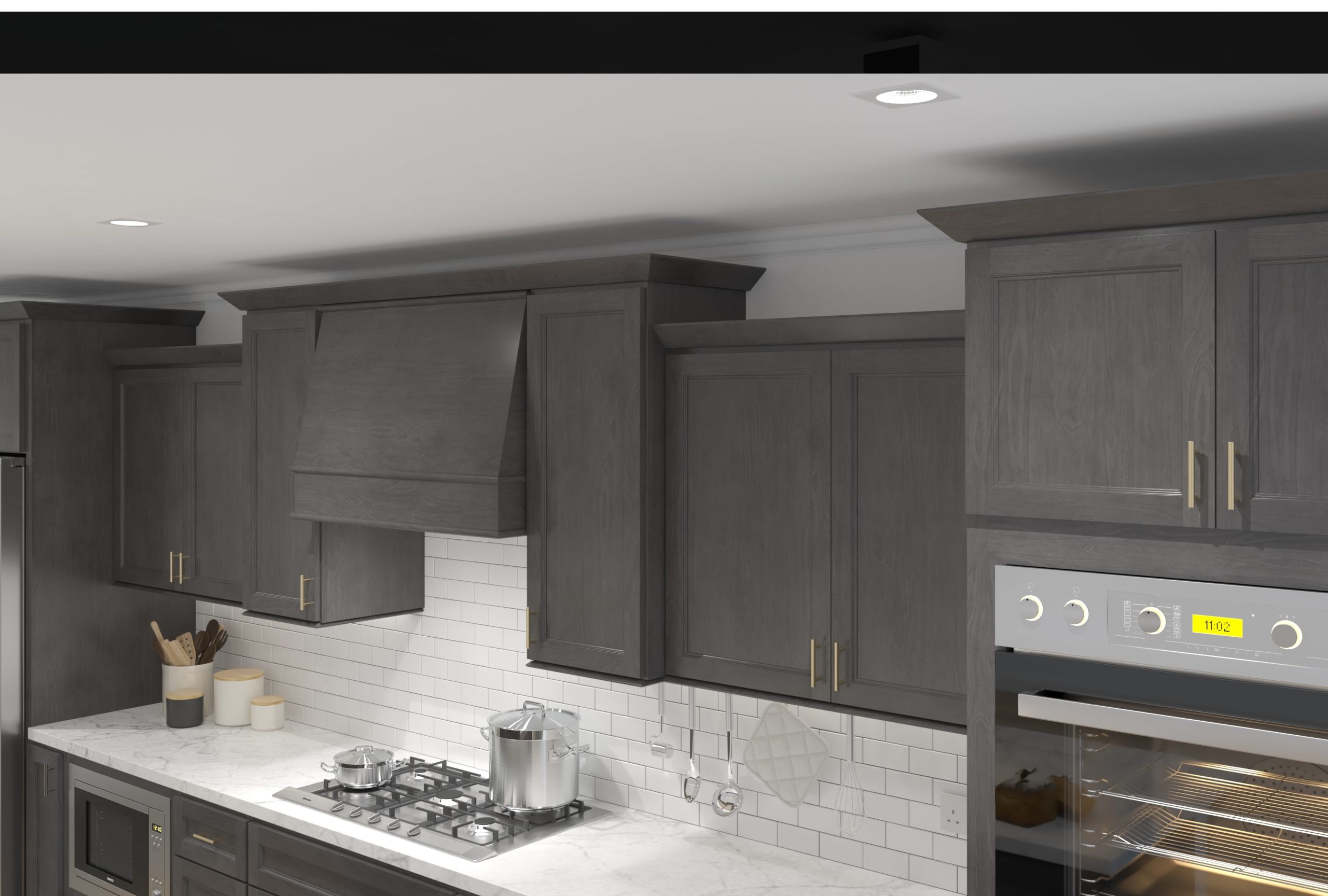 A farmhouse-style kitchen typically has a rustic style to it. Earthy tones, neutral colors, and muted pastels are great options to create a warm feel and accentuate the rustic charm.
The surface and textures of key elements also influence the overall feel of your country kitchen. Take note of the following.
1. Choosing a farmhouse-inspired color palette
A farmhouse-inspired color palette consists of hues that evoke a sense of warmth, coziness, and natural beauty.
The colors should reflect the rustic charm and simplicity often associated with a classic farmhouse style.  Here are some color choices for your farmhouse kitchen ideas.
White and Cream: White cabinets and walls, especially in all-white kitchens, give a clean and timeless farmhouse feel. Cream and off-white give your kitchen a warm feel and a vintage kitchen look.
Earthy tones: If you want your kitchen to feel cozy, earthy tones such as dandy beige and natural wood brown make the perfect choice for your cabinet, flooring, kitchen table, or dining table.
Pastels: Muted pastels, such as sage green, dusty rose, and soft blue, are perfect for modern farmhouse kitchens if you prefer gentle tones.
Reds and yellows: Warm tones of red and yellow give a striking modern farmhouse style. They give you an inviting farmhouse overall.
Neutral colors: Neutral colors, such as black, soft gray, and dark gray, infuse that farmhouse style into your kitchen.
Another noteworthy step is selecting durable, authentic, and easy-to-maintain materials. Your farmhouse kitchen would benefit from natural wood cabinets and natural stone countertops.
2. Selecting durable and easy-to-maintain materials
Whether you are building a kitchen for a large farmhouse or you want a farmhouse kitchen renovation, choose durable materials.
Side note: Nature looks great in farmhouse kitchens.
You get immense value for your money when you use materials that can withstand daily wear and tear while maintaining the feel of the farmhouse style.
Cabinets: Use sturdy solid wood or plywood materials such as oak, maple, or cherry.
Countertops: Natural stones such as granite, which is also used in modern kitchen designs, is a great choice
Flooring: Hardwood flooring with oak, maple, or hickory work perfectly for a classic farmhouse kitchen. They can handle heavy foot traffic and are very affordable.
Farmhouse sink: Use a deep, apron-front sink made of fireclay or cast iron.
Light fixtures: Pendant lights or chandeliers with metal or glass shades are easy to clean and maintain.
The highlight of a traditional farmhouse decor is the simple, natural, and primitive feel and look it gives. To achieve a farmhouse and country look is to embrace the imperfections and natural textures of the materials used.
3. Incorporating natural elements for a rustic feel
Remember that the farmhouse design approach is rooted in the past. In order to create a farmhouse style kitchen, you must ask the question, "What would folks in the past do?" Here are a few materials and elements you can consider.
Reclaimed wood: Has a weathered or aged appearance.
Stone and Brick: Give a unique pattern and texture of natural stone.
Maximize natural lighting by using elements that accommodate lots of sunlight e.g., glass, sheer curtains, etc.
Herb gardens: Setting up a little herb or spices garden close to the sunlight as part of your farmhouse kitchen decor will definitely give a unique statement and feel. You also get fresh herbs and spices for cooking.
Open shelves: You may make use of open shelves in order to showcase your rustic cookware and accentuate the farmhouse design.
Natural fabrics: Make use of fabrics such as burlap curtains and linen for your placemats and farmhouse table clothes.
Others include; wrought iron, cast iron, vintage metals, and fireclay.
Now, let's talk about cabinetry and storage.
Cabinetry and Storage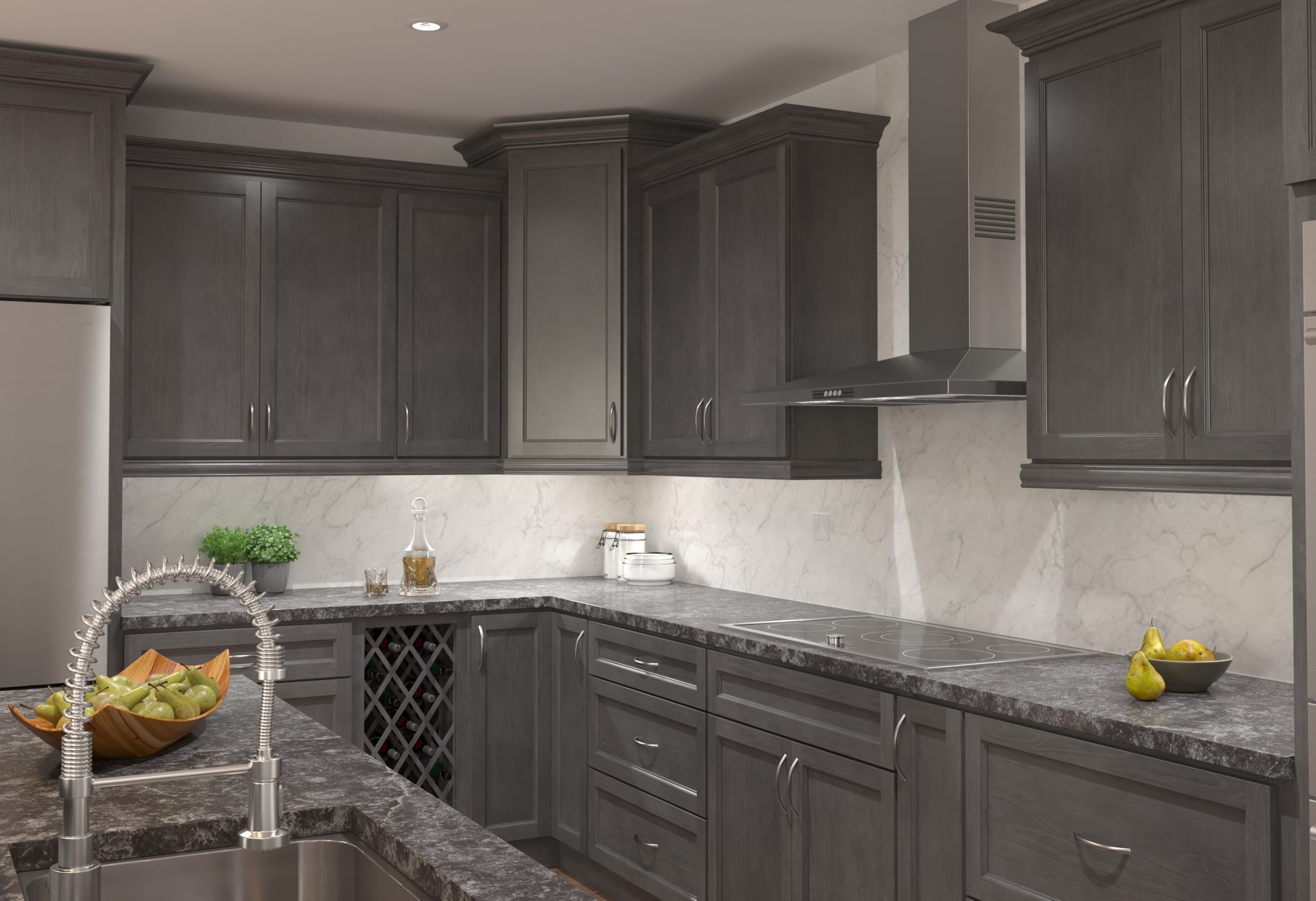 1. Optimal cabinet layout and organization
To effectively optimize space for storage and functionality, take note of the following tips.
Identify your specific needs e.g., how frequently you use your kitchen and the kitchen items you use often.
Identify the different zones in your rustic farmhouse kitchen and organize them to meet your needs.
Group similar items together
Incorporate space optimizers such as drawers, pull-out shelves, and lazy susans.
Install hooks and racks.
Make use of deep drawers.
Utilize vertical space.
Declutter regularly.
2. Choosing the right cabinet materials and finishes
Common cabinet materials and finishes include solid wood, bamboo, beadboard panels, natural stone, painted finishes, distressed finishes, etc. Here are a few considerations you should make before choosing materials for your farmhouse kitchen design ideas.
Budget considerations
Style and aesthetic considerations
Maintenance considerations
Durability
Countertops and Backsplash