No-Fail Tips for Designing a Beautiful Farmhouse Kitchen
A farmhouse style kitchen blends numerous distinct styles: foremost of which are rustic, cottage, and traditional. It's ideal for those of us who love making people feel welcome with good food and even better company. It's warm and relaxed, yet sophisticated enough for both everyday meals and formal get-togethers. 
If you're interested in this kitchen idea for your renovation, you may already have a visual in mind. Kickstart your redesign with Choice Cabinet's simple guide to pulling off the farmhouse kitchen design! We're revealing the key elements of this beloved look, and how you can transform your space into the ultimate farmhouse kitchen.
Classic Farmhouse Style vs. Modern Farmhouse Style: What's the Difference?
Farmhouse-style homes and kitchens have been around for decades. Over time, they have become one of the most popular directions for interior design. While looking up inspiration for your own remodel, you've probably come across two terms related to this aesthetic: classic farmhouse style and modern farmhouse style.
While similar for the most part, several differences set them apart:
The Classic Farmhouse Style
Very similar to the country kitchen, the farmhouse style revolves around functionality, practicality, and simplicity. It draws from the farm homes made by early settlers, and recreates the feel and look of days past.  Farmhouse residents took decor inspiration from their surroundings and incorporated practical, sturdy furnishings. 
Some of its key elements are:
Featured in elements like wide-plank floors, paneled wood walls, and exposed wood beams. Barn board and reclaimed wood are a popular choice for paneling, and you'll often see butcher blocks used for countertops.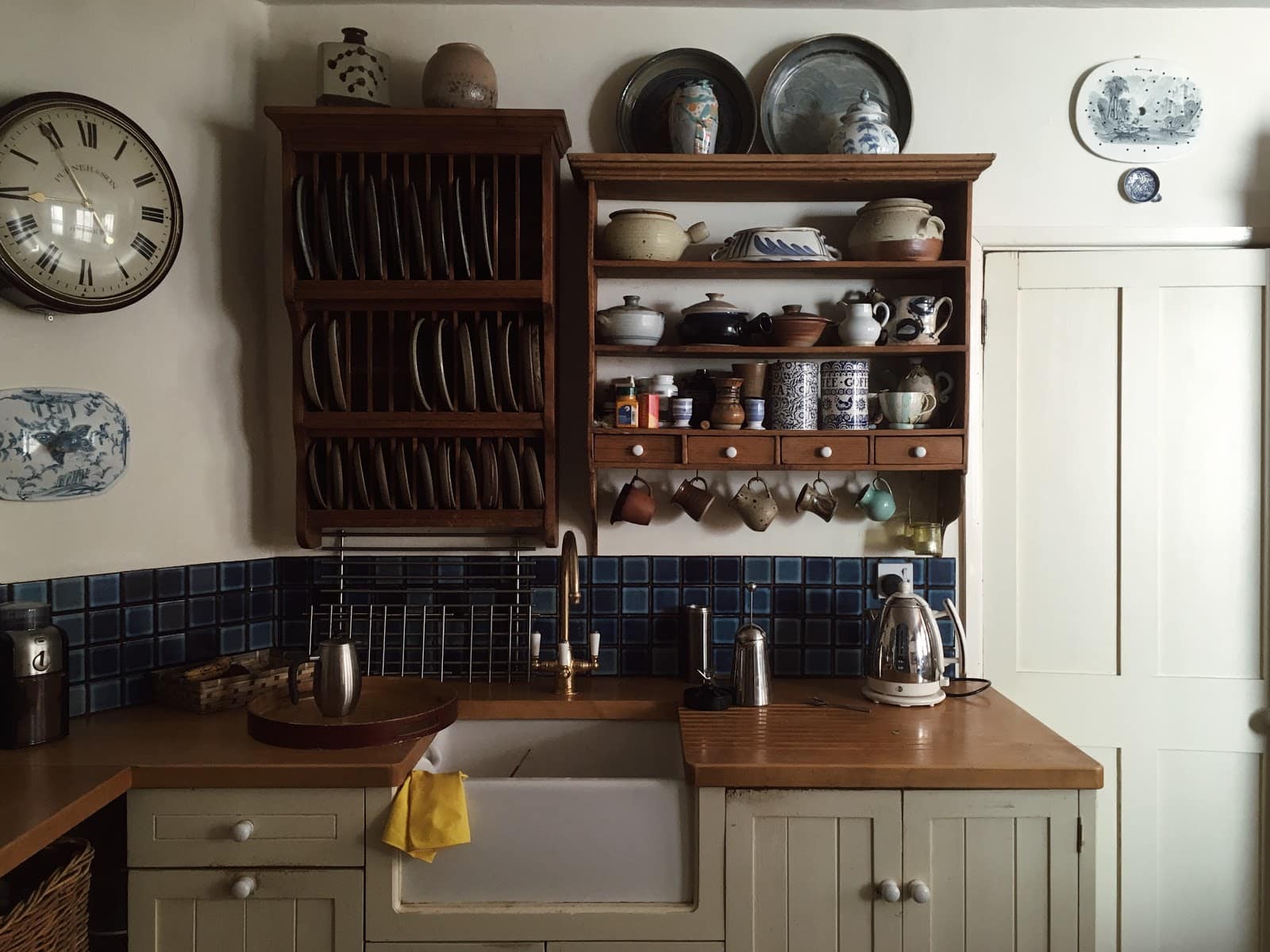 A large apron front farmhouse sink, usually made of porcelain, is a hallmark of the traditional farmhouse style.
Vintage accessories and furniture
Well-loved furniture and accessories are another essential element of the classic farmhouse style. Don't worry about buying brand-new— the more weathered and vintage it looks, the more at home it will be within the farmhouse-styled kitchen.
Floral and paisley designs are heavily used in areas with decorating fabrics, such as slipcovers.
The Modern Farmhouse Style
The modern farmhouse design, on the other hand, adds contemporary touches to the classic approach. It switches out the vintage, well-worn aesthetic with modern elements like glossy accents, smooth lines, and neutral paint color. Instead of rustic, the modern farmhouse style takes a more sophisticated and sleek direction. Key design elements include:
Just like the classic approach, modern farmhouse style revolves around the use of natural materials. For instance, architectural features and some furniture may be done in distressed wood. Aside from wood, the modern aesthetic also incorporates other natural materials like rattan and wicker, sisal, cotton, and natural stone.
A major difference between the classic and modern farmhouse kitchen style is the use of industrial elements. Instead of the conventional apron sink, for instance, contemporary farmhouse kitchens use stainless steel appliances and modern lighting fixtures.
The classic farmhouse style aims for a lived-in look, which means a lot of objects displayed in open shelving, tons of natural light, and what can be considered aesthetic clutter. In contrast, modern farmhouse kitchens are all about minimalism— go for cozy and relaxed, not cluttered.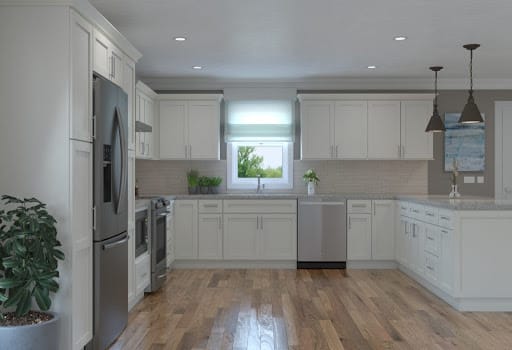 To make the room appear open and fresh, designers choose a neutral palette for modern farmhouse kitchens. Think grey, silver, beige, crisp white, and cream, which all work well to balance out and highlight natural elements. Instead of the paisley and floral patterns on the classic style, the modern approach keeps designs simple. 
No matter which of these styles speak to you, remember one thing: there are no hard and set rules when it comes to designing a farmhouse kitchen. You can even mix and match which elements you love from each aesthetic! 
Ultimately, the goal is to infuse your own personality with the relaxing, welcoming, and cozy essence of the farmhouse style. 
Tips on Designing Your Own Farmhouse Kitchen
While the farmhouse kitchen leaves a lot of room to be creative, there are a few essential design principles that underpin the style. Jumpstart your renovation with these tips:
Put practicality first.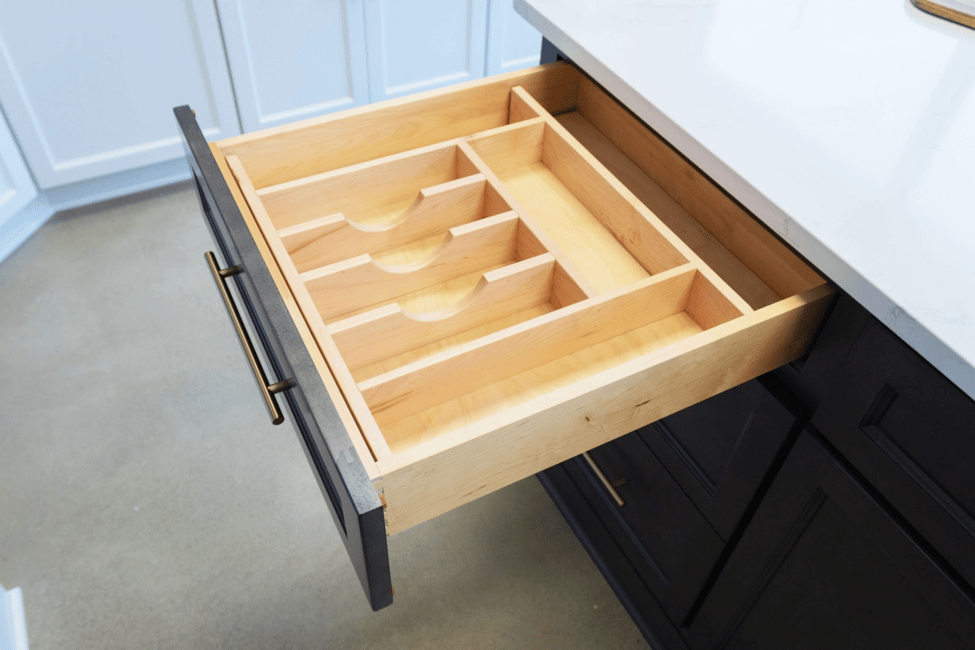 Unlike more formal arrangements, a farmhouse kitchen makes everyone feel at home. That's why functionality and usage come above aesthetics and should be your first point of consideration.
Before you get into the nitty-gritty of your kitchen renovation, plan out how you plan to use your kitchen. Will you be hosting a lot of gatherings there? How many seats would you like your table to have? Think about details like the furniture arrangement and flow of the room during the planning stage.
In terms of storage, choose cabinets that provide different storage options like Lazy Susans, pull-out shelves, and wooden dividers, which all go perfectly with the functional theme of this style.
Begin with a neutral palette.
A neutral color palette is an excellent starting point for both the classic and modern farmhouse style. It will keep your kitchen looking clean, fresh, and totally current, no matter how many updates you do with the design.
Consider following the 60-30-10 rule. Your dominant shade should compose 60% of your palette, while your secondary color makes up 30%. Accent shades fill up the last 10%. This formula prevents any one color from overwhelming your design.
A timeless combination for both classic and modern farmhouse kitchens is 60% white, 30% earthy shades like browns, tans, and grays, and 10% of whatever bold color you have in mind. This combination is the perfect blend of rustic tones and sophisticated shades, making it an excellent choice for any farmhouse kitchen.
Choose simple, Shaker-style cabinets.
Shaker style cabinets are a farmhouse-kitchen must-have. They're simple, unpretentious, yet elegant and can be customized to fit any aesthetic. As a nod to the natural elements of the farmhouse kitchen, consider choosing Shaker-style cabinets in warm, wooden colors. However, black and white, grey, and other neutral-colored Shaker cabinets are an excellent choice as well, especially if you're going with a modern farmhouse kitchen.
Mix and match furniture.
Traditional farmhouse kitchen furniture was made primarily of wood, but you don't have to limit yourself. Done right, mixing and matching furniture adds a lot of character to a farmhouse kitchen. Some popular combinations are wooden benches and tables for the dining space, and metal bar stools for the kitchen island.
Add industrial accents.
Industrial-inspired touches are a great addition to both classic and modern farmhouse kitchens. This element is commonly inspired by farming machinery, and their low-maintenance and elegant look also adds to the charm. Try copper- or iron-inspired pendant lights, steel kitchen appliances, quartz or marble countertops for starters.
Achieve Your Farmhouse Style Kitchen Today
Now that you have a better idea of how you can achieve the farmhouse kitchen of your dreams, it is time to create your kitchen renovation checklist. Find the perfect Shaker-style kitchen cabinets from our Kitchen Cabinet selection, or get more farmhouse kitchen ideas from our Inspiration Gallery. 
Need more help with your redesign, or not sure which cabinets will go with the kitchen you have in mind? We're here to help. Contact Choice Cabinet using our convenient online form, and let's get started on your kitchen renovation!