Know Your Kitchen Lighting: Basic Types and Design Tips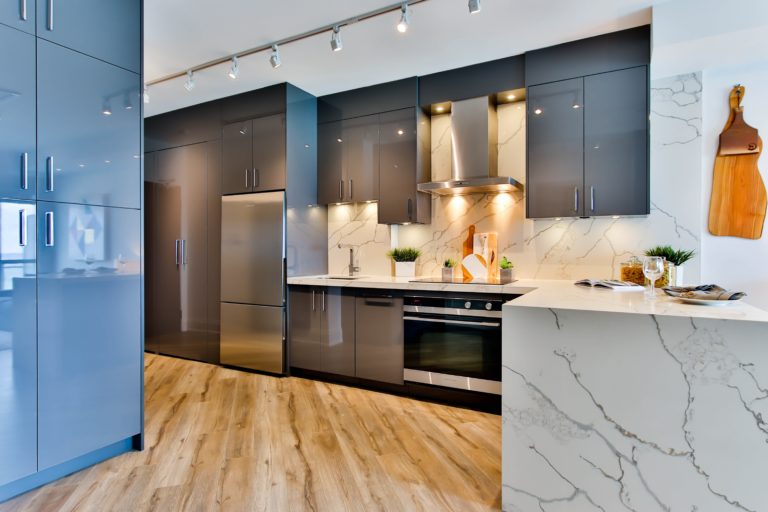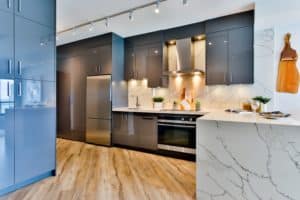 During the frenzy of a kitchen remodel, it's easy to forget about the importance of kitchen lighting. You spend so much time choosing the best appliances, paint, and décor, then get stuck with the same fluorescent fixture that you had before the redesign.
Which is a pity, because lighting is what will turn your kitchen from average to showroom worthy. It's also the best way to highlight all those other kitchen elements you so carefully picked out.
On the flip side, there's just so many options out there. Downlight, task lighting, LEDS, halogen— the sheer amount of choices is overwhelming. This article illuminates the essential things you should know and how to harness lighting to create a beautiful, cozy, and safe kitchen.
Importance of Kitchen Lighting
For many of us, the kitchen is the busiest part of the home. People use this space the entire day – from breakfast to nightcaps, to do homework, or simply to relax and share conversation.
Good lighting is essential to all of those activities. It allows you to safely perform tasks like prepping ingredient, cooking meals, and cleaning up. It reduces the risk of trips and falls. In terms of design, it levels up the ambiance of the room, taking it from drab to sophisticated and cozy with just one flip of the switch.
Types of Kitchen Lighting
In order to properly integrate lighting into your kitchen, it's important to know the different kinds of kitchen lighting. There are three main types: ambient lighting, task lighting, and accent lighting.
The ideal kitchen lighting is a combination of all three. It's useful to think of them as layers. Ambient lighting is your base, task lighting fills in the spaces within the base, and accent lighting is the decorative layer that completes the look. Further explanation below:
Ambient Lighting
The main source of light, which is usually installed in the ceiling. You want to cast it evenly. Common ambient lighting fixtures are a combination of pendant lights, chandeliers, flush mounts, and recessed lighting.
Task Lighting
Ambient lighting may help you navigate the kitchen, but it usually leaves shadows in certain areas such as under cabinetry. It's the job of task lighting to fill in these spots. It illuminates cabinetry and work surfaces so you can safely and easily read recipes, prepare meals, and find ingredients. Common options are puck lights and strip lights.
Accent Lighting
Consider these the flourishes of your kitchen lighting scheme. They are primarily for decorative purposes: think cabinet lights, toe kick lights, and any other light fixtures that accentuate aesthetic parts of your kitchen. However, accent lighting may also cross over into task and ambient lighting.
How to Choose Kitchen Lighting
Just like any part of your kitchen, be thoughtful with your lighting scheme. The following tips can help you with the process:
Determine what you want out of your kitchen lights.
For some people, lighting is purely functional – they just want to be able to see what they're doing in the kitchen.
Others need more out of their kitchen lights, because they also use the space for dining, socializing, and work. If you have a large kitchen, task lighting is a must to eliminate shadowy corners that can make it difficult to work in the kitchen.
Knowing what you want from your lighting will affect everything from the design to your budget.
For a cozy and warm ambiance, get incandescent lights.
Incandescent lights are fantastic for making kitchens feel warm. This is quite literal as well, since these bulbs generate more heat than other types, making them a great choice for those in colder climates. If you're after longevity, however, note that incandescent bulbs do burn out faster than fluorescent lights.
Consider halogen lights if you'd like to decorate with accent lighting.
Halogen lights are perfect over cabinets, above kitchen islands, and over long countertops. They are also ideal for larger kitchens. These lights are often used for directional features and track lights. You can use them for motion control lighting fixtures as well.
Highlight specific aesthetic elements using accent lighting.
To add a decorative touch to the space, think about adding accent lights beneath your cabinets or above them. Got a shiny new appliance or beautiful artwork on your wall you want to show off? Use directional track light features as accent lighting to highlight these elements. You even add flair with elegant chandelier lighting, especially if your kitchen is particularly spacious.
Get inspiration from your home's theme.
Take cues from the rest of the home for your lighting scheme. Choosing a similar aesthetic – or a unifying theme such as a specific finish – will create a sense of flow between the kitchen and the rest of your home. This is especially important if you have an open kitchen that flows into your dining or living area.
Carefully consider lighting fixture proportions.
Size is an essential factor in your lighting fixtures. For instance, a massive chandelier will completely overwhelm a tiny kitchen. Too small, and it might as well be invisible in all that space.
Consider height as well. Pendant lights should be hung at proper heights to prevent people from bumping their heads into it. Take exact measurements before you buy and install your new kitchen lighting.
Complete Dream Your Kitchen With Choice Cabinet
Show your kitchen in the best light! Not just with lighting, but with beautiful and long-lasting kitchen cabinets. Aside from our Kitchen Cabinets, we also have a wide range of Decorative Hardware to fit any kitchen lighting scheme, color palette, and design. We'd love to help you plan your upcoming remodel, so feel free to Contact Us today!