The Ultimate Guide to Kitchen Cabinets for Your Upcoming Kitchen Remodel
Cabinets are the defining element of any kitchen. They're the first thing that people see when they walk into this area of the home. As most interior designers will tell you, a room's design is only as good as the first impression it makes. Make the finest impression possible with beautiful, masterfully-crafted kitchen cabinets from Choice Cabinets.
Choice Cabinets makes it possible to upgrade your kitchen using all-wood cabinets with the integrity of Amish-standard construction. We use hardwood for the face frames, furniture-grade plywood for the cabinet boxes, and natural hardwood interior finish.
Upon seeing the exceptional quality of our kitchen cabinets, some people wonder how expensive they are. They certainly look like they cost a fortune, but we proudly offer top-tier kitchen cabinets that are more affordable than those at big box stores. No matter where you are in the US, you can find the perfect cabinet from Choice Cabinets and our dealers.
Planning a major kitchen renovation or simply tired of your old cupboards? Spruce up the heart of your home with stunning kitchen cabinets from choice cabinets.
How New Kitchen Cabinets Enhance the Entire Kitchen
Kitchen cabinets are the single, most important investment you can make for your kitchen, whether you're doing a partial or full renovation project. It's not just about looks. Upgrading your kitchen cabinets accomplishes the following:
·       Infuses a sense of newness
Don't have the budget for a full kitchen renovation? Kitchen cabinets are such a dominant part of this room that they can transform its whole look—even if they're the only upgrade you can have at the moment. Investing in gorgeous kitchen cabinets is an excellent way to refresh your kitchen's aesthetics without overhauling the entire area.
·       Adds functionality and storage
Kitchen cabinets helps you stay organized and protects your valuables. Damaged cabinet interiors are less able to support the weight of your dishes, utensils, and food items. Perhaps your belongings don't fit into your current cabinets anymore.
When you buy new kitchen cabinets, you naturally factor in how much storage space you need. This is your opportunity to set up a better flow inside the kitchen, where everything is within easy reach.
·       Raises home value
If you're planning to put your property on the market, offering a remodeled kitchen to buyers is an excellent selling point. Beautiful, custom cabinets boost that value further.
Just by adding new kitchen cabinets alone, you can renovate your kitchen into a more usable, aesthetic space that works well for your lifestyle. At Choice Cabinets, you can find numerous resources to plan out the finer details of your kitchen cabinet makeover. Feel free to go over our guides for creating a renovation budget, tips on planning a kitchen renovation, cabinet care, and other selections at the Choice Library.
How to Select Your New Cabinets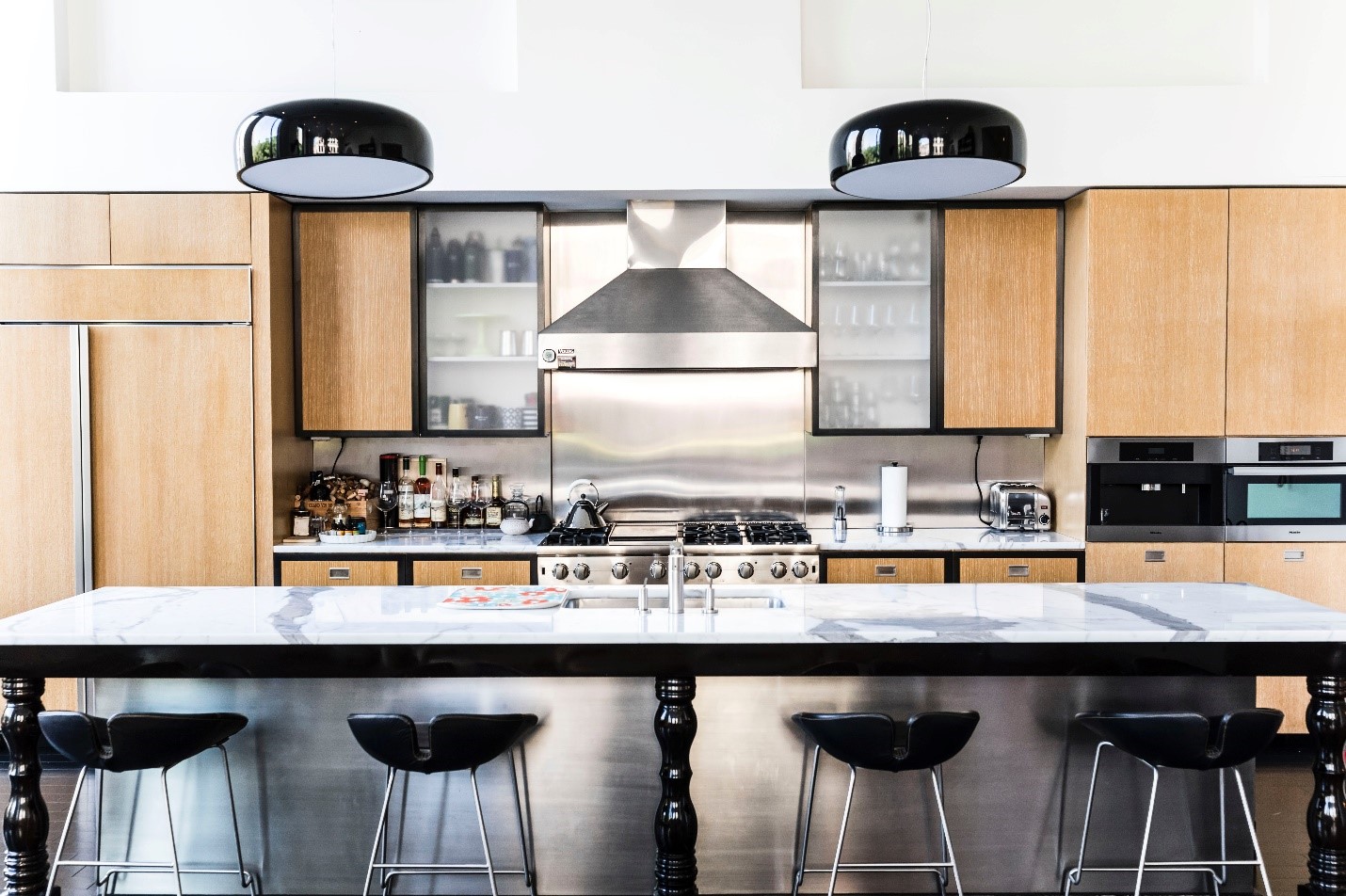 With so much depending on your new kitchen cabinets, you need to put a lot of careful thought in your selections. Choice Cabinets offers more than 50, 000 items in 150 assorted sizes at our warehouse, and we're sure you'll find kitchen cabinets you'll fall in love with. To make that process easier, you consider a number of elements to guide your choice of kitchen cabinets.
Kitchen Cabinet Style
The existing style of your kitchen will influence your choice of kitchen cabinets. Not sure what style your kitchen currently has? Most kitchens follow three main styles:
1.     Traditional style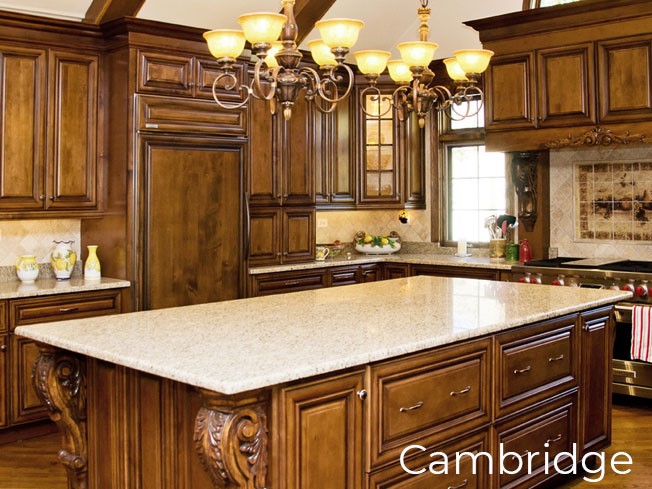 This style features ornate accents, and loads of details and embellishments, plus raised panels. It evokes the warmth of a traditional kitchen by using classic French and English elements of design.
If you have a kitchen island, you can add a dash of sophistication by tying the look together with corbels and wainscoting. This design style is all about the extras— the perfect balance of extravagance and elegance.
2.     Contemporary / Modern Style
A total opposite of the traditional style, contemporary or modern kitchen cabinets make use of clean, sleek lines with a minimalist bent. Less is more: the absent elements make as much impact as the ones present.
For instance, contemporary cabinets generally don't have frames. This reduces visual clutter, and facilitates the smooth flow of horizontal lines around the kitchen. This style also makes use of minimal cabinet hardware.
3.     Transitional Style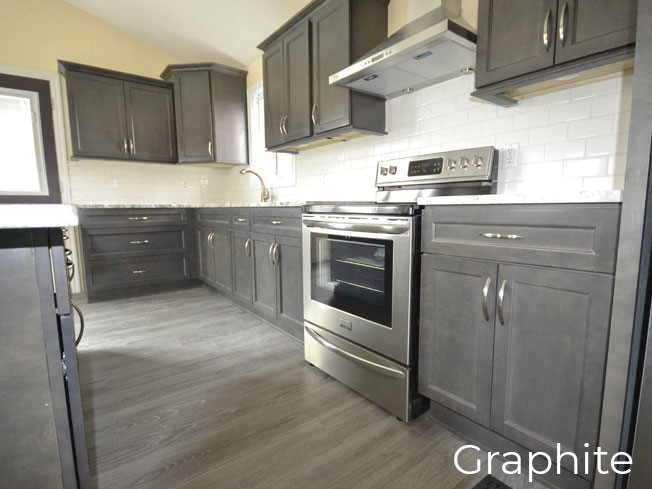 The transitional style marries design elements from the contemporary and traditional styles. Kitchen cabinets in this style exude a timeless and sophisticated aesthetic. This style goes well with a neutral palette and simple accent pieces, but also with a bit of flair such as corbels in strategic places.
Kitchen Cabinet Door Styles
When shopping for your new kitchen cabinets, you need to consider both the cabinet door treatments and the overlay, which work in conjunction with each other.
What are kitchen cabinet overlays?
Cabinet overlay refers to the amount of frame that shows through the doors. Sounds insignificant? They actually have a lot of impact on the final designs of kitchen cabinets:
·        Full Overlay
This overlay is primarily used to create a minimalist, sleek, and contemporary room through its "all door" looks that show none of the cabinet frame.
·        Partial Overlay
In this style, the cabinet frames are exposed from ½ inch or more. Partial overlays are responsible for giving kitchen cabinets a textured, layered, and classical appearance.
What are kitchen cabinet door treatments?
Kitchen cabinet door treatments are the doors themselves. As you explore different cabinet styles, you may encounter arches, squares, and cathedral doors styles. Other common cabinet door treatments are:
Center panel
Raised panel
Flat panel
Multi panel
If you're not sure which kitchen cabinet doors appeal to you, our friendly representatives at Choice Cabinets will be more than happy to help. You can also browse through our website for a detailed description of our kitchen cabinets, including the style, overlay, door treatments, and color palettes.
Decorative Hardware for Kitchen Cabinets
Every little detail counts if you want kitchen cabinets with aesthetics that will look amazing for years to come. Just as important as the kitchen cabinet style and door treatments are the decorative hardware you'll use to embellish your kitchen cabinets.
Choice Cabinets offers a wide range of drawer fronts such as knobs pulls and handles to complement our outstanding kitchen cabinets. We apply the same level craftsmanship for these decorative elements— each one is built with precision, and versatile enough to fit the largest drawer to the smallest cabinet.
Kitchen Cabinet Storage Styles
The ideal kitchen cabinet should marry looks and function. This means it should also come with first-rate storage and organizational design.
Choice Cabinet can customize our kitchen cabinets to deliver the type of storage your envision. Choose among the following space-saving features:
Base Pantry Pull-Out
Roll-Out Trays
Cabinet Divider
Wooden Divider
Lazy Susan
Trash Pull-out
Let our designers help you pick out the perfect storage solution that complements your dream kitchen design.
Finishing Touches
Finally, don't forget to top off your kitchen cabinet renovation with finishing touches that will take your cabinets from fantastic to unforgettable. Some selections we offer are:
Mullion Doors
Cut Glass Door
Decorative Doors
Molding
Decorative Legs
Why Choose Choice Cabinets?
Based out of Cleveland, Ohio, Choice Cabinet has been providing beautiful, expertly-crafted, fully assembled kitchen cabinets throughout the US for almost 30 years. Below are just some of the elements that make our kitchen cabinets stand out:
Hardwood for the entire face frame
Furniture-grade, high-density plywood for the cabinet boxes
Natural hardwood interior finish
Soft close technology to absorb shock and facilitate quiet opening and closing of doors and drawers
Pocket-screw joinery for extra strength and durability
Solid wood corner braces for additional sturdiness and support
6-way adjustable standard and sift-close hinges
Toe kicks add durability and strength to tall and base cabinets
Pre-finished sides and panels
Simple maintenance
Wide range of styles and colors for stock cabinets
Rich painted finish
10-step finishing process
On top of this, our Grade A kitchen cabinets are much more affordable in big-box stores.
Moreover, Choice Cabinets remove the fuss and hassle of finding the best kitchen cabinets for your upcoming kitchen remodel. Take your time exploring our massive kitchen cabinet catalog at our website to give you an idea of what you want. Contact us for any questions you may have.
If you're in the Cleveland, Ohio area, feel free to drop by our showroom to explore our kitchen cabinets in person. We also have many dealers throughout the country, and you can find one near you using our Choice Cabinet Dealer Locator.
No matter where you are in the US, expect your new assembled kitchen cabinets to arrive in a few days. You're now ready to assemble your kitchen cabinets, and integrate them into your dream kitchen design. Got questions about our kitchen cabinets, wall cabinet, doors and drawer, accessories, and other products? Contact Choice Cabinets today!