One striking aspect of every kitchen — whether modern, olden, or classic kitchen — is the cabinetry. And the color of your kitchen cabinets says a whole lot about the overall appearance of the kitchen.
That's why most homeowners looking to carry out home improvement projects naturally go for the very best kitchen cabinet paint colors that won't only stand the test of time but are also aesthetically pleasing.
Different kitchen cabinet colors offer specific advantages that you may want to exploit to achieve your custom room design. For instance, some paint colors typically brighten your room and make it appear larger, while others make maintenance easy and cleaning a less frequent task.
Moreover, whether you prefer modern or traditional styles, you surely want to go for a cabinet paint color that complements the rest of your kitchen design.
So what are the best kitchen cabinet colors for 2022? What cabinet paint color do you buy for low-maintenance, easy-to-clean, and ageless quality? Well, before you book an appointment with an interior designer or a kitchen cabinet expert, let's let you in on some of the very best paint colors you can feel confident about.
You will also love How To Choose The Best Kitchen Cabinet – Top 7 Considerations For Dealers And Homeowners.
1. White Kitchen Cabinet Paint Colors
If you are looking for the best kitchen cabinet colors for diversity, then all-white cabinets are the real deal.
White painted cabinets are widely applied since they complement most interior decor colors and allow other shades or design elements to stand out as a focal point.
The timeless color of a classic white kitchen cabinet doesn't just offer your kitchen a classy and elegant look but seamlessly blends in with both traditional cabinets and modern styles. Moreover, white is also one color that has outlasted many trends when it comes to kitchen cabinetry. So you don't have to worry about going out of style anytime soon!
The brightness of white cabinetry, when installed in white kitchens, provides natural light to brighten the room and open up the hidden spaces, thereby making a small kitchen appear bigger!
If you are looking to switch things up now and then and upgrade your cabinet paint color often, then you need to go for white as it accommodates all sorts of upgrades and remodeling projects.
The only downside to white kitchen cabinets, however, is that they don't conceal dirt and are prone to oil stains. That's why you are advised not to have children and pets around sparkling white kitchen cabinetry — unless you are willing to clean it more often to bring in the true glamor of an all-white cabinet paint color.
2. Gray Kitchen Cabinet Paint Colors
Gray color cabinets come in different shades and tints ranging from the darker shade to lighter shades. But one common thing among all shades of gray is the calmness they bring.
In fact, you'd find gray cabinet colors quite interesting if you prefer something more semi-gloss or off-white than pure white. Although off-white colors are typically dull, you can bring in the much-needed spark by introducing some extra decorative touches. After all, gray can also easily complement other kitchen paint colors and designs.
With gray, you can introduce some metallic features like gold hardware and stainless steel appliances as they go perfectly together. Gray, as a neutral color, also combines excellently with upper cabinets and backsplash in Benjamin-Moore-bright colors as well as a polished, antique finish.
It doesn't matter the counter option you've chosen for your kitchen — whether marble countertops or wood finishes — adding a classic shade of gray color to your cabinetry can make a whole lot of difference in your kitchen's interior design.
Another interesting part of a gray cabinet paint color is that it is that the warmer shades don't only create a soothing environment but also conceal dirt better than light-colored cabinets. Hence, maintenance is always easier as you won't have to clean it every day.
3. Espresso Kitchen Cabinet Paint Colors
Espresso is another vibrant color for kitchen cabinets that has become more widespread in recent times.
The espresso paint color is comparable to black coffee which is a combination of black and brown. Often mistaken for pure black cabinets, espresso is a dark brown cabinet paint color that is largely only noticeable under direct lighting. It typically features warm undertones of red or gold that provide a bit of depth, thereby offering your room that traditional warmth that true black cabinet color doesn't offer you.
The espresso dark cabinetry is an ideal alternative if you are not a fan of bright-colored cabinets. It is one of the best kitchen cabinet colors if you want to achieve both a dramatic and calm mood in the kitchen. And it is also very compatible with monochromatic schemes.
No matter what countertop color or design you have in your kitchen, espresso can pair perfectly with any style. And regardless of your floor colors or the materials (such as laminate or hardwood), it can always go with your espresso kitchen cabinet.
The dark tones of the espresso kitchen cabinet paint colors don't only create a feeling of warmth and luxury but also have a timeless look that won't fade over time or go out of style.
Most importantly, with such dark colors, you don't have to worry about grime or dirt because the darker the kitchen cabinet paint color, the more enduring it is to stains!
However, if you must go for a bold color like espresso, you have to make sure the room is spacious with natural light. Cut down on some furnishings like an excessively large dining table. This paint color is strictly for larger kitchens.
4. Brown Kitchen Cabinet Paint Colors
Brown is one of the most vibrant colors and arguably one of the best kitchen cabinet colors. That's why it's mostly recommended by top designers for homeowners who are looking to achieve a rustic, vintage, traditional look in a contemporary kitchen.
There are different shades of brown kitchen cabinet colors ranging from light brown, walnut to cherry, deep brown, and oxblood. But one common thing about brown when it comes to kitchen cabinets is that they provide a trendy way to bend the rules and introduce some terrific designs into your kitchen space.
Take, for instance, the use of brass hardware and brass accents for dark wood/dark brown cabinets. Nothing can be more classy!
You can also use stained brown cabinets with granite countertops and a brown mosaic backsplash.
For a more rustic look, you can also blend your dark brown cabinets with wood walls, metal backsplash, and concrete floors to complement the earthy tones of other parts of the kitchen.
The good news about brown kitchen cabinets is that the color is kind of stain-like and is immune to all kinds of stains. Hence, it's ideal for a household with lots of children and pets.
5. Blue Kitchen Cabinet Paint Colors
If you crave that sort of serenity that can only be compared to the blue sky, then you need to go for a blue-painted cabinet.
Blue paint cabinets create a calming and relaxing atmosphere which is why it's not only used in the kitchen and bathroom but also in the bedroom.
Powder blue kitchen cabinets are one highly-demanded cabinet color that has seen a huge increase in Google searches in recent times.
6. Two-Tone Color Approach
Most paint schemes are categorized into different color families, making it easier to arrive at two color shades that complement or contrast each other. You can go for two different colors for the kitchen island and upper or lower cabinets.
However, remember that light paint colors expand your kitchen space, unlike darker colors that visually take up more space.
To achieve a two-tone look, you can use a lighter shade for the cabinets above and a darker, warmer shade for the ones below.
By breaking up the expanses of cabinetry with different colorations, you feel a lot calmer and less blocky than in a single and warmer color scheme.
Don't paint your compressed wood cabinets without first reading through our article on How to paint compressed wood kitchen cabinets.
What Are The Most Popular Kitchen Cabinet Colors?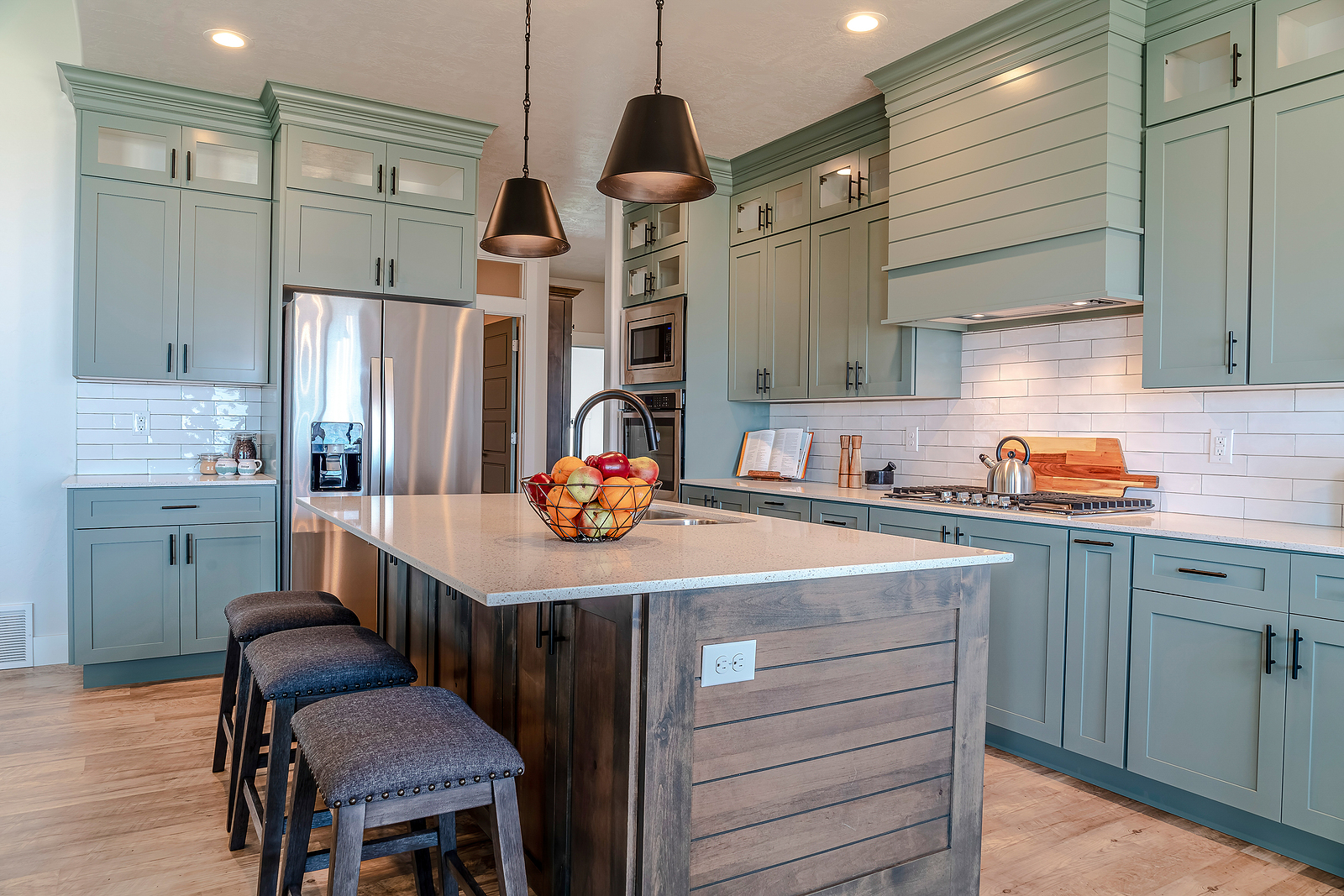 For most kitchen design experts, the most popular color for kitchen cabinetry is white. This is mainly because of the space, natural light, and serenity it offers the kitchen.
What Are The Popular Kitchen Cabinet Colors In 2022?
Some of the most popular colors for your cabinets in 2022 are,
White
Green
Navy blue
Espresso (or black)
Gray
Brown, etc.
Go All Out For The Best Kitchen Cabinet Paint Color Of Your Choice!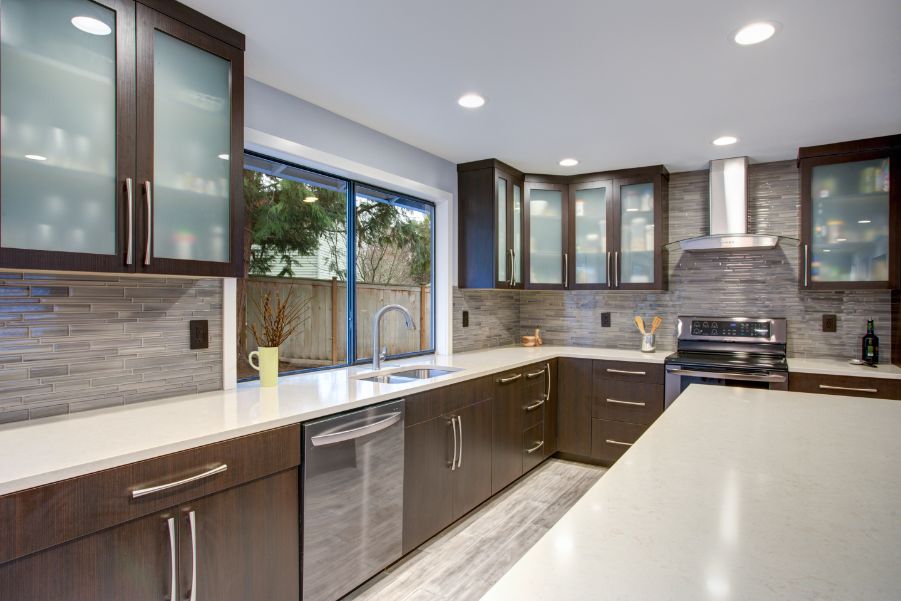 Each of the colors highlighted on this page, although not created equal, is highly reliable and trendy in 2022.
Thus, whether you are going for a light-painted or dark-painted cabinet; whether you prefer white, espresso, dark blue, light blue, beige, gray, a mix of beige and gray, or brown, you can rest assured you'd achieve that classic charm you crave!
Want to book an appointment with one cabinet supplier you can trust to give your kitchen that timeless but classy look you've always wanted? Contact Choice Cabinet today and have a look at the wide variety of stunning but affordable cabinet colors you can use to set up the kitchen layout of your dreams.
Want to buy or sell Choice Cabinet? Send us a message right away and let's get you properly set up and satisfied.