Everything You Need to Know About Under Cabinet Lighting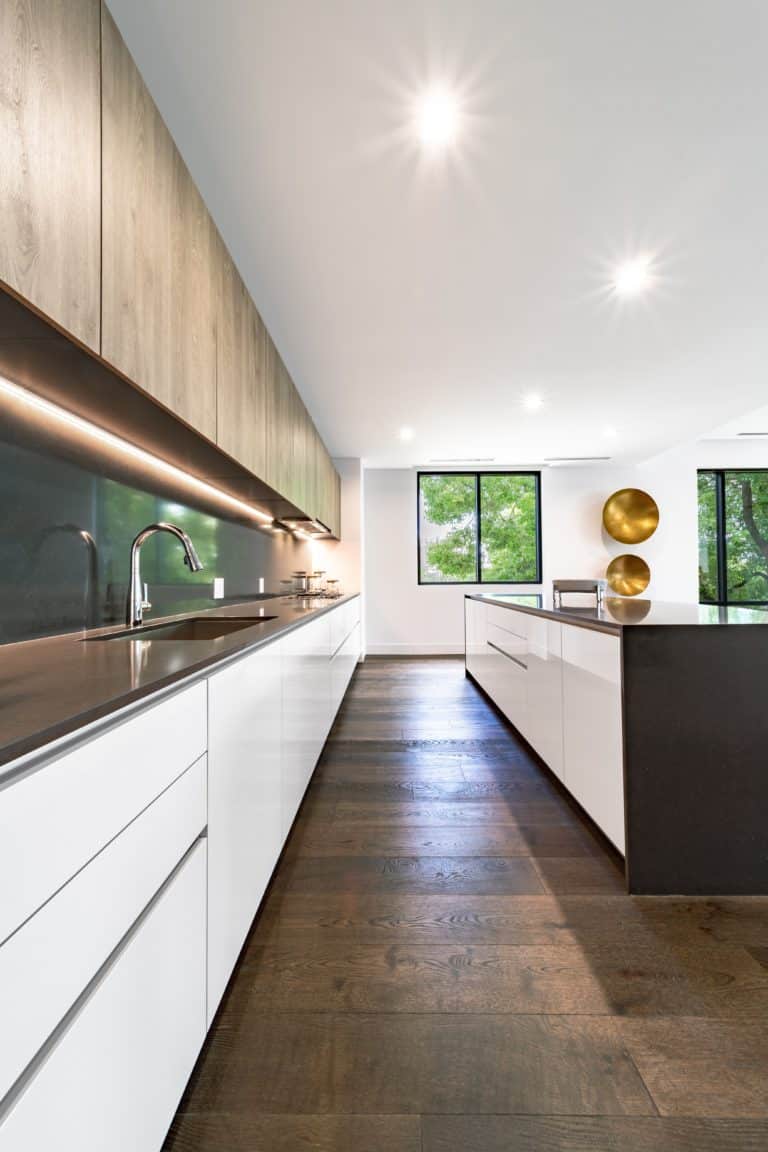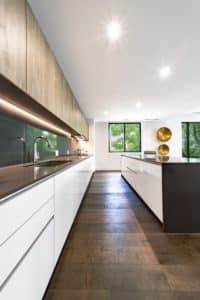 Have you ever been in your kitchen preparing a meal, chopping a carrot, or even washing a pan and wished that you had a little extra light to make sure you saw everything properly? Sometimes your own body can block out part of your kitchen's overhead lighting and create a shadow in the exact place you need it the most. In these moments, it would be extremely helpful to have additional lighting directly above you. But where would another overhead light be located that would not end up being blocked or obscured? The answer is not to install another light in the ceiling but rather consider installing under cabinet light strips.
Under-cabinet light strips add practical and beautiful illumination to your kitchen. While dramatic chandeliers and pendants are showstoppers, under cabinet lights are workhorses. They illuminate dark surfaces so you can cook meals and navigate the kitchen safely and easily. While they may not be spectacular, they provide the light when you need it the most and when your overhead lights simply do not provide the lighting angles you need.
These lighting fixtures are certainly practical, but they also contribute a lot to the kitchen's beauty and ambiance. Imagine walking through your home in the late evening. The sun has already set, and you have begun to put your home into night mode. 
Overhead lights are perfect for lighting the entire room and helping you see the space as a whole. However, they often are not able to create the most relaxing mood, especially for your kitchen. Rather than turning on an overhead light and being blasted with bright light, you can flip the switch on your under cabinet light strips and continue to relax your mind and body while still being able to see whatever it is you need in the kitchen. When you need just a hint of light, energy-efficient under cabinet lights may be the option for your kitchen. Go through our Inspiration Gallery to see just how big an impact under cabinet lighting can make in this space. The impact is subtle yet stunning.
On top of this, they're the perfect Do-It-Yourself (DIY) project, too. If you're looking for a way to refresh kitchen aesthetics without spending a fortune on a full renovation, under-cabinet lights are the way to go. Installation is fairly easy, and you will not have to worry about messing up your kitchen or needing to make repairs that are more extensive than the original DIY project. Our friendly and knowledgeable staff at Choice Cabinet will help you decide what type of under cabinet lighting will work best in your kitchen and give you valuable tips and advice on actually installing the lights with minimal trouble and frustration.
At Choice Cabinet, we realize that not many homeowners may consider installing under cabinet lighting in their kitchens because they already have bright overhead lights. We are here to give you more information about this lighting option and why it may be just the thing your kitchen needs. Read on to learn more about this kitchen essential and how you can use it to maximum effect in your home! Whether you are creating an ambiance or making sure your knife cuts are just right, energy-efficient under cabinet lighting is the perfect kitchen solution.
What is under cabinet lighting?
Under-cabinet lighting is exactly as the name implies— these are lighting fixtures installed under cabinets to illuminate the surrounding area. Unlike traditional lights, this lighting option is designed to be concealed by the cabinet trim. All you will see is the light instead of the bulbs—as much light as you need without the ugly visual of light bulbs and fixtures.
In general, you will not have to place electrical outlets or cords in obscure areas, which means handy homeowners can install these fixtures themselves. Without the need for specialized equipment or years of experience installing lighting and fixtures, homeowners can take pride in knowing that they were able to install their own lights without the need of a professional.
However, note that under-cabinet lights typically come as a system with multiple individual components. These include drivers, outlets, lights, and more, so you may need to do a bit of research before attempting the installation. It is always important to understand what all of the components do and where their optimal placement would be before you start the project. Once you have read through the instructions and feel confident, you can do the installation and work on the configuration's customization. All of our under cabinet light options at Choice Cabinet are configurable, so you can customize based on what will benefit you the most.
Benefits of Under Cabinet Lighting
Under-cabinet lighting is not required for kitchens, but you'll be missing out on amazing benefits if you decide to opt out. The more light you have in your kitchen, the brighter it will be and the better you will be able to see everything you are doing. A bright kitchen also feels more welcoming and joyful, so you can use this lighting option to bring even more happiness to your home. Here are some of the things that these lighting fixtures bring to the table:
Provides additional illumination
These lights complement the main overhead lighting by highlighting the backsplash and providing focused illumination on work surfaces. When you need to chop vegetables, measure ingredients, and bread recipes, you must have the proper lighting to ensure your cuts and measurements are accurate and that you have read the recipe correctly. You certainly would not want to mix up a teaspoon and a tablespoon and ruin your whole creation simply because you did not have enough light to tell what the abbreviation was. The answer to this lighting issue is installing under cabinet lights for added illumination when you need it the most.
Even the brightest overhead lights are not enough to completely eliminate shadows created by upper wall cabinets. Under-cabinet lights, remove these shadows and provide adequate visibility for your food preparation and cooking tasks. In addition to the upper wall cabinets casting a shadow, your own head can even get in the way and cast a shadow as it blocks the light from above. Under-cabinet lighting adds another source of light where you need it that will be much more difficult to block.
Enhances kitchen ambiance and design
Under-cabinet lights can make a world of difference to how your kitchen looks and feels. They have a way of infusing a room with a warm and elegant feel. Even when dimmed, overhead lighting can blast a room with light, and sometimes it just is not needed or desired. At times, you want to have a bit of light in the room but not to an overwhelming degree.
It is similar to the effect of a nightlight in a child's bedroom. That light does not provide enough lighting to illuminate the entire room or keep the child awake, but there is just enough to provide warmth and comfort to the child throughout the night. In much the same way, under cabinet light strips are bright enough for you to see what you are doing or where you are going but not bright enough to wake up the entire house. It is especially nice when you want to create a warm or romantic atmosphere without simply dimming the overhead lights. These provide a more flexible option.
Additionally, if you have a custom backsplash or other amazing kitchen feature that you would like to enhance and emphasize, the under cabinet lighting can be the answer. Give special illumination to those features so that you can admire them no matter what other type of lighting is in the room.
More Energy Efficient than Overhead Lighting
Once you have under cabinet lights, you won't have to turn on every main light in the kitchen just to see what you're doing. When you are only getting a glass of water or looking for something in the junk drawer, you may not need to turn on the kitchen's bright main lights. Using the under cabinet lights is a way to reduce your electric bills because they are more energy-efficient than the primary light fixtures in the kitchen.
Provides tremendous aging-in-place value
Planning to grow old in your home? Under-cabinet lighting promotes greater safety for homes intended for aging in place. Poor lighting increases the chances of kitchen accidents, and layered lighting is an effective way to reduce the risk. These lights also eliminate glare and are gentle on aging eyes.
Those recipe cards may have once been very easy to read, even in dim lighting, but as we age, our eyes grow older as well. That means small writing and old recipe cards may not be as visible or easy to read as they used to be. With additional light coming from under cabinet light fixtures, you will never have to worry about straining your eyes just to create one of your family's favorite recipes or even doing the weekly crossword puzzle in the newspaper. Those clues are written in awfully tiny font! Use under-cabinet lights to illuminate the clues better and continue to enjoy activities that you have always loved.
3 Types of Under Cabinet Lighting
As with almost every kitchen feature that you may be considering renovating or updating, you will have plenty of options when it comes to lighting. This obviously includes under cabinet lights. While shopping for your new under cabinet lights, you'll encounter three main types of this fixture:
DIY Plug-in Lights
Want to install under-cabinet lighting ASAP? If you do not have time to wait or patience to install more complicated types of lights, the DIY plug-in lights are the easiest and quickest option. You simply attach a plug-in fixture to the underside of your upper cabinet or shelf, and you can insert this into any electrical outlet nearby.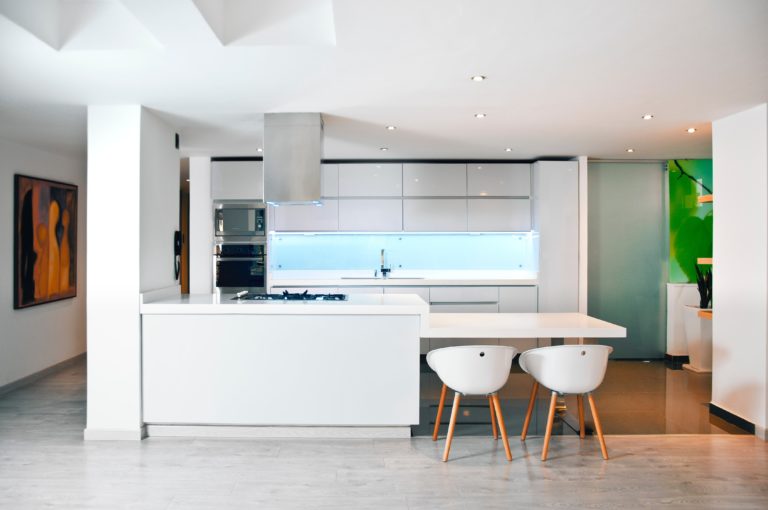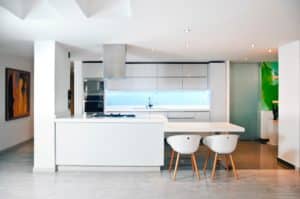 To turn these fixtures on and off, you will have to use a switch on the unit. However, it is important to note that the wires are not usually hidden with DIY plug-in lights. If you are trying to maintain a certain aesthetic in your kitchen and visible wires are not a part of that vision, you may want to reconsider the plug-in lighting option.
Look for plug-in LED under cabinet lighting tape or rope lights since these are some of the simplest to install. These clear plastic tubes cast a soft glow thanks to the small LED bulbs inside. They will create a much different ambiance than other under cabinet lighting types, so it is important to look at the styles and how a real kitchen looked when the plug-in LED lights were installed.
Mounted Strip Lights
For more intense under cabinet lighting, consider puck lights with halogen bulbs, track lights with halogen bulbs, or a fluorescent strip. These are three separate options that create a slightly different effect, so be sure you know the difference between them and how they may look in your kitchen.
These touch-operated, battery-powered disks are easy to install. They are also surface-mounted and wireless, making them a sleek alternative to the DIY options. These puck lights come in several wattages and are battery-operated to provide bright light.
However, do be careful with the placement of your puck lights. High-wattage halogen bulbs radiate a lot of heat, which means you should never install them near anything flammable.
Professionally Hard-Wired Lights
For a seamless look, you may want to invest in hard-wired light fixtures. This type becomes virtually invisible after installation for the most sophisticated results. If you are looking to have a lighting setup that provides all of the brightness with none of the visible hardware, these are the light fixtures for you. It is best, however, if you opt to have your hard-wired lights professionally installed to ensure that your cabinets remain perfect and you get the best possible result. They do not emphasize easy installation as one of their benefits.
Unless you are experienced in wiring and renovation, it is best to leave these lights to the professionals. For instance, low-profile recessed puck lights should be installed directly into the cabinetry. Failing to do this during a kitchen remodel or new home construction will necessitate modifications to the cabinet itself. Without the proper knowledge and years of experience in cabinetry, you may not do this exactly right, and it could cause damage rather than adding to the value of your kitchen. They are certainly not the easy installation option.
Hard-wired models also require tapping into a power source or adding a new circuit to the location. This requires knowledge of building codes and regulations, all of which must be followed to ensure your under cabinet lighting is up to code. Again, not easy installation and expert knowledge are required.
Aside from recessed puck lights, other hard-wired options include slim-line strip lights and custom-size under cabinet track lighting.
Under Cabinet Lighting: Types of Lightbulbs
Once you have decided whether you want to go DIY or with professionally hard-wired lights (a sometimes difficult decision in and of itself), it is time to learn about your light bulb options. Each one has unique benefits and drawbacks, all of which you should consider before deciding which to buy:
LED Strip Light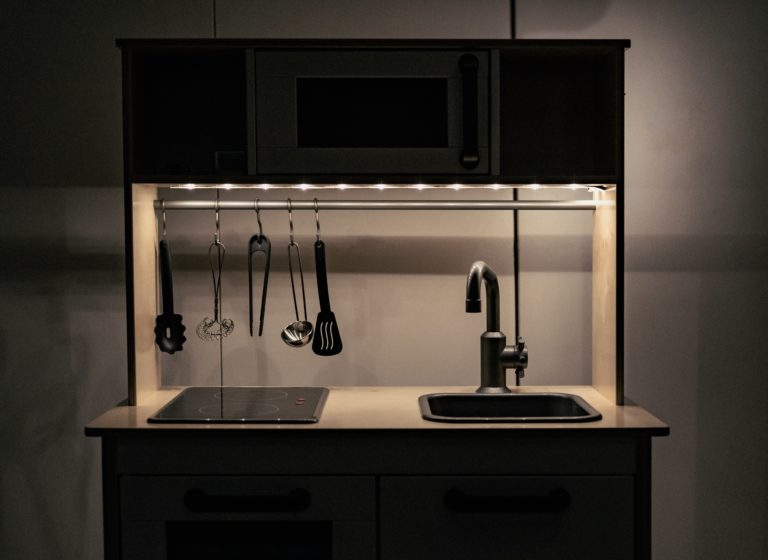 If you do not want or need a "fixture" under your cabinets, LED strip lights to offer an effective solution. Installed correctly, LEDs are barely visible— you will only be able to see the light produced by the strips.
Keep in mind that LED strip lights are not as bright as other light bulbs, so it's best to use this as accent lighting. Be sure to know your lighting needs before you begin to invest in the types of light bulbs you may use.
Pros:
No "dead spots" and produces even light because it can be mounted end to end

Virtually invisible after installation

Available in waterproof options

Cheaper than most types of under cabinet lighting

It lasts for a long time

Peel and stick installation make it perfect for DIY projects
Cons:
May not produce enough light for some preferences or applications

You may need to pay extra if the use of a track and lens is necessary

You may need a separate power supply

Dimmer than other types of under cabinet lights
These are a great option for accentuating a special feature or creating an atmosphere in the kitchen.
Fluorescent Fixtures
Fluorescent fixtures are a classic type of under cabinet lighting and remain a popular choice. They are a good middle-of-the-road option if you do not need anything too fancy but still want all of the great lighting benefits.
Pros:
You can connect them for more even lighting

Cooler than halogen and xenon

Plug-in and hard-wired options

Brighter than other types of under cabinet lighting
Cons:
Xenon Fixtures
While xenon fixtures are one of the oldest under cabinet lighting technologies under cabinet lighting, it is still highly regarded thanks to its perfect color rendering index (CRI).
Xenon bulbs produce a clean, white light that makes granite or marble countertops really pop. However, they can get very hot. So hot, it is best to use them as occasional task lighting instead of an all-day source of light. Make sure to keep fresh flowers, meltable food, and fruits away from xenon lights.
Pros:
3-way switch available for high-low-off functions

Lower initial installation cost

Available in plug-in or hard-wired options

Dimmable

Near 100 CRI
Cons:
Consumes a large amount of energy

High heat emission
As with other options, be sure you know your particular lighting needs before investing in xenon lights.
Puck Lights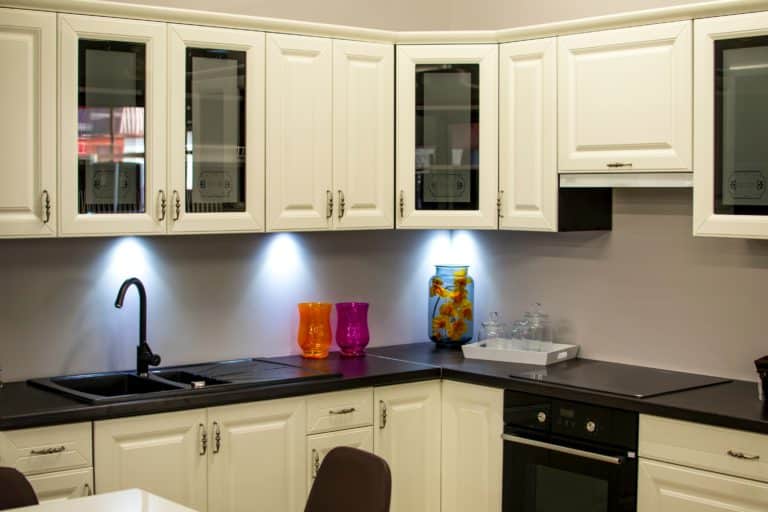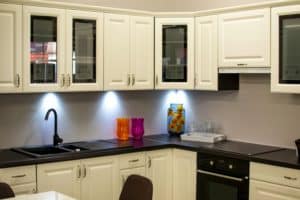 This type gets their name from their hockey puck shape. They are one of the most popular under cabinet lighting options, so you will not be alone in your puck lights investment.
Puck lights can use LED, halogen, and xenon light bulbs based on your preference and where you plan to use them. This is why it is important to know exactly what your lighting needs are and where you most need to use them. The CRI of almost 100 you can get with halogen and xenon bulbs is great if you value color purity.
Puck lights are available in battery-powered models that you can just stick to the underside of cabinetry. This makes them an excellent choice for people who don't want to deal with wiring or are renting their homes. There is no need to invest a good deal of money into hard-wired lighting if you do not plan to stay in the home.
Pros:
LED versions come in battery-powered options that are easy to install

Produces focused light

Very affordable

Dimmable

Durable
Cons:
Instead of even lighting, they emit circles of light which may not be suitable for some applications

It can get hot when installed with halogen bulbs.
What Type of Under Cabinet Lighting is Best for Me?
As you may have noticed, there are many different options when it comes to under cabinet lighting. It may be tough to differentiate between them or figure out what suits you best. Keep these two considerations in mind when deciding which cabinet lighting to install in your kitchen:
Consider Your Power Options
Under-cabinet lighting cabinet options include battery-operated, plug-in, and direct wiring. As with any project, you may have to call in the professionals for more elaborate configurations—and you have to factor that into your budget.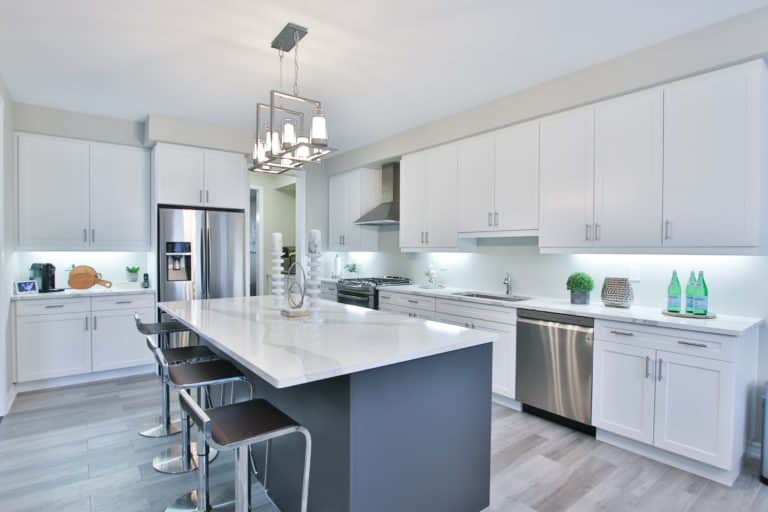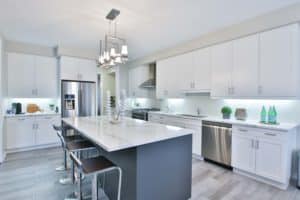 You may need an electrician for direct-wire cabinet lights, but they can create a more professional, polished look because there are no wires or plugs to deal with.
If you have an existing under-cabinet system, changing this out for the LED version is an easy switch because the wiring is already there. Be ready for frequent battery replacements if you go with battery-powered fixtures and dedicate a nearby outlet for plug-in under cabinet lights. Your installation needs and power supply will influence which under cabinet system is right for you.
Evaluate Placement & Available Space
Before buying under cabinet lights, evaluate how much extra space you have for additional lighting. You would hate for your cabinet area to look crowded once the different lighting is installed. It is often beneficial for a more seamless look to keep the lighting fixture hidden behind the face of your cabinet.
By tucking the lights up tightly at the bottom of the cabinet, you will be preventing the light fixture from getting in the way of usable space below. Carefully measure this space before buying any lights. Remember the old saying: measure twice, cut once! In this case, measure twice buys once.
In addition, consider lighting placement. For instance, Light Bars and puck lights are thicker, which makes them ideal installed against the cabinet's back.
A Beautiful Kitchen Starts with the Right Cabinets
To make the most of your under cabinet lights, you first need to consider your kitchen cabinets. Under-cabinet lighting will emphasize the best parts of your kitchen, so you want to make sure your kitchen cabinets meet that standard. Check out our line-up of elegant, durable Cabinets that will take your kitchen design to the next level. For questions about our products, design advice, and where you can find Choice Cabinet dealers, don't hesitate to Contact Us Today!