What's Staying and What's Going for the Rest of 2019
By Ryan Horvath
Since we're halfway through 2019, it's time for a review of bath trends. I wrote a blog back in February about emerging bath trends for 2019. You can read that blog by clicking here. Bath trends tend to follow kitchen trends. Homeowners want their home to have a general theme. This week's blog is covering the mid-year review of bath trends.
Budget Your Bathroom


REVIEW OF BATH TRENDS: WHAT'S STAYING
Keeping It Timeless
Much like the kitchen, bath trends are leaning towards going timeless. White cabinetry has been popular. Gray cabinetry is gaining a following as well. I've been noticing more traditional Shaker style cabinets being installed in baths. There's also a relatively new style, transitional, trending. Transitional is the blending of traditional and modern styling. Our Choice Select® Fremont and Graphite are both examples of this styling. Check out our examples of a transitional vanity below. It's from our Residences at Halle project that our Multi-Unit division completed. Halle used Fremont for their bathrooms. Our friends over at Social Construction Company also used Fremont on their project.
Click on the image to enlarge.
Another bath trend is brown or espresso cabinetry. These colors help make a bold statement and bring a bathroom to life. They help a small space feel warm and cozy. A large space becomes your personal spa getaway. Our Multi-Unit Division supplied our Choice Essentials® Brentwood to the Statler Arms project. This vanity is simple elegance while creating a bold element.
Click on the image to enlarge.
Making the Most Out of Storage
Storage is key for any space and the bathroom is no exception. Homeowners are getting creative. They're installing wall inserts of cabinetry or shelving. Homeowners are finding storage for everyday items as well. Vanities are being modified to hide hairdryers, straighteners, and hairbrushes. The clean countertop look is in.
If you choose to have a floating vanity, consider adding some open shelving. This is the perfect spot for guest towels or to hide objects in baskets from guests. Open shelving can make a small space feel larger. It also adds flow to both a large and small space.
Decked Out in Art Deco
The Art Deco style is still trending. Art Deco is the beautiful 1920-1930's look that evokes simplicity and style. It creates symmetry using geometric shapes and hard lines. Herringbone tiling is another throwback making a comeback. It's a style that's both elegant and modern. Courtesy of BelTile, there's an example below.
Click on the image to enlarge.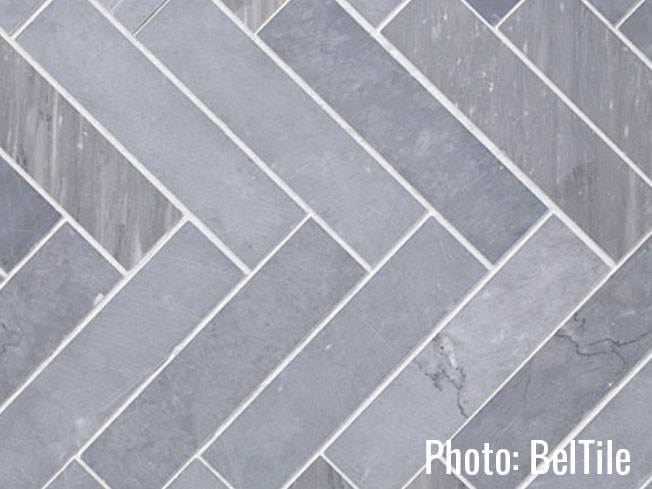 The Bathroom Meets the Jetsons
The bathroom is starting to become integrated with smart technology. Your bathroom mirror can be fully lit using LEDs. Some mirrors allow you to check your email, weather, or even watch ESPN while getting ready. No big surprise here, but these mirrors are pricey. Like any new technology, if you want awhile, the price should come down.
Your smartphone can one-in-all device for your bathroom. With Bluetooth technology, you can adjust the shower temperature. You can also blast your wake-up playlist through Bluetooth shower speakers. While we haven't gotten to the point of auto-drying, consider a heated towel rack. These are perfect for cold winter mornings.
REVIEW OF BATH TRENDS: WHAT'S GOING
Experts pegged brass as the "it" metal for 2019. Yet, I've been seeing a slight pullback from it. Designers are using it more in the bathroom than the kitchen though. In a smaller space, with the right cabinetry and wall colors. It works. I expect this trend to continue to decline. Homeowners are leaning towards the matte black look. It looks great in any sized space.
THE WRAP-UP
If a bathroom renovation is in your summer plans, consider some of these trends. Also, consider using neutral colors in your bath. Neutral colors have a calming effect and can brighten up a place. Designers follow the 70/20/10 rule. The rules breaks down like this:
70% of the room should be your lightest color
20% of the room should be your second lightest color
10% of the room should be your boldest color
To subscribe to the Choice Cabinet blog, please click on the button below!