Cabinet for Beginners: Everything  You've Always Wanted to Know About Renovating with Cabinets
What's the first thing that comes into your mind when you think of renovating your home? Most homeowners imagine a fresh coat of paint, brand-new furniture, or a grand rearrangement of the layout. For many interior designers, however, the cabinet is one of the most transformative elements in any home renovation.
Cabinets don't just organize your home and life. In essence, they can tie a theme together, provide a visual focal point, and elevate a room's ambiance.
However, choosing just the right cabinets can be an overwhelming task. With over 50 000 beautiful cabinets on-hand in our warehouse, it's almost impossible to choose only one!
That's why we've drawn up a guide to simplify your decision. Choice Cabinets discusses everything from cabinet terminology to styles and colors, hardware, and how to select the ideal Choice Cabinets for your renovation.
Know Your Cabinet Terms
Browse our Choice Cabinets website, and you'll see dozens of resources about cabinets. We have e-books, how-to guides, product descriptions – basically everything you need to know about cabinets! But when you don't understand what those different cabinet terms mean, we might as well be speaking gibberish.
So, we'll begin by getting you familiar with some essential cabinet vocabulary:
The Cabinet Box
This is the most prominent element of your cabinets. The cabinet box has three main parts: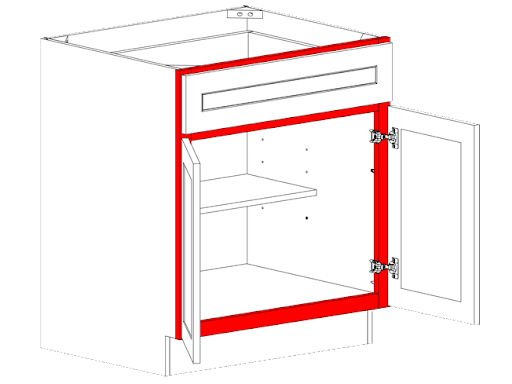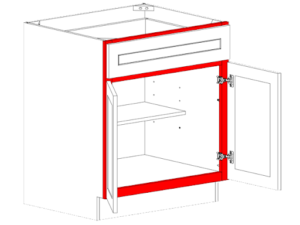 The face frame is where the doors are attached, and the primary source of stability. We construct our face frames using rails and stiles. You'll find precise grooves for the different panels to slide into.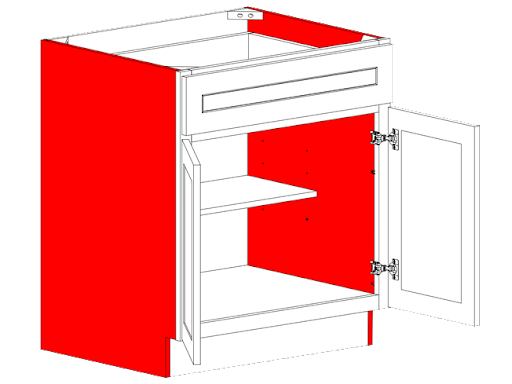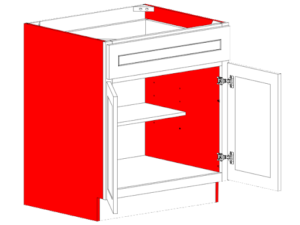 To make them easy to remember, think of end panels as the sides of the cabinet. Our craftsmen use pocket screw joinery to secure the end panels in place, so they're as sturdy as possible.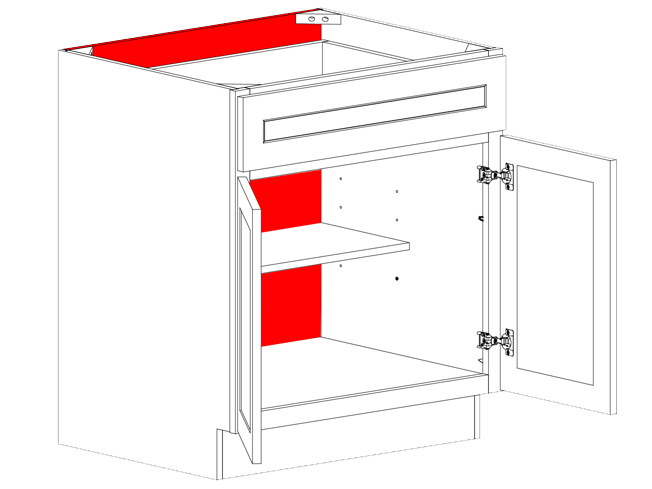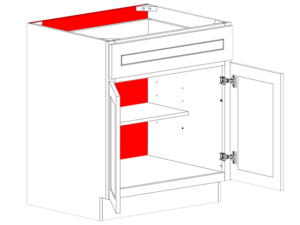 This is the back of the cabinet. You'll need to attach this piece to the wall during your renovation. To make sure your cabinets stay securely in place, no matter what happens, you also need to learn how to block them to the wall.
The Cabinet Drawers and Door Styles
The style of your cabinet doors and drawers will make a subtle yet profound impact on your remodel.
Overlays
Choice Cabinets offers two types of overlay: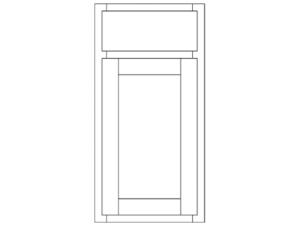 This style generally reveals one inch of the face frame. It's a fantastic choice if you want a visual break in your cabinet design. We showcase this overlay in our Choice Essentials line: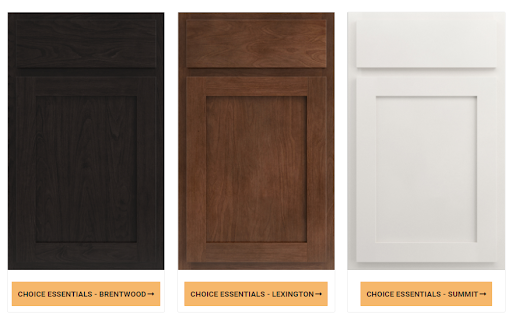 This style only reveals the face frame very slightly, which makes it excellent for minimalistic themes. If the full overlay style appeals to you, you'll love our Choice Select line: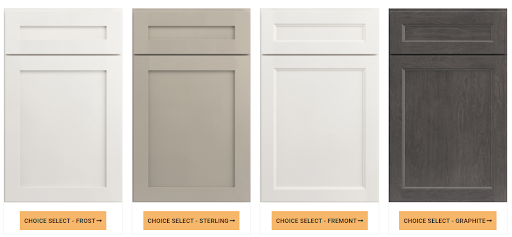 Panels
Panels dramatically change the aesthetics of a cabinet. The center panel is the flat or raised panels at the center of the cabinet door or drawer. On the other hand, the edge and panel profiles add decorative elements to the cabinet.
Toe Kick
You'll find the toe kick below our base cabinets. As the name implies, this part leaves room for your toes, so you don't hit them when you need to get real close to your cabinets.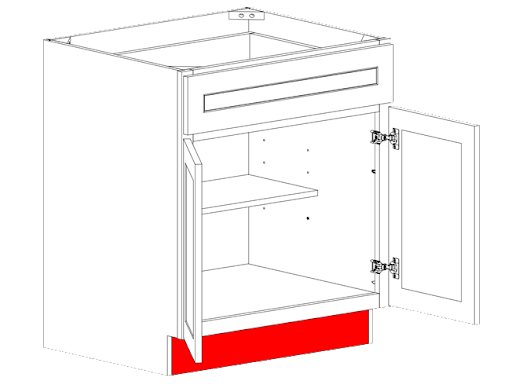 Stiles and Rail
The stile and rail hold the frames, drawers, and face frames securely together. They're the backbone of cabinets.
Now you're ready to discuss cabinets with the best of them! Got more questions about the parts of our cabinets and special elements like a glass door? Our cabinet specialists would be more than happy to guide you through our extensive cabinet collection, so feel free to reach out anytime.
Selecting the Perfect Color Palette for Your Choice Cabinets
Deciding on a cabinet color is one of the most important considerations for any remodel. To achieve your vision for your dream kitchen, bathroom, and other living spaces, considers these tips from our designers here at Choice Cabinets:
1. Consider the design style of your kitchen.
Classic kitchen cabinet colors, such as beige, cream, and white, go perfectly with traditional kitchen designs. On the other hand, contrasting and dark tones work so well for contemporary spaces.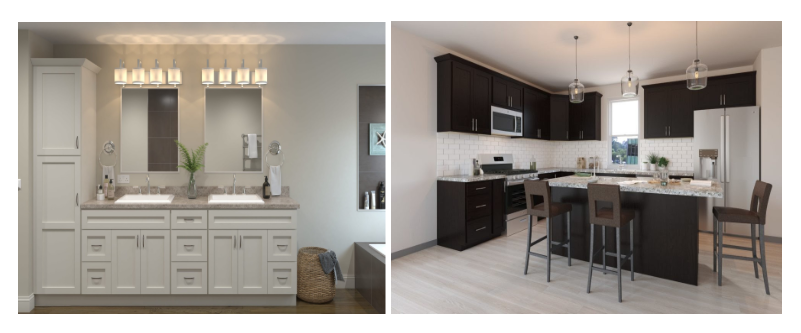 2. Factor in lighting and cabinet size.
Small kitchens generally don't receive too much natural light. Consider going with lighter colors to open up the area and create the illusion of space. Darker cabinet colors work better in larger spaces, as they add visual drama instead making the space feel cramped.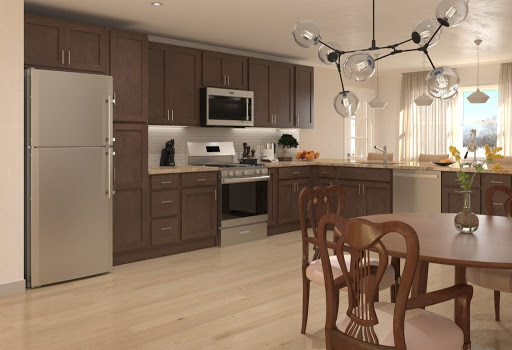 3. Think about your wall paint.
If you're only doing a partial remodel, select cabinet styles and colors that will complement the existing color palette. If you're doing a full renovation and still unsure what color you want on your walls, you can start by exploring different cabinet colors for inspiration.
4. Imagine the mood you want to create.
Cabinets take up a lot of visual space, and they can set the mood of a space. When choosing colors, make sure it fits your personality and style. Do you want to infuse your living room with a casual, welcoming vibe? Would you like to create a more formal tone for your kitchen? The mood you're going for will influence your choice of colors.
5. Browse galleries for color palette inspiration.
It can be hard to come up with the ideal palette on your own, so we encourage you to browse the Choice Cabinets Inspiration Gallery to help you choose the perfect colors for your wall cabinet, storage cabinet, kitchen cabinet, stock cabinets, and how to mix and match them all. 
Note the different color combinations we have there. Feel free to experiment with your own style– add pops of color where you want, combine shades, and create a unique palette that expresses your taste.
Want help straight from the cabinet experts? Choice Cabinets also offers design services to complement our cabinet line. We can help you come up with your dream color scheme and share ideas on how to fit your new cabinets in your home's overall interior design.
How to Maximize Your Space Using Cabinets
Not only should the right cabinets be beautiful, but they should also help you make you the most of your layout. Below are some tips:
Use wall cabinets and hanging cabinets to maximize vertical space.

If you need greater accessibility, consider drawers instead of doors for your base cabinets. 

Fully-assembled cabinets are great for traditional layouts, while custom cabinets can help you take advantage of uniquely-shaped spaces.
Invest in the Finest Cabinet Materials
A renovation gives you the opportunity to upgrade your living areas in every way. This includes the quality of your cabinets. As time goes by, your cabinets will have to bear a lot of weight. Through it all, you need cabinets that can stand natural wear and tear without fading its looks and function. 
When selecting cabinets for your remodel, look for:
Solid hardwood and furniture-grade plywood for the ultimate durability

Extra thick plywood shelves for strength and support

Dovetailed drawer boxes, not staples

Natural finish hardware interior that's free from melamine
It's hard to find all of these qualities in one cabinet, but we make it happen here at Choice Cabinets. Aside from the qualities above, all of our products undergo a 10-step finishing process and have passed KCMA and CARB2 certifications.
Renovate Like a Pro with Choice Cabinets
Choice Cabinets makes it easy to realize your dream space with elegant, high-quality cabinets built to stand the test of time. We make cabinet shopping convenient– browse through our complete collection online, or drop by our showroom at Cleveland, OH. Aside from cabinets, explore our wide range of furnishings, vanities, hardware, and accessories to find your style.
Once you've made your choice, we'll deliver your brand-new cabinets straight to your door. For questions and inquiries about our products, free shipping service, and more Contact Choice Cabinet through a call, visit, or e-mail today!