How to Choose Kitchen Islands That Match Your Kitchen Style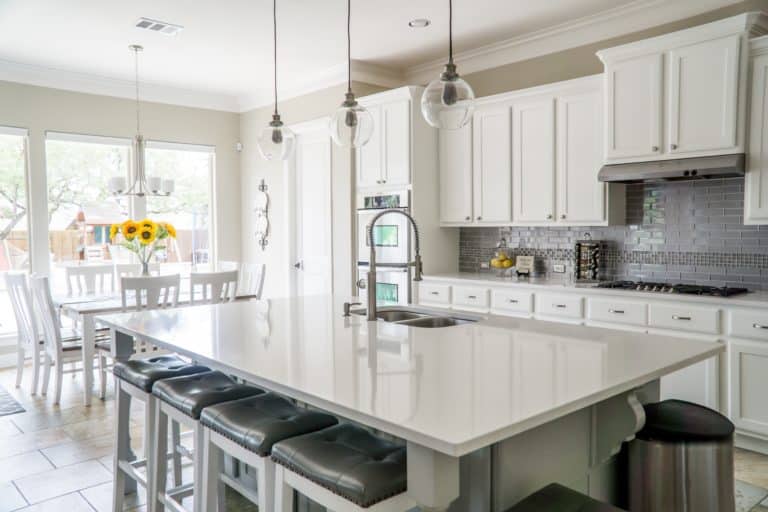 The kitchen island, also known as a peninsula, is the center of activity in many homes. It's where friends and family gather to eat, help with the cooking, or share a conversation. This central position makes kitchen islands a key feature and an excellent way to add personality to your kitchen design.
No matter your budget, renovating the island can dramatically improve the function and aesthetics of your space. A well-planned kitchen island creates a smooth workflow for cooking and preparing food, dining, and storage. On the flip side, a poorly-planned one will make your kitchen a frustrating place to be.
Considering a new kitchen island? We've created an easy-to-follow guide to help you get everything right. Learn how to choose a kitchen island, which type will work for your kitchen, plus kitchen island ideas for the perfect blend of beauty and function.
What is a kitchen island?
It's essentially a freestanding cabinet, usually located in the middle of the kitchen. Kitchen islands may be surrounded by kitchen bar stools for extra seating. It can also have its own sink and faucet.
However, the ultimate function of kitchen islands is storage. With drawers, shelves, and cabinets, it provides an efficient way to organize your ingredients and kitchen appliances.
How to Choose a Kitchen Island
When you think "kitchen island," what comes to your mind? It's probably a long and rectangular peninsula in the middle of the kitchen. While that's one of the most common choices, there's no one-size-fits-all when it comes to this kitchen feature. Follow this kitchen island shopping guide to help you choose the right one:
Customize it to your space.
Worried an island won't fit in your kitchen? There are many ways to make a kitchen island work, no matter the size of your space. You can customize elements like height, reduced depth, or add smaller cabinets that perfectly complement your kitchen.
Analyze your clearance zone.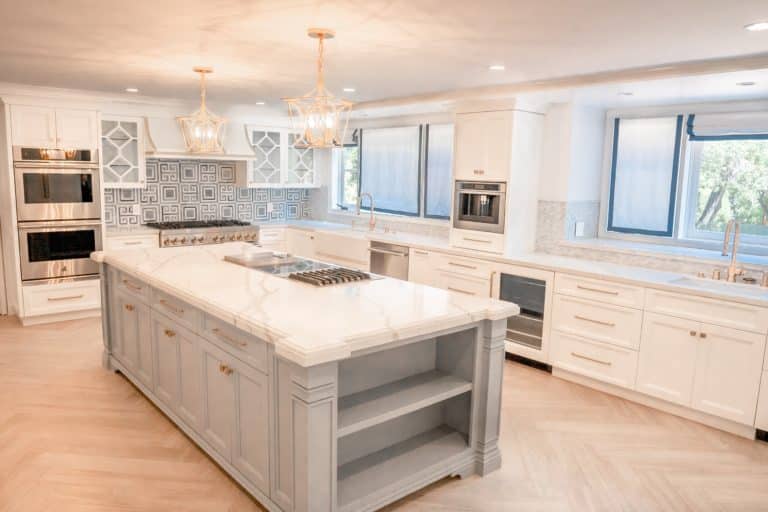 Next, consider the size of the room, how you use the space, and how many people live in the house. These factors will dictate the clearance zone you need.
The ideal clearance zone around your kitchen island is 1 meter (3 feet). This enables free movement throughout the area. Of course, this will still depend on how big your kitchen is, so discuss the exact measurement with your contractor, or adjust it yourself if you're doing DIY.
Prioritize safety.
Aside from traffic flow, proper clearance is also critical for safety. There should be enough space between the island and everything else in the kitchen so that you can open all ovens, drawers, dishwashers, and doors without obstruction. This reduces the risk of tripping, hitting things, and falling, which is particularly dangerous when you're holding hot food or sharp objects like knives.
Plan for a multifunctional kitchen island.
The ideal kitchen island is a multipurpose workstation. It should serve many purposes, such as storage, cooktop, extra seating, workspace, and wash station. Think carefully about how you plan to use the kitchen island so you can maximize it accordingly.
Types of Kitchen Islands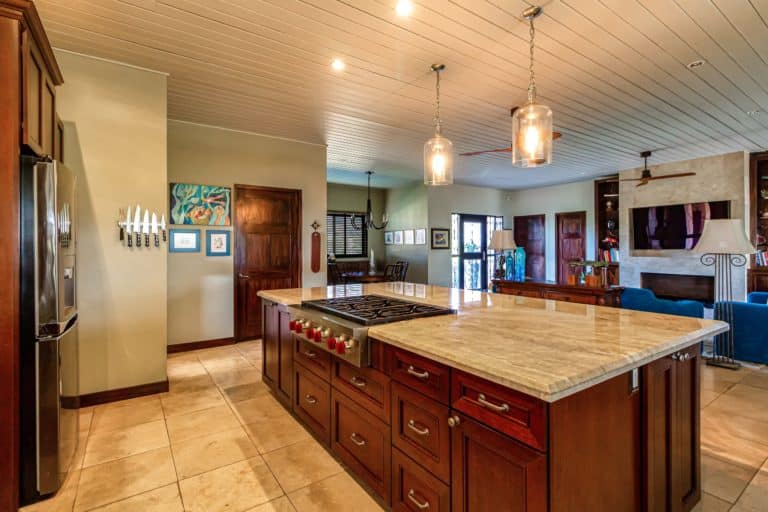 Now that you have a better idea of what to look for, it's time to explore your options. There are several types of kitchen islands that work for different layouts:
Extended Islands
This built-in island has both base storage and a deeply-extended top. The design allows for a large surface with plenty of room for seats facing each other instead of in one row.
Extra-Extended Islands
Extra-extended islands work really well for long and narrow kitchens. In this case, the island is extended in one direction instead of widening it. The top of the island is very long, but its function is divided in half— the base storage is just on one side instead of the entire length, and the other half is reserved for seats.
Bubble Islands
Got an open concept or square kitchen? A bubble-style kitchen island may be right for you. One side of the island is in the shape of a bubble or half circle. This leaves space for prepping and cooking, while also allowing people to sit at the bubble end for conversation and dining.
Perpendicular Extension Islands
This type involves a picnic-style dining area that's located against the back of the kitchen island. It's similar to the bubble-style island, just different in shape. It's a great choice if you have a lot of space right next to the kitchen to accommodate the extension.
Peninsula Extension Islands
If you don't have room for a conventional island, try a peninsula extension island instead. It's basically a dining peninsula touching the main counter instead of having a clearance zone on all sides. It can be a built-in extension with storage at dining or counter height.
The size and shape of your kitchen are the ultimate considerations for the type of island you're going to choose. However, consider how you use the kitchen as well. Do multiple people often cook at the same time? A long extra-extended island may not work even if you have a long and narrow kitchen. Our design specialists here at Choice Cabinet would love to help you find the ideal kitchen solution, so don't hesitate to call us at 855-378-2929.
How to Design Your Kitchen Island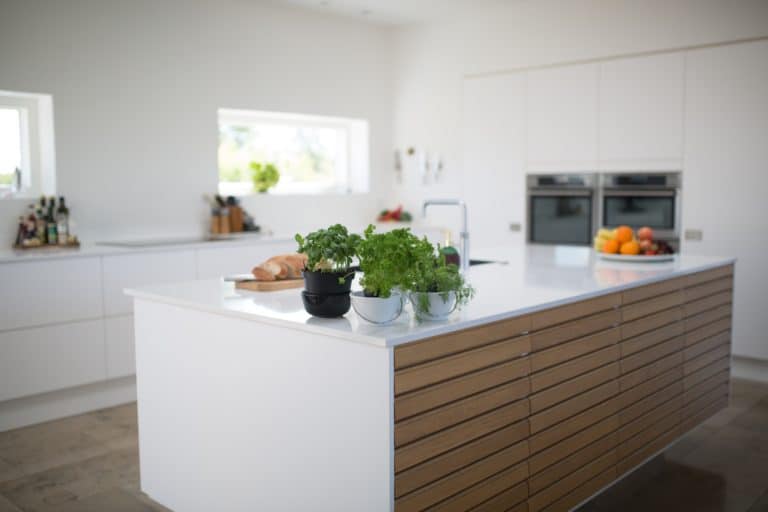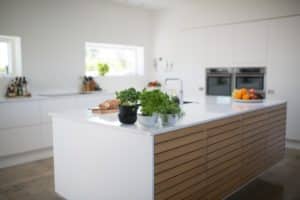 Here comes the most fun part— designing your kitchen island! The sheer number of  color, styles, materials, and décor can be overwhelming, so we've listed down a few tips you can use to create a kitchen island shortlist:
Select a color that complements your kitchen design

Use mirrored fronts for your kitchen island to create the illusion of space

Match the kitchen island faces to the flooring material to visually lighten the area; if you have wood flooring, for instance, consider wrapping the island in wood or wood laminate to match

Apply classic wainscoting to soften a bulky kitchen island; works for contemporary, transitional, and traditional kitchen styles

Embellish the face and corners of your kitchen island with molding to infuse a sense of elegance

Light up the underside of the counter with LED lighting strips or hand pendant lights above the island for a modern, bright twist to your kitchen

Upgrade the hardware to make a massive impact; for instance, consider gold-toned or brass handles to add a sophisticated touch.
Explore Beautiful and Long-Lasting Kitchen Island Cabinets
Make your kitchen island one of the best parts of your home with Choice Cabinet. Our designers are ready to help you find the perfect match between kitchen cabinets and kitchen islands to make the most of your kitchen. You can start now: explore the possibilities with our Kitchen Cabinets, Decorative Hardware, and Storage Solutions and Accessories! Once you're ready for the next step, Contact Us, and let's talk about your kitchen remodel.