How You Can Protect Your Cabinets from Low Temps and Humidity
By Ryan Horvath
When you think of winter, do you think about your cabinets? Chances are not. Freezing temps and back-breaking shoveling is more associated with winter than cabinets. But it shouldn't be. The damaging effects of winter are low humidity and temperatures. Low humidity combined with freezing temperatures can cause damage to your wooden cabinets.
Clean and Protect Your Cabinets

Wood is a living element. It breathes in our carbon dioxide and takes water and nutrients from the soil. Mineral streaks, grain, knots, and other characteristics develop as the wood grows. At Choice Cabinet, we hand select our hardwoods to reduce these characteristics. Below is an example of mineral streaks.
Click on image to enlarge.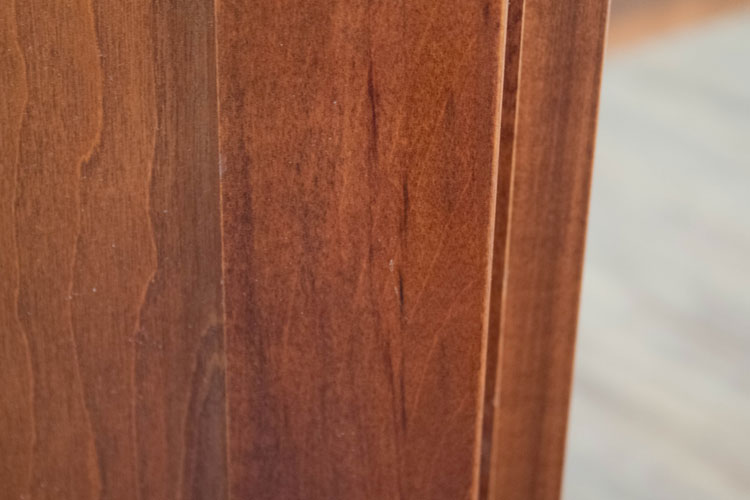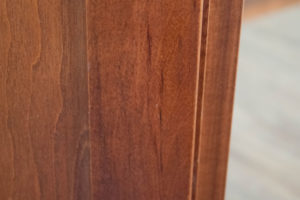 PROTECTING YOUR INVESTMENT
As your furnace runs in the winter, it can dry out your air. When this happens, the humidity levels drop in your house. Low humidity levels can actually pull moisture out of your wooden cabinets. This can lead to your doors shrinking. Evidence of shrinkage occurs near the joint lines of wooden cabinets. As the wood shrinks, cracks appear at the joint lines. This is more of an aesthetic issue than a structural issue. Even though wood shrinks, it does not affect the structural integrity of the door. An example of a cracked joint line is below.
Click on image to enlarge.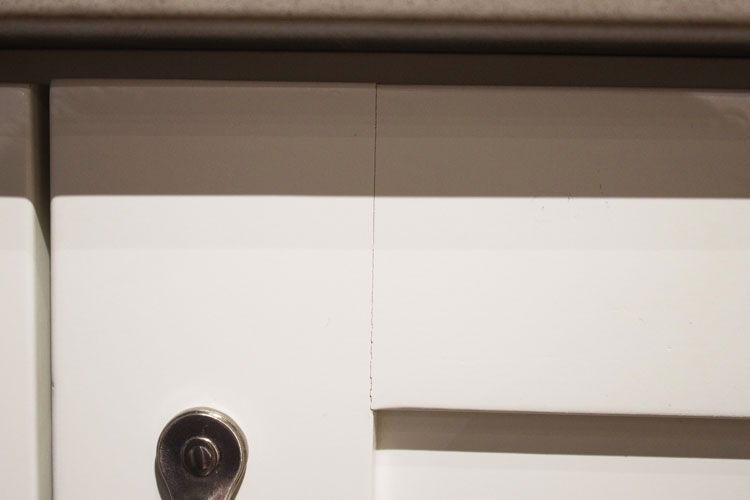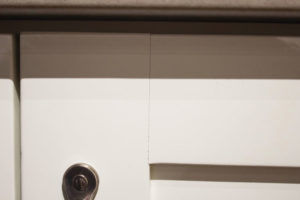 If you happen to notice the cracking at the joint line, the easy fix is a wax fill stick. These wax fill sticks can fill in gaps that may appear. They also allow the wood to bounce back once the humidity levels rise.
Low humidity can also cause gaps between the center panel and door frame. If you're noticing this, your home is at dangerous low humidity levels. Consider buying a whole house humidifier or at least a standalone humidifier. By raising the humidity levels, the gaps should disappear. The doors should also return to their normal shape and size.
You may have noticed that your doors shifted when they shrunk. You can fix this by adjusting your hinges using a level and screwdriver. At Choice Cabinet, all our cabinets feature 6-way adjustable hinges.
THE WRAP-UP
It's recommended that you keep your humidity levels between 40 and 50% to avoid these damaging issues. You should also keep the temperature in your house between 68 and 72 degrees. If you notice a large amount of condensation on your windows, your humidity level is too high. Adjust the humidity level by lowering your temperature and humidity. By looking out for these precautions, you'll be able to protect your cabinets from the damaging effects of winter.
To subscribe to the Choice Cabinet blog, please click on the button below. Thank you!