Shaker cabinets are known for their square edges or box-shaped appearance. Think of a wood slab in the shape of a rectangle and within that box, imagine another square-shaped box, but slightly smaller. The overall appearance of shaker-style cabinets is that of a four-cornered cabinet frame but with an inset panel.
Shaker kitchen cabinets generally have straight lines and their curves are usually gentle. The crafting process of shaker-style cabinets is slightly different from traditional kitchen cabinets and they are comprised of five pieces which include: two rails, two stiles, and a center panel.
History of shaker furniture and kitchen cabinets
Shaker cabinets have always had a rich and intriguing history stemming far back to the time of their origin. The terms shaker cabinets and shaker-style doors were coined by the United Society of Believers in Christ's Second Appearing—also referred to as 'Shakers' at the time.
The Shakers was an association created in Manchester in the United Kingdom. They were once a part of the 'Shaking quakers' religious group until they broke away and started off independently.
In the year 1780, the shaker community immigrated to the United States of America, where they became popular for their technological innovations, architectural knowledge, and exceptional furniture-making skills.
Over time, their community began to spread across England, where they also manufactured their quality handcrafted shaker furniture, one of which is now popularly used in modern kitchens and referred to as shaker cabinets.
Features of shaker cabinets
The best thing about shaker cabinets and the reason they are preferred by many homeowners is their timeless design which fits seamlessly with any surrounding furniture and kitchen design.
They are considered timeless in the sense that it's going to take a while before you have to start thinking about another kitchen remodel, due to their remarkable quality and designs. It is, however, one thing to know all the features of a kind of cabinet but it is another thing to know if the cabinet is of a high grade. Check out this guide for both homeowners and dealers on How To Choose The Best Kitchen Cabinet
Below are the features and some other things you should know about shaker cabinets:
1. Simplicity
The elegant and timeless style of shaker cabinets is both simple and unique. You can tell them apart from regular cabinets by their light finishes, recessed center panel, and inset doors.
2. Top-class craftsmanship
Shaker cabinets are a mirror image of the originally designed furniture crafted back in the day by the skilled craftsmen once referred to as shakers.
Shaker kitchen cabinets usually have beveled edges, a typical shaker style door, and drawers that can either be inset, full overlay, or partial overlay.
3. Solid hardwood composition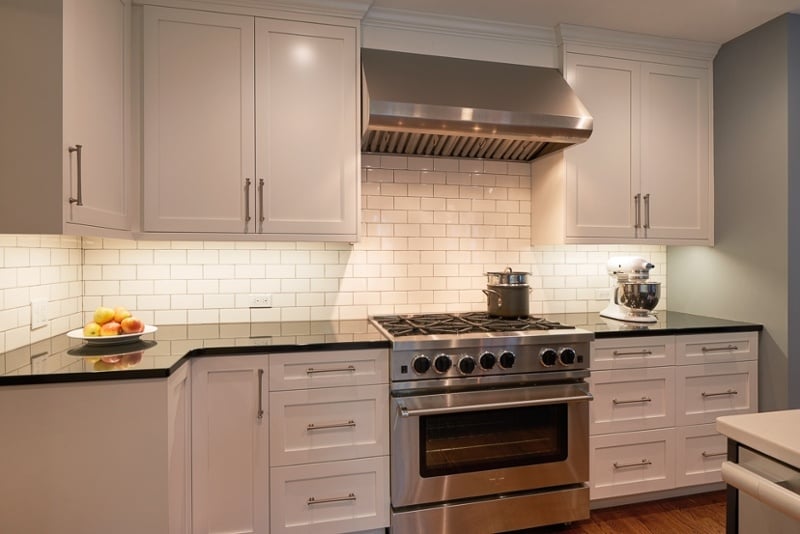 The majority of shaker-style cabinets are manufactured with high-quality materials such as hardwood. Some of these cabinets have shaker doors that feature solid wood or plywood. Lastly, these cabinet boxes are generally complimented with natural and light stain finishes ideal for modern styles or even a farmhouse style.
Shaker cabinet styles
The possibilities are near-infinite when working with shaker cabinets. The core characteristics of shaker-style cabinets are practicability, dialed down charm, and elegance which is why they look so amazing in cool or extravagant kitchen settings. The laid-back appeal and stability of these cabinets are why they're able to transform any kitchen into a chic and classy spot.
There are many shaker cabinet colors you can decide to go with, from – black shaker cabinets, white shaker cabinets, and gray shaker cabinets down to maple shaker kitchen cabinets. Right from the introduction of this cabinet style, there have been countless variations of the original look which was incredibly popular during the 1800s.
Nowadays, shaker cabinets can easily be compartmentalized into different sections using mid-rails, muntins, and pieces commonly referred to as mid-stiles.
Shaker cabinet finishes
When working with shaker-style cabinets, always keep in mind that repetition is key. Ensure that the shelves, drawers, and cabinets look alike, you should also make sure that they stay clean and orderly for a more put-together look.
A typical Shaker-style kitchen cabinet should have squared-off rails and a flat center panel. This minimalistic detail goes a long way in a kitchen's overall appearance, it can also add a little twist to a traditional style kitchen with a simple construction.
Shaker cabinets come in many styles and designs, here's a list of finishes you can use to improve their quality and perk up their appearance.
1. Painted finishing
Using paint on cabinets gives them a sharp and exquisite appearance. It also allows them to retain their squared and recessed edges, making them seem more intrinsic.
The type of paint used on the cabinets will also affect the appearance of the cabinets, for instance, you might notice specific patterns on the cabinet or it might have a smooth, sleek surface which will prevent it from contracting and expanding over time.
2. Burnished finishing
This process is usually carried out when the shaker cabinets have already been painted. Cabinets are usually burnished to give them a sort of aged appearance. The cabinets must first of all be distressed before being sanded, after this the burnishing can then be applied to their surfaces.
While it might seem like a straightforward procedure, it's a little more complex than painting, which means you'll have to give it proper consideration before deciding to undertake the process. If you have no prior experience with tasks like this or feel out of your depth, consider talking to an expert for some advice or better still hire them for the job.
Using this finish pays off in the sense that it gives shaker-style kitchen cabinets a modern edge and it also makes wood fixtures appear shinier and more attractive. Burnished finishing is one of the most frequently used finishes because it's not composed of too many chemicals, in other words, it's super safe on cabinet surfaces
3. Thermofoil finishing
This finishing is also referred to as vinyl wrap, and its primary purpose is to enhance the durability of shaker cabinets. Normally, the thermofoil finishing is applied to the medium dense areas of the cabinet by high-temperature heating and intense pressure.
When carrying out this procedure, special care must be taken around the area where the rails meet the panels and at the position where the stile is located.
If you'll be handling the finishing process personally, note that if you're using a machine it won't reach into the corners of the cabinet fully. This means that it will only angle around the edges of the stile and rail.
4. Polyurethane Finishing
This type of finishing is popularly used on shaker-style kitchen cabinets and mission cabinets because it brings out a rustic and earthy feel befitting of shaker kitchens.
The matte minimalist look of this cabinet finish enhances the appearance of all solid wood frames, portraying both a modern look as well as a traditional look in modern designs.
Classes of shaker cabinets
The following are examples of shaker style cabinets;
1. Modern shaker cabinets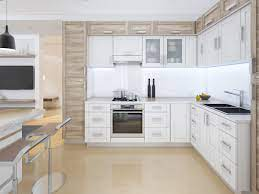 Modern shaker cabinets have an innate ability to keep a kitchen looking clean and uncluttered. The doors don't feature any excessive designs and their finishings do an amazing job of adding warmth to any kitchen space, plus they'll give you a chance to fully optimize any color scheme you decide on for your kitchen.
Modern shaker cabinet designs offer plenty of room for creativity and can be matched with all kinds of countertop materials and flooring.
These cabinets are all the rage this season and one might argue that this is due to their clean lines and simplistic designs which kitchens can be accessorized to the fullest extent.
2. Transitional shaker cabinets
When discussing kitchen designs, the word transitional is mostly subjective. These days, the majority of interior designers are more interested in transitional styles, transitional cabinets, and transitional kitchen designs.
This simply means that modern-day kitchen designs are leaning towards a blend of traditional styles and contemporary design elements, but in a manner that doesn't appear too multifarious. A great example of such designs is a combination of black and white shaker cabinets, with the incorporation of other natural textures on other elements of the kitchen to give it a modernized look.
The other reason why this transitional design is as popular as it is today is that it can just as easily be converted into another look entirely just by switching up any minor aspect of the design, for instance – the type of flooring, or by changing the color of the cabinets.
Transitional Shaker cabinets are quite interesting in the sense that they are a blend of retro and modern in one package and they look incredible in any kitchen.
Option for transitional shaker cabinets isn't just a way to add depth to your kitchen, it will also allow you to switch up your decor however and whenever you like.
FAQs
How to identify quality shaker cabinet doors
Shaker-style cabinets are easily recognizable by their plain vertical and horizontal edges. They also have square rails and flat panels. If you take a close look at the cross-section of an authentic shaker cabinet door, you'll notice an unmistakable flat panel surrounded by raised styles at the center of the door.
The traits and characteristics of shaker cabinets are distinctively classic and simple and will certainly make an impression wherever they are installed. While they aren't over the top in terms of design, they make up for this with their timeless sophisticated visuals, which is the reason they are commonly used in the bathrooms and kitchens of contemporary homes.
Is there any difference between regular cabinets and shaker cabinets?
The designs of shaker cabinets are quite simple. They also have center panels and each features an overlay around its edges. The major distinction between them and regular cabinets is that their panels and edges are minimalistic in design.
Are shaker cabinets made with real wood?
Shaker cabinets are a special type of cabinetry produced specifically with solid hardwood. These cabinets also feature recessed center panels which help to improve dimension and depth. Since shaker cabinets are generally made with solid wood, their level of stability, durability, and quality far exceed other regular kinds of cabinets.
Is white shaker cabinetry still in style?
White shaker cabinets don't seem to be going out of style anytime soon. When choosing cabinets of this variety, always aim for a few color burst options with simple design elements for a classy and sophisticated kitchen.
Are shakers durable?
Quality shaker cabinets are capable of lasting for up to 35 years. While this might seem like an extremely long period, remember that cabinets are considered the longest-lasting components of a kitchen.
Final words
The shaker design has different variations and has been in existence for a substantial amount of time. Since their introduction and widespread popularity in the 1800s, these cabinets have solidified their position as one of the top-tier home furnishing staples.
They fit seamlessly with any kitchen style or decor and make a splendid choice for homeowners hoping to increase their home value.
Do you want to sell Choice Cabinet and become one of our profitable dealers? Send us a message today and we will set you up with the best cabinets at unbeatable wholesale prices