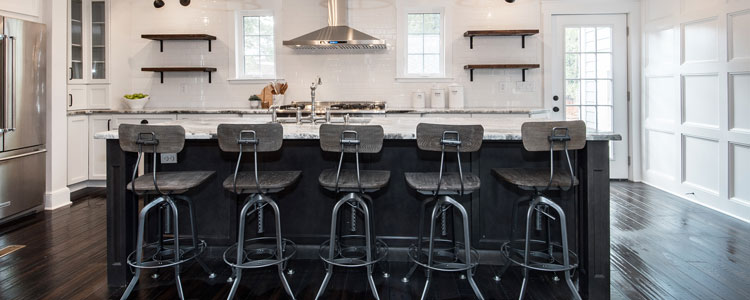 5 Awesome Kitchen Island Trends
By Ryan Horvath
The summer heat has us thinking about islands…. kitchen islands that is. The kitchen island is a great area where the creative and the dramatic combine. Use them for food prep and meals, an entertainment spot, or the place for your buffet line. We've compiled a list of five awesome kitchen island trends and ideas.
Can You Afford that Designer Island?


Express Yourself
You can design a unique kitchen island using a variety of materials. Using reclaimed wood, shiplap, or beadboard is a trend that has been around. This is a great trend for those looking to create a homey or stylish look to their kitchen island. Create a dynamic island by painting the shiplap or beadboard.
For those who like to think outside-the-box, consider the following options:
Tile
Wallpaper
Laser-cut metal
The tile industry stepped up their game with unique patterns and designs. Consider adding tile to the back of the kitchen island. The same can go for wallpaper. Now, take a deep breath. This isn't your grandparents' wallpaper. Wallpaper has reinvented itself with bold patterns, design, and even texture. If you love the industrial look, consider having a laser-cut metal insert as your focal point. Design a geometric backdrop or the skyline of your hometown. Add some backlights to whatever you come up with to make a bold statement.
Take a Seat
Another trend is different height islands. Your island splits in to two different heights. The shorter island would be for your food prep area, sink, dishwasher, or cooktop. The taller island would be for dining. Another trend is re-emergence of the kitchen table with banquette/bench seating. Attached the bench to the back of the island. If you have the space, consider installing dual islands. One is for meal prep and the other for eating. Both the bench seating and dual islands are great ideas for an open concept kitchen.
Everything in Its Place
Storage eats up most of the real-estate in your kitchen. Use the island to expand your storage opportunities. Consider concealed storage for lesser used dishes or even concealed columns for cookbooks. Turn the back of your island into a wine lover's paradise with wine racks. Turn it into bookshelves for your favorite bookworm. Consider extra drawers as well as pullout and vegetable storage. Design one of the corners to house all your electronics and chargers.
Laying it All Out
When you think of a kitchen island, a simple rectangle-shaped island comes to mind. But this doesn't have to be the case. Kitchen islands are being designed in all shapes and sizes, from the small to the supersized. L-shaped or t-shaped islands are starting to become popular as well. But, since these islands are large, they're better off in an open concept kitchen.
In considering an island, factor in the amount of counter overhang you want and where you want it. Place your bar stools under the overhang. For a small family, you may be able to get by with a small overhang at the end of the island. For a larger family, consider having the overhang run the length of the island.
Extra Ideas
Make your kitchen island fit your lifestyle. Consider installing a hidden ice-maker or a trash-pullout under your pullout cutting board. If you love to cook or bake, roll-out carts are a terrific way to add some extra footage to your counter space. You can store the carts under the island. If you have little ones that like to be in the kitchen with you, turn the back of your island into a play area. Behind the door, you can have a grease board, magnets, and other toys to keep their attention and out of your way.
Consider using a contrasting color for your island's cabinets. Contrast between your perimeter cabinets and island becomes attention grabbing and dynamic. Check out our gallery for some examples.
Your countertops can also make a statement. One of the latest trends has been waterfall countertops. Stone, wood, epoxy, or a combination there of make up these countertops.
The Wrap-Up
All these trends are great ideas, but some of them might not work for you. Take in to consideration whether you're in your "forever" home. If you're planning on selling your home in the next five years, keep it simple and think about the resale value. Your personal preference might be a turn-off to a potential buyer. For more renovation tips, check out our "10 Tips for Your Kitchen Renovation" blog!
To subscribe to the Choice Cabinet blog, please click on the button below. Thank you!