Everything You Need to Know About Styling Medicine Cabinets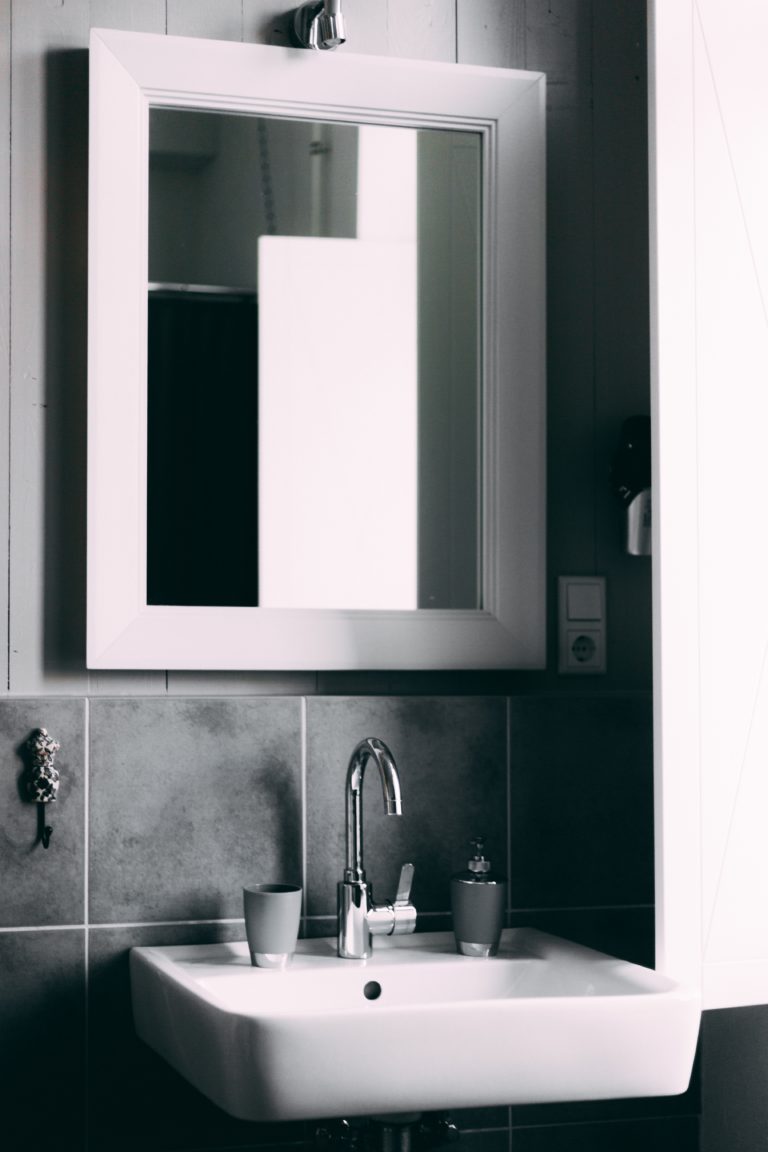 More than a storage place for toothpaste and aspirin, medicine cabinets greet us in the mirror every morning and are one of the last things we see before we go to bed. It's essential for most of our everyday needs and every bathroom should have it.
Is your medicine cabinet a bit neglected? Don't worry, you're not alone. Many people think that as long as nobody sees what's inside, there's no need to spend too much time thinking about the medicine cabinet. At the very least, you and your family interact with it often.  You might be surprised at what a beautiful difference some thoughtful design touches can make.
On top of that, you have way more control over your medicine cabinet itself than you might think. There's no need to settle for the one that came with the house, especially with a world of options available out there. In fact, choosing a cabinet that truly fits the look and feel of the bathroom can completely spruce up the space.
In this post, Choice Cabinet turns the spotlight on the humble medicine cabinet. Discover how to turn yours from an afterthought to one of the most attractive parts of the bathroom!
What are medicine cabinets?
These are the shallow cabinets that generally hang on bathroom walls. Different styles and sizes exist to fit any design preferences. You'll find them in hardware stores and home improvement centers, and you can also have them customized. The classic version of medicine cabinets has glass shelves, white metal interiors, and a mirrored door.
Their primary function is right there in the name— these cabinets typically hold medicine bottles. They can also be used to store facial wash, cotton buds, and other toiletries. Since it has a mirror, they're usually placed above the sink.
Benefits of Medicine Cabinets
There's always been some debate about the relevance of medicine cabinets. Some designers think that the days of medicine cabinets have passed, and they've been rendered redundant by multi-purpose bathroom cabinets. But one look at their pros can change your mind:
You Get More Storage
Let's start with one of the most important ways that a medicine cabinet brings to the bathroom. Adding one automatically gives you more storage space. Hide toothpaste, toothbrushes, floss, small mouthwash bottles, and medications you take. Need more precision for grooming activities like putting on your make-up and shaving? Not only do you have a convenient place to store items, but you also get another mirror for a better look.
You've Got Tons of Design Options
Believe it or not, you can actually make a style statement with your utilitarian cabinet. For instance, some popular styles are recessed cabinets and wall-mounted cabinets. You can spruce them up in several ways, such as adding some backlighting, choosing different paint colors and cabinet styles, and more.
You Get Greater Functionality
Just like your kitchen, you also need sturdy and reliable cabinets in the bathroom. It's one of the most highly-used rooms in your home, and without proper storage, it can quickly become cluttered and unsightly.
Medicine cabinets are the perfect place to keep those small items that you need every day, but would rather not have out in the open. This also frees up more space in your base shelves where you can store larger toiletries and cleaning supplies.
You Can Enjoy More Aesthetic Appeal
The overall vibe of your bathroom can influence the rest of your day. A clean, efficient space means you don't have to waste time trying to find what you need amidst all the mess. A beautiful bathroom is calm, relaxing, and can contribute to the entire ambiance of the home.
An attractive medicine cabinet can really put together the entire bathroom design. Because it's so small, it can fit into most bathroom types such as basement bathrooms, guest bath, or master bath. Don't have the budget or time for a full bathroom makeover? Start with your medicine cabinet to make a big aesthetic splash without too much effort.
Types of Medicine Cabinets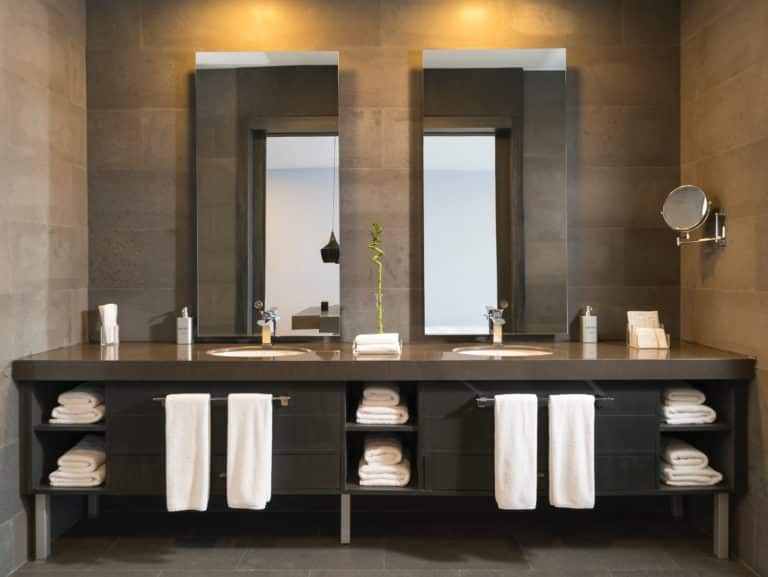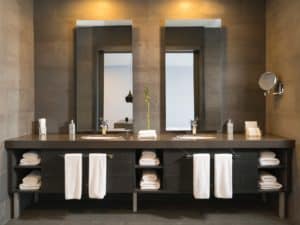 There are two main types of medicine cabinets – surface mount and recessed cabinets. Both of them are excellent choices, and it ultimately depends on what functionality and looks you want. Let's take a look:
Surface Mount Cabinets
Also known as the wall-mounted, surface mount cabinets don't require digging out the wall. Just as the name implies, they're simply mounted on your bathroom wall. This makes them a fantastic DIY project if you're the handy type.
Because they're easy to install yourself, you can do the installation as a standalone project if you want to give the space a bit of a facelift. You can also do it after bathroom renovation as a way to cut labor costs. It will take less than two hours to complete the entire thing.
Surface mount cabinets also provide plenty of bathroom storage space. Since it extends out, you get more room to keep all your products and medication.
If you're interested in this style, do consider the layout and size of your bathroom. Since it juts out, it does consume a bit of space which you may not have. It's very visible, and this can be overwhelming if you have a very small bathroom. In such cases, a recessed medicine cabinet can be the better option.
Recessed Mount Medicine Cabinets
Recessed mount medicine cabinets are popular for their built-in design and less storage space than the wall-mount type. For many people, this combination makes for an elegant and aesthetically pleasing medicine cabinet.
Instead of sticking out the wall, the recessed cabinet blends in. However, it does require more extensive planning than surface mounted medicine cabinets. One reason is that you may have to dig out a section of the wall to fit the cabinet. You also have to make sure that the cabinet design blends perfectly with the aesthetic and architecture of your bathroom.
Unlike surface mounted cabinets, installing a recessed cabinet takes more planning. Factor it into your bathroom renovation before you begin, since you may also have to work around existing wires and piping.
Popular Medicine Cabinet Styles
Once you have decided whether you want a surface-mounted cabinet or a recessed one, it's time to pick out a style:
Mirrored Medicine Cabinets
Framed Medicine Cabinets
Aluminum Medicine Cabinets
Wood Medicine Cabinets
Plastic Medicine Cabinets
Stainless Steel Medicine Cabinets
Frameless Medicine Cabinets
Custom Medicine Cabinets
Vintage Medicine Cabinets
Ultimately, the choice will depend on what you need. Going for a minimalist aesthetic? Frameless cabinets will help you execute this look. Wood medicine cabinets are ideal for rustic homes. If you have a tiny bathroom with glass shower enclosures, mirrored medicine cabinets will visually open up space.
Not sure which style will complement your bathroom? Feel free to call our design experts here at Choice Cabinet, and we'd love to walk you through your options. In the meantime, check out our Inspiration Gallery for ideas!
Styling Tips for Your Medicine Cabinets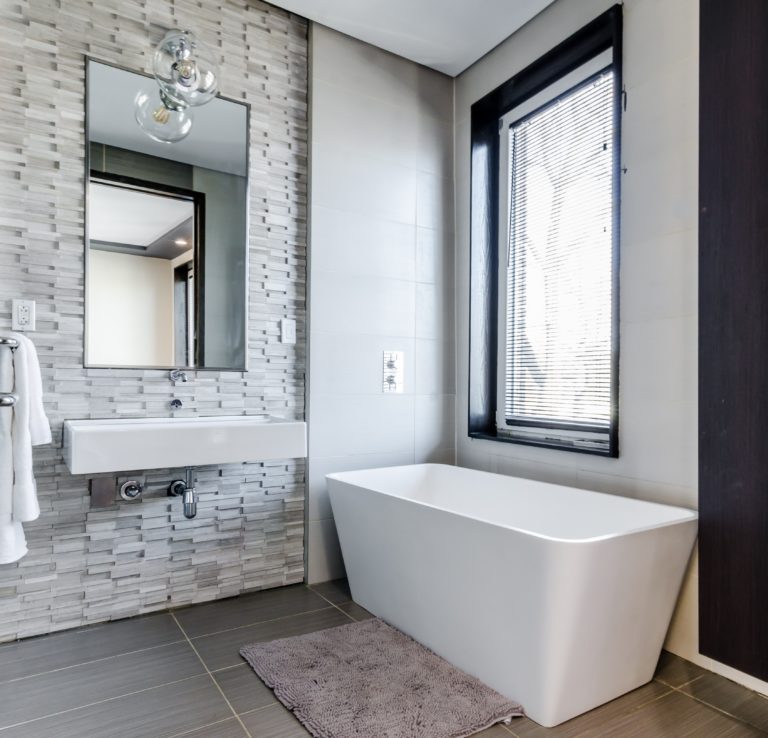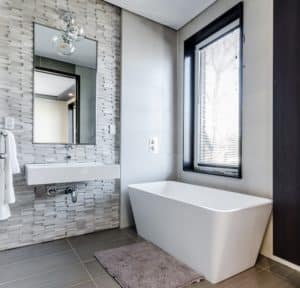 Just because a mirrored cabinet is functional doesn't mean it has to be drab and Spartan. With a few decorative touches, you can turn it into an eye-catching element of your bathroom. Get inspiration from the following styling tips:
Install an interior mirror
Take a cue from the market's most luxe models— install an interior mirror inside your cabinet. The look is sleek, sophisticated, and easy to DIY.
Add Light Fixtures
Lighting is one of the most effective ways to put your medicine cabinet center stage. Consider installing wall sconces or backlight to surround your medicine cabinet with a warm ambiance.
Add hardware
The details can make or break any aesthetic, and it's true even for medicine cabinets. Replacing an old knob with a metallic one can really take this wall fixture to a whole new level.
Frame it with artwork
Draw attention to your beautiful medicine cabinet while adding a pop of color to your bathroom with the help of paintings. You can use two of them to frame the cabinet or use it to cover the door of a recessed cabinet.
Turn Your Bathroom into a Space You Love with Choice Cabinet
How does your bathroom make you feel? If it's anything but relaxed and energized, it's time to upgrade the space. No need for an expensive, full renovation either— you can make a big splash with the right bathroom cabinets.
Aside from providing gorgeous and masterfully-built Kitchen Cabinets all over the country, we also have amazing Bathroom Vanity options and Decorative Hardware perfect for any bathroom makeover. Our design experts are ready to help – contact Choice Cabinet today!