Discover the Timeless Beauty of Shaker Cabinets for Your Kitchen Remodel
Kitchens require a more robust blend of style and function than the average room. It's not enough for each element to just look good. Everything should be tough enough to handle all the prepping, cooking, bonding, and sharing meals that happen all day, every day inside kitchens.
If you're planning on renovating your kitchen, pay close attention to your cabinet choice. Kitchen cabinets are one of the most heavily-used furniture in this space. To achieve that ideal blend of function and aesthetics, many designers recommend Shaker cabinets for their timeless, pure beauty and tremendous durability.
Even if you're not familiar with the term "Shaker cabinet," there's a high chance you've seen this ultra-popular style already. You'll find it in millions of homes, rentals, and establishments across the US and around the world. No wonder it's one of our best-selling styles here at Choice Cabinets!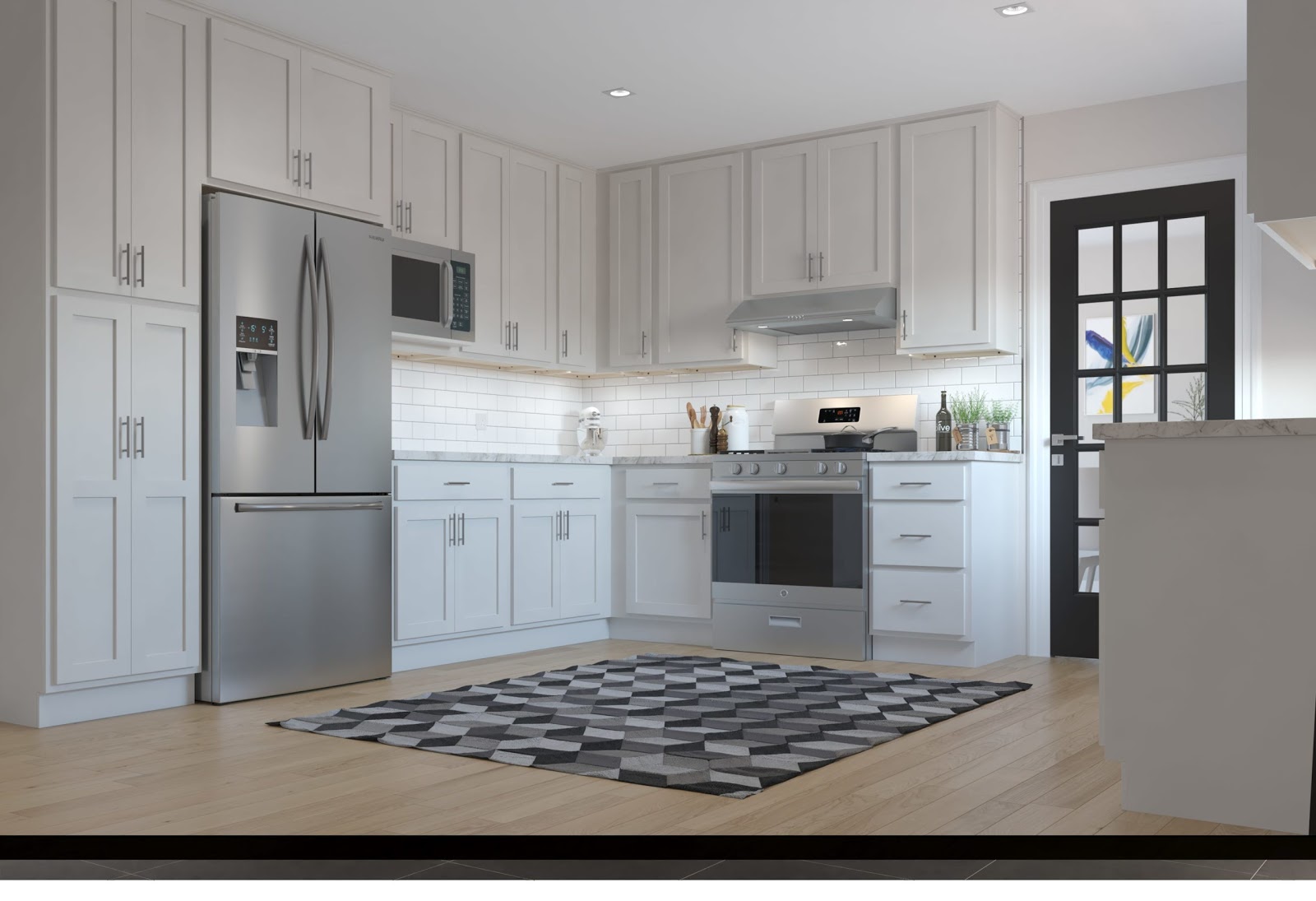 Your kitchen remodel is the perfect time to discover why the design world absolutely loves Shaker style cabinets. It's everything you want in a piece of furniture – versatile, durable, and with a beauty that won't fade with time.
Choice Cabinets dives deep into what makes Shaker cabinets such a standout selection for any kitchen. To help you with your remodel, we'll also share tips on how to use it for different types of kitchen designs!
What are Shaker cabinets?
The original creators of the Shaker cabinet style are the United Society of Believers in Christ's Second Appearing, aka Shakers. This religious sect upholds the principles of honesty, utility, and simplicity. Those principles guide their furniture-making style, which is famous for being well-made pieces with a minimalist aesthetic.
What Shaker cabinets lack in intricate patterns and decoration, they make up for with clean lines and fantastic symmetry. This has proven to be a winning formula as Shaker-style cabinets continue to be one of the top cabinet door styles since the Shakers started producing it since the 18th century.
Key Features of Shaker Cabinets
The features of Shaker cabinets reflect the Shakers' unwavering dedication to functionality and simplicity. The defining characteristics of this style are:
The use of a minimum amount of cabinetry materials

Using the highest quality hardwoods such as chestnut, birch, ash, oak, and maple

Five-piece drawers or doors

Basic hardware

Absence of flair

Flat, recessed panels

Natural finishes or light stains

Squared edges and straight, clean lines

Moderate proportions
These basic features set the Shaker design apart from other cabinet styles. However, as more people fell in love with these cabinets, it eventually evolved from its Spartan roots to modern versions that many are now familiar with.
The Evolution of Shaker Cabinets
The understated, honest design of Shaker cabinets, especially Shaker cabinet doors, inspired designers to infuse their own style into the basic design. Those solid wood frames, paneled doors, and dovetailed elements are still staples in contemporary kitchens.
Still, you can now find Shaker-style cabinets that boast bespoke designs and a wide range of colors. At Choice Cabinets, we bring our Shaker kitchen cabinets to life with everything from neutral hues to dark palettes that fit most kitchen color themes.
Why Shaker Cabinets Work So Well for Kitchens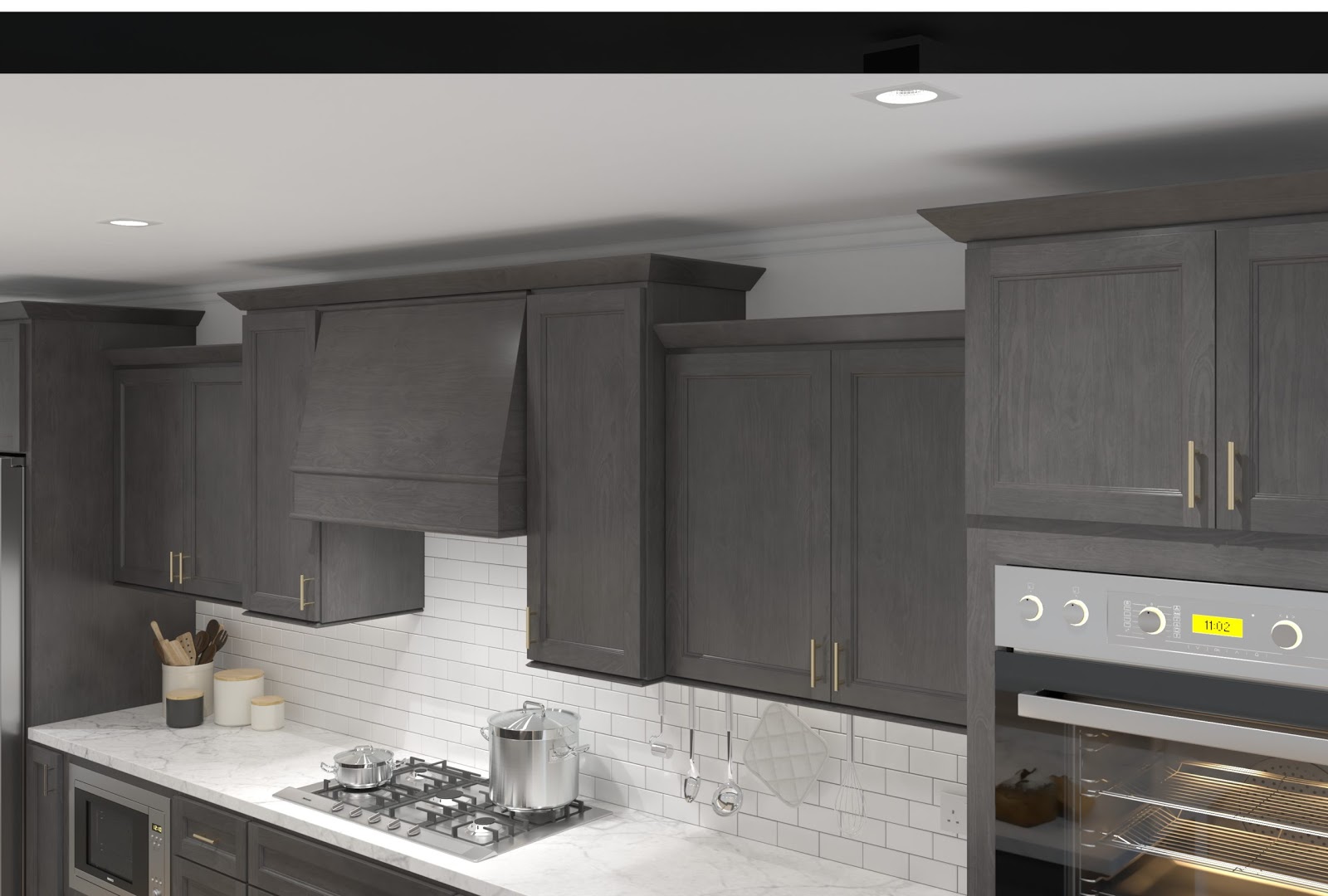 The uncluttered and skilled looks of Shaker cabinets introduces a sense of calm to even the busiest kitchens. Not only do they help you organize your kitchen tools, equipment, and food stocks, they also prevent visual clutter. Other benefits of this style include:
The minimalist aesthetic of Shaker cabinets means they'll never go out of style, unlike many fickle design trends. This makes them a sound investment for a kitchen renovation since you can use them for years and just mix it up with other elements if you ever want to update.
While the original Shaker design frowned on décor, today's interpretation allows you to personalize your Shaker kitchen cabinets to your exact taste. 
For instance, we get a lot of requests for Shaker cabinets with toe kicks, decorative hardware, and decorative legs, among other customizations. You can also combine different finishes to create a whole new kitchen look that showcases your personality.
Anything that reduces the kitchen clean-up is a winner in our book, and Shaker kitchen cabinets do it well. Unlike raised cabinets, the squared edges don't accumulate as much grease residue and debris. All they need is a quick wipe down to keep them looking pristine. 
Apart from extreme cases of wear and tear, they generally don't need much painting, polishing, or re-staining.
If beauty that lasts generations, highly-customizable looks, and super easy maintenance sound excellent to you, then Shaker cabinets can really make your whole kitchen remodel come together.
Shaker Cabinets and Kitchen Styles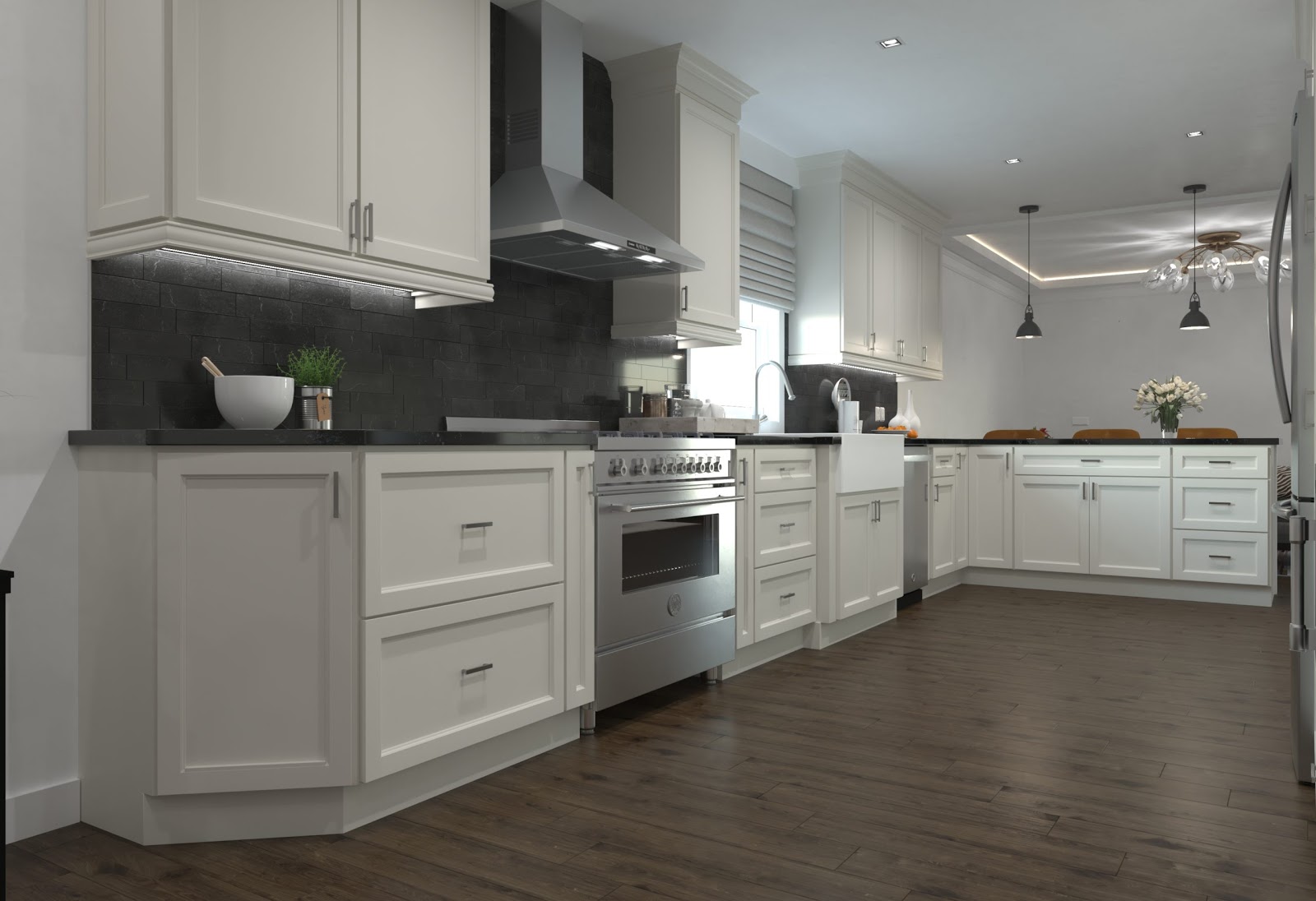 Shaker cabinets blend well with almost any design style, but they look particularly beautiful in the three below:
The minimalist lines of Shaker cabinets fit contemporary visuals really well. You can leave them plain, or spruce them up with decorative hardware. As for colors, black, white, and grey Shaker cabinets complement most contemporary kitchen palettes.
Transitional kitchen designers gravitate towards shaker cabinetry because they seamlessly connect modern and traditional kitchen elements. To hit the right design balance, consider adding some extra adornment to prevent your kitchen from totally sliding into contemporary design territory.
The simplistic style of Shaker cabinets may seem counterintuitive to the intricate designs of traditional kitchens. But if used correctly, it can add a sense of calm and togetherness to a traditional kitchen. Infuse that style further by choosing eclectic hardware and dramatic finishes to get the full traditional effect.
Explore Our Shaker Cabinets Selection 
Can't wait to browse different Shaker cabinets for your kitchen remodel? No need to leave the house! Check out our various Shaker cabinet door styles on the Kitchen Cabinets section, and look through our collection of Decorative Hardware while you're at it. If you want to see these beautiful cabinets in person, feel free to drive on down to our Cleveland, OH showroom.
Ready to order? Find Choice Cabinets Dealers near you, or Contact Us to start a conversation!