The Ornateness of Renaissance
Our Renaissance door is a creamy white raised center panel door. The caramel glaze accents its profile. Renaissance is part of the Choice Premier® line. It features a beautiful door front and accented profile. This gives the door a villa-type appearance. Check out our Renaissance Design Ideas below. Renaissance is a full overlay door with a solid wood painted center panel. The full overlay design carries over to the door and drawer with mitered stile and rail. A solid hardwood frame and plywood cabinet box offers quality and durability. The panels used for the cabinet box are a 5/8" furniture-grade plywood with a wood veneered interior. As part of the Choice Premier® line, the soft close hinge and glides come standard.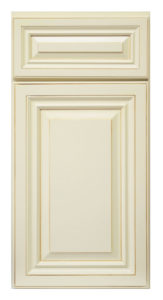 Door Style Specifications
Full overlay door style
Solid wood mitered stile and rail
5-Piece drawer front
Painted solid wood center panel
Painted cream with hand-applied caramel glaze finish
For more specifications, check out our "Quality of Construction" page!
What is the Advantage of a Raised Center Panel Door?
A raised center panel door offers versatility. Because of its detailed and raised inner profile, it has a familiar warmth and charm. A raised center panel door works well in an Old-World traditional or rustic design style.
A raised center panel door acts as the supporting cast in your kitchen. It can also be your main actor. It all depends on you and your design. Because of its decorative styling, it can help make your kitchen look like a gourmet kitchen.
Renaissance Design Ideas
Renaissance's gorgeous profile works well with most space and color palettes. Because of it creamy color, muted earth tones, like a grayish green, works well. Play it safe using neutrals. Consider using a caramel color to drive home the hand-applied caramel glaze.