A kitchen island is a stylish yet practical addition to any kitchen, helping to not only add beauty and sophistication to the appearance of your kitchen but also help to improve productivity and efficiency.
It has three primary functions: food preparation, feasting, and storage. Kitchen islands may be traced back to the colonial era in the United States. Then, families cooked meals and sat down to dine on those worktables right there in the kitchen.
Even after the invention of cabinetry, islands remained standalone objects with their distinct design and usefulness. This trend continues till this day as islands feature patterns, textures, and unique color schemes that increase aesthetics by quite a lot. Thus, they have become the focal point of the kitchen.
Every homeowner should consider the following guide before selecting the perfect kitchen island. You might also be interested in finding out How To Choose The Best Material For Your Kitchen Cabinets
Choosing the Best Kitchen Island Cabinets
If you keep up with current trends, kitchen islands are the most sought-after element in customizable contemporary kitchen design. A decent kitchen island could even become a center of activity if it contained equipment such as a sink and burner.
As a result, many designers feel that custom kitchen cabinets add more character to your home than any other modification. Even when appealing and valuable, they appear to be quite pricey. However, if you make wise choices, you will be able to buy your dream kitchen island on a budget.
While choosing the perfect kitchen island cabinet for your home, you should take your time to consider the Reasons Why You Should Invest In KCMA Certified Cabinets. There is no better way to be assured of the quality of the cabinets you are spending your hard-earned money on.
The following are factors to keep in mind if you are preparing to buy kitchen island cabinets, no matter the size.
Functionality and Size
Understanding how much space your room needs can help determine the best size and design. It's even ideal if you'll be using it for various activities. Do you love baking? Do you require enough floor space?
A kitchen island size depends on countertop materials and features. Tell your manufacturer what you do most in your kitchen room and concentrate on the style you like. Its size is typically 40 x 80 inches in size (1 by 2m).
Remember that there needs to be enough room around the kitchen island. Leave at least 3ft (1m) between the island and the kitchen cabinets or a wall surrounding it. But if there is a sitting area available, leave 4ft (1.2m) between the barstools.
If you use your kitchen island for baking, you can reduce the height. Thirty (30) inches is the optimal height for rolling out dough. Make sure there's enough space below for your mixer!
The height of a proper kitchen island for food prep should be 36 inches. For ease, you can add a food prep sink and cutting board, and storage for knives is an extra advantage.
If your kitchen island's primary need is storage space, go with a 36-inch countertop height. A mix of sizes can also work well here, especially if you want to include a wine rack or open shelves. Remember to look up! Hanging pots and pans are ideal for overhead storage.
To house bar stools, kitchen islands must have enough counter space so people will sit comfortably. The perfect height is 42 inches, and this height is ideal for an open floor plan since it helps distinguish the kitchen space from other areas.
Is the kitchen the focal point of your family's activity? Kitchen island countertops may be a terrific spot to get together, and adding the correct amenities can make it even more entertaining! A bar sink, mini-refrigerator, wine cooler, ice machine, and even a dishwasher are all viable possibilities for this kitchen island style.
You might also want to read the comprehensive guide to kitchen organization to help you find out the best possible ways to organize your kitchen space when you decide which island cabinet to add to the collection.
Style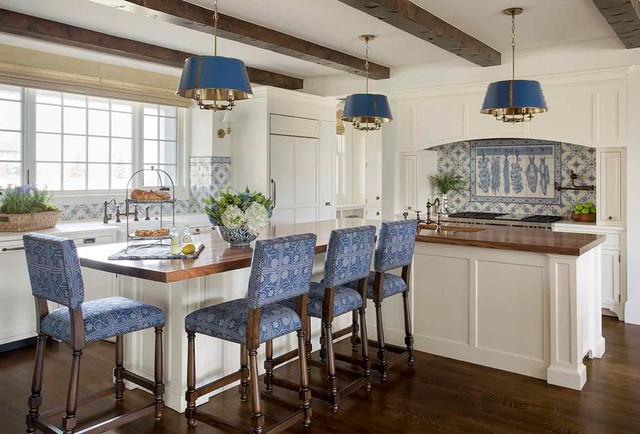 The kitchen counter should not just be practical, but it must add visual appeal. That said, you must pick an island that matches the design of your current kitchen cabinets (unless you're doing a whole kitchen renovation). You don't have to match the same cabinet doors design. But you must have similar color scheme highlights, moldings, corbels, and other details. This is to ensure your kitchen island doesn't look too glaring.
If the traditional island doesn't fit your kitchen size, use an L-shaped island, T, or oval-shaped alternative. You're set to go, provided you have more space to walk around, and it has all of the features you require. Larger L-shaped and U-shaped kitchens adapt themselves well to island installation. There are various kitchen island designs to select from, whether you want an aesthetic feature, a more classic table layout, or even a built-in.
Often, architectural islands have two height divisions, with bar stools on one side and countertop height on the other. These are adorned with pillars and can act as the main center of your kitchen design.
Built-in islands are perfect for people who require extra storage for cooking equipment gadgets, pots, pans, or tableware. You can install built-ins to keep towels, dishrags, or common appliances.
Table-type islands are what they sound like: a huge kitchen table with an open beneath. These always have a marble countertop.
Refurbished islands are a sensible alternative for homeowners who already have an old kitchen island. If your island has a solid foundation, you may update it with a new countertop, hardware, or customized panels. Existing storage may be revitalized with new doors and cabinet fronts.
Repurposed islands provide a fresh start to an ancient dining table or dresser. Vintage-style furniture may give a classic touch to your modern kitchen. Restore and reuse an old piece of furniture to create a one-of-a-kind island fitted to your style tastes.
Budget 
How much do you plan to invest in kitchen islands? You're probably thinking about how much these islands will cost you. Well, it depends on several circumstances, just like every house renovation.
A mobile cart island that you build yourself might cost as little as $200. A built-in island with an electricity supply but no cooking facilities or water costs less than $1,000. Though, the price may be higher than $2,000. Don't expect to pay less than $2,000 for a custom kitchen island with electricity and plumbing for an additional sink.
Your budget may skyrocket to $10,000 when you include items like dining space, appliances, ventilation, and cabinets. Kitchen renovation professionals and handymen can build custom islands, although their job quality varies.
Hiring kitchen experts for these tasks are safer because they are qualified and registered. To add to that, it's a wise option to get written estimates from about four contractors in your neighborhood to save costs. Tell them you're collecting quotes from various firms, so they'll provide you with the best deal.
What is the Function of a Kitchen island?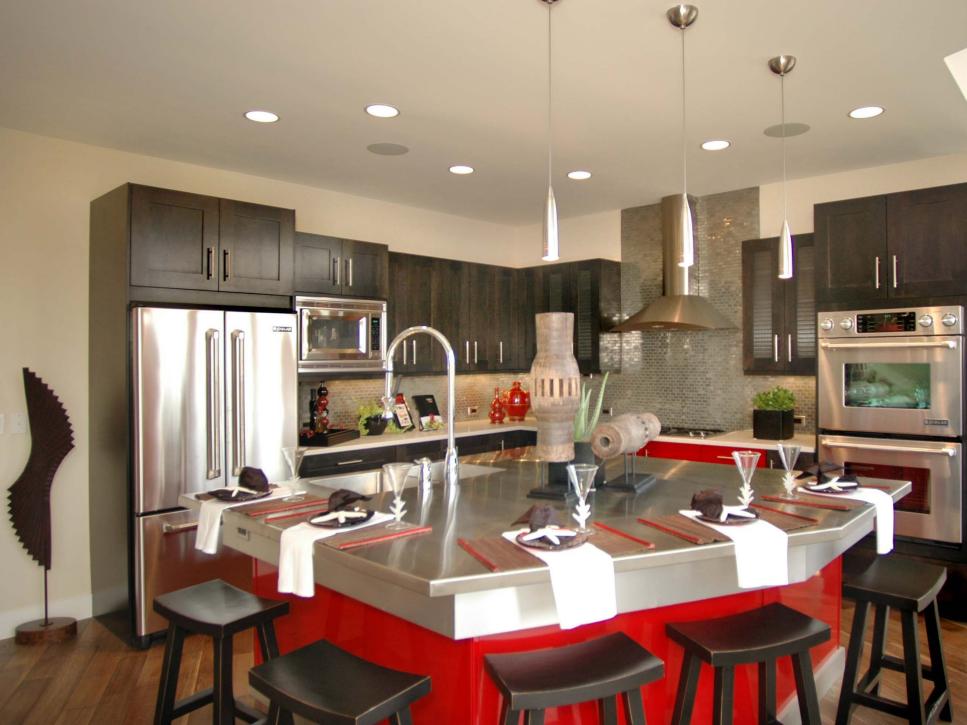 For entertaining, a kitchen island may be used as a casual breakfast bar for the youngsters or as additional seating area. When it comes to cooking and serving meals, getting access to your family or visitors is always a plus. Even if you have a small kitchen, a kitchen designer can create islands by extending the counter into the neighboring room.
In modern homes, a kitchen island is an additional workspace, enhancing the effectiveness of the triangle area. It is also an informal breakfast counter and, in certain situations, storage units.
How Much Does a Kitchen Island Cost?
For as low as $200, you may have a free-standing work table or a rolling cart. A bare-built island with stock cabinetry and butcher-block or stainless-steel countertops are around $600. Additional features, more significant sizes, and more expensive materials may increase prices beyond $5,000.
To find out the possible cost of your favorite kitchen island design is to put into consideration the design you're aiming at as well as the type of wood you want. As for the design, you may have to discuss that with Choice Cabinet, the most trusted cabinet manufacturer in all of Ohio. However, for the materials, you can take a quick look here for some ideas.
How Much Space Do I Need For a Cost-Effective Kitchen Island?
Kitchen islands don't come in typical sizes, but they should have enough counter space, and it's not a one-size-fits-all solution. On the other hand, a kitchen island should not take up more than 10% of the ample space in your kitchen layout. It equates to a maximum width and length of 3.5 feet and 4 feet, respectively.
An island bigger than this will take over your kitchen and reduce the walk space. Furthermore, it will not be cost-effective. So if you're on a budget, go with the average size for your own island.
What's The Best Material for a Kitchen Island?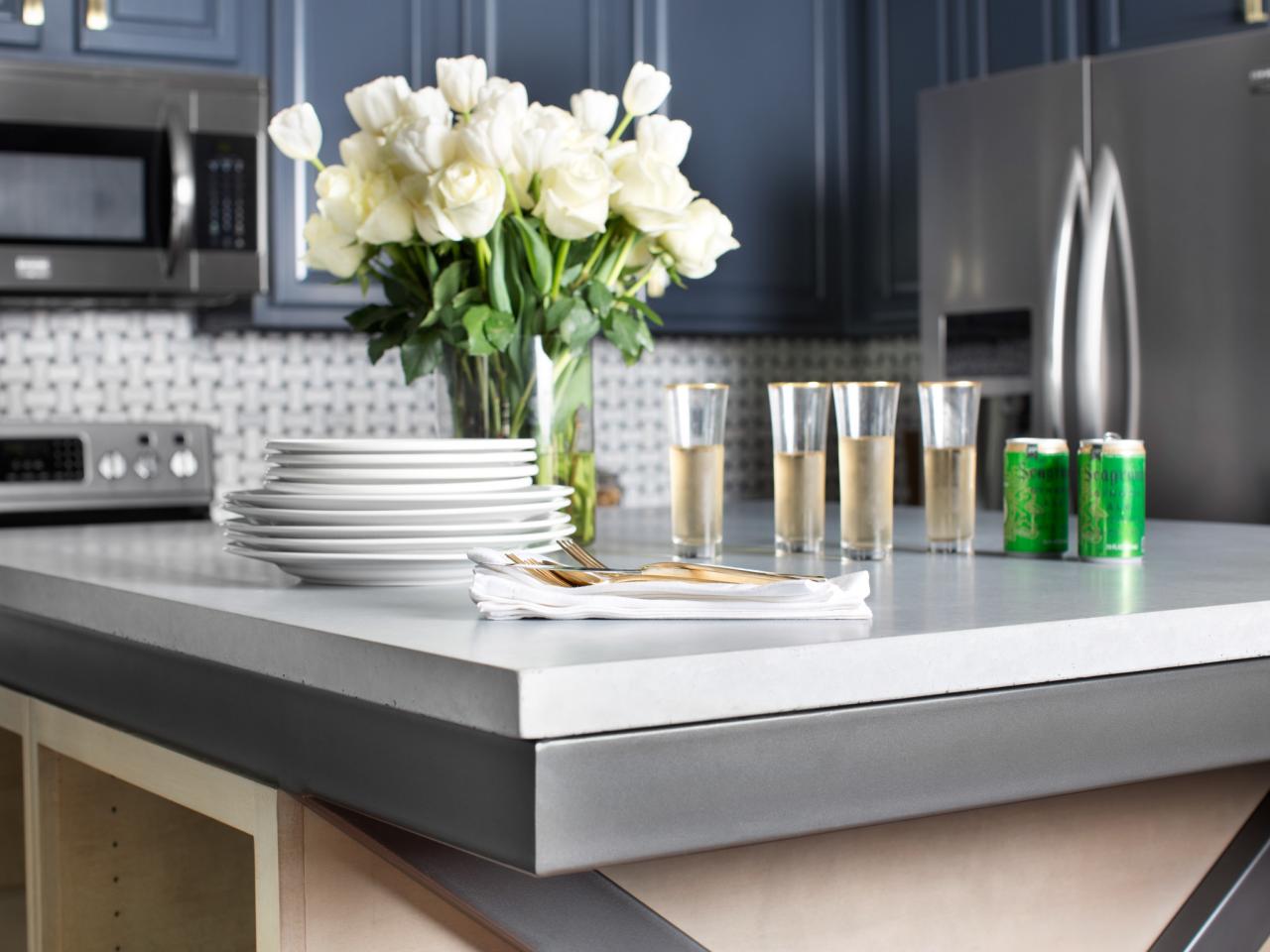 Select the materials for your kitchen countertop that will function well for you. Butcher block is ideal for chopping, while stainless steel is durable and can withstand extremely hot pans. A stone countertop, despite its cost, will give your kitchen a more sophisticated and attractive appearance.
Marble and granite are the most common countertop materials. Although marble discolors quickly, it is excellent for preparing pastries due to its cool surface. For the part that needs to be made of wood, we have created an extensive article on how to select your cabinet wood.
Conclusion
In the end, if there isn't much room for a perfect kitchen island, it's critical to make the best selection. Don't just attempt to jam one in there. It's more practical to try something new, such as incorporating a peninsula with a custom cabinet bar.
Remember, whether you need help picking an island or with any other kitchen design area, we're always here to help. Send Choice Cabinet a message today to become one of our esteemed dealers who trust the brand and have seen reasons to keep selling Choice Cabinet.