The Rustic Feel of Dakota
Our Dakota door is a reddish brown Shaker door. It is the standalone in our Choice Basics® line. Dakota is a lavish and lasting door style that enhances most color palettes. Check out our Dakota Design Ideas below. Dakota is a full overlay door with a recessed, wood veneered MDF center panel. The full overlay style carries over to the door and drawer. Dakota's solid hardwood frame and plywood cabinet box offer beauty and dependability. All the panels are furniture-grade plywood.  The end panels are 1/2" veneered plywood. The floor and ceiling panels are 3/8" veneered plywood. Dakota has ball-bearing side mount glides and 6-way adjustable hinges. Soft close hinges and glides are available.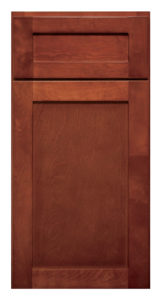 Door Style Specifications
Full overlay door style
Solid wood mortis and tenon stile and rail
5-Piece drawer front
Veneered MDF center panels
Stained reddish-brown finish
For more specifications, check out our "Quality of Construction" page!
What is the Advantage of a Shaker Door?
A Shaker door makes cleaning a breeze. Because it lacks an inner profile, there is less to clean. Its timeless design is another advantage. A Shaker door is adaptable to several kitchen styles. It works in a traditional or transitional space.
A Shaker door also acts a backdrop for your kitchen. Your appliances, lighting, and other fixtures can take center stage.
Dakota Design Ideas
Design your space in a bold red to accent the reddish hue of Dakota. Greenish-grays will make Dakota stand out to be the focal point. Create a bold and exciting space with navy or royal purple. Dakota can match with most color schemes.
Dakota is unique. It can work with our Choice Premier® and Choice Select® lines. Use Dakota with Aspen or Fremont for a farmhouse feel. Dakota is strong enough to stand by itself. Use it to create a rustic den or entertainment center.