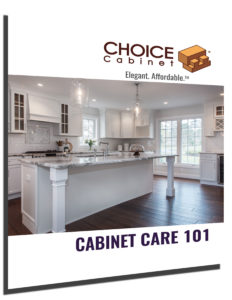 Download Our Complete Cabinet Care Guide
Have you ever noticed that your cabinets appear dingy and lackluster? Are your cabinets a few years old, but look much older? Over time, grease, oil, and dirt can build up on your cabinets and can make it so your cabinets look older than they actually are. If this happens to be the case, it might be time to roll up the sleeves for some cabinet care.
So where do you start? Downloading our "Cabinet Care 101" PDF is an excellent place to start. Inside the PDF, you will find tips on how to properly clean, care for, and maintain your cabinets. You will also find out which products to use and which ones to avoid when it comes to cleaning the cabinets. By following our guide, your cabinets will look great and function properly for years to come.
In order to download the "Cabinet Care 101" PDF, please provide us with a little information about yourself and click "Submit." You will be redirected to our download page and on your way to having clean and maintained cabinets!
Please Enter Your Information