The Warmth of Brentwood
Our Brentwood door is a dark brown Shaker door. It is part of our budget friendly Choice Essentials® line. Brentwood is a gorgeous and modern door style that enhances most color palettes. Check out our Brentwood Design Ideas below. Brentwood is a partial overlay door with a recessed, wood veneered MDF center panel. The partial overlay style carries over to the door and drawer. Brentwood's solid hardwood frame and plywood cabinet box offer beauty and dependability. The end, ceiling, and floor panels are 1/2" furniture-grade plywood. The back panel is 5/8" framed with plywood backing. Brentwood has epoxy-coated undermount glides and 6-way adjustable hinges. Soft close hinges and glides are available.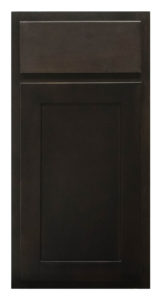 Door Style Specifications
Partial overlay door style
Solid wood mortis and tenon stile and rail
Slab drawer front
Veneered MDF center panels
Stained dark brown finish
For more specifications, check out our "Quality of Construction" page!
What is the Advantage of a Shaker Door?
A Shaker door makes cleaning a breeze. Because it lacks an inner profile, there is less to clean. Its timeless design is another advantage. A Shaker door is adaptable to several kitchen styles. It works in a traditional or transitional space.
A Shaker door also acts a backdrop for your kitchen. Your appliances, lighting, and other fixtures can take center stage.
Brentwood Design Ideas
The dark brown of Brentwood works well with most color options. Use neutral colors like a blueish-gray or beige for a warm, inviting feel. Capture the reddish tint using cranberry or rustic orange to a bold take.
Brentwood compliments our other Choice Essentials® door style, Summit. Pair these two to create a space that is dynamic and daring. Use Brentwood for a kitchen island surrounded by Summit cabinets. Create a cozy den with Brentwood for that perfect reading spot.