Knowing where to find everything when it's time to prepare or cook a meal – including cookbooks, ingredients, kitchen equipment, and tools – can revolutionize how you spend your time in the kitchen. For most people, achieving this level of storage organization is the goal for a kitchen remodel.
While dreaming of that fresh color palette and new kitchen furniture elements, many often forget one of the most critical parts of a kitchen. Pantry cabinets may not seem as glamorous as other home improvement elements. Still, it can make or break your entire kitchen experience.
At Choice Cabinets, we treat pantry cabinets like the rest of our line-up— an excellent way to organize and beautify your space. Learn more about this kitchen essential, and how you can use them to create the kitchen of your dreams!
What are pantry cabinets?
Traditionally, a pantry cabinet is a kitchen cabinet you specifically use to store food. However, the modern pantry has evolved to be so much more than that. Aside from storing your goods, you can also use your pantry cabinets to organize utensils, pots and pans, spices, bowls and plates, cutting boards, and other kitchen necessities.
Better yet, you don't have to settle for the usual drawers for your pantry cabinets. At Choice Cabinets, for instance, you can customize your pantry cabinets with lazy susans, dividers, roll-out trays, and more. It allows you to explore different organization styles that complement the way you work in your kitchen.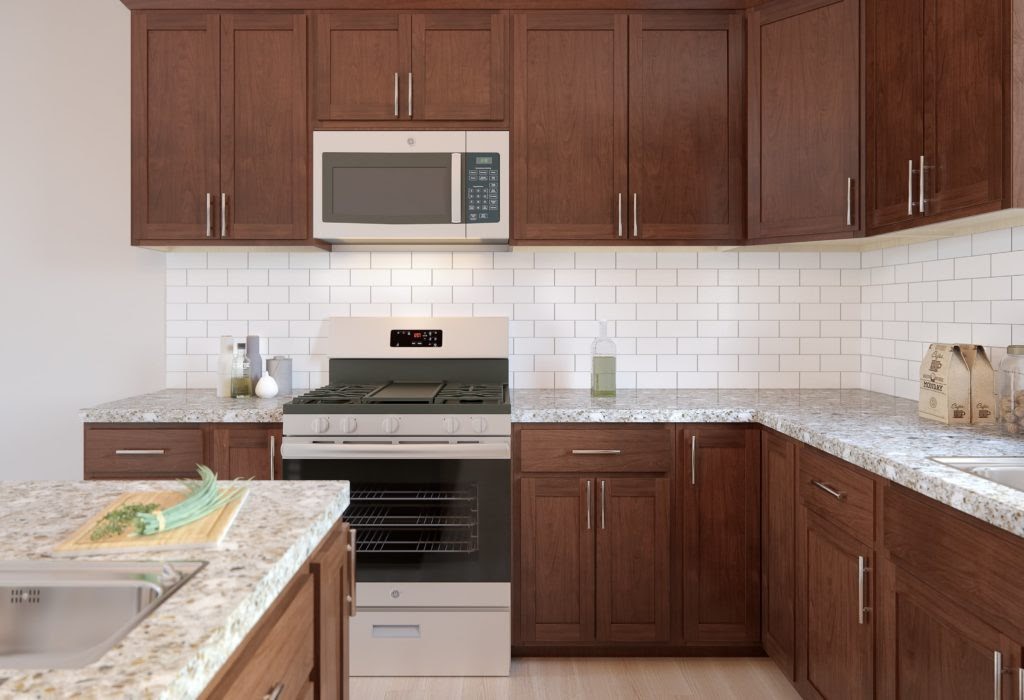 In addition to those customizations, we can also add a glass door to pantry cabinets. A huge problem when it comes to pantries is the amount of food that goes to waste. It's easy to forget expiration dates when food items are hidden at the very back of the space. Glass doors allow you to see what you have. Aside from better visibility, pantry cabinets with glass doors can contribute to the overall style of your kitchen.
Without a doubt, pantry cabinets are the perfect storage solution not just for accomplished chefs, but for the average home cook as well.
Benefits of Pantry Cabinets
It's unbelievable how kitchen pantry cabinets can transform the way you use and enjoy what's considered the heart of the home. Check out what pantry cabinets bring to your home improvement project:
Makes the kitchen feel way more open and bigger
Clutter can make any room feel cramped, old, and lifeless. This is especially true for the kitchen and dining room. Without ample storage, the first things you'll see are overflowing counters and packed drawers. Not only is this unsightly, but you also waste time and effort trying to get everything together.
Pantry cabinets bring order to the chaos by taking on a lot of the items that would generally swallow valuable counter space.
You know exactly where everything is
Having a variety of storage space, from pullouts to lazy susans and drawers, makes everything a breeze to find. No more scrambling around to find your herbs when your spice rack is within arm's reach. With a lazy susan, it only takes one quick turn to find an ingredient without taking out every can and box in front of it. Need a pot, pan, or cutting board? You already know which pantry cabinet it's in!
Simplifies your grocery shopping
Every had too much of one ingredient? You buy a box of pasta, and you realize you still have two at the back of your cupboard. When your stocks are organized properly inside cabinets, it's easy to keep track of your supplies. You can also keep tabs on expiration dates, which makes meal planning and stocking up a much simpler affair.
Makes cleanup painless after cooking and serving food
Tired of scrambling around trying to put away everything you used after cooking for family and friends? Add pantry cabinets to your kitchen renovation, and you can stop shoving items and rummaging just to find some extra space in a jam-packed drawer. When you have all the space you need to organize your cooking gear, it becomes super easy to take them out and put them back again.
When everything in your kitchen is organized, you need less time and effort to accomplish what you need to do. Pantry cabinets can reduce your grocery shopping preparations, streamline your meal prep and cooking efforts, and shorten clean up time. 
Instead of being overwhelmed with the clutter and mess, you can spend more time enjoying your kitchen with friends and loved ones.
Pantry Cabinets vs. Walk-in Cabinets
Pantry cabinets bring more than storage to your kitchen and home. When you're doing a major kitchen renovation, however, it's essential to explore all your options. After all, you're investing in an area you'll be using every single day.
Many homeowners find it hard to choose between walk-in pantries and pantry cabinets. Each has its own benefits, but unless you have enough space for a walk-in, a pantry cabinet can save more space while offering different storage options.
Walk-in pantries function as a tremendous standalone area to store non-perishable food. You can have it installed floor to ceiling to maximize all that vertical space. You can have it with a door or no door. It can also be very flexible since you can add baskets, bins, and other bulky containers inside.
On the other hand, walk-ins can have several disadvantages:
Walk-ins are usually located off the kitchen, which makes it inconvenient to quickly get what you need.

They can consume a lot of square footage in the kitchen. This space requirement can feel cramped for many home styles. Instead of getting more counter area and cooking space, you may be sacrificing all of that just to have a walk-in.

Walk-ins can take more time and effort to clean since it requires regular wiping down and dusting, just like the living room and other parts of the house.

Without adjustable shelves, items can become obscured and lead to food going bad.

It can be tough to fill a walk-in pantry all the way to back, therefore wasting space.
Pantry cabinets may not be as grand as walk-ins, but plenty of home decorators prefer them over the other. Some fantastic pros of pantry cabinets over walk-ins are:
They offer the perfect opportunity for customized storage solutions such as shelving, flip-up or revolving sections, and pull-out slider units. This also makes it easier to keep the kitchen free of clutter.
Pantry cabinets confine everything into a more compact space. You need to walk or reach far to get what you need.
You don't need to sacrifice a lot of space for your pantry cabinets. They can help you maximize corners, areas under countertops, kitchen islands, and more.
When used as a part of a kitchen island, pantry cabinets can even do double-duty. Just add some bar stools, and you have a nifty dining area with smart storage to boot!
With the perfect combination of convenience, space-saving qualities, ease of use, and more, pantry cabinets should be top of your list when doing a home remodel.
How to Choose Pantry Cabinets
At Choice Cabinets, all pantry cabinets are made with a combination of natural hardwood solids, furniture-grade plywood, and Amish-quality construction from the face frame to the panels down to the toe kicks and soft close feature. We offer all types of pantry cabinets include base pantry shelves, tall cabinets, and wall cabinets.
The first step to choosing the perfect pantry cabinets is to choose between our main Choice Select and Choice Essential lines. Each comes with its own beautiful color palette, overlay, and panels: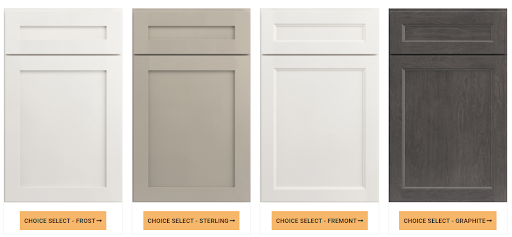 We'll also help you choose different pantry cabinet configurations to fit your space and remodeling goals. Once you have your base cabinets, it's time to take it to the next level customizations:
Our base pantry pullout is a great way to store cookie sheets and cutting boards. You can also transform it into a convenient spice rack.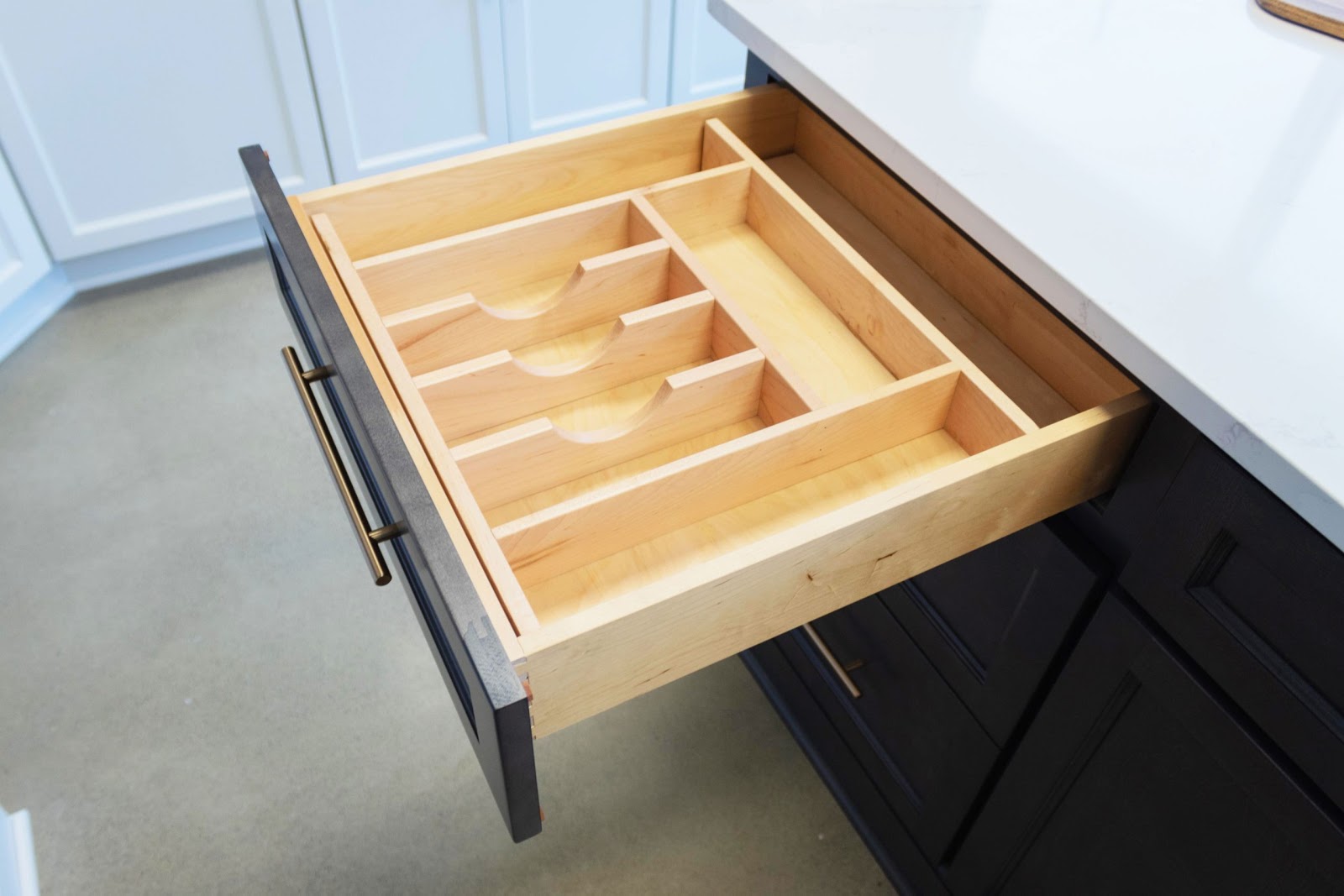 No more cluttered drawers— Choice Cabinets' wooden drivers is a beautiful, efficient way to organize your silverware and other items you typically toss into your "junk drawer."
Make everything easy to reach by adding roll-out trays to your kitchen cabinets! They're ideal if you want to put pots and pans in lower cabinets, or if you want to place canned goods in taller shelves.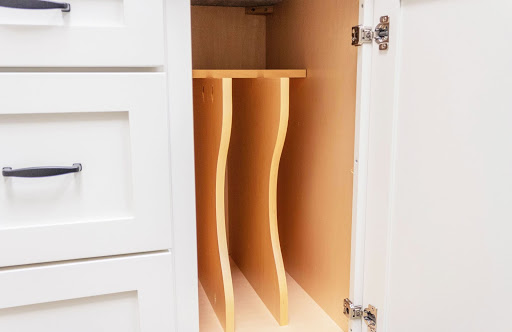 Keep your lids, cutting boards, cookie sheets, and other tools with our cabinet dividers.
Reach all items with ease using our pie-cut trays and full trails for your lazy susans.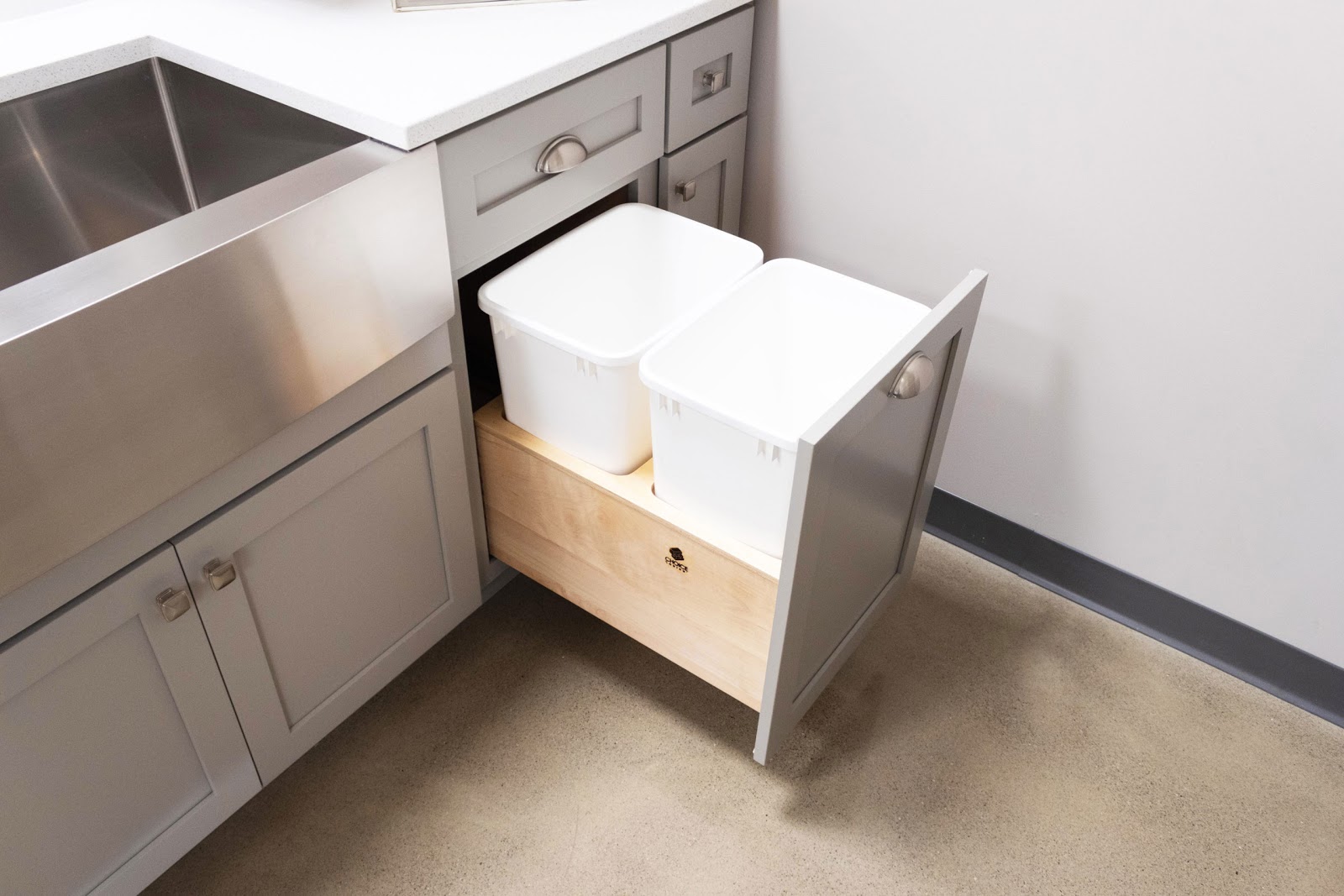 Choose from double trash pull out, or single trash pull out that makes cleanup a breeze.
Don't forget the finishing touches! Our pantry cabinet specialists can help you spruce up your remodel with gorgeous molding, decorative cabinet doors, and decorative legs that will turn your kitchen cabinetry from great to sophisticated.
Upgrade the Your Kitchen Experience with Expertly-Crafted Pantry Cabinets
Pantry cabinets are one of the best ways to achieve the kitchen you've always wanted. No matter what you need cabinets for— such as your kitchen, bed, bath, laundry room, and more— Choice Cabinets has you covered.
Our unparalleled quality of construction and design sets our kitchen cabinets and bathroom vanities apart, and they're ready to infuse your home with function and beauty.
Learn more about the Choice Cabinets selection, request a callback, or find a dealer near you today!